Academia Battles Against Covid
UNIVERSITY researchers are putting their heads together in conducting studies to counter the Covid-19 pandemic. Studies in a number of fields—from engineering and medicine to sociology and economics—are used to battle against the pandemic caused by the coronavirus.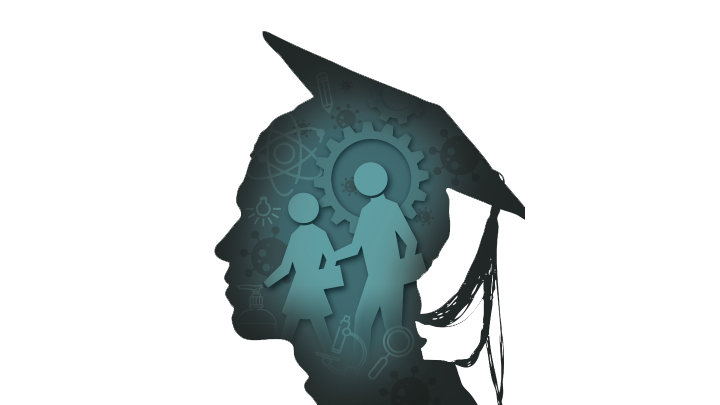 Racing against the speed of the infection, researchers turn to innovations: all kinds of ventilators, disinfectant robots, safety gear for medical staff, and medicine and vaccination studies. The temporarily closed campuses, following regulations on social distancing, have not stopped research and education.
Scientists collaborate with research institutes, hospitals, and industrial parties. Lectures continue online, assisted by the Internet. Teachers at schools and educators have kept up their energy. They participate in innovations in their own ways so that learning activities can continue.
---
AMIDST his teaching activities and participating in virtual meetings, Basari makes time to head University of Indonesia's (UI) engineering research team in Depok, West Java. This team is developing a ventilator, named Convent-20, to meet hospitals' needs in treating Covid-19 patients. "The ventilator is used in ambulances to assist patients on the way to hospitals," said Basari, a lecturer at UI's engineering faculty on April 28.
Basari said that this transport ventilator designed by his team is of the non-invasive type, without components inserted in the user's body. With two modes of ventilation, the device was developed for patients who have light to moderate breathing problems. "It still needs to be tested to assure its safety," said this head of the Biomedical Engineering Program.
The Bandung Institute of Technology (ITB) team has also developed a portable ventilator, dubbed Vent-I. The ITB engineers have been working together with Padjadjaran University's medical faculty and physicians from the Dr Hasan Sadikin Hospital. They are targeting production of up to 100 ventilators after obtaining a permit. Meanwhile, the Sepuluh Nopember Surabaya Institute of Technology has also developed a mechanical ventilator which is claimed to be simple and inexpensive.
This variety of ventilators are university research breakthroughs which has grown in tandem with efforts to fight the Covid-19 pandemic. Since President Joko Widodo announced the first case of corona in Indonesia on March 2, this virus has already infected over 10,000 people and claimed some 800 lives. Within two months, other research findings have appeared, from disinfecting devices, protective gear for medical staff, to robots which clean hospitals.
Competing with the speed of the SARS-CoV-2 virus infection, medical researchers are also delving into potential medicine and testing material for the virus. A number of university researchers are also involved in vaccine research. "There is great capacity among our university colleagues. In a short time, they have been able to come up with various prototypes and products which can be used in handling Covid-19," said Nizam, implementation official at the ministry for education and culture's directorate-general for education.
W251bGwsIjIwMjEtMDMtMDEgMTE6MDY6MzgiXQ
Chief of the Agency for the Assessment and Application of Technology (BPPT), Hammam Riza, said that the collaboration between universities and a number of institutions will accelerate research activities. The BPPT has formed a special research work group to handle Covid-19, involving 11 state research institutions, 14 universities, and dozens of medical and technological associations. Its research priorities include developing diagnostic instruments, pandemic-handling facilities, and the coronavirus genome in Indonesia.
Hammam said that the BPPT has obtained 100 samples of genetic coronavirus material from the health ministry's research and health development department. Parts of those samples have been distributed to institutes and universities for research material. "Production of reagents and rapid test kits also needs genetic virus material for testing," Hammam said on Thursday, April 30.
University scientists are also conducting studies to predict the number of positive Covid-19 cases in the country. Using case data published by the government, this mathematical model study done by the ITB team estimates that there will be some 60,000 positive cases by the end of May. Studies by the UI team pointed out that corona cases were already present since mid-January. Calculations by the team, headed by UI's public health faculty lecturer Pandu Riono, showed that there could potentially be over two million positive Covid-19 cases within three months since the first case appeared.
Other research on social behavior has shown that many Indonesians are quite relaxed in facing the pandemic. Some travelled from cities to their hometowns, defying government prohibitions aiming to prevent infections from spreading to different regions. According to Munawar Holil, a faculty member of UI's cultural studies, this dismissive behavior has already been recorded in old texts describing epidemics and disasters. "Some things seem to be missing in the knowledge transfer from local wisdom," he said.
Research and innovation are supportive tools in times of pandemics like Covid-19. To do this, researchers need transparent data input. Some scientists have said that they have difficulty accessing government data. The health ministry said that assessment results must be processed and verified before being publicly presented through the state's Covid-19 rapid response task force. "Nothing is covered up," said Didik Budijanto, chief of health ministry's data and information department, on April 28.
Siswanto, former health ministry's head of research and health development agency (Balitbangkes), said that all Covid-19 testing data samples have been given to the health ministry to be compiled. Every day, Balitbangkes scrutinizes some 300 specimens. He said that the department never has characteristic data of Covid-19 patients. "Balitbangkes only receives samples from hospitals to be tested if they are confirmed positive or negative," said Siswanto, who was inaugurated as health ministry's expert policy analyst on April 15.
Limited accessible local data has forced academic researchers to turn to Covid-19 material from abroad. Igi Ardyanto, Gadjah Mada University researcher from the engineering faculty, and his team utilized data and images from patients' lungs already made public in several countries in order to develop scanning systems for Covid-19 cases based on artificial intelligence. "We don't have such data from Indonesia. We need coordination with the government, especially if it has to do with asking (data) from hospitals, as patients' information cannot be used indiscriminately," Igi said.
He further said that his study needs a big data pool to achieve maximum results. Artificial intelligence technology can help accelerate the analysis process on lung images. However, the research still needs to be developed and cannot be used as the main standard, since the diagnosis still needs field testing. "Similar research is being done by many scientists in other countries," he said. "If a pandemic like this one should occur again, we will already have experiences from this one as a basis."
The BPPT is also developing an artificial intelligence system in scanning lung images using data from foreign publications, as there is no data yet on Indonesian lung images. The BPPT team, Hammam said, uses some 200 publicized lung images to 'train' the artificial intelligence system. "Once the system is working and images of Indonesian lung patients are accessible, then we can train the machine with this new data," he explained.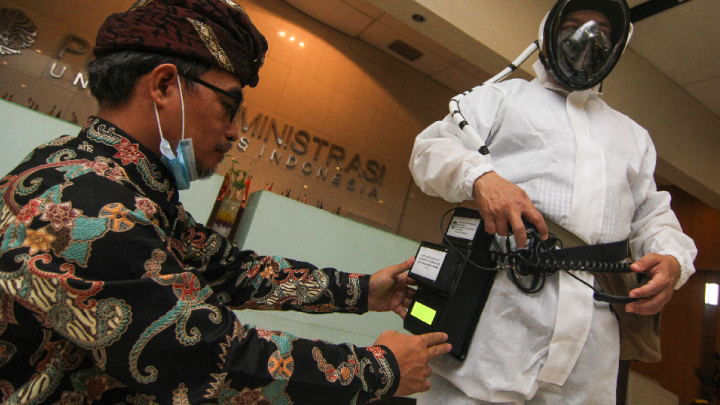 University of Indonesia's research team testing the battery-operated air purifier respirator face mask at the PAUI building, Depok, West Java, April 20. ANTARA/Asprilla Dwi Adha
Researchers from many countries are competing to enter Covid-19 study results in scientific journals. Nizam said that Indonesian researchers' productivity has improved, but compiling Covid-19 research results has not been inclusive. Usually, universities report results of their studies to the University Data Compilation Center at the end of every semester. Only very few of them report their results at an earlier stage. "Publications from Indonesian researchers in international journals have continued to rise, surpassing Malaysia, Thailand and Vietnam. In the past we were far behind them," Nizam said.
Besides data transparency, funding plays a big role in research continuity. There are independently-funded studies, like that of ITB's ventilators. There are also those financed by universities or assisted by the research and technology ministry. In 2019, some Rp1.5 trillion was spent on research at universities. However, this year that amount was reduced to Rp1.3 trillion. Meanwhile the BPPT, Hamma continued, has a budget of Rp40 billion for Covid-19 research. "Those funds are used until the results are in production."
Hammam pointed out that research on a number of applications related to Covid-19 should be developed further and pushed through so that it could be mass produced. Government regulations, including innovation testing bureaucracy and permits, should be adjusted to encourage universities and research institutions. "It should not just be limited to prototypes, while there is so much potential for production," he said.
According to Nizam, the ministry will assist in connecting universities with partners within the government and industry. It is also cooperating with the health ministry and the National Disaster Mitigation Agency (BNPB) to accelerate testing and certification of health instruments. "Prototypes which pass certification can immediately be mass produced and utilized," he said.
The pandemic has also changed the learning process on campus and schools. Universities and schools have been temporarily closed, thus replacing face-to-face education to online learning from home through the Internet. Practical assignments and projects needing lab facilities on campus are postponed. "Or changed from lab projects to computer simulations," Igi Ardyanto said.
Nizam said that the government has organized an online survey with 237,000 university student respondents in early April, four weeks after the beginning of the home learning program. Survey results conveyed that some 95 percent of home learning program employed by universities used the online method. Even so, Nizam said, students still prefer face-to-face learning. "The main obstacle is that internet connection is not evenly distributed, and connection is still unstable," he noted.
The government has prepared a number of programs through television and radio broadcasting, and online sites for students to study from home. Hamid Muhammad, implementation official of the education ministry's early, elementary and secondary education, said that educational material is curated by a curriculum team, and varies from one day to another. Education and tutoring specialists are also making efforts to adjust their programs with online learning material.
---
Team Leader: Dody Hidayat | Project Head: Gabriel Wahyu Titiyoga | Writers: Erwan Hermawan, Gabriel Wahyu Titiyoga, Isma Savitri, Mahardika Satria Hadi, Nur Alfiyah, Raymundus Rikang, Retno Sulistyowati, Wayan Agus Purnomo | Editors: Agoeng Wijaya, Bagja Hidayat, Dody Hidayat, Nurdin Kalim, Sapto Yunus, Stefanus Pramono | Contributors: Ahmad Rafiq (Sragen), Anwar Siswadi (Bandung), Ayu Cipta (Tangerang), Dinda Leo Listy (Klaten), Eko Widianto (Malang), Jamal Nasr (Semarang), Kukuh S. Wibowo (Surabaya), Shinta Maharani (Yogyakarta), Hussein Abri (Jakarta) | Photographers: Gunawan Wicaksono, Prima Mulia | Photo Research: Gunawan Wicaksono, Jati Mahatmaji, Ratih Purnama | English Editor: Luke Edward | Desainer: Djunaedi, Ahmad Fatoni