Disinfectant Robots & Portable Ventilators
Universities are urged to develop health instrument in the fight against Covid-19. This ranges from disinfectant robots to portable ventilators.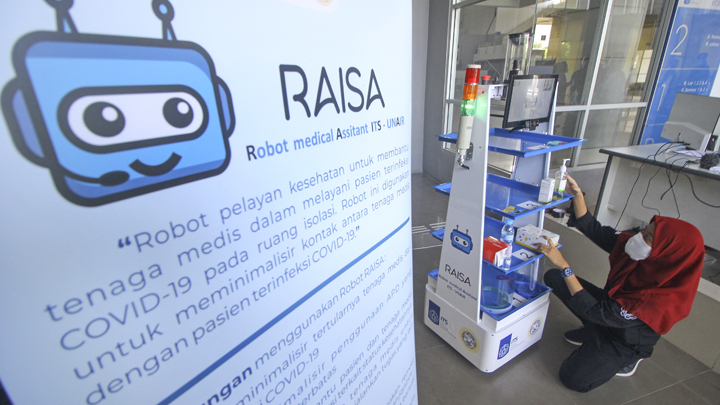 THE four-tiered frame strolled back and forth along the intensive care unit of Airlangga University (Unair) Hospital in Surabaya, East Java. It moves from one room to another carrying medicine, food, and cleaning cloths, remotely controlled by an operator. The 'ITS-Airlangga Medical Assistant Robot', or Raisa, was created by the Sepuluh Nopember Institute of Technology (ITS) in Surabaya. "This robot replaces nurses and delivers needed items to patients," said Alfian Nur Rosyid, spokesperson of the hospital's Covid-19 response unit, on, April 28.
Raisa has only recently made its rounds at Unair Hospital. The robot, launched on April 14, was created to minimize contact between nurses and Covid-19 patients. This cuts the use of limited protective gear and reduces infection risks for medical staff. "Raisa is equal to four nurses," said Bambang Pramujati, ITS deputy chancellor for research, innovation, cooperation and alumni matters.
The robot is not the only tool developed by ITS, which has also introduced the ultra-violet ITS-Airlangga robot, or the Violeta, 10 days after Raisa's launch. This 1.5-meter-tall robot disinfects hospital rooms after a patient departs.
Violeta uses six ultra violet lights with wavelengths of between 200 and 300 nanometers. Turning on the light for between 10 and 15 minutes would destroy virus and bacteria left behind in the room. Violeta could also be used to sterilize passenger vehicles like buses and train coaches, as long as there are no people in those spaces while the robot is at work. "Ultra violet rays could cause cancer," said Bambang.
Meanwhile, a team of lecturers from Telkom University and the Indonesian Institute of Sciences (LIPI) in Bandung, West Java, has created a similar prototype named Autonomous UVC Mobile Robot (AUMR). Its development is headed by Angga Rusdinar from the electrical engineering faculty of Telkom University. Team members are Irwan Purnama from LIPI's instrumental development division, Kemas Muslim Lhaksmana from Telkom University's information technology engineering faculty, and Ratih Asmara Ningrum from LIPI's biotechnology research center.
W251bGwsIjIwMjEtMDMtMDEgMTA6NTg6MzUiXQ
According to Irwan, a similar machine is already in use in China to destroy the coronavirus. Testing on the AUMR in the biosafety level 3 lab, corridors and clean room at LIPI's biotechnology research center in Cibinong, Bogor, West Java, has shown that the robot could kill almost 80 percent of bacteria. The AUMR has been introduced to the Covid-19 emergency hospital Athletes' Dormitory in Jakarta, and Bandung's Dr Hasan Sadikin General Hospital and Pindad General Hospital. The plan is to place the robot at the Athletes' Dormitory. "To destroy the virus there," Irwan said.
Major Gen. Bambang Dwi Hasto, chief of the health response unit at the Athletes' Dormitory emergency hospital, confirmed that the AUMR has had a trial run at the hospital. However, it is currently being fine-tuned by the researchers. "It has not been calibrated," he said.
While ITS and Telkom University are developing a robot to assist medical staff, Bandung Institute of Technology (ITB) lecturer Syarif Hidayat and his team are working on a light-weight ventilator named Indonesian Portable Ventilator, or Vent-I. This device has already passed health ministry's Health Facility Security Center ( BPFK) on April 21. "It's already started production. The target is to have 100 units by the end of this week, to be directly distributed and donated," Syarif said on April 20.
Vent-I is a research collaboration between ITB lecturers, Padjadjaran University's medical faculty, and doctors from the Dr Hasan Sadikin Hospital. The plan is to use it as a ventilator to assist Covid-19 patients with light pneumonia symptoms, so that they do not have to enter intensive care unit rooms when they become short of breath.
Syarif said that the portable ventilator, weighing some five kilograms, is less complicated compared to the ones in hospitals, and thus easier to use for doctors or nurses so there would be no need for special operators and it can be used anywhere. This study, which cost over Rp100 million, was funded by ITB's Salman Mosque Foundation's trustee board, and crowd funding. Vent-I is expected to be produced by state-owned companies, including Dirgantara Indonesia and electronics producer LEN.
A technician demonstrates the operation of the portable ventilator Vent-I at the Bandung Institute of Technology, April 21. TEMPO/Prima mulia
Muhammad Ridlo Akbar, production director at Dirgantara Indonesia, said that their team is processing permits for Vent-I production and distribution, and at the same time conducting clinical tests. The company aims to start production this week. "Our first milestone will be 500 unit per week," he said.
The University of Indonesia (UI) team has also developed a portable ventilator. Team chief Basari said that this breathing assistant has been designed for patients in ambulances on the way to hospitals, or from observation to isolation spaces. The ventilator, named Covent-20, is a product developed by a collaboration of researchers from UI's engineering and medicine faculties, the university's hospital, the health ministry's health polytechnic division, and the Persahabatan General Hospital in Jakarta.
Indofarma Chief Executive Officer Arief Pramuhanto said his company has cooperated with UI to produce Covent-20. This device has received BPFK approval, and only needs to process a permit number at the health ministry. "At the soonest, we will register it next week," he said.
The price for Covent-20, Arief continued, will be between 30 percent and 40 percent cheaper than regular ventilators currently in the market, which cost between Rp300 million and Rp500 million, as 70 percent of Covent-20 components are available in Indonesia. Also, its technology is not that complicated. Initially, the aim is for production to reach between 300 and 400 units a month.
Nizam, implementation official at the education and culture ministry's education directorate-general, said that until now medical apparatus in Indonesia have been very dependent on imports. When the pandemic hit, this dependency had a serious impact on Indonesia's handling of Covid-19. "This is why we are urging researchers at universities to conduct studies on medical devices, development of protective gear for medical staff, and a number of devices that could help mitigate Covid-19," he said.