Beyond Classrooms
A number of top campuses are helping government's Covid-19 mitigation efforts. From virus testing, searching for natural antidotes, to examining potential compounds as vaccines.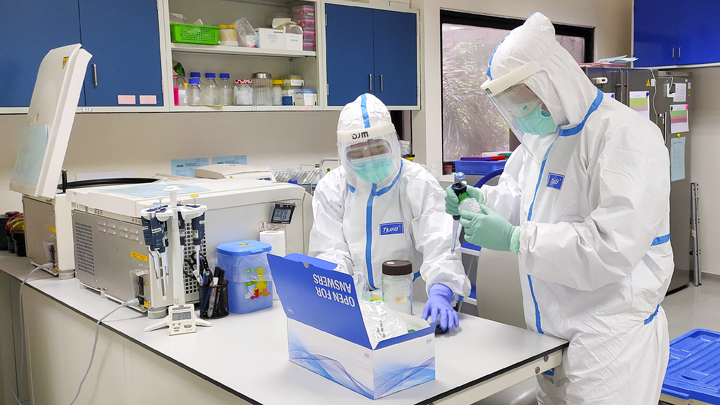 THIRTEEN staff members of the Tahija Foundation Diagnostic Laboratory in Yogyakarta carefully examined samples from patients suspected of contracting the new coronavirus on Wednesday, April 29. With hazmat suits and face masks, they analyzed specimen sent from a referral hospital. The lab test results will be sent back to the hospital so doctors can decide how to treat patients, especially those who tested positive.
Before entering the lab, each person must have a temperature check and undergo examination for signs of infection. They are warned to always obey safety protocols. "All staff members must wear complete personal protective equipment and go through strict biosafety procedures," Eggi Arguni, team leader of the diagnostic unit of the Tahija Foundation Diagnostic Laboratory at Gadjah Mada University's (UGM) faculty of medicine, public health, and nursing, told Tempo.
Academics are an important element in mitigating the Coronavirus Disease 2019 or Covid-19 pandemic. Campuses with their own research institutes for tropical infectious diseases such as UGM, Airlangga University (Unair), and the University of Indonesia (UI), are stepping out of classrooms to conduct researches for virology and medicinal purposes. Some are also seeking to innovate in the fields of bio-informatics, searching for coronavirus antidotes, and making potential vaccines.
UGM began using its Tahija Foundation Diagnostic Laboratory to examine samples of Covid-19 patients on Friday, April 3. Every day from 7am to 3pm, lab officials extract ribonucleic acid—the genetic material of coronavirus in patients' mucus—collected by swabbing the base of patient's nose and throat. Using a polymerase chain reaction (PCR) method, the specimen is analyzed to detect whether there is any SARS-CoV-2, the virus that causes Covid-19.
Since functioning as a Covid-19 laboratory, the laboratory checks 610 samples every day. The specimens came from referral hospitals, including the Sleman Regional General Hospital, Yogyakarta City Hospital, Wates Kulon Progo Hospital, Panti Rini Hospital, PKU Muhammadiyah, and Santa Elizabeth.
W251bGwsIjIwMjEtMDMtMDUgMDg6NDk6MzYiXQ
The laboratory produces faster diagnosis as they do not have to wait for a test by the health ministry's Research and Development Agency (Balitbangkes) in Jakarta.
Eggi said that the laboratory, with a level-2 biosafety standard (BSL-2) plus from World BioHazTec Singapore, is required to report test results to all hospitals that sent them samples 2 x 24 hours or less. "We also report it to the provincial health office, the Balitbangkes, and the National Disaster Mitigation Agency," he said.
Before the global onslaught of Covid-19, the Tahija Foundation Diagnostic Laboratory was routinely used to study Aedes aegypti mosquitoes that carry wolbachia bacteria, through the World Mosquito Program project since 2011. The laboratory has biosafety cabinets, refrigerated centrifuges, PCR machines, and frozen sample storage cabinets. Under the request of the Balitbangkes, UGM functions this laboratory to analyze of coronavirus samples.
Riris Andono Ahmad, director of the Center for Tropical Medicine at UGM's faculty of medicine, public health, and nursing, said that his team also conducts research by simulating the pandemic based on individual interactions. Their modeling results show that the peak of the pandemic—especially in Jakarta as the nation's epicenter for Covid-19 transmission—is not in May, as the government's Covid-19 task force estimated. "Jakarta is still at huge risks for the next wave of this pandemic," he said, adding that it will take around two years for Covid-19 to disappear.
In Surabaya, East Java, the research for the Covid-19 vaccine at Airlangga University's institute for tropical diseases began at the start of April. It involves the fields of stem cells, tropical diseases, biological molecular engineering, and hospitals. Researches, conducted daily, test the synchronization of compounds that can inhibit coronavirus replication. The researchers detected main proteases, a type of enzyme that allows the virus to replicate when it finds a suitable host. "If the host is suitable, it will replicate," Ni Nyoman Tri Puspaningsih, head of the Research Center for Biological Molecular Engineering at Unair, said on Wednesday, April 29.
Luckily, Nyoman said, her team was able to immediately find compounds that they detected as able to inhibit virus replication. In a synthetic study at the lab, three out of five candidates of anti-main protease compounds were found to have excellent binding energy. However, she stressed that the compound cannot be dubbed as a vaccine for coronavirus.
To ensure that the compounds can inhibit the virus' replication, Nyoman and her team still have to run pre-clinical tests, formulations, and clinical trials. They must also conduct a challenge test to see whether the virus is able to replicate after being bound with the active compound. "We want clinical trials and challenge tests to run parallel so the process is faster. If this synthesis is successful, the ingredients can be made," said the enzyme expert.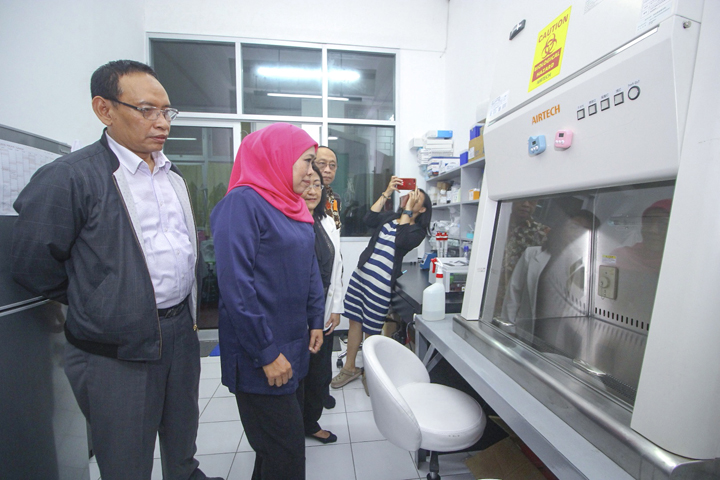 East Java Governor Khofifah Indar Parawansa (second from left) accompanied by Airlangga University Rector Mohammad Nasih (left) at the Influenza Laboratorium of the university's Institute of Tropical Disease, Surabaya, last March. ANTARA/Moch Asim
Nyoman said that their research also aims to map out the coronavirus infection in Indonesia. Through mapping, she said, the difference in how corona spreads and behaves in Indonesia compared to countries in Europe, Australia, and other Asian nations, especially China, can be indicated. That way, researchers will have a reference to create vaccine candidates.
According to GISAID, a data bank with samples of SARS-COV-2 collected from around the world, the size of the virus found in Indonesia is smaller than those in Europe and Australia. "Generally, in affected countries, the average size of the virus is 30,000 base pairs. In Indonesia, the size is 350 base pairs on average, or about one percent," she said.
Airlangga University Rector Mohammad Nasih said Covid-19's research in his campus laboratory was still in the culture phase. He said that there were several obstacles faced by the research team. One of them is the virus is 'naughty'—difficult to culture. The same lab also analyzed the avian influenza virus that triggered the bird flu pandemic in 2003. "The avian influenza virus is easier to culture," he said.
University of Indonesia (UI) also joins in the research on how to control the spread of Covid-19. Collaborating with the Biopharmaca Study Center of the Bogor Institute of Agriculture (IPB), the university's faculty of medicine, department of chemistry and the faculty of pharmacy conduct bioinformatics researches. They found that compounds in red guavas (Psidium guajava Linn) can act as an antidote to the coronavirus. "The complete genome of the Covid-19 virus can be seen. We also have data on the chemical structure of herbs," Faculty of Medicine Dean Ari Fahrial Syam said on April 28.
From a total database of 1,377 compounds, the research team found among them: hesperidia, rhamnetin, kaempferol, quercetin, and myricetin. This discovery was followed up by clinical trials of red guava juice as a supplement for people under observation and patients under surveillance. "Medical chemists and pharmacists will examine in more detail which specific contents of guava can inhibit the work of the coronavirus," said Ari.