Back to School With TVRI
The government is providing some home-based education platforms to reach students in the provinces. Not all students and teachers can easily adapt.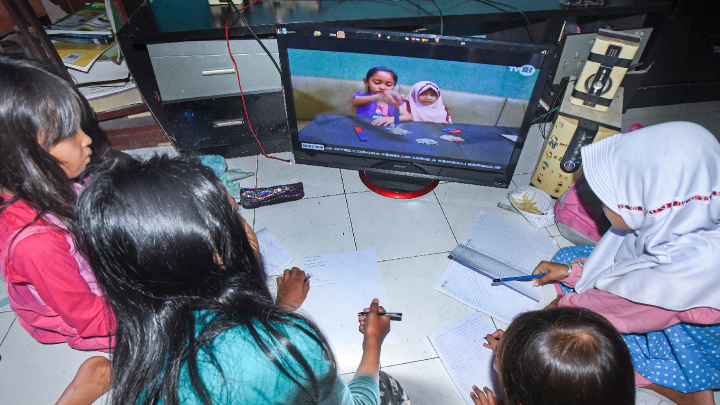 THE coronavirus pandemic has changed the daily routine of Aurora Sang Kinanthi, a 9th grader at Dewi Kunti 1 Middle School in Tigaraksa, Tangerang Regency, Banten. She usually got ready to go to school after dawn, because she would take part in a spiritual management activity at 6am. However, these days she does not need to get ready so early. The important thing, she said, is that at 7am she makes roll call by uploading a photo of herself studying to her class's WhatsApp group. "Even though it is a bit tiring, like it or not I have to do it," she said on April 27.
Aurora began studying at home when the Banten Province declared the Covid-19 pandemic to be an extraordinary situation in mid-March. In-person learning switched to virtual study by using various methods. Students are asked to summarize lessons, work on problems sent to them by the teacher, and to make a journal. The work done on those assignments is then photographed and sent to teachers via WhatsApp.
Things are different for Dwika Yanuarista, a third grader at the Gatak 2 State Primary School in Delanggu, Klaten, Central Java. While studying from home, this student does not only work on worksheets, but also makes videos on vocabulary memorization for English lessons and Islamic studies. Dwika must also watch the educational programs televised on state television TVRI for one hour starting at 9:30am. The answers to the questions shown at the end of the program are written down, photographed, and sent to the teacher via a WhatsApp group. "The parents of the students and teachers are in that group," said Dwika's mother, Wening Prihatin, on April 29.
The broadcasts Dwika watches are part of the learn from home program launched by the ministry of education and culture on April 13. Those programs can be accessed on state radio station RRI and TVRI from 8am to 11pm, with time slots allocated for each education level, from early-age education to high school. There are also broadcasts for parents and teachers. These broadcasts are an alternative study program being used during the pandemic by children who cannot access the Internet, so that they can still access the appropriate level of education.
The government has prepared about 720 episodes for 90 days of Learn from Home broadcasts. Hamid Muhammad, acting director-general for early age, elementary, and secondary education, said that the videos being broadcast are from an old collection of the ministry of education. This collection was curated by a curriculum team to be adapted to the learning material for each educational level. "The ministry has also prepared new educational videos which are more modern," he said via WhatsApp, on April 29.
W251bGwsIjIwMjEtMDMtMDUgMDg6MzU6MzgiXQ
According to Hamid, the lessons shown on TVRI vary each day. However, the lesson material does not meet the needs of students due to their varied background and locations. From the outset, Hamid explained, the programs on TVRI were not adopt school curriculum, but are more focused on literacy, numeracy, and character education.
For this reason, the government is also running a distance learning program over different channels, using the Internet and applications such as Rumah Belajar, which has been promoted to teachers in the provinces. Those programs are used in conjunction with other public initiatives which have emerged, for instance, the one being driven by provincial groups via community radio. "TVRI's programs must be accompanied by other modes of study, be it online, semi-online, or manual," said Hamid.
After running for over two weeks, the ministry of education evaluated its program to identify any obstacles. According to Hamid, most of the learning process is not interactive, which makes it difficult for students to understand the lesson material. Assignments are too difficult, and the study environment bores the students. Most of the teachers are having difficulty accessing the Internet, making it difficult to give feedback to students who are having difficulty studying.
Therefore, according to Hamid, they have made a policy that the distance learning process being used during the Covid-19 pandemic does not need to meet curriculum targets. It will be sufficient to focus on life skills for students, because the government realizes that the pandemic has changed the living patterns of many people. Minister of Education and Culture Nadiem Makarim has signed Circular No. 4/2020. It mentions that the home-based learning process does not require students to complete the curriculum in order to graduate or pass to the next grade. "Studying from home cannot possibly be equated with studying at school," he said.
Psychologist Saskhya Aulia Prima appreciates that the government study materials do not emphasize completing the curriculum. The use of social distancing rules has made many children feel pressured. In addition to receiving a backlog of school assignments, they are having difficulty dealing with parents who are not as patient as their teachers at school. Many students miss the school environment and want to meet their friends. "These things are making children feel confused and ultimately unmotivated with studying at home," said the founder of the Tiga Generasi consulting office.
According to Saskhya, children are not the only ones experiencing stress in facing this study-from-home arrangement. Many parents and teachers also feel pressured to take care of the learning process of children. She suggests that teachers also take advantage of access to psychological counseling during this period of distance learning. This is available from the Jakarta Association of Clinical Psychologists, which has opened tele-counseling for teachers. "At minimum teachers can learn how to control their breathing, because they are also under a heavy burden," she said.
A number of recommendations were produced in a national coordination meeting attended by representatives of the Indonesian Child Protection Commission (KPAI), the ministry of religious affairs, and the ministry of education on Wednesday, April 29. These included the government being asked to ensure grading to determine class advancement for the 2019/2020 academic year take into account the diverse conditions of students.
The KPAI also asked the ministry of religious affairs and the ministry of education to ensure that the distance learning process is comfortable and friendly for children.
KPAI Chairman Susanto clarified that this coordination meeting was following-up public complaints and studying the distance learning program. Since the program began, the KPAI received 246 complaints from children or student representatives from the kindergarten to high school level. At the same time, the KPAI conducted a survey of 1,700 students and 575 teachers in 54 regencies/cities in 20 provinces. "The complaints varied: difficult teacher assignments, no funds to buy Internet time, and others," he said.
The KPAI noted that 56.9 percent of respondents do not know about the Rumah Belajar application made by the ministry of education. A total of 76.6 percent of respondents did not use the application for studying because teachers did not assign its use. Regarding feedback from teachers, 20.1 percent of students said that they have not interacted with teachers. A total of 73.2 percent of respondents feel that the assignments given by the teachers are too difficult. These things are reasons why 76.7 percent of respondents said that they were not happy learning from home.
According to Susanto, in carrying out distance learning, teachers should not focus on cognitive learning, but balance this out with other aspects, such as character-based education. He encourages that the education ministry and the religious affairs ministry to continue to promote the Learn from Home program being done on TVRI, RRI, and the Rumah Belajar app. "Teachers also need to be creative in conducting distance learning so that their students are enthusiastic about completing the assignments," he said.
Distance learning has forced teachers to improve their teaching skills. Wardani Sugiyanto, chief of the Klaten education office, said that once the Learn from Home policy began, teachers still came to school for a week. They were trained on how to operate some online education applications by information technology workers at each school. Teachers also developed an online learning schedule before using it for their students.
Hamid Muhammad said that the government has been working to support teachers through various means. In addition to providing operational assistance funds for school to purchase Internet time, the government has created the Guru Berbagi application. This app, which has been downloaded over 1,000 times, provides a place for teachers to share teaching tips during the home-study period. "We have promoted it in online meetings with education offices and practitioners," he said.