Support from Gardens and the Internet
Non-formal education institutions are looking for ways to continue instruction during the pandemic. It is not purely a business concern but a part of a mission for equal access to education.
A 300-square-meter garden has become Faiz Fakhruddin's final hope. The Coronavirus Disease 2019 (Covid-19) pandemic has hammered the Gajahwong School, an educational institutions for children from poor families, which was established a decade ago by the Undercurrent Advocacy Team (Tabah) community in Kampung Ledhok Timoho, Yogyakarta.
On Wednesday, April 29, seedlings for spinach, swamp cabbage, basil, and chilies which were planted by eight instructors some time ago had begun to grow. Faiz hopes that the harvest can be sold in May through Donor Sayur, a vegetable donor program created in early April to support the operation of the Gajahwong School. "Conditions are getting more difficult," Faiz said to Tempo. "We have to try different strategies to survive."
This garden next to the Gajahwong River in Yogyakarta was initially used as a learning material for their 52 students. They are children aged 3-15, from the families of trash scavengers, street buskers, household assistants, parking attendants, street vendors, and sex workers. This free school operation was previously supported by a trash bank business and by raising goats.
However, corona has thrown everything into disarray. The supply of trash dwindled because hotels, schools and offices stopped operating due to the pandemic. Demand for the goats also declined. That afternoon, the pen next to the spinach and cabbage garden was packed with goats which had been raised over the previous two months.
This is why they started the Donor Sayur. It is hoped that this program can solve two problems at once. The funds from sales will be used to keep the educational activity going, which is presently in danger of stopping due to limited school operational funds. Some of the vegetables bought by donors are given to the families of students who are suffering from the impact of the pandemic.
W251bGwsIjIwMjEtMDMtMDUgMDg6MDk6NTciXQ
Unlike other educational institutions which have switched to online lessons during the coronavirus emergency, the Gajahwong School has made a new academic calendar which applies a home-based curriculum. One instructor mentors a learning process which puts more emphasis on parental care. The 'door-to-door' method was chosen because not all the families of students have Internet access. Most of them do not own cellular phones.
The restriction of public activity to prevent the spread of Covid-19 has resulted in parents losing their incomes. Chusnul Qotimah, for instance, can no longer visit the neighborhoods where she works as household help. Her husband's income from selling mineral water has also decreased. "We are surviving on school donations," said Chusnul. That afternoon, this 30-year-old woman could be seen accompanying her son, Mahesa Alfiano Prasetyo, who is in the Kelas Akar, or Root Class, the name for an early education program for children ages 3-5 at the Gajahwong School.
The Gajahwong School is not the only independent school which has had to modify its educational program during the pandemic. Rumah Dokumenter, an institution which teaches people about documentary film production in Belang Wetan, Klaten, Central Java, is busy creating educational content on its Instagram and YouTube accounts as an alternative learning space open to all. Tonny Trimarsanto, the founder of Rumah Dokumenter, said that he put a work-at-home policy into effect when Covid-19 was first detected in Indonesia. Work activity in the industry and apprenticeships have been put on hiatus.
However, Tonny, a filmmaker who won a Piala Citra award for the best full-length documentary film at the 2017 Indonesian Festival Film, continues to think up ways to spread knowledge. His discussions and question-and-answer sessions in a WhatsApp chat group is complimented by tutorials and creations by Rumah Dokumenter on the @rumahdokumenterklaten account, which routinely posts infographics about the basics of film production. "Usually films made by Rumah Dokumenter are only shown in university classrooms," said Tonny, who is often invited as a guest lecturer at some universities in Yogyakarta and Surakarta.
Before the pandemic, many would come to Rumah Dokumenter, which is located at Tonny's residence. This institution is a favorite of vocational school and university students from various provinces who are studying real-world applications. Tonny even provides accommodations for out-of-town students. "It's free," said this researcher for visual materials and artistic designer for some feature films made by director Garin Nugroho from 1992-2000.
On April 28, Tonny was preparing material for a live streaming on his Instagram account @rumahdokumenterklaten from 8pm-9pm. This was the third program after the Study With a Maestro program on March 28. This hour-long online discussion with expert Didik Nini Thowok was watched by 161 viewers from around Indonesia.
Also in the Klaten Regency, Lusiana Sari Rahayu has had to stop the private English language lessons called the English Weekend Club, which she started in December 2019. This English-language interactive education program for primary and secondary school students at the Lokal Space Education lost its students when the government implemented the social distancing policy.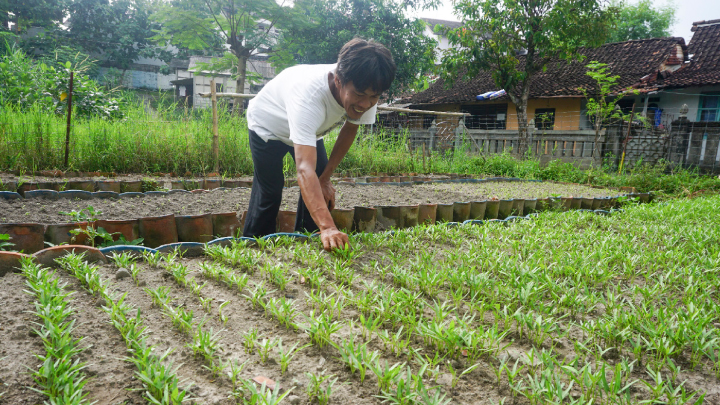 Faiz Fakhruddin, founder of Gajahwong School, at the school's gardern in Kampung Ledhok Timoho, Yogyakarta. TEMPO/Shinta Maharani
Up until then, one of Lusiana's classes had a maximum of seven students who paid Rp35,000 for an hour-long study session. She used this form of teaching in the hopes that the students could easily learn the material. Her students enjoyed the direct interaction. "Now there are only four kids who are still taking lessons as usual (in person). Five others are continuing online," said this student in the English Education Masters program at Sanata Dharma University, Yogyakarta, on April 27.
Lusi was recently inspired to take up teaching via the Zoom application. She plans to use it to make an English conversation lesson program. So far, learning online has been an alternative solution. However, this does not mean that everything has gone smoothly. Some of the students have complained about weak signals from cellular operators.
Some student tutoring institutions have also taken up new methods. Ganesha Operation in Bandung, West Java, anticipated the situation by preparing materials for online and offline study. "The difference is, in the past this was only supplemental material, now it is the main menu," said Bob Foster, founder and Chief Executive Officer of Ganesha Operation, on April 27.
But Ganesha Operation must face the reality. "We surveyed the students, and about 65 percent prefer learning in-person," said Bob. Whereas, according to him, Ganesha Operation has already set a low price for online learning, namely Rp1.25 million per year, with opportunities for discounts which can bring the price as low as Rp750,000—compared to the in-class student tutoring price of Rp6-7 million per year.
Sony Sugema College is in the same boat. This student tutoring institution which is also based in Bandung has activated live streaming lessons. While they have had the ability to do so since 2011, the number of applicants has dropped 60 percent. From the business side, turnover has declined 90 percent for intensive tutoring for enrollment into state universities. The period before the new academic year is supposed to be a boom time for tutoring businesses.
According to Harry Setiady, public relation & marketing manager of Sony Sugema College, they will be able to stay into business until this May. "If the government extends the study-at-home period to the end of 2020, conditions will be more severe," he said.