The Biozek Controversy
The Biozek rapid test kit, which is imported by Kimia Farma from the Netherlands, seems to be questionable. An investigation by the Organized Crime and Corruption Reporting Project (OCCRP) in collaboration with Tempo reveals that Biozek test kits are, in fact, manufactured in China. A number of studies also point to Biozek's low accuracy. Sold at hundreds of thousands to millions of rupiah per unit, Biozek has spread to various places in the country, including the State Palace.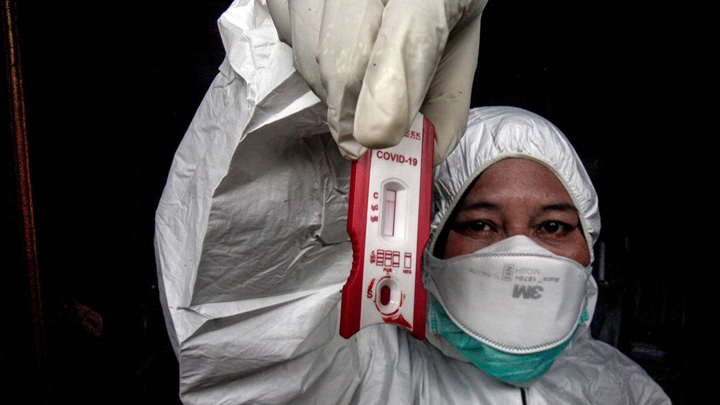 A mid the cold weather, Fandji Yudha Yudistira visited Apeldoorn, a small city in the Gelderland Province of the Netherlands, on Tuesday, April 7. The Kimia Farma strategic direct procurement assistant manager immediately went to the pharmaceutical company Inzek International Trading BV's office to inspect their Biozek rapid test kits. "I went there to make sure that the items were there and in the amount that we requested," Fandji told Tempo via a conference call on May 6.
Fandji, who was accompanied by two representatives of the Indonesian embassy in the Netherlands, did not directly witness how the kits were manufactured. He only saw around 10 workers in the area, some of whom were packaging the rapid test kits. According to Fandji, all of the test kits ordered by Kimia Farma were already organized in the storage and ready for shipment. After he made sure that the items were in the ordered amount by checking a sample box, he signed a letter of credit guaranteeing payment.
Three days later, 300,000 Biozek rapid test kits were sent to Indonesia. A press release by Mach-E, Biozek's Indonesian distributor, states that Biozek rapid test kits are developed and manufactured under very strict European Union and Dutch regulations, allowing no room for error. The release also claims Biozek to be extremely reliable and safe.
Kimia Farma Production and Supply Chain Director, Andi Prazos, says the deal with Inzek was made in early April. According to him, the purchase was based on the recommendation of Kimia Farma's business development division and that Inzek allowed Kimia Farma's representatives to visit them. "Some manufacturers did not allow us to visit, so we didn't make a deal (with them)," said Andi.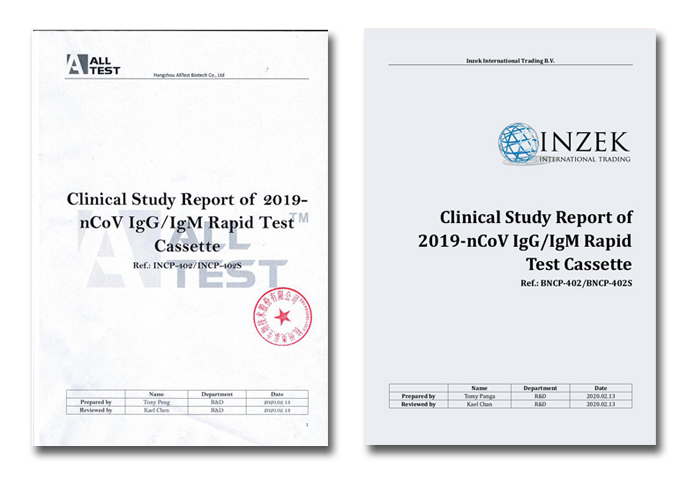 AllTest and Inzek clinical study document.
He explained that Kimia Farma's procedure is that a purchase must be made after checking the quality and availability of an item—especially relevant, in this case, as it was the state-owned company's first partnership with Inzek. Andi says he was certain that Biozek was manufactured in Apeldoorn. Furthermore, according to Biozek's website, their "products are Dutch-manufactured with a Conformitè Europëenne (CE) marking and the approval of the Saudi Food and Drugs Agency.
But based on the investigation by the Organized Crime and Corruption Reporting Project (OCCRP), along with a number of international media, including Tempo, Biozek is not manufactured in the Netherlands. The kits are believed to be manufactured in China by Hangzhou AllTest Biotech Co Ltd. The OCCRP found that the kits were simply relabeled under the Biozek brand.
Another indication supporting this suspicion is the analysis certificate that Kimia Farma received from Inzek. On the certificate issued on March 20, the name C. Kael was mentioned as a quality supervisor. OCCRP's investigation reveals that Kael is a member of AllTest's research and development staff.
During several exchanges in March-April, Inzek International Trading BV Chief Executive Officer (CEO) Zeki Hamid admitted that the Biozek rapid test kits are manufactured in China. "We do not say that the product is made in the Netherlands, but that we are a Dutch brand," he said. Later on, the phrase "made in the Netherlands" was deleted from the Biozek website.
AllTest as well as Inzek claim that their rapid test kits have an accuracy of up to 92.9 percent in detecting immonoglobulin M (IgM) and 98.6 percent in detecting immunoglobulin G (IgG). Both are antibodies produced by the body when infected by bacteria or viruses. Rapid antibody test kits detect these two types of antibodies.
But a number of studies show contradicting results. A study by Prof. Sir John Bell from Oxford University of a number of Chinese test kits—including that of AllTest—shows that the accuracy of these test kits are much lower than advertised. As a result of the study, the British government canceled the purchase of millions of Chinese-made test kits. AllTest then made an official statement in response to reports on England's canceled order, saying that their product is not meant as an early screening tool and is simply a "supplementary method" to other test tests.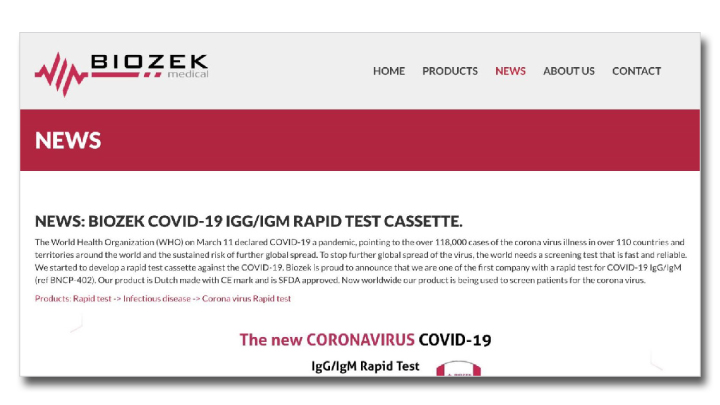 The claim that Biozek is made in the Netherlands in its website. mastercomholding.com
A non-peer review study from Spain published on April 11 on MedRxiv-arkaiv, a scientific journal that was founded by, among others, Yale University, mentions that of the 55 samples that were found positive using the polymerase chain reaction (PCR) test, over half were falsely detected as negative results by the AllTest kit. The PCR method is able to accurately detect a virus's genetic material. The 47-percent sensitivity of the equipment rises to 74 percent when used to test a patient that has been infected with the coronavirus for four weeks. The writer of the study, Juan Cuadros Gonzales, says the kits produced by AllTest can only be used to complement the PCR test four weeks after coronavirus symptoms occur.
Andi Prazos, says Kimia Farma will officially correspond with Inzek to request an explanation. He says he has already received information from Mach-E about a study by the Institut Pasteur—a French non-profit foundation for the study of biology, diseases and vaccines, which said Biozek had passed clinical trial. The document was released on May 3. On May 7, Inzek issued a release calling studies that call Biozek's accuracy weak are unfounded.
Marien de Jonge, a scientist involved in research on the Coronavirus Disease 2019, or Covid-19, at the Medical Center of Radboud University—a research university—in the Netherlands, says the inaccuracy of rapid test kits is extremely dangerous. Especially when such a kit produces a false negative as it may endanger others. "A false negative is a disaster," he said.
On March 27, a North Macedonian, Rodzer Zekirovski, received a false negative after he was tested with a Biozek rapid test kit at a private clinic. Prior, he had coronavirus symptoms, namely, a fever and dry cough. Zekirovski's wife, Giultena, says his family members immediately hugged and kissed her husband after learning that he did not have Covid-19. But three days later, Zekirovsky passed away. A PCR test result, which came out later, gave a positive diagnosis for the coronavirus.
***
Despite the several studies that point to the kit's inaccuracy, Biozek is still on Indonesia's Covid-19 mitigation acceleration task force's list of recommended test kits. The Biozek test kit, which arrived on April 10, is on the list of recommended test kits released on April 28, under the name Covid-19 IgG/IgM Rapid Test Cassette-Biozek Inzek International Trading. The information was only uploaded on the website on May 5.
Andi Prazos admits that the product was only listed on May 3. According to him, before the task force's recommendation was published, Kimia Farma had already imported Biozek test kits through a special access scheme, with a permit issued by the health ministry. Kimia Farma applied for an import permit on March 24, and the permit was issued within two days.
Because of the coronavirus pandemic, the government issued a regulation that eases permits for the importation of medical equipment. Presidential Decree No. 9/2020 on revisions to Presidential Decree No. 7 on the Covid-19 task force, says items not yet registered in Indonesia can be imported by making a request to the National Disaster Mitigation Agency (BNPB) through the country's online national single window system.

This method facilitates the importation of various rapid test kits. For example, VivaDiag, which is manufactured by the Chinese company VivaChek Biotech Hangzhou Co Ltd, received an import permit exemption from the BNPB on March 31. VivaDiag, which is imported by Kirana Jaya Lestari, was also recommended for import duty and tax exemption. BNPB Chief of Legal, Organization and Cooperation Bureau, Zaherman Muabezi, who signed VivaDiag's import permit, says Kirana was not given an exemption and still had to pay import duty as well as other taxes in the amount of around Rp4 billion.
On April 30, VivaDiag's test kits used on 443 residents of the Banjar Serokadan community, Bangli Regency, Bali, yielded positive results. But swab tests performed after only resulted in one Covid-19-positive diagnosis. Aurelia Ira Lestari, director of Kirana Jaya Lestari, says VivaDiag kits with lot number 3097 have already been recalled from all medical facilities.
VivaDiag is also on the list of rapid test kits recommended by the Covid-19 task force on March 25. Wiku Adisasmito, head of the task force's expert team, says all rapid test kits that are on the recommendation list have Conformitè Europëenne, Food and Drug Administration, or other equal certificates. "Rapid antibody test kits from overseas cannot be put on the recommendation list if this requirement is not met," said Wiku.
***
AS of Wednesday, May 6, Kimia Farma had distributed over 181,000 Biozek rapid test kits to 58 hospitals and 28 health offices in various regions, such as Aceh, Bengkulu, West Java, East Java, Central Java, and Papua. Kimia Farma's Andi Prazos, says his company only distributes the test kits to hospitals and health offices. "(It's) not sold to individuals," he said.
But the rapid test kit is not only being sold by Kimia Farma. Some vendors are selling Biozek test kits on e-commerce platforms and social media at high prices. One Instagram account, for example, is selling one box of Biozek test kits containing 30 units at the price of Rp8.8 million. Another account is even selling the test kits at Rp13 million per box.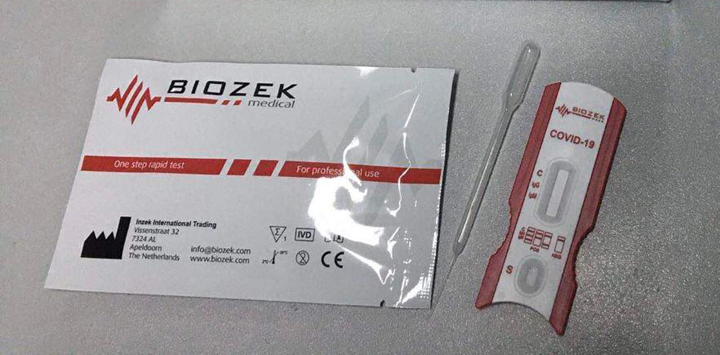 Biozek Covid-19 rapid test kit. OCCRP
There are also reports that Biozek is being imported by Makassar businessman Erwin Aksa Mahmud. According to an online news report, the deputy chairman of the Chamber of Commerce and Industry (Kadin) imported tens of thousands of Biozek test kits, some of which are given to the government. But when asked to confirm, Erwin denied this information. "I was only given samples by someone," he said.
Regional governments are also using Biozek for screening. Tangerang Regency Chief of Disease Prevention and Control, Hendra Tarmizi, says his office received VivaDiag rapid test kits as aid from the Banten provincial government and Biozek test kits from a private entity.
Meanwhile, Chief of the Batam City Health Office, Didi Kusmardjadi, says he purchased 3,000 units of Biozek rapid test kits from Kimia Farma's partner. "We only have a supply of 270 at this time," he said.
Even the Palace is using Biozek. According to our source, who visited the Palace, he took the rapid test using a Biozek kit. When asked about the use of Biozek test kits at the Palace, Presidential Secretariat Chief Heru Budi Hartono said, "Guests are given the rapid test." One state official, whom we met, also uses the Biozek test kit. When we visited his home, we had to be tested using the kit.
At a number of medical facilities, rapid tests cost over Rp500,000. At a private hospital in Bogor, West Java, rapid testing using the Biozek kit costs Rp550,000. Meanwhile, at a Kimia Farma laboratory we visited, rapid testing costs Rp650,000. According to the OCCRP, the market price for a Biozek rapid test kit is only €5, or around Rp80,000 per unit. An official at the state-owned enterprises ministry says Biozek's purchasing price is less than US$3 per unit, or under Rp45,000.
Inzek International Trading BV CEO Zeki Hamid expressed displeasure at learning that Biozek rapid test kits are being sold at over €10, or around Rp160,000. Meanwhile, Kimia Farma Production and Supply Chain Director, Andi Prazos, is reluctant to reveal Biozek's purchase price. "If revealed, it would be like leaking our secret information," he said.
DEVY ERNIS, WAYAN AGUS PURNOMO, HUSSEIN ABRI DONGORAN, AYU CIPTA (TANGERANG), YOGI EKA SAHPUTRA (BATAM) WITH OCCRP'S REPORTERS.