Crying Over a False Result
Rapid testing in various regions has yielded inaccurate results. Psychosomatic symptoms may occur after a false positive.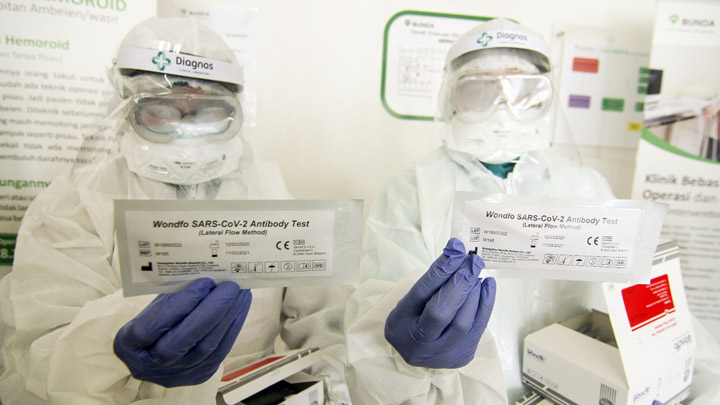 TIARA—not her real name—immediately wept when her rapid test gave a positive result for the coronavirus at the end of April. Only one week prior, another rapid test performed on the nurse at the Depok subdistrict community clinic (Puskesmas) in Sleman, Yogyakarta, yielded a negative result. "I instantly thought of my child, who is still a toddler," she said on May 6.
The 36-year-old woman and her colleagues at the Depok Puskesmas had to undergo rapid testing because of their frequent contact with individuals under monitoring and patients under supervision. She was the only one with a positive result for the coronavirus. Tiara did not have coronavirus symptoms, such as a cough and a fever, but she had to stay at a special ward for patients with Coronavirus Disease 2019, or Covid-19, at the Sleman Regional General Hospital (Sleman RSUD). After two swab tests on May 2 and May 4, Tiara was overjoyed to hear that the both results were negative. She was allowed to return home as long as she agreed to self-isolate for two weeks.
Medical personnel at the Sleman Regency were tested using the Wondfo Biotech rapid test kit. The test kits from Guangzhou, China, were given as aid from the Yogyakarta health office. Similar test kits were also used to test 300 employees at the Indogrosir supermarket in Jalan Magelang, Sleman. The tests were performed after an employee tested positive for Covid-19. Rapid testing yielded 57 positive results. As of Friday, May 8, the Indogrosir employees were still waiting for their swab test results.
Sleman Health Office Chief, Joko Hastaryo, says of the 3,100 Wondfo test kits, 400 units have not been used. For future testing, they will no longer use Wondfo. The Sleman government is planning to purchase 1,500 units of Hightop rapid test kits. "We are looking for alternative brands, in line with the health ministry's technical guidance," he said.
According to Joko, the accuracy of Wondfo is between 88 and 99 percent. Yogyakarta Health Office Secretary, Siti Badriyah, also claims that Wondfo is accurate because polymerase chain reaction (PCR) testing performed on those tested using the Wondfo kit have shown the same results. Although they praise Wondfo as a good brand, the Yogyakarta health office is choosing another brand, namely, Star Diagnostic, for future purchases. "We accepted Wondfo because it was an emergency situation," said Siti.
Wondfo falsely detected coronavirus cases during rapid testing at an academy for police officers in Sukabumi, West Java. On April 1, 300 police officers tested positive for the coronavirus using rapid testing. But swab tests performed later showed vastly different results. West Java Province Health Office Secretary, Siska Gefrianti, says these swab tests yielded 82 positive results. "Amounting to 27.33 percent of the 300 people previously found positive," said Siska.
Director of Tropical Medicine at the Gadjah Mada University's Department of Medicine, Public Health and Nursing, Riris Andono, says rapid antibody tests are prone to problems due to the limitations of the immunity model. Rapid testing only detects antibodies that are produced because of a virus. Antibodies may not be formed although a person is already infected by a virus, which means that a negative result for a coronavirus rapid test does not guarantee that a person is not infected by the coronavirus. Neither does a positive result guarantee that a person is infected. "(We) must be careful when reading rapid test results," said Riris.
Zulvia Syarif from the Indonesian Psychiatric Association (IPA) says a misdiagnosis can affect a person's mental state. Those found to be positive, despite not actually being infected by coronavirus, can have psychosomatic symptoms, such as excessive anxiety. If ignored, this anxiety can cause mental health issues. "People have to understand the purpose of being tested and the results. There must be a support system from the people closest to them so that they don't feel alone," said Zulvia.
***
AFTER President Joko Widodo announced the first confirmed corona cases on March 2, various rapid test kit brands began entering Indonesia. Around two weeks later, Jokowi ordered rapid testing on a large scale in various regions. But not all rapid tests have always given accurate results.
In Bogor, West Java, false detection occurred in the rapid testing of 51 medical personnel at the Bogor RSUD on April 20. The 41 individuals were then isolated at a hotel in city of Bogor for 14 days. Munandar, a 43-year-old nurse, had been doubtful of the test result from the start because he had no interaction with Covid-19 patients. Meanwhile, his colleague, who treated Covid-19 patients, came out negative.
Two days after receiving his rapid test result, Munandar took a swab test. Several days later, he was found negative for the coronavirus. Several days after the first test, he underwent a second swab test, again with a negative result. "I wasn't the only one who was happy, but also my whole family," he said.
Munandar's colleague, Dewi Mandarin, was also in disbelief when her rapid test yielded a positive result. She claimed to always work according to coronavirus prevention procedure. When she received a positive result after a rapid test, the 40-year-old woman was worried that she would never again see her only child. Later on, two swab tests gave her negative results for the coronavirus. "I went home crying," Dewi said.
Bogor RSUD Director, Ilham Chaidir, says the hospital used Sugentech rapid test kits ordered directly from South Korea. According to Ilham, rapid test kits cannot be used as a diagnostic tool for the coronavirus. But, according to Ilham, rapid testing can be used as an early screening tool amid the scarcity and high prices of coronavirus testing equipment.
In the Bangli Regency, Bali, the Banjar Serokodan community was isolated after its 443 residents were found positive for the coronavirus using VivadDiag rapid test kits on April 30. The testing was done because one migrant worker from the region had been diagnosed with Covid-19. Bangli Covid-19 Task Force Spokesperson, Wayan Dirgayusa, says the health office sent personnel to perform a follow-up test. "For comparison," said Dirgayusa.
Banjar Serokadan Chief, Wayan Subakti, says for the second test, the health ministry personnel used the Hightop brand. They chose 23 people randomly for a follow-up test. Not one tested positive. On May 1, Serokadan residents took swab tests at the Sanglah Hospital. Only one person was found positive for the coronavirus.
Aurelia Ira Lestari, director of Kirana Jaya Lestari, the company that imported VivaDiag, says VivaDiag kits with lot number 3097 have been recalled from all medical facilities. They have also reported the incident to the health ministry supervision directorate of the pharmaceutical and medical equipment directorate-general. "We are investigating the incident," said Ira Lestari.
Kirana imported 900,000 test kits from the Chinese medical equipment company, VivaChek Biotech Hangzhou Co Ltd. The kits were withheld by customs upon entry into Indonesia. National Disaster Mitigation Agency (BNPB) Chief of Legal, Organization and Cooperation Bureau, Zaherman Muabezi, sent a letter to Soekarno-Hatta's customs office on March 31 to provide explanation on the issue of import permit exemption. Zaherman said the company still had to pay customs duty and other taxes in the amount of around Rp4 billion.
Kirana Chief Executive Officer, Thomas Harsono, says his company received a medical equipment distribution certificate from the health ministry. When applying for the certificate, Kirana submitted a number of documents, such as a worthiness certificate as well as food and drug certificates from countries using VivaDiag. According to Thomas, the company never asked the Covid-19 task force to put their kits on the recommendation list.
Among those who recommended VivaDiag to the health ministry was House of Representatives (DPR) member from the Golkar Party, Dave Laksono. During the early days of the pandemic, the company's representatives visited him and gave a presentation on VivaDiag. "During the early days of Covid-19, there were still few test equipment," said Dave.
VivaDiag is not among the rapid test kits recommended by the Chinese government. Neither is it on the list of recommended test kits issued by the Chinese embassy in the Philippines on March 24. But one day later, VivaDiag was included on the list of the Covid-19 task force's recommended kits. Head of the Task Force's Expert Team, Wiku Adisasmito, confirmed that his institution recommended a number of test kit brands, including VivaDiag. He reasoned that the kit is registered with the World Health Organization (WHO) and meets international standards, which is why it fulfilled the requirements for importation. But WHO's website states that the organization does not recommend a single rapid test kit brand.
WAYAN AGUS PURNOMO, FRISKI RIANA (JAKARTA), SHINTA MAHARANI (YOGYAKARTA), MADE ARGAWA (BALI), M.A. MURTADHO (BOGOR)