Profiting in the Midst of Panic
Rapid testing services are mushrooming. The result of minimal health monitoring by the government.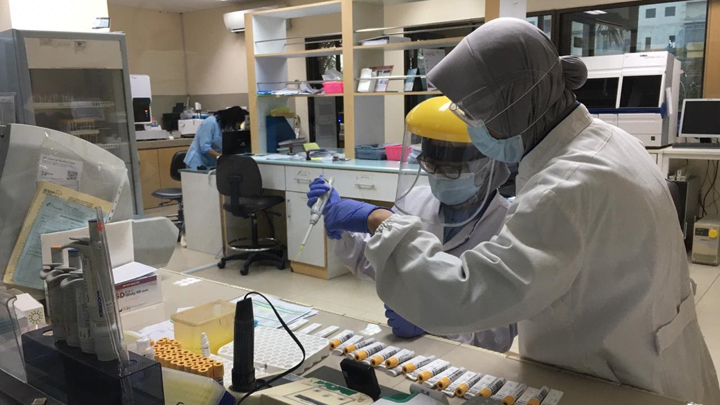 AS the syringe needle pierced the skin between his fingers on Friday noon, May 8, Juanda Septiana squeezed his eyes shut. From the vein of the 32-year-old man, the healthworker from the Primaya Hospital in Tangerang, Banten, took a blood sample. It took less than a minute to get the sample needed for a rapid test to detect coronavirus.
Juanda participated in the rapid testing because Varley Indonesia, the valve repair company where he works, was conducting a mass test free of charge for all their staff. "I would have thought twice about paying for my own test in today's conditions," he said. After the drive thru in the hospital's lobby for the rapid test, Juanda obtained a white invoice stating the rapid test had cost Rp299,000.
Ratu—not her real name—also took a rapid test in the hospital originally called Awal Bros. She selected her choice after observing rapid test offers from several hospitals. For Ratu, the rapid test conducted in the hospital was not that costly while the blood samples they take are not from the fingertip as for a blood type test. "They say this enhances the accuracy level," she said.
Juanda and Ratu's blood samples were stored in vials and left to stand for an hour. After that, all the vials were taken to a laboratorium on the hospital's second floor and entered into a centrifugation machine to separate the serum from the plasma. Juanda and Ratu's blood samples were not immediately put into the machine. For 15 minutes, 30 vials in the machine were rotated, and then left standing for a further 10 minutes. After, the blood samples, which then had turned white in color, were entered into a rapid test device with the brand name VivaDiag.
The VivaDiag rapid test device had been deemed problematic during a mass rapid test event conducted in Banjar Serokadan, Bangli Regency, Bali, at end of April. On that day, 443 citizens of Serokadan were declared corona positive. But after a swab test, it turned out only one person was declared positive. Primaya Hospital Head of Marketing, Deassy Putriyani Tambun, said the rapid test device used at her hospital had gone through a recommendation from the Covid-19 acceleration mitigation task force.
According to Deassy, some 1,500 people have used the service since the hospital put it on offer from April 11. Primaya Hospital also offers a home test costing from Rp549,000 to about Rp 1 million. The cost for a polymerase chain reaction (PCR) test using the swab method is Rp2.3 million. The test results are then submitted to the Tangerang City health office. "Some people were proven positive after taking the swab test," she said.
Chief of the Tangerang City Health Office, Liza Puspa Dewi, claimed to receive reports from all the hospitals offering Covid-19 test services. But, she said, what are reported are the results of the PCR tests, not the rapid testing. "The PCR is to support diagnosis," she said.
Secretary-General of the Indonesian Doctors Association (IDI) Adib Khumaidi said rapid tests using a blood serum are superior to tests using blood samples taken from the finger. But IDI is not recommending using the rapid tests to determine if someone is infected with corona. The most accurate, said Adib, are tests using swabs from the nose or throat. "The rapid tests are basically simply for screening," he said.
Aside from hospitals, rapid testing services are also offered by startup companies involved in medicine, such as SehatQ and Halodoc. SehatQ Head of Communications Aniela Maria said they are offering drive-thru rapid test services as well as in SehatQ clinics. For the drive-thru service, SehatQ charges Rp295,000, while clinical testing starts at Rp350,000, including a lung scan and blood test. In a day, SehatQ can service 100 patients. Patients testing positive are reported to the local health office or the Covid-19 acceleration mitigation task force.
Halodoc's Vice President for Marketing Felicia Kawilarang said her company is working in conjunction with 20 hositals in Jakarta, Bogor, Depok, Tangerang, and Bekasi conducting rapid tests and swab tests. The costs vary from Rp295,000 to Rp1.6 million, based on which hospital and what test pakage is selected.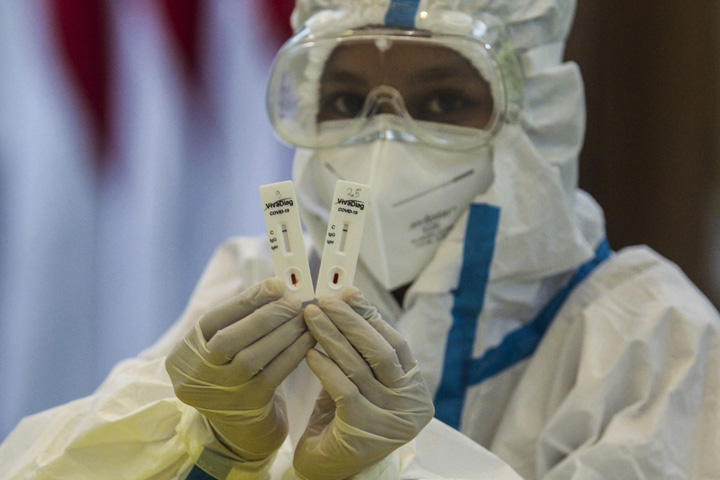 A medical staff show the blood samples during a Covid-19 rapid test using the VivaDiag kits at the Golkar headquarters, Slipi, Jakarta. ANTARA/Didik Setiawan
Aniela Maria said the rapid testing services were being offered to help people wishing to know whether they have been infected with the coronavirus or not. Particularly, she said, since many entities have tried to make a profit from rapid testing. "Just look at all the rapid test devices in the marketplace," said Aniela.
Entrepreneur Nancy Natalia admitted to having purchased a rapid test kit offered online for Rp1 million a unit at the end of March. At the time she had just returned from Israel and Turkey. Later on, she assessed the kit she bought had been too pricey. Rapid test kits sold by local online shopping apps vary in prices, from Rp6.5 million to Rp13 million per box containing 25 to 40 units. On Alibaba.com, prices are cheaper, from Rp11,000 to Rp100,000 per unit.
Primaya Hospital's Deassy Putriyani Tambun and SehatQ Communications Director Aniela Maria denied turning huge profits from rapid testing. Aniela claimed her company instead is assisting the government with their program. "We are not offering an expensive service," said Deassy.
Several hospitals are compelling their patients to take the rapid tests. Alfonsine Claudia, for example, claimed she had to fork out almost half a million rupiah more when she went with her husband to Siloam Hospital Kebon Jeruk to check her pregnancy on April 23. Prior, Siloam Hospital had set the rapid test price at Rp489,000. Later on, the cost had been lowered to Rp244,000.
In an interview with Tempo, Deputy Chief Executive Officer of the Siloam Hospitals Group, Caroline Riady, said the rapid tests are conducted to separate those with Covid-19 symptoms from other patients. The hospital will also check patients' body temperature and travel history. Caroline said these steps are important to protect patients and healthcare workers at the Siloam hospitals.
According to IDI Secretary-General Adib Khumaidi, the spike of rapid tests put on offer and sales of test kits and devices are because the government cannot yet conduct massive Covid-19 rapid testing. "As a result, there is panic in the community and people are seeking ways to do their own testing," he said.
In a meeting by the Covid-19 acceleration mitigation task force on May 7, the matter of corona testing was discussed. The government plans to prioritize PCR testing. To date, test capacity is only up to 4,000-5,000 specimens a day. The target is to check 10,000 specimens in a day. Government Covid-19 Spokesperson, Achmad Yurianto, said the government will continue doing tests in the community to seek out people infected with the coronavirus.
HUSSEIN ABRI DONGORAN, AYU CIPTA (TANGERANG)