Two Disappearing Acts
The newest regulation regarding sustainable oil palm plantation certification draws a barrage of criticism. Two added considerations—human rights and traceability of raw materials—are deleted.
Edition : Tuesday, May 12, 2020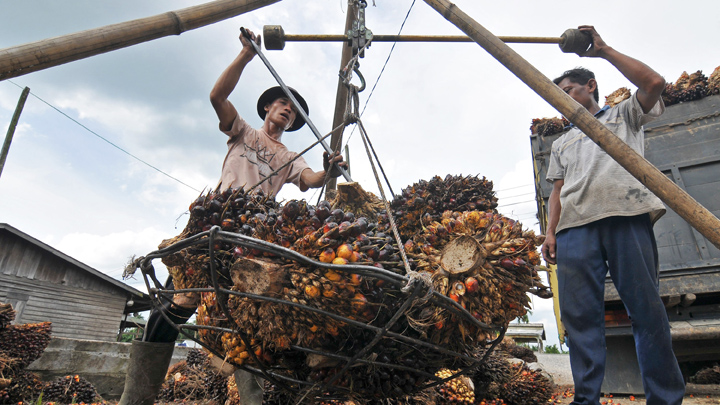 TWO corpses were found on Tuesday, April 21. Suryadi, 40, and Putra Bakti, 35, were residents of Pagar Batu village, Lahat Regency, South Sumatra. They died of stab and slash wounds after having clashed with security guards of oil palm plantation AR.
That afternoon, Suryadi and Putra along with around a hundred other village residents were defying dozens of company security guards who wanted to oust the residents from a plot of land measuring 180.36 hectares. Clashes broke out. Two other residents, Sumarlin (38) and Lion Agustin (35), were also injured. "Together with an advocacy team of civilian groups, we are currently asking the Witness and Victim Protection Agency (LPSK) to provide protection for the victims and their families," said Sekar Banjaran Aji, a legal advocacy staff member of the Institute for Policy Research and Advocacy (Elsam), on May 9.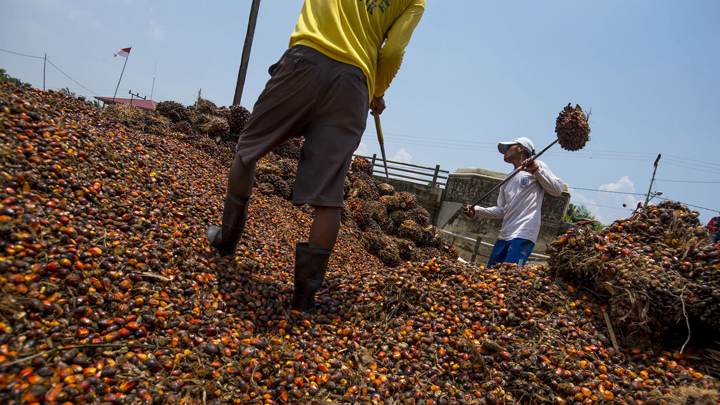 Workers at a palm oil company in Pancang village, Sebatik, North Kalimantan./ANTARA/Rosa Panggabean
The Lahat case adds to a long list of land conflict in oil palm plantation concession areas. The Agrarian Reform Consortium (KPA) noted that a total of 2.44 million hectares of plantation area has been mired in agrarian conflict between 2014 and 2018. The majority of the disputed area are oil palm corporate concessions. Last year, the KPA noted at least 69 of such conflicts in oil palm plantations.
The latest incident has intensified the disappointment of Sekar and other environmental activists over the issuance of Presidential Regulation No. 44/2020 regarding sustainable palm oil certification. Signed by President Joko Widodo on March 13, one week prior to the clash in Pagar Batu, this new regulation was hoped to strengthen the Indonesian Sustainable Palm Oil (ISPO) certification system but turned out not to include human rights as one of the principles and criteria for certification. "Without recognition for human rights principles, this regulation cannot guarantee equal rights for every person in this industry," Sekar said. "In fact, this was the most important item when we discussed about the numerous land conflicts and injustice in the palm oil supply chain."
•••
THE government issued Presidential Regulation No. 44/2020, as an effort to strengthen the ISPO, which in the past five years has only been regulated by Agriculture Minister Regulation No. 11/Permentan/OT.140/2015 regarding Indonesia's sustainable palm oil certification system. Discussions on drafting this new regulation already started in 2016, under the coordinating ministry for the economy.
At the beginning of the drafting process, the government not only included oil palm plantation businesses, but also a number of non-governmental organizations grouped in the Civil Society Communication Forum. Based on a document obtained by Tempo, at least 30 parties were involved in the steering and reinforcement working teams of the ISPO.
Abu Meridian, executive director of Kaoem Telapak, which was involved in the early part of the draft discussions, recalls discussions after the formation of the team in late 2016. Several meetings were held in the Morissey Hotel in Central Jakarta. Kaoem Telapak was involved because of its experience in preparing and implementing the Timber Legality Assurance System (SVLK), a certification mechanism for forestry industry products set up by the environment and forestry ministry.
Abu said that the civil society coalition, through the Forum, proposed that two points are added to the seven ISPO principles and criteria: honoring human rights and traceability of raw materials. While this proposal initially met with resistance from the governments and businesses, Abu said, those two points were accommodated by the coordinating ministry for the economy in mid 2017. "Material from the public consultation by Pak Wilistra Danny in four regions have named nine principles in the ISPO Perpres (presidential regulation)," Abu said on May 6.
Wilistra Danny was the coordinating ministry for the economy's former assistant deputy for horticulture plantations. Prior to his retirement in late 2019, he was the chairman of the ISPO reinforcement team.
However, as time went by, the civil society group's involvement in the draft discussions slacked off, said Abu. Sri Palupi, researcher at the Institute for Ecosoc Rights who was also involved in the earlier stages of the draft discussions, said that "things became less and less transparent. Those parties which were there to safeguard the ISPO were practically not included anymore. And then suddenly, the Perpres was issued."
After more than a year of silence, the long-awaited enforced ISPO regulation was made official on March 16. Kaoem Telapak, Elsam, and a number of other institutions involved during the onset of the discussions, were caught off guard by the regulation's content. In their view, it is not significantly different from the Agriculture Ministerial Regulation No. 11/2015. Drafts regarding human rights and traceability of raw material were nowhere to be found in the final product.
---
"Just three corporate groups control more than half of Indonesian palm oil's refinery and export capacity. Their refinery capacity is bigger than their processing facilities, so the question arises about the transparency of crude palm oil supply received by the refineries."
- Giorgio Budi Indrarto,
Trase's Lead National Consultant,
May 4
---
Sekar Banjaran Aji admitted that several articles were changed and improved. As the manager of the system, the ISPO committee does not only have members from the government and businesses, but also academics and independent observers. This last group will be filled by members of civil society. However, the role and function of these independent observers are not clearly defined in the regulation. "There is not even an article which requires an executive rule regarding the ISPO committee's function, including the independent observers within it," said Abu, criticizing articles 19 and 20 in the Presidential Regulation No. 44.
Even more worrisome is the absence of human rights and raw material traceability in the regulation. Sekar said that not including human rights as an ISPO principle and criteria disables the system within the regulation to be used as a mechanism to solve disputes. "Solving disputes is crucial when conflicts occur," she said.
When asked by Tempo, Wilistra Danny confirmed that those two principles were going to be regulated within the presidential regulation. He also confirmed that there were plenty of fiery discussions regarding the inclusion of human rights and raw material traceability.
Willistra further said that the government, particularly the technical ministries, and the business representatives considered that those two principles were already contained in the seven previous ones. "Thus, there was no need to create separate principles," Wilistra told Tempo on May 6. It was finally decided, he continued, that the presidential regulation draft would go back to the seven original principles to avoid lengthy debates, taking into consideration the majority voices.
Musdhalifah Machmud, coordinating ministry of the economy's deputy for foodstuff, has a similar outlook. She equivocated that the essence of human rights was already accommodated in the fourth principle regarding labor responsibilities, and the fifth principle detailing social responsibility and community economic empowerment.
Also, Musdhalifah continued, a number of regulations, such as the Plantation Law, has regulated recognition and protection of human rights for businesses, communities surrounding the plantations, and adat (customary) communities. Thus, she believes that human rights within the context of oil palm plantations in Indonesia already has legal recognition and protection.
In fact, Musdhalifah points out that human rights as a stand-alone principle could be seen as a problem or a violation of rights in oil palm management in Indonesia. She worried that some parties would take advantage of this, particularly those who are against oil palm. Even so, she assured that the government is not deflecting from criticism and suggestions. "We will always be open to input and constructive proposals," she said.
•••
FOR Wilistra Danny, all the provisions in Presidential Regulation No. 44 would be meaningless unless the government swiftly coin executive regulations at the ministerial level which will be followed by regional administrations. Based on Presidential Regulation No. 44's content, a number of technical regulations should be issued at the latest 30 days after its issuance in mid-March. Key points in it include the formation of a steering committee which would decide on general policies, oversee and evaluate ISPO's mechanisms, and set the ISPO committee's membership.
The steering committee, which will be led by the coordinating minister for the economy, should have been governed by regulations by the coordinating ministry for the economy. The absence of a steering committee and an ISPO committee will have an impact on the formation of executive regulations regarding the principles and criteria of certification.
Azis Hidayat, chief of the Indonesian Secretariat of Sustainable Palm Oil, admitted that there are delays in the formation process of Presidential Regulation No. 44's executive regulations. The reason for this, according to him, is that there are directives from the president regarding a re-focusing of activities and budgeting to control Covid-19.
---
"The KPPU views the palm oil industry's market structure as oligopolistic. Oligopolies anywhere would tend to take advantage of its market share to form cartels."
- Kodrat Wibowo,
Business Competition Supervisory Commission (KPPU) Commissioner, May 4
---
He further said that a number of criteria, indicators and guidelines in the attachments of the Agriculture Ministry Regulation No. 11/2015 already accommodate a number of needed principles. "It's being finalized now," said Azis.
The problem is that until now, carrying out the ISPO has not gone smoothly. In a report for specific purposes in 2019, the Supreme Audit Agency (BPK) noted that 83.66 percent of oil palm plantation companies listed at the plantation directorate-general did not have certificates yet. This is despite the fact that ISPO certification should be compulsory for plantation businesses.
The BPK further reported that ISPO execution is hampered as many companies do not have cultivation rights, have yet to develop people plantations, and use land in forest areas. Auditors also question why there are yet to be sanctions imposed on those companies, all of which are already stipulated, up until revoking permits for plantation businesses.
Another problem is that Presidential Regulation No. 44 is mandatory for plantation companies as well as individual planters. In the agriculture ministry regulation, certification for the latter group was voluntary.
Even though parties are given five years to obtain the certificate, the Association of Indonesian Palm Oil Farmers (Apkasindo) has objected to this requirement. Apkasindo Chairman Gulat Manurung claimed that he has sent a letter to the government asking for a postponement of Presidential Regulation No. 44.
Gulat said that farmers face numerous problems in fulfilling the ISPO, the main one legal land use. "If farmers are required (to fulfill the requirement), all parties concerned must be committed to solve this problem," Gulat said.
AISHA SHAIDRA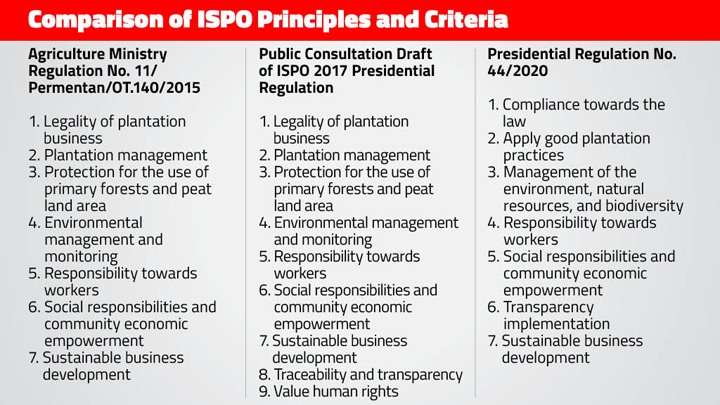 W251bGwsIjIwMjEtMDYtMjUgMDg6MjY6MTQiXQ