debt restructuring
Private and state-owned companies are in a race to restructure their debts due to the waning economy. The government anticipates limited liquidity in financial institutions.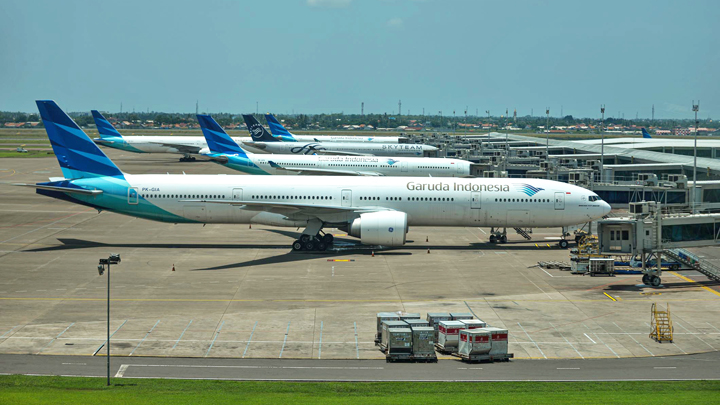 ANTICIPATING brighter times for his family business, Kurnia Lesani Adnan was confronted with a fateful letter from a credit institution. Lesani, second-generation owner of autobus company SAN Putra Sejahtera (SAN Group), is one out of the 3.8 million debtors that was drawn to the debt relief scheme from the Financial Services Authority (OJK) Regulation No. 11/2020. In place since March 16, this credit restructuration stimulus and financing is part of the government's effort to rescue the national economy crippled by the Covid-19 pandemic.
Believing that his enterprise has been directly impacted by the pandemic, as the SAN Group fleet has not been operational since April 24, Lesahi decided to halt the installments on his lease buses. He thought the debt relief would occur automatically. As a result, however, his creditor sent a warning letter to the company. "The letter was accompanied by an increased collectability status for the company," Lesani said on May 10.
Unwilling to blemish his company's credit history, Lesani immediately contacted the two leasing enterprises. SAN Group has a credit of some Rp18 billion at the two private, non-banking creditors. Choosing between paying the debt's principle or the interest, Lesani went for the latter. "All private financing goes like that. Alas, we will do the best we can for now," said this chairman of the Young Indonesian Autobus Entrepreneurs Association.
However, Lesani received very different treatment from Mandiri Tunas Finance (MTF), a subsidiary of Bank Mandiri, where SAN Group has a credit of Rp14 billion. In early April, Lesani received a letter from MTF offering a payment postponement for both the debt's principal and interest. Lesani, 43, did not need long to mull over the offer. "State-owned companies can immediately offer postponement," said this Bengkulu-born businessman.
In the beginning, President Joko Widodo had earmarked the debt restructuring package for micro, small, and mid-sized enterprises. Included in this group are, for example, ojek (motorbike taxi) drivers who bought vehicles on credit to fishermen paying installments on their boats. In other words: people with small incomes who have been hit hard by the pandemic.
W251bGwsIjIwMjEtMDMtMDUgMDg6NDY6MDIiXQ
In the OJK Regulation No. 11/2020, it became clear who the recipients of the stimulus would be: people and businesses from all layers of society. Those entitled to the stimulus are debtors in financial difficulty caused directly or indirectly by Covid-19. This mainly include companies in the tourism, transport, hotel, trade, processing, agriculture, and mining sectors.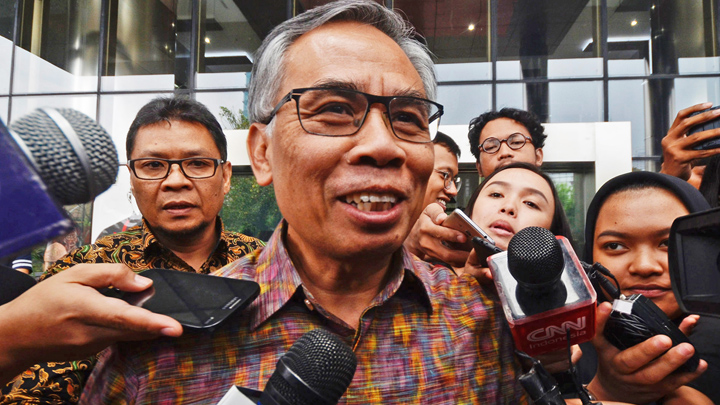 Chairman of Financial Services Authority Commissioners' Council Wimboh Santoso after questioning at the Corruption Eradication Commission building, Jakarta, November 2018./ TEMPO/Imam Sukamto
Relief is also given to entrepreneurs outside the above sectors, as long as they can show that they are victims of the pandemic, like being in financial difficulty. This also applies to debtors who have run into problems for the first time, not those who have been in trouble for several times.
This credit relief program, valid from March 31 this year until March 31, 2021, is a hope for consumption and productive debtors in order to catch their breath. The OJK noted that, until May 10, the banking sector already restructured debts of 3.88 million debtors with a total credit of Rp336.97 trillion. Half of those debtors are micro, small and mid-sized entrepreneurs with credits value of Rp167.1 trillion.
Meanwhile, non-banking creditors have also given leeway to 1.32 million debtors with credit worth Rp43.18 trillion. Some 743,000 financing contracts are being processed for restructuration. "With the restructuring, even if a debtor is in arrears with their principal or interest, they would still be deemed as healthy debtors," said Wimboh Santoso, chairman of the OJK commissioners' council, during the virtual conference of the Financial System Stability Committee (KSSK) on May 11.
Given that many debtors have already received credit relief, Wimboh is confident that the program is good for both debtors and creditors. The former gets some breathing space in paying their installments. Meanwhile, creditors—banks or funding institutions—do not have to pad up reserves due to non-performing loans. Thus, this safeguards the liquidity of financial institutions. "So, I'm surprised if it is said that there are banks and financial institutions that do not take part in this program," Wimboh said. "All of them take part in this because it's an incentive for them."
Hariyadi B. Sukamdani, Chief Executive Officer (CEO) of Hotel Sahid Jaya International, is one of those parties who swiftly took advantage of the stimulus policy. Since the beginning of March, Hariyadi, who is also the chairman of the Indonesian Entrepreneurs' Association, approached a number of banks to ask for relief.
Along with transportation businesses, the hotel industry is hardest hit by the pandemic. The situation is even worse for the Sahid Group, which has been suffering from losses. The company and its subsidiaries owe a lot of money to private and regional development banks, and a little to state banks. Until the third quarter of 2019, the group with the stock code SHID had banking debts of Rp474.49 billion. Some Rp58.73 billion have due dates within a year, or at least by the end of September 2020.
Hariyadi plans to use the credit restructuration program during this pandemic to extend his company's debt installment payments. However, he said, a number of banks still hesitated to give leeway at the beginning of the pandemic. Relief only came in late March, coinciding with the enforcement of the OJK Regulation No. 11/2020. "We already received a standstill of 12 months from a number of banks," Hariyadi said on May 9.
In short, Sahid would get a postponement in principal and interest installments to banks, which will be recalculated after the leniency period is over. Hariyadi counts himself lucky since he is debtor at banks classified in the so-called BUKU categories 3 and 4, which are banks with sufficient core capital. If the creditors were banks in BUKU categories 1 or 2, it would have been a different story, particularly if it were a financial institution with little padding. "Their liquidity reserves are quite low," Hariyadi said. "At the end it would have been a useless debate if we were to ask them for leniency."
State airline Garuda Indonesia was also in luck. On April 30, the already ailing company got a short-term loan worth US$50 million, or around Rp775 billion, and Rp2 trillion from a fellow state-owned enterprise, Bank Rakyat Indonesia (BRI). BRI also prepared bank guarantee facilities worth US$200 million to the airline with stock code GIAA.
As its cashflow is currently at a very low point, this credit extension facility from BRI is like a lifeline for Garuda. "Our lender know that this has to do with extending our breath," Garuda CEO Irfan Setiaputra said on May 11.
Irfan explained that the BRI loan is a credit facility extension from last year. Until December 31, 2019, Garuda had not yet used US$375.6 million worth of the credit facility made available by BRI and other state-owned banks. He further said that negotiations regarding credit relief, both postponement of payment as well as an extension of the credit facility period, are easier when dealing with large banks, particularly those owned by the state.
Garuda has a heavy burden to bear. Hundreds of millions of US dollar in loans must be paid off within two months. One has to do with a global bond worth US$500 million, or around Rp7.75 trillion, which is due on June 30.
Irfan further said that the Garuda Group is currently in intense negotiations with several banks regarding restructuration. "We also understand banks' liquidity issue right now," he said. "Us state-owned companies know about each other. Obviously, no party should feel sacrificed."
The credit restructuration of many corporations is indeed a bitter fruit for financial institutions. Easing principal and interest payments equals lowering cashflow into banks. Hits from the impact of Covid-19 could potentially dry up reserves from banks and other financial bodies.
The OJK assured that it would continue to monitor the situation. Wimboh Santoso said that not all banks have bonds that could be turned into cash when their third-party funds are low. "Even though they have bonds, not all of them could be used up," Wimboh said at the KSSK's working meeting with the House of Representatives' Finance and Banking Commission on May 6. "A buffer is still needed in case there is a withdrawal from a client."
Wimboh assured that the KSSK has prepared the liquidity flush to the banks. The finance ministry will issue bonds. Bank Indonesia will be the potential buyer, or possibly public investors. Money from the bond sale will be placed in deposits of anchor banks: several large banks including all state-owned banks and a number of private ones. These anchor banks will then give loans to smaller banks. Credits which have been given relief will then be the guarantee for the loans.
According to Wimboh, the government and the OJK must prepare steps to safeguard liquidity, as the payment relief program encompasses credits of some Rp759 trillion. The financial industry will be reeling if the government and financial authorities do not step in.
KHAIRUL ANAM