Retno Lestari Priansari Marsudi, Foreign Minister: Protection of WNI Doesn't Get Easier
Early this month, a news report coming out of South Korea sparked furor across the archipelago.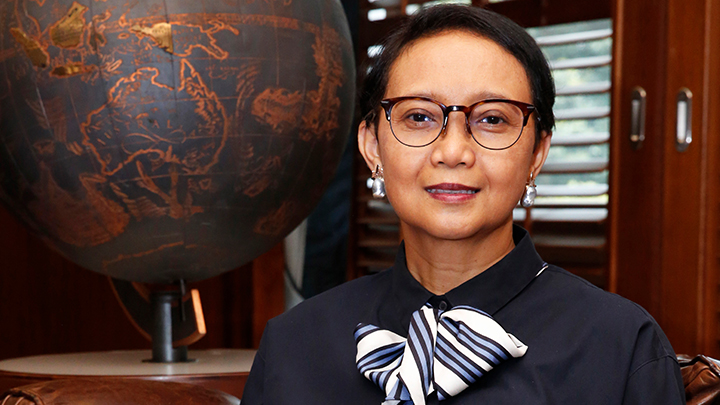 SEOUL-BASED MBC TV on May 6 reported that three Indonesian sailors who died while working on Chinese-flagged fishing vessels were buried at sea. The news instantly went viral on various news and social media outlets in the country.
The scandal sent Foreign Minister Retno Lestari Priansari Marsudi into overdrive. She assigned teams of diplomats in Jakarta, Beijing and Seoul to look into the matter. "We've also asked the Chinese government to help us probe the case as it involves their private sector," Retno said in a special interview with Tempo last Friday.
Although the government is currently focused on handling the Covid-19 pandemic, Retno assured that it would not sideline the case in which the Indonesian workers had been disadvantaged. At the same time, she highlighted the importance of proper recruitment processes at home to prevent violations of the rights of Indonesian crews working on foreign vessels. "If it is not solid at the upstream without clear recruitment processes, there will be consequences at the downstream," Retno, 57, pointed out.
Retno spoke to Tempo's Sapto Yunus, Mahardika Satria Hadi and Gabriel Wahyu Titiyoga from her Central Jakarta office via video conference. During the interview that lasted for over an hour, she talked about the shipping crew case, the international cooperation with Non-Aligned Movement member countries for Covid-19 pandemic response as well as the repatriation of thousands of Indonesian citizens out of pandemic-hit countries. She gave supplementary information on May 10.
What actually are the circumstances surrounding the sea burials of three Indonesian sailors?
I want to divide the story and first talk about the 46 crew members working on four Chinese-flagged ships, namely Long Xing 629, Long Xing 605, Tian Yu 8 and Long Xing 606. Long Xing 629, for instance, employed 15 Indonesian sailors. One of them, EP, died when the ship docked at Busan, South Korea. After disembarkation, he got sick and was hospitalized, but eventually died of congenital pneumonia. So, the entire crew of 15 including the deceased is now in the process of being repatriated. So, you can say that the crew on this first ship has been taken care of.
(On May 10, Retno met with the 14 crew members—who arrived back in Indonesia two days earlier—at the Bambu Apus quarantine house in East Jakarta. EP's remains also arrived on the same day as the crew. From the crew, Retno heard their grievances regarding remuneration and working hours which average more than 18 hours a day.)
How about the other crews?
The second ship employs eight Indonesians and the third ship three. Everyone of them has returned on April 24. So, we can consider their cases 'resolved'. Out of the 20 crew members on the last ship, 18 returned on May 3. Two others are still on the ship and are being processed to be repatriated. So, this is the first part about the 46 Indonesian sailors working on four Chinese-flagged ships. Almost everything is clear.
Now the second part of the story which has been widely circulated on the social media is about the burials of the three deceased Indonesian sailors at sea. In essence, four people in total had died. One in Busan. Two others, SP and AL, of Long Xing 629 died in December 2019. Their ship was sailing in the Pacific Ocean near Samoa. Our ambassador in Wellington, New Zealand, reported the incident and we immediately acted on it.
What actually happened?
From the ship captain's report—and this still needs to be investigated further—the sailor died of an infectious disease. To protect the rest of the crew, and with the crew's consent, the body was buried at sea. There is indeed a term 'burial at sea' in the International Labor Organization's (ILO) stipulations. This is not the first time such a burial has occurred. However, ILO also stipulates terms for such burial.
What are the terms?
There are several provisions, among others, if the deceased's illness is infectious, if the ship does not have refrigerated system on board or if the ship is far from ports. These are longline fishing vessels which catch fishes in open seas. So they are far away from everywhere. Therefore, the statement we want from the company in our investigation later is whether they had met all the ILO criteria (for the sea burial).
How about one other deceased sailor?
The remaining sailor, AR, from the same ship (Long Xing 629), fell sick on March 26. He was about to be transferred to Tian Yu 8 for treatment as they looked for the nearest port. But he passed away on March 30 before he could receive treatment. He was then buried at sea the next morning. According to the company, the family had given their consent. Again, this is the information from the company which will be verified by the government.
What about the Chinese government's support in handling this case?
We established communication with the Chinese ambassador in Jakarta. In essence, we asked the Chinese government to help us probe the case as it involves their private sector. But it will be easier for us if the two governments investigate together. We asked Dalian Ocean Fishing Co. Ltd to fulfill their responsibilities towards the crew. The Chinese ambassador conveyed that the Chinese government would ensure that Dalian complies with the applicable laws and agreed contracts.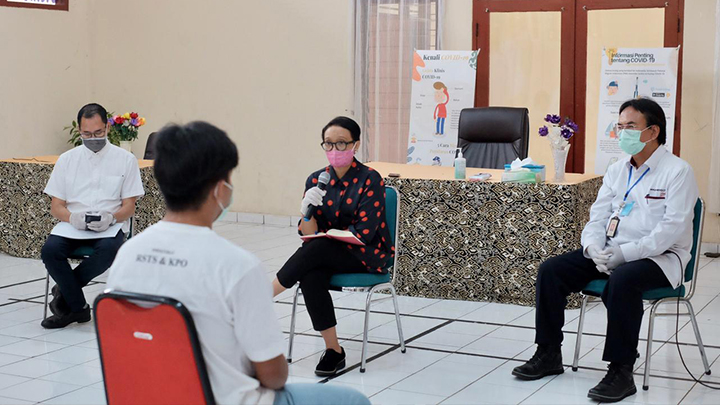 Minister Retno Marsudi met with Indonesian crew members who were just returning from Seoul, South Korea, after working in a Chinese-flagged ship, in Jakarta, May 10./foreign ministry for Tempo
Are all crew members from Indonesia including the deceased suspected to be human trafficking victims?
That's what we are trying to find out. In principle, human trafficking involves an element of fraud where they were lured with false promises. For example, they were promised 1,000 (dollars) in wage but were paid only a few hundred (dollars). Or they were promised eight hours of work for each shift but it turned out they had to work for 20 hours, or they were signed up to work on one ship but later were transferred to another. Or some were promised they could return home every few months but in reality, they could not. That's what we are checking.
What is the root cause of the problem that befell the Indonesian crews in these Chinese-flagged fishing vessels?
Protection of our citizens is one of our foreign policy priorities. As the time goes by, this job (protection) doesn't get easier amid increasing human mobility and widening conflict zones. Regarding Indonesian migrant workers, a lot of upstream processes need to be strengthened. If it's not solid at the upstream without clear recruitment processes, there will be consequences at the downstream. For example, sloppy recruitments particularly those without contracts or with weak contracts will automatically result in weak protection of workers' rights. Sometimes, our workers just sign the contracts without reading the content. When they are given papers to sign, they imagine getting the jobs so they just sign them in haste.
What should they do?
One of the things that we suggest is for government officials to accompany the workers at the time of signing contracts so that they know exactly what they sign up for including their rights and responsibilities.
How will the government prevent that from happening again?
If we don't clean house at the upstream, our people will always become victims. There are many parties who make money from other people's miseries and weaknesses. I'm quite excited and a bit emotional at the same time if we talk about protection. These vulnerable people are the ones who need protection most but there are still people who take advantage of their powerlessness for monetary gains. This need to be stopped.
W251bGwsIjIwMjEtMDMtMDEgMTE6NTM6MDkiXQ
• • •
Thirty-nine Non-Aligned Movement state members including Indonesia have established accelerated Covid-19 management taskforce. What is the concrete form of cooperation?
The essence is to create a database of the needs, especially health equipment, by the non-bloc movement members. These needs will be collected and communicated to donor countries, international organizations and so on. This database will be very crucial because, the WHO (World Health Organization) reported that as of yesterday 214 countries and territories have been affected by Covid-19. The total number of cases exceeds 3.6 million with around 80,000 new cases emerging every day. Our concern is the developing countries, especially in Africa, which do not have the mass testing capacity. I'm afraid the number will be significantly high when they carry out mass testing. Developing countries, particularly the least developed countries, will face greater challenges compared to developed countries, or middle-income countries like us.
Did the movement's high-level conference on May 4 also discuss vaccine supplies?
I always raise the topic of drugs and vaccines at various international forums as well as discussions with other foreign ministers. What we're concerned is the availability. Let's say drugs and vaccines are available. Will the poor countries have access to them or can they buy them at affordable prices? When we talk about pandemics, we also talk about humanity. If a certain part of the world cannot manage the pandemic well, it is not impossible for other parts which already overcome it to have new waves of infections since we all live in this huge village called the world. All the developed nations and huge pharmaceutical corporations need to understand this.
How willing are the developed countries to help?
So far, they show openness. But we need to keep raising our voice because vaccines are being developed and drugs are on trial. Once drugs and vaccines are there, after being discovered and tested on humans, I hope the developed countries and large pharma corporations will continue to consider humanitarian aspects.
Looking at Indonesia's needs, which international cooperation (with a given country) is considered to be most crucial to curb the Covid-19 outbreak?
We all know that this is an unprecedented and extraordinary event. Unlike other times, when a country is in troubles, for example, because of a hurricane, other countries can help. This time, the whole world is being hit. We see how developed countries with advanced technology and relatively good healthcare system are struggling to fight this pandemic. In a condition like this, no country can hope for major assistance from other countries. But, in the context of partnership, we can still collaborate with 101 international parties, nine of them countries and 10 international organizations. The majority—82 of them—are non-governmental organizations, community organizations and foreign private companies. So far, the cooperation will focus on fulfilling medical needs and drug supplies.
You've successfully lobbied the South Korean government for Personal Protective Equipment (PPE) for our medical workers. How did the negotiation go?
This is the case of (fulfilling) mutual needs but a good personal relation is really helpful in establishing a good official relation. I have a close tie with Foreign Minister Kang Kyung-wha. So, when I need to talk, I just send her a text message, 'Kyung-wha, can I call?' If she's not in a meeting, she would reply promptly and I would call her right away. That time, we had the PPE issue. South Korea has long invested in (PPE production) here. They send raw materials to Indonesia for manufacturing. In a normal condition, the finished PPE are shipped back to South Korea. But in a situation like this, it is not fair if all the orders had to be shipped back to them. Moreover, we've also issued the regulations restricting (PPE and medical equipment) exports.
What did you tell the foreign minister?
I told her this was 'beyond contract'. South Korea had the right to claim the goods but I told her to kindly consider other elements. We finally reached an agreement which I think is one of the best results. We not only got half of the PPE but in the future will also have extra raw materials outside their needs. Initially, it was around 110,000 PPE. We were in a very critical situation that time so it was a life and death negotiation. We could save many medical workers through the deal. The same went for surgical gowns and Avigan drug from Japan.
---
RETNO LESTARI PRIANSARI MARSUDI
• Place and date of birth: Semarang, November 27, 1962 • Education: Bachelor of International Relations, Gadjah Mada University, Yogyakarta (1985); Master of European Law, Haagse Hogeschool, Netherlands ; Human Rights Studies in Oslo University, Norway • Career: Director for Intra-regional Cooperation of America and Europe, Ministry of Foreign Affairs (2002-2003), Director for West Europe, Ministry of Foreign Affairs (2003-2005), Ambassador Extraordinary and Plenipotentiary to the Kingdom of Norway and the Republic of Iceland (2005-2008), Director-General for America and Europe, Ministry of Foreign Affairs (2008-2012), Ambassador to the Kingdom of the Netherlands (2012-2014), Foreign Minister (2014-now), • Awards: Royal Norwegian Order of Merit (December 2011)
---
How about the Indonesian citizens (WNI) who were stranded during lockdowns in several countries and run out of supplies?
This is like foreigners in Indonesia who are stuck here in large-scale social restrictions (PSBB). Foreigners must respect the PSBB just like our citizens must respect the decisions of the countries they are in. If the country is in a complete lockdown, we can't do anything. Diplomats' movements are also restricted so we will help as much as possible. Protection of our citizens is still very relevant during the pandemic. We must assist WNI who are stranded, who want to go home or who need to be evacuated. Just like other cases like the fishing crews, we have to handle in line with the health protocol.
How many Indonesians have been repatriated during the pandemic?
Regarding WNI, I talk about repatriation, not evacuation meaning they return home independently. This is related to the issues of WNI returning from Malaysia and ship crews because their number is quite large. As of May 7, a total of 71,659 WNI have returned from Malaysia. Most of them are migrant workers.
How many WNI abroad have been infected with Covid-19?
Across the globe, 723 people as of May 7.
In how many countries?
So many. I don't want to count the countries. There are 79 in Malaysia; also, a lot in India with most of them being Jamaah Tabligh Indonesia members; 27 in the US; 72 in Saudi Arabia. Out of 723, 347 are still receiving treatment, 338 have recovered and 38 have died.
In which countries did fatalities occur?
US, Saudi Arabia, the Netherlands, UK, Germany, Singapore, Malaysia and Turkey. There are also crew members of Oasis of the Seas, Viking Star and Costa Fascinosa vessels.