Epidemics and Quarantine in the Dutch East Indies
Indonesia faced several epidemics during the Dutch East Indies era. From outbreaks of cholera and pestilence in the 18th and 19th centuries, and in the early of the 20th century up until the impact of the Spanish Flu. Those pandemics resembled the current situation. After a late response to the outbreak, the colonial government finally enacted a regional quarantine. Many things can be learned from past epidemics. Mitigation strategies, appropriate isolation measures, and rapid responses are needed.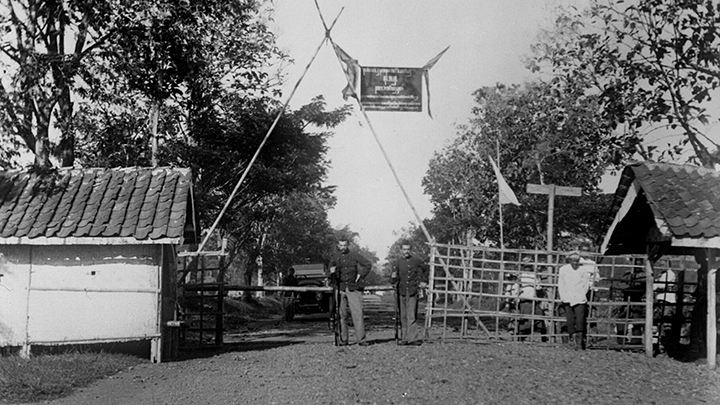 A MID the Coronavirus Disease 2019 (Covid-19) pandemic, F.X. Domini B.B. Hera often recalls a story told to him by his mother. According to this historian and researcher at the Center for Culture and Frontier Studies at Brawijaya University, Malang, East Java, his mother told him about an outbreak in 1911, when their town was hit by a plague. The disease was carried by rodent fleas which were infected with the Yersinia pestis bacteria. "Many residents died. People who were fine in the morning were dead by afternoon. Those who were fine in the afternoon were dead by night. Farmers were afraid to go to the rice fields and look for feed for the cows because they were afraid of getting infected," said this man who goes by the nickname Sisco.
Sisco's mother was not yet born at that time. She had heard the story from Sisco's grandmother, Samidjah, a plague survivor who lived in Ngantang, an area west of the Malang Regency. For the Javanese, epidemics signal a mysterious disease. During outbreaks, many would seek treatment from traditional healers and perform rituals, such as chanting Kidung Rumeksa Ing Wengi (a prayer at night) created by Sunan Kalijaga, which was believed could drive away plagues.
Deaths caused by the plague were first detected in Malang in 1911. According to history researcher Syefri Luwis, it is possible that this disease had appeared and had been affecting the town since 1910. However, because the Dutch East Indies government denied and ignored it, it was not identified until after many people had died from it. "The government considered it to be minor matter, but they should have been able to combat it from the outset," he said.
Syefri said that it is suspected that this plague had already appeared in Deli, North Sumatra, in 1905. At that time, two manual laborers who hauled rice sacks died mysteriously. The incident let some doctors and researchers to remind the Dutch East Indies government to be cautious. This disease, which causes the swelling of spleen and lymph nodes, had broken out in Asia at the end of the 19th century, precisely in China, Myanmar, and the Arab Peninsula. Deli was already taking precautions. A plantation company there made a special quarantine area for unskilled Chinese workers who had just arrived for work.
The carelessness of the Dutch Indies government finally had an impact in 1910, when there was a shortage of rice in Java due to many farmers failing to harvest their crops. As a result, the government decided to import rice from Myanmar. "The government didn't care. Rice was imported from Burma even though there was a plague going on there," said Syefri. That rice from Myanmar was transported by boat and unloaded at Tanjung Perak Port in Surabaya, East Java. The plan was to send the rice to Malang to be distributed to Blitar and Kediri by train. At that time, Malang was a logistics delivery route for plantation products such as coffee and sugarcane.
W251bGwsIjIwMjEtMDMtMDUgMDc6NTg6NTkiXQ
Because there had been landslides and heavy rains between the Wlingi, Blitar, and Malang subdistricts, the rice was stored in a warehouse in the Turen subdistrict, Malang. Unfortunately, the cold temperature in Malang—at that time 14-16 degrees Celsius—was suitable for the growth of the bacteria which causes the plague, Yersinia pestis. In that rice warehouse in Turen, the bacteria infected rat fleas as its host, and it did not take long to spread among local rats. It was these rodent fleas which then carried the disease which afflicted the residential areas.
Burning the rats as the source of the plague in Malang, East Java, between 1900 and 1935./Rijkmuseum, KITLV,
Syefri explained that the first victim was identified at the end of 1910. Even when there were victims, the Dutch Indies government still denied there was a plague in Malang. The colonial government did not take action until April 1911, when a doctor reported that someone had died from the plague. At that time, in Surabaya, the city where the imported rice had come from, no one had been recorded as having died from the plague. Syefri suspects that Surabaya was safe because the temperature in that city is hot and not suitable for the growth of the bacterium that causes the plague. This was in contrast to Malang, which sat on mountainous terrain at an altitude of 1,400 meters above sea level.
In Malang, the government was helped as by chance the public health office or Burgerlijke Geneeskundige Dienst (BGD) had recently been established. The BGD had been set up to handle health matters in the Dutch East Indies. However, with the plague outbreak, this new institution had to work very hard to take curative and preventative measures against it. "Unfortunately, it was all too late, because from October 1910 to April 1911 there had already been many cases of mysterious deaths," he said. However, at that time it was suspected that many of the victims had died of malaria.
In 1911, about 2,100 residents of Malang died from the plague. In fact, according to Syefri, one newspaper from that era reported that one village had been wiped out by the plague. The following year the number who died was also about 2,000 people. Then, from 1913-1916, the numbers of people who died from the plague were 11,384, 15,751, 1,638, and 595 respectively. Back then, hundreds of thousands of people were residing in Malang. As of 1916, Syefri estimates that the plague claimed about 34,000 lives.
Syefri said that government denial about the plague was the root cause its spread. "The government was in denial, afraid, and felt that it was impossible that a plague which had only affected rats could become a zoonosis disease which infected people," he said. Consequently, efforts to deal with this disease were too late. The plague was already infecting the indigenous people.
There were only a few victims among local residents of Chinese and Arabic descent and those from European countries. According to Syefri, there is a good chance that this was because they lived in houses with solid walls. The homes of indigenous people were made out of bamboo, which made it easy for rats to get inside. Additionally, many Chinese were used to keeping cats as pets because they believed they brought good luck. "This is why they did not have rats in their homes. The government eventually made a public appeal that people take care of cats as a preventative measure," he said.
• • •
The outbreak of communicable diseases has been a problem around the world every one hundred years. In Europe, in 1720, a great plague in Marseille, France, killed over 100,000 people. The economy there collapsed, and took about 25 years to recover. A hundred years later, in 1820, there was an outbreak of Asiatic cholera. Historian Peter Carey said that this disease enter Nusantara (the Indonesian archipelago) through Malaka, carried by sailors to Terboyo in Semarang, Central Java. From there cholera began to spread throughout Central Java, claiming victims from April to November 1821. "At that time, cholera was a new epidemic, like Covid-19 is today," he said.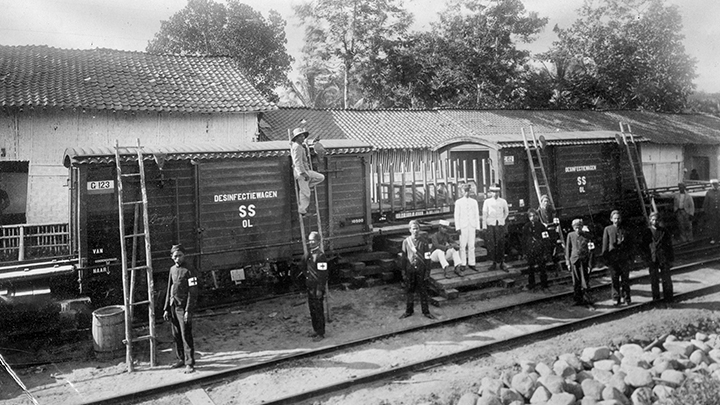 Train wagons carrying disinfectant to prevent the spread of the plague in Songgoriti, Malang, 1921./KITLV
The epidemic was not truly a new occurrence for residents of Java. In the text of the seer Jayabaya, it is prophesied that a Ratu Adil (messianic ruler) would appear as a savior. The sign of their arrival will be marked by disasters, such as the eruption of Mount Merapi in 1822, the famine due to the crop failures in Central Java, and the cholera epidemic. That series of disasters, according to Carey, kicked off the Java War from 1825-1830 led by Prince Diponegoro. The Prince was deemed to be this Ratu Adil who came from the west of Yogyakarta.
When the cholera outbreak took place, the Dutch East Indies government was just recently formed and legalized. It had limited capacity and knowledge to deal with the situation. However, the outbreak of cholera in the West triggered profound refor ms in various sectors. The British government, for instance, built a system of waterways and improved drainage in a number of cities, such as Manchester, Birmingham, Leeds, and Liverpool. "It is interesting because the disaster ended up improving how people lived," said Carey.
Cholera, which is known with its symptoms of vomiting and diahhrea, attacks the small intestines. This disease can be lethal if not quickly and properly treated. Actually, cholera had been around for some time. In fact, in 1629, Dutch East Indies Governor General Jan Pieterszoon Coen died in Batavia (Jakarta) from cholera. At that time, the Mataram Kingdom fought against the Dutch by poisoning the Ciliwung River, which was Batavia's source of clean water in. Three days after that attack by the Mataram forces, Coen died. Carey said that cholera was indeed present at that time. However, it did not spread until the 19th century.
The Vibrio cholera bacterium outbreaks occurred in six waves. The first was in 1817 in India, which then spread to regions directly bordering it, such as Myanmar and Sri Lanka. Then there was an outbreak in the Dutch East Indies and Thailand. In the following wave, there was an outbreak of cholera in Europe in 1829, and a year later in America. In 1852, a third wave occurred in India, which this time spread quickly around the world. The following three waves took place in 1863, 1881, and 1899, until finally a vaccine was discovered.
Cholera outbreak researcher Usman Manor said that there were several outbreaks of cholera in the Dutch East Indies. However, the cholera periods which resulted in large numbers of deaths occurred in 1881, 1882, 1889, 1892, 1897, 1901, 1902, 1909, and 1910. Quoting from two newspapers, De Sumatra Post and Bataviaasch Nieuwsblad, the largest number of deaths took place from 1910-1911, totaling over 10,000 deaths. "Leading it to be called the Cholera Years," said Usman, who is currently a history analyst for the deputy for cultural coordination at the coordinating ministry for human development and cultural affairs.
In Batavia, the red zones for the disease were in: Mangga Besar, Penjaringan, Tanjung Priok, Gambir, Tanah Abang, and Senen. Other areas affected by cholera included port towns such as Semarang, Surabaya, and Cirebon (West Java). The disease spread easily because at that time sanitation was still poor and residential areas were not clean. Most homes did not have bathrooms and toilets. This condition was exacerbated by dirty rivers in Batavia due to waste dumping.
According to Usman, even though in the early 20th century the government began to apply the Ethical Policy of the Dutch East Indies, at that time the focus was more on the economy. Health measures only became a concern after many Dutch people died in Batavia from infectious diseases. In fact, at that time Batavia was known a Graf der Hollanders or Grave for the Dutch. "The massive level of interaction between residents also resulted in the city being called Ongezond Batavia or Unhealthy Batavia," he said.
After the outbreak caused many deaths among the Dutch, the government finally decided on regional quarantine. However, residents protested because the only ones being isolated were the residential areas of native people, not where Europeans were living. Medical personnel got involved. In 1909, Doctor Cornelis Dirk Ouwehand came up with the idea to form an intelligence service to directly examine those who were suffering from cholera. Usman explained that at that time Ouwehand did not believe the case and death statistics being put out by the health office.
Intelligence finally moved into the city neighborhoods and found that the number of deaths due to cholera was higher than reported. The records showed that 8,876 native people, 1,586 Chinese, and 373 Europeans had died from cholera, nearly 11,000 people in all from 1910-1911. The data which had previously been released by the government, said Usman, only said that 6,000 had died.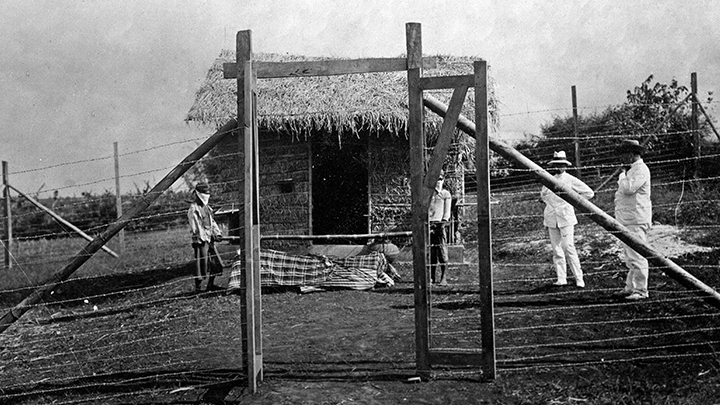 An isolation room to combat the plague in Songgoriti, 1921./Rijkmuseum, KITLV
A glimmer of hope in facing the cholera epidemic was first seen in 1911 when Doctor Nijland discovered a vaccine. Ouwehand then mobilized mass vaccination, involving doctors who graduated from School tot Opleiding van Indische Artsen (STOVIA). These medical personnel also promoted good heath under the command of the Cholera bureau. However, despite this, some residents still used alternative treatments, such as belief in water which kiai (Muslim cleric) had prayed over. The Chinese community believed that the dancing lion puppet attraction could prevent cholera.
In addition to encouraging residents to be more hygienic, the government set aside special wards for cholera patients at the hospital. The book A History of Combating Disease in Indonesia (2007) says that the government formed the Hygiene Commission in 1911 to push mass vaccination and provide clean drinking water. These measures came with written regulations, such as inspecting ships which were to dock in Batavia, how to clean houses, and how to bury those who died from cholera. After these efforts to eradicate the disease were made, the cholera outbreak ended in Tanjung Priok in 1927.
According to Usman, the series of epidemics which have occurred should have provided the government and residents valuable experience in facing new outbreaks, such as the current coronavirus pandemic. "Health problems are often not prioritized compared to economic matters. The government should learn from the past. They shouldn't be late to act or enact the wrong policies related to the epidemic," he said.
• • •
EVEN though thousands of people became plague victims in Malang in 1911, the Dutch East Indies government initially rejected a regional quarantine policy. Malang's strategic location as a hub for agricultural products was one reason for this. Also, the government was worried the economic flow would decrease if this mountainous city was locked down. However, the Dutch doctor who was Chairman of the BGD, W.T de Vogel pressured the government to isolate the City of Malang. This was in line with the Staatsblad 110 law about the regulations on health quarantine.
A report in the public health journal Mededeelingen van den Burgerlijken Geneeskundigen Dienst in Nederlandsch-Indie (MBGD) said that the government asked for military assistance to stand watch in Malang after locking down the area. Each border was fully guarded, and at the same time disinfectant was sprayed. At that time, disinfectant was made from limewater and a formaldehyde solution. The government also publicized the disease' symptoms and treatments on posters. However, because less than 10 percent of residents could read, that information was read publicly.
Plague extermination was also carried out by burning rats, which was done by government officers and the public. The government also called on residents to replace the walls of their homes with solid walls in order to minimize the entry of rats. "However, at times the government set fire to homes, even a hamlet, to wipe out rat nests," said Syefri Luwis. Most of the residents back then could not afford to renovate their homes. "Our farmers were subsistence labors. Their income was only enough to live for one or two days. How could they fix up their homes?"
According to Syefri, regional quarantine still put the lives of the common people at risk in Malang due to economic strain. Even though the conditions were similar to how they are today with the corona pandemic, namely the government gave some money to residents during isolation. Still, they were having financial troubles because this assistance was not enough. The majority of them, who were farmers, were not allowed to leave their homes or barracks. This was despite the fact that they owed money for renovating their homes to the Dutch East Indies government, which had forced locals to build solid walls for their houses. Although the government did give subsidies for home renovation, it was not enough.
About a year after the quarantine, plantation owners pressured the government to reopen Malang. This was because they were suffering losses from the cessation of operations and manual laborers were forbidden to go outside. "That demand was granted by the government in the interest of profits," said Syefri. As it turned out, the decision ended badly. After the lockdown ended, the number of plague victims immediately shot up as high as five-fold. "The Dutch East Indies government could not withstand the pressure from business owners, even though the lockdown should have lasted longer. Our government today should learn from this failure."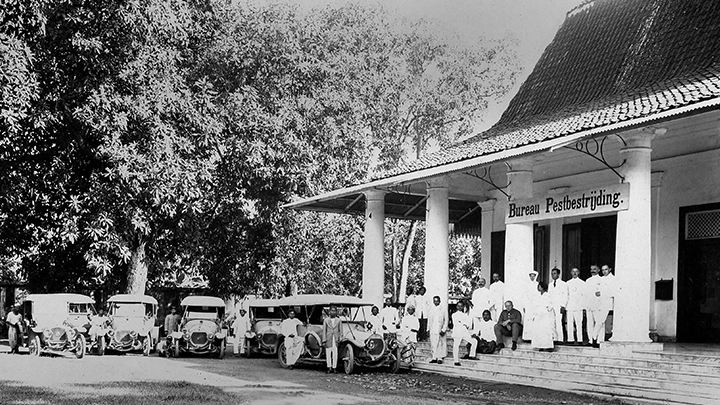 Two European men at the cholera hospital, Semarang, Central Java, between 1900 and 1940./ KITLV/Neville Keasberry, Tropenmuseum
Sisco added that the residential quarantine at that time was applied on a racial basis. The government only took action against the homes of indigenous people, while Europeans were still free to move around. This is what led Doctor Soetomo to lament that poverty, dirtiness, and sources of diseases were always associated with indigenous people. Europeans also had access to sufficient facilities for isolation—such as quarantine for today's Covid-19 patients—for two-week stays. They received routine doctor visits and had nutritious food. If a native person came down with the plague, everyone in the neighborhood was evacuated to barracks constructed out of bamboo.
These conditions led the Kediri and Pasuruan Residencies to propose that Malang become a township or gemeente so that the plague could be handled quicker. This proposal was played down until the mass media gave special attention to this issue, effectively pressuring the government to take the matter more seriously. In 1914, the government finally named Malang a township. The next year, an office to combat the plague or Dienst der Pestbestrijding was formed. Malang then became a center for fighting the plague, which eventually spread to remote areas of Java. Railways and trolley tracks were said to be death routes. Bus stops and train stations, which were initially at the same height as the railways, were raised to keep them free from rats.
There are not many records available at the township government about the plague in Malang, even though the establishment of this town was strongly connected to it. There are no public monuments about this fight against the plague in Malang. However, according to Sisco, it is important to have a monument as proof of the slowness and racial views of the Dutch in dealing with the plague, which enabled the disease to spread.
He has proposed a statue of Cipto Mangunkusumo holding a baby girl named Pesjati be made and placed in Malang. Dr. Cipto was known for being outspoken about discrimination by the Dutch during the handling of the plague. That statue, said Sisco, could list the number of victims and be placed in Jalan Dr. Cipto, not far from Jalan Dr. Soetomo. "If it's made, that statue could become a symbol which reminds the authorities to be more responsive to epidemics. The thinking of the elites should not forget about the little people," he said. The Cipto Monument could also serve as a symbol of non-structural epidemic mitigation, of man's battle against a deadly disease.
History notes that the plague eventually spread to towns other than Malang. It spread to cities in Java like Semarang, Yogyakarta, Surakarta, Surabaya, and Batavia. From 1910-1939, the number of people who died from the plague in East Java reached over 39,000 people, in Central Java 76,000 people, in Yogyakarta 4,355 people, and in West Java nearly 70,000 people.
ISMA SAVITRI, EKO WIDIANTO (MALANG)