The Helping Hands
Amid the deadly pandemic, several individuals and communities are refusing to sit still and wait for the government to take action. Using simple ideas, they lend a helping hand to those affected by the pandemic. These people are gathering resources and working hard in order to move swiftly and accurately to fight the pandemic, whose end is not yet in sight. Acts of solidarity, such as the ones performed by these members of the Indonesian public, will persist even amid the worst of disasters.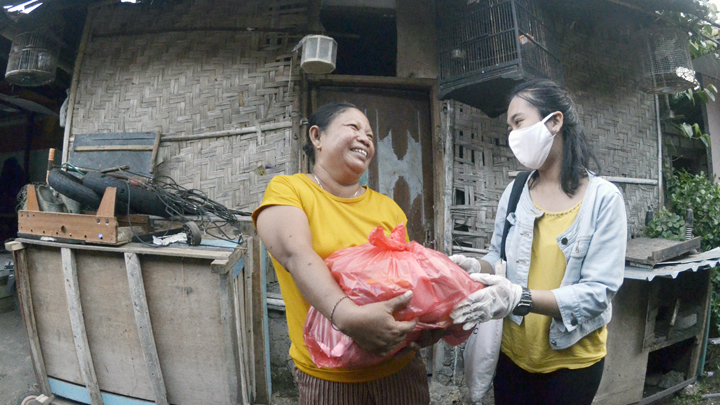 IN early May, 33-year-old Rhamdani had unpaid rent and motorcycle loan. The motorcycle taxi driver's income took a deep dive when the coronavirus pandemic hit the country in early March. Before, he would get Rp200,000 per day, but now he is thankful to get a mere Rp50,000.
Especially after the capital city and its surrounding areas began implementing large-scale social restrictions. He has not been able to drive passengers. Rhamdani can only rely on other types of services, such as delivering items and food. But still, he does not earn enough. He knows that he may be, at any time, evicted from his small rented home and that his motorcycle may soon be repossessed.
He is saddened every time he sees a package containing staples arriving at his neighbor's home in Sawangan, Depok, West Java. Rhamdani has never received aid. His neighborhood chief, whom he has complained to, says he is not eligible for aid because he does not have a Depok ID.
West Java Governor Ridwan Kamil acknowledges the chaos in the distribution of government social assistances due to bad population data. Ridwan said, every institution has its own data of poor residences. The government of West Java have been distributing aids since mid of April but only for 9.4 million from a total of 38 million citizens in need. He handed over list of those who did not get their assistance to central government.
Distributions of social assistances are also chaos in Jakarta. The central government and Governor Anies Rasyid Baswedan even have an argument about the aid allocation. Out of the political arena of the elites, more than 3.5 million people are in a similar condition to Rhamdani, who need a lot of real and fast assistances.
***
Disaster often causes people to believe that death is near. As Martin Heidegger proclaims in Being and Time (1962), death elicits anxiety. Borrowing Heidegger's thought, Idaman Alwi and others (2017), say this type of anxiety can massively and spontaneously trigger acts of solidarity during a disaster.
As history continues to roll forward, solidarity seems to have always emerged during a time of disaster. When the tsunami ravaged Aceh at the end of 2004, the people took action. Thousands of volunteers went to Aceh to bury the dead, distribute aid, and console children who had lost their families. They did not wait for the government, which is often thwarted by its own bureaucracy, to act.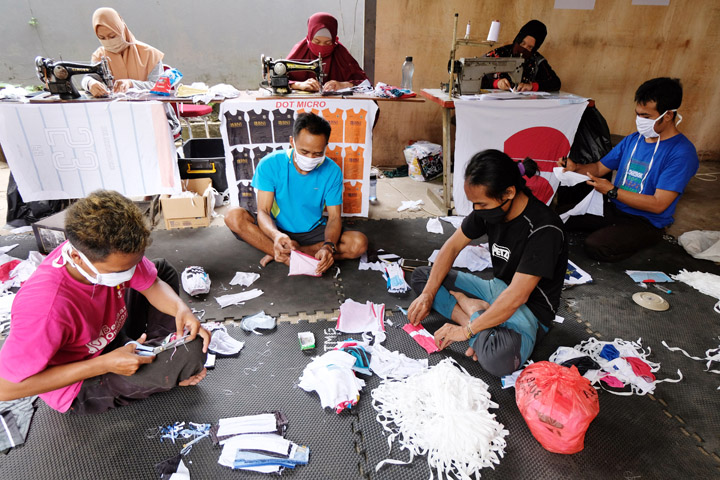 A number of volunteers are making face masks at the office of the Regional Disaster Mitigation Agency in Temanggung, Central Java, April 14. ANTARA/Anis Efizudin
In a region frequented by natural disasters, such as Indonesia, solidarity will never disappear, no matter how serious the disaster is. The novel coronavirus, which, as of May 12, had infected almost 15,000 individuals and claimed the lives of over 1,000 in this country, is no exception.
The coronavirus pandemic has brought many stories of solidarity to the surface. In Bandung, a nine-year-old boy named Mochamad Hafidh, donated his savings of Rp435,000 for medical workers' protective gear. In Semarang, 72-year-old Setyabudi Susanto and his wife, 69-year-old Sumiati Sastro Kaelan, donated Rp500,000 in cash as well as 100 masks to Central Java Governor Ganjar Pranowo.
For this issue, Tempo has chosen solidarity as the theme of our cover story. We have chosen movements that were truly initiated by members of the public to benefit those impacted by the pandemic. For example, we are reporting on Solidaritas Pangan's (food solidarity) soup kitchens in Yogyakarta. Since the end of March, this movement has not stopped collecting food ingredients, preparing spices, cooking and distributing ready food to scavengers, rickshaw drivers, and those living in the city's red district.
From an initial one soup kitchen, there are now over 10 others helping those impacted by the pandemic. The movement extends beyond Yogyakarta, spreading to numerous regions in Central Java. Besides Solidaritas Pangan, the Indonesian Disabled Movement for Equality has initiated funding for the members of the disabled community, who are vulnerable to the impacts of the coronavirus pandemic.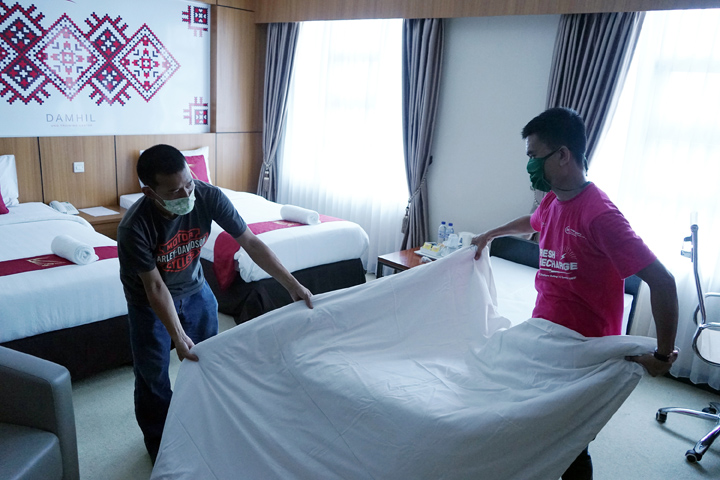 Two volunteers tidy up the room that would be used by medical personnel in the City of Gorontalo, Gorontalo, April 15. ANTARA/Adiwinata Solihin
These groups are also working to raise public awareness by campaigning for hand-washing—the cheapest and easiest way to prevent the virus from further spreading. These various group are well aware that they can help people using simple methods, without needing to use language that is not necessarily understood by all layers of society, for example, "social distancing." Their efforts are able to close the void the government unable to fill.
Besides cities, acts of solidarity have reached those living in villages. Various communities are helping garlic farmers in Temanggung, Central Java, and Yogyakarta, who are having trouble selling their produce due to mobility restrictions. These communities help farmers find buyers and make an income.
When there were reports of health workers dying from Covid-19, members of the public banded together to make protective gear, which they have given for free, including the shipping fee. Some hotel and boarding house owners are lending their rooms to nurses and doctors who have been evicted for treating Covid-19 patients.
No doubt there are thousands more solidarity acts besides the ones we are reporting on. All of these kind acts are equally valuable. Acts such as these transcend many divisions, such as ethnicity, religion, profession, and social status, to share the burden of today using what they have and their work. In the end, these movements demonstrate that we have the social capital to live together as a nation—that every time there is a vacuum, some will inevitably step up to fill it.
It is unclear when Indonesia and the world will be free from the great pandemic. But someday, when today's pandemic becomes part of history, perhaps we will be able to say that we survived mostly not because of the government's work, but thanks to our resilience and solidarity.
Rhamdani, the motorcycle taxi driver in Sawangan, Depok, West Java, has fortunately experienced some of these kind acts. During this hardship, his friends have on occasion offered a helping hand. While on the road, he has also run into people giving away staples. A community has given him Rp200,000. With the help of these people, Rhamdani, his wife, and seven-year-old child are able to survive during this crisis.
WAYAN AGUS PURNOMO, BUDIARTI UTAMI PUTRI