20 Seconds to Save a Life
Some groups are raising public awareness on the coronavirus using simple methods. They are filling a vacuum not yet occupied by the government.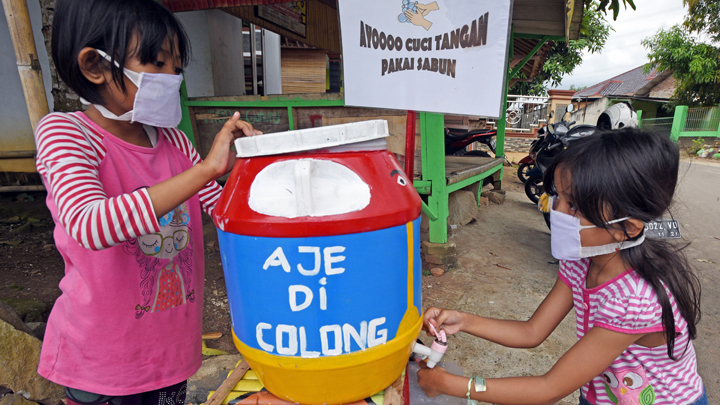 A blue 60-liter water tank was installed on the edge of Jalan Masjid Nurul Hidayah, Ciracas, East Jakarta, on April 7. Under the tank, there is a container to collect water from the tap. Next to it is a bottle of liquid soap and tissue, attached to the wall of a house. A flyer containing the 12 steps of hand-washing is placed on the tank.
Since the tank was placed near his home, Muhammad Firman Saputra has been washing his hands more frequently. Every day, when he returns home after work, the restaurant server would stop by the water tank to wash his hands to prevent coronavirus transmission. "When I go home, I go by the water tank so I can wash my hands," the 19-year-old man told Tempo on May 11. Firman's house is only a few meters away from the water tank.
Public Facility Maintenance Agency (PPSU) workers known as the 'orange troop' are also making use of the water tank. PPSU worker Deni Maulana, 41 years old, says the water tank means he and his friends can wash their hands. Before, he would wash his hands at a local resident's home. "The tank really helps the neighborhood," said Agustini, the owner of the house behind the water tank.
Gerakan Indonesia Kita (Our Indonesia Movement), or Gita, a community focused on cultural and equal rights issues, is responsible for the distribution of water tanks is various areas. Alif Imam Nurlambang, Gita's chairman, says he and his friends took the initiative after observing that there was still a vacuum unoccupied by the government in mitigating the coronavirus pandemic. Proper hand-washing campaigns had not yet reached the grassroots. To make matters worse, there were still very few public facilities for hand-washing. "In fact, washing hands is the easiest way to prevent coronavirus transmission," said Alif.
Gita aims its campaign at dense residential areas, believed to be more vulnerable to corona transmission. Alif and his friends began crowdfunding through WhatsApp groups. The Rp290 million they raised was used to buy 120-liter and 60-liter water tanks as well as liquid soap. As of early May, 228 water tanks had been distributed in various regions, such as Jakarta and West Java cities of Bekasi, Bogor, Depok, Cirebon, Garut, Sukabumi, and Tasikmalaya. Alif says the movement is, in fact, meant to encourage the public to perform similar acts to suppress novel coronavirus transmission.
It seems that the movement has indeed been contagious. Maryadi, chief of neighborhood association (RT) 08, community unit (RW) 12, Kelapa Dua Wetan, Ciracas, also created a hand-washing station after getting the idea from Gita's work. Now, in his community, there are six hand-washing stations made from all kinds of containers. Local residents take turns filling the containers and providing liquid soap.
According to the United States Centers for Disease Control and Prevention (CDC), proper hand-washing should take 20 seconds. Dhani Hargo, a creative worker, feels that not enough people know how to properly wash their hands. Hargo and his friends are raising awareness by composing 20-second songs. They enlisted several musicians to donate songs, which people can listen to while washing their hands. The project is circulated using the hashtag #20detikcucicorona.
The idea emerged when Hargo and his friends noted the government's confusing way of communicating to the public during the pandemic. The government, says Hargo, chooses to use complicated terms that not everyone understands. "Physical distancing, for example, when the most important thing is to maintain self hygiene by washing hands," said the 36-year-old man. Hargo and his friends then began campaigning for hygiene by washing hands through music, so that the message is easier to understand.
After it was launched in late April, the movement received positive response from various circles. Thirty-eight songs have been composed by musicians from Jakarta, Bandung, Malang, Situbondo, Surabaya, Central Sulawesi, Bali, and Ambon. They are, among others Jason Ranti, Robi Navicula, Dedy Lisan, Kamga, Changcuters, and /rif. "Since we began spreading (the songs) through WhatsApp groups, our friends' enthusiasm has been astounding," said 31-year-old Dzulfikri Putra Malawi, one of the movement's pioneers.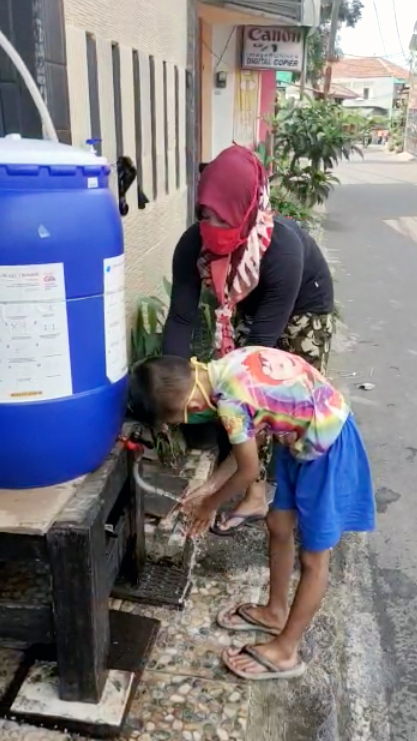 Water gallon for hand washing provided by the Gita Community in Jakarta. Facebbok Bhunda Ayya Imoet
These songs are collected under a playlist that can be accessed through music streaming platforms, such as SoundCloud, Bandcamp, YouTube and Instagram. All of these songs have been copyrighted through Atribusi-BerbagiSerupa 4.0 Internasional—Creative Commons, which Dzulfikri says is to ensure that musicians and listeners can freely use the music to campaign against the coronavirus. For example, by playing it in public places without having to worry about copyright issues.
Handika Oktavian Harisen, 24 years old, says he first learned about these songs from the Instagram handle @20detikcucicorona. He then listened to a song by Cliffton Jesse Rompies, member of Clubeighties. "The song is fun, makes me want to keep washing my hands," he said.
In Pacitan, East Java, these songs accompany Covid-19 awareness campaigns, and are played at traditional markets. Chairman of the Pacitan Indonesian Council of Ulemas (MUI), Nurus Son'ani, uses these songs to help him explain the importance of hand-washing to local residents. Nurus feels that the songs' theme and lyrics truly help motivate local residents to observe hygiene.
Besides hand-washing, musicians are also providing other information on how to prevent coronavirus transmission. Nova Ruth Setyaningtyas, a musician from Malang, East Java, who is part of the movement, composed a song called Meneng Hening Renung (silent quiet contemplate). Nova says she came up with the idea for the song because of the urging to stay at home during the pandemic. "We're usually free to do anything, but now we're asked to sit still and contemplate," she said.
Besides musicians, writers are also raising awareness on how to prevent coronavirus transmission. Children's book author Watiek Ideo and illustrator Luluk Nailufar have created an illustrated story that teaches children about the coronavirus and how to prevent its transmission. The educational material is given for free on social media. "Children can understand the coronavirus through interesting illustrations," said Luluk.
DEVY ERNIS