Keeping the Nation Alive
Plummeting demand and restricted access to distribution amid the Covid-19 pandemic have caused foodstuff prices to drop. Solidarity movements have come to the aid of farmers in Indonesia's rural areas.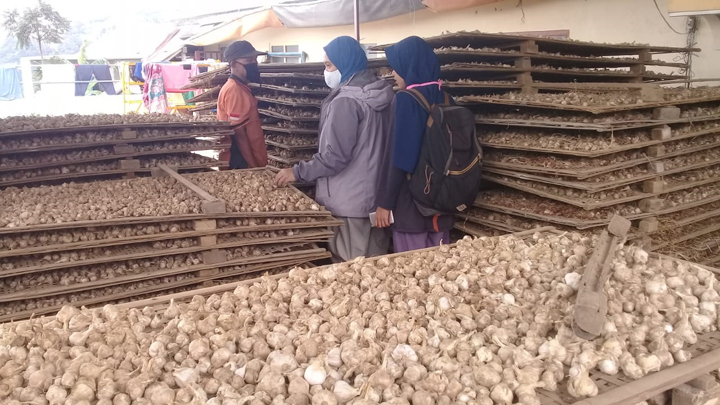 A broadcast message circulating on WhatsApp arrived on Francisca Callista's cell phone on April 27. According to the memo, which appeared to be signed by regent of Temanggung, Central Java, Muhammad Al Khadziq, the price of garlic produced by Temanggung's farmers had dropped because there were no buyers. After reading the message, the 29-year-old woman contacted Pratama Panji Prasetya, a farmer in Ketitang village, Temanggung. Francisca asked Panji to check the report's claim. "It's such a shame that so much garlic was not being absorbed by the market," Francisca said on May 10.
The next day, Panji rode his motorcycle southwest for about 45 minutes toward the Kwadungan village, Kledung subdistrict. The region, located between the slopes of Mount Sindoro and Mount Sumbing, is Temanggung's garlic center.
There, Panji met Sariyadin, Sudi Makaryo Farmers Group's coordinator. As it turned out, it was true that garlic farmers in Kwadungan were having trouble selling their produce. The garlic was harvested when the market demand for it had fallen due to the Covid-19 pandemic. "As a result, there was an abundance of garlic and the price dropped," said Sariyadin.
There are 3,000 hectares of garlic farm in Temanggung. The Sudi Makaryo Farmers Group manages around 15 hectares of land. According to Sariyadin, each hectare can yield 1 ton of dry garlic. Agriculture Minister Syahrul Yasin Limpo actually had already harvested garlic in the Petarangan village, Kledung subdistrict, on April 15. Two weeks after the ceremony, thousands of tons of Temanggung's garlic had not been purchased. "They said the government would be assisting with sales. But there's nothing so far," he said.
The farmers were in deeper trouble because harvest had come when the country was importing more garlic. So far, imported garlic prices have been lower, not to mention their larger size. Because of this, said Francisca, "It became even harder for farmers to sell their harvest."
Francisca, who was born in Ciamis, West Java, has been familiar with the farming industry in Temanggung for some time. She is known as the initiator of Pasar Papringan, a traditional market with a village tourism concept in Ngadimulyo village, Kedu subdistrict, Temanggung. She and Panji are connected through Kebon Jiwan, a sustainable farming community in Medari village, Ngadirejo subdistrict. Sisca—as Francisca is known—assists the community, and Panji is one of the farmers she assists.
As soon as the news from the regent was confirmed, Francisca and Panji divided tasks. Sisca contacted her acquaintances through WhatsApp groups and Instagram, while Panji collected the farmers' garlic. Sariyadin was able to enlist 10 others.
Sisca openly explained to consumers that the garlic produced by the local farmers was not pesticide-free and not yet cleansed from dirt. But, she explained, the local garlic had a stronger aroma than imported garlic. "Although they're harder to peel because of their smaller size," said Sisca, who earned a master's degree in cultural design from Chiba University, Japan.
Three days after the impromptu supply chain was opened, requests began pouring in from various regions, including the Jakarta area. At least 300 kilograms of garlic were sold. Sisca told the farmers to pay attention to quality so that the market would be more willing to accept their garlic. Garlic that is ready for sale, for example, must be cleansed from dirt. And the packaging has to be appealing. As of Monday, May 11, Sariyadin and his group had sold up to 1 ton of garlic to various regions. "Hopefully there will be more requests nearing Idul Fitri (end of fasting month)," said Sariyadin.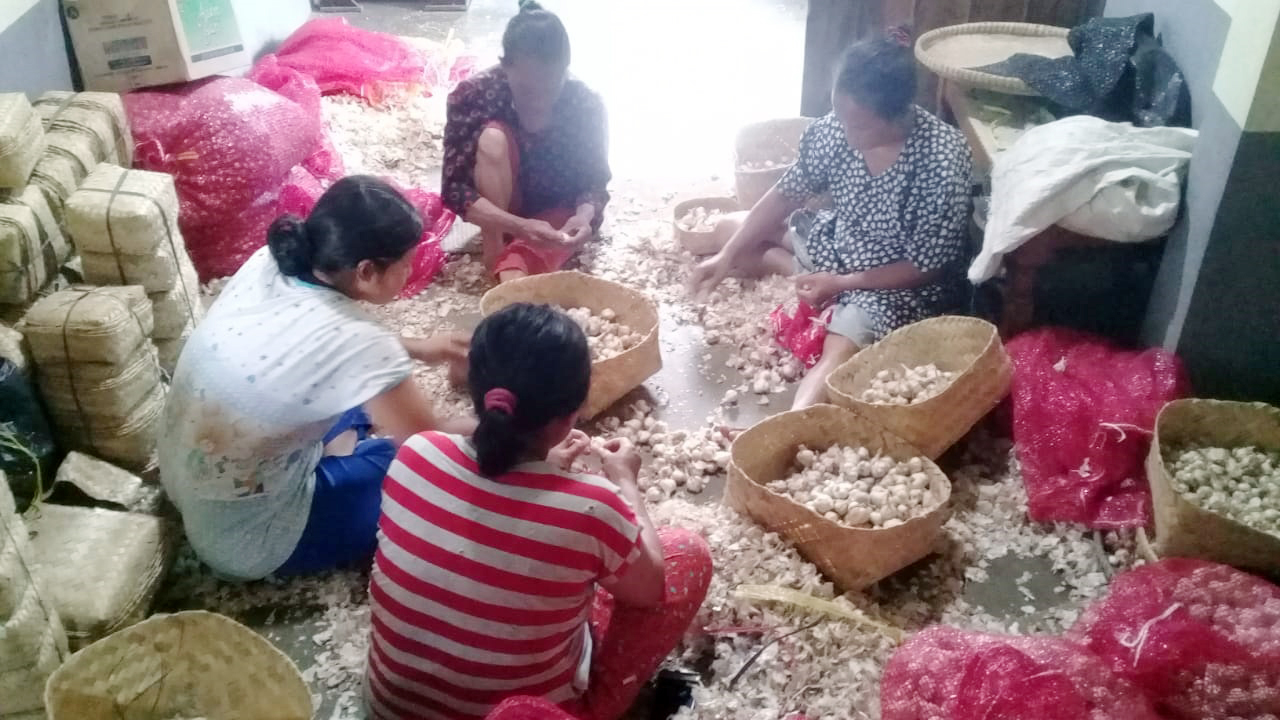 Packing garlic in Kebon Jiwan, Temanggung. Kebon Jiwan Doc.
Before, it was as if the foodstuff market was invincible. But the Covid-19 pandemic has turned the world upside down. Farming, which Indonesia's first president Sukarno called 'the blood of the nation' during the ground-breaking ceremony of the Bogor Institute of Agriculture (IPB) on April 27, 1952, is now faltering. Mobility restrictions imposed by numerous regions have caused demands to fall. Distribution channels have also been disrupted. As mentioned by Sariyadin, Temanggung's garlic farmers were particularly impacted because of their abundant garlic yield.
Food commodity prices have plummeted. According to the National Strategic Food Price Information Center (PIHPS), as of Tuesday, May 12, garlic prices at traditional markets have declined at an average rate of 16 percent compared to one month prior. Shallot prices had also declined by 21 percent. Meanwhile, the prices of red chili peppers and dwarf peppers had gone down by 16 percent and 24 percent, respectively.
To consumers, prices dropping may be good news. But not the case for farmers, who have not been able to make profit. According to Central Statistics Agency (BPS) data, farmers' purchasing power has sharply declined over the last two months. The drop has occurred in all farmer groups, from produce, horticulture, smallholder, cattle to fish farmers.
In Yogyakarta, Qomarudin Najmi from the Indonesian Farmers Union (SPI) has continued to receive complaints from his organization's networks about the difficulty in selling vegetables, fish and cattle as hotels and restaurants—their largest consumers—have tanked during the pandemic. Self-quarantine in various communities has also made it difficult to distribute produce. "Plus, consumers have trouble accessing farmers directly," said Qomarudin.
Because of this, the SPI has moved to open the access to foodstuff distribution by directly recruiting consumers to be connected to farmers. This way, farmers can directly sell their produce. At first, they were using online motorcycle taxis to deliver orders. But more recently, for the sake of efficiency, Qomarudin has been asking potential consumers to make joint purchases. "And we deliver directly to consumers," he said.
Consortium for Agrarian Reform (KPA) has also joined the social movement. The non-governmental organization, with members such as farmers unions, indigenous communities, and fishers associations, initiated the Agrarian Storehouse Solidarity Movement. Besides aiming at ensuring that its members' produce will not go to waste in storage, the initiative launched in March is meant to make food ingredients available to vulnerable communities, such as laborers and informal workers in cities.
KPA Secretary-General, Dewi Kartika, says so far 10 tons of food ingredients, from rice, fruits to vegetables, have been distributed through the initiative. The KPA collaborates with trade unions to distribute food aid from unabsorbed farmers' harvests.
The foodstuff is donated by various farmers unions. Additionally, the KPA has also arranged a model of purchasing at normal prices and selling cheap. Rice that is purchased at Rp10,000 per kilogram from farmers, for example, is subsidized by Rp3,000 per kilogram. "Despite the low price, the quality is still premium," said Dewi. "This is important to break the middlemen chain."
WAYAN AGUS PURNOMO, DEVY ERNIS