Nadirsyah Hosen, Young Intellectual, Nahdlatul Ulama:  Don't Use Clerics As Mere 'Fire Fighters'
Nadirsyah Hosen observes that the Indonesian public has been split into two major groups as the country grapples with the Covid-19 pandemic.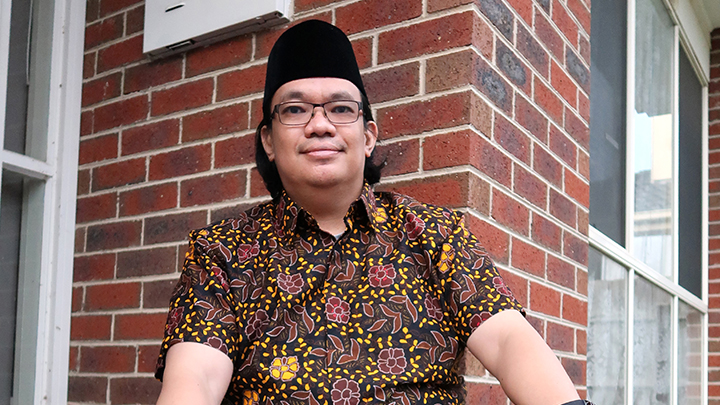 ACCORDING this young intellectual of Nahdlatul Ulama (NU), the first group feels that the coronavirus scare is unnecessary as people only need to fear God. In their eyes, the prohibition to conduct religious rituals in places of worship is unwarranted.
The second group, however, prioritizes humanitarian aspects in practicing their faith. For them, God wants humans to be safe, comfortable and healthy to practice faith, therefore, they do not resist regulations such as the prohibition of mass prayers in mosques. "This phenomenon can be seen among the followers of all faiths around the world," Nadirsyah said during the special interview with Tempo on May 6.
Nadirsyah, 46, said that the Covid-19 pandemic had shone light on how immensely the government's decisiveness, or the lack of it, influenced the people's behaviors. In the country where he lives, Australia, the government strictly enforces rules in every sector. "Mosques, churches, temples, malls, casinos, bars, clubs to brothels must be shut down and the regulation is enforced in all corners of the country so it's fair," explained the head of the consultative board of Nahdlatul Ulama's special branch for Australia and New Zealand.
Gus Nadir who came from a strong Islamic educational background is active in the Western academic world. He is in fact the first Indonesian to hold a permanent lecturer position at the law faculty of the Monash University where he teaches the general law and Islamic jurisprudence (fiqh). He uses social media as a platform to give sermons and promote peaceful Islam and pluralistic values among the younger generation. His opposing views towards caliphate has often earned him labels such as liberal, secular or even misguided.
From his Melbourne home, Nadirsyah talked with Tempo via a teleconference. During the conversation that went for over two hours, he spoke about the importance of the role of religious leaders in facing the pandemic, the tug-of-war over mudik (return to hometowns) to the challenges in serving the faithful in the era of social media.
W251bGwsIjIwMjEtMDMtMDEgMTE6NTU6MzciXQ
You said the public had been split into two in responding to the pandemic. Is this phenomenon already worrying because a lot of people are adamant about mass prayers?
To be fair, these two perceptions are present in every Islamic group or mass organization. For instance, there are divisions among the Jamaah Tabligh followers. Some leaders issued fatwa (edicts) to disallow activities in mosques, while others allow them. That also goes for NU. Some kyai (clerics) in the regions continue to carry out congregational prayers in mosques. If we want to be fair, we certainly should not point finger at one particular group or faith.
What should religious leaders do about that?
This corona pandemic is a health issue. With due respect to all the priests, pastors, monks, kyais and clerics, I say they should know their limits. With their deep understanding of holy books, they sure have the authority in the religion domain. But when it comes to health issues, they should be more rational and accept the advice and suggestions of doctors. Our concern is egoistic attitudes in practicing faith believing that the most important thing is to worship or to get into heaven and that's all that matters. If other people get affected (from their acts), well, that's their business with God. Meanwhile, the second group believes that their faith teaches them not to inflict harms upon themselves, not to mention others.
From the fiqh point of view, how should the believers respond to the government's advice and prohibitions?
Not just the government, many ulama (Muslim scholars) have also issued fatwas. But, again, worship is a very personal act. There are groups who consider worship as the relation with God which should not be interfered by the government or anybody else although the religion itself allows room for flexibility. For example, Islam allows the Friday prayer at the mosque to be substituted with zhur (noon prayer) for valid considerations. Congregational prayers can also be done at home with families which give the same reward. Then about the one-meter distancing for shaf (gap), for example. If they can be flexible with this distancing rule although the congregation is required to stand very closely to each other, why can't they be flexible to pray at home? The government cannot violate personal rights and prohibit worship. It has only banned gathering, not praying.
Nadirsyah Hosen with Yenny Wahid during the discussion of his book at the Takhasus Institut Ilmu Al-Qur'an Islamic school in Jakarta, October 2019./Private doc.
Are there any principles in the Islamic law that are relevant to the current conditions?
There is a doctrine called maqasid shariah, the objectives of Islamic law. There are five objectives, namely, to preserve religion, life, property, lineage and intellect. Ulamas all agree on this but some question the order of importance. Some say that the first is religion. If the other four oppose religion, religion must prevail over the others. Some others, meanwhile, believe that the most important objective is life. So, if religious rules pose threat to self-preservation, then self-preservation must come first.
How are they implemented?
If doctors say you should not fast for medical reasons, Islam allows you to be exempted from fasting. This shows that the self-preservation principle takes precedence over preserving faith. Islam allows room for humans to take care of themselves. So, there emerged from ulamas an axiom "sihhatul abdan muqoddimatun 'ala shihhatil adyan" or simply put, human health over religion health. It means we should make ourselves healthy first to be able to worship.
Muslims are a minority in Australia. How do they behave amid the pandemic?
In the same way. The phenomenon of the two attitudes above exists in all faiths and in all countries. The difference is the decisiveness of the governments. All the mosques, churches, temples, malls, casinos, bars, clubs and brothels here have been shut down. Markets that sell essential items remain open with distancing measures in place. The regulations are applicable all across the country so it's fair to all.
Can you see the same regulations applied in Indonesia?
The government must improve its communication. They ban activities in mosques but allow people to crowd traditional markets. A few days ago, there was news that 500 foreign workers would arrive in Southeast Sulawesi but were denied entry by the governor. This clearly hurts the people's feelings. "We are not allowed to do mudik, to go to mosques but foreigners are free to come in." This gives a negative message. Eventually, people say, "Okay, let's break the rules because the government also breaks its own rules."
How do you see the role of religious leaders in fighting the pandemic?
The government often turns to ulamas or religious figures when there is 'fire'. So, the ulamas' primary function is to douse fire. To quote kyais, it's like asking ulamas to push a car when the engine stalls and leave them behind when the car moves again.
What should the government ideally do?
It should involve ulamas from the start. About mudik, for example. Mudik is not required by Islam. It's not stipulated in Qur'an, hadith (reports of statements or actions of Prophet Muhammad) or jurisprudence. It is an entrenched tradition of the majority of (Indonesian) Muslims to celebrate Idul Fitri, end of fasting month. There are 20 million people who want to do the mudik ritual. Without the clear instruction from the government, ulamas cannot forbid it because it is not in their jurisdiction. If the government has from the start banned mudik, ulamas could have calmed the masses and persuaded them into obeying the regulation through the use of words such as 'for people's benefit' or 'to prevent harms'. Don't bring in ulamas only after commotion broke out.
As Rais Syuriah (the head of the consultative body) of NU's special branch for Australia and New Zealand, how do you inform NU members about mudik?
I didn't have to because there is already the travel ban. The Australia government does not understand mudik. They only said, "We don't forbid you to go home. Go ahead. There are still flights but you may not be able to return to Australia later on. Our airports may be closed or there will be isolation rules." It is complicated. So, my duty as Rais Syuriah became easier in urging them not to go home.
What was the reason behind your decision to study the general law and fiqh?
I was interested in the law because my father (the late Ibrahim Hosen) was a professor of Islamic law as well as chairman of both MUI (Indonesian Ulema Council) and MUI's fatwa commission before the era of Kyai Ma'ruf Amin. I was indeed raised to follow his footsteps. What sets me apart from him is that I also studied the general law. I felt there should be a bridge between the two disciplines. Debates often occur between kyais with expertise in fiqh and legal experts due to differences in concepts. That's why I took a double degree program in my undergraduate study and my father approved it.
Why did you choose to teach fiqh in Australia?
My father told me to become a khadimul ilmi or 'a servant of knowledge'. He once said that, "I'm only a khadimul fiqh or a servant of jurisprudence (fiqh) who only understands fiqh. You must acquire other knowledge." That's why I learned the general law. Second, he also told me to 'conquer' the Western world. So, by teaching in Australia, I have the opportunity to explain the true Islam from the right scientific perspectives. I write books and articles about the Islamic law to straighten out Westerners' misconceptions about Islam.
Why don't you continue teaching at Jakarta Al-Quran Institute and Al-Quran College founded by your father?
People call me a runaway crown prince, (chuckles)...I don't continue the legacy left behind by my parents and moved to Australia instead. But what I teach in Australia is the Islamic law that I learned from my father. I'm continuing his endeavors through different ways. I teach to promote flexible and easy Islam to Australians. There are not many experts in the Islamic and Islamic sharia laws here.
What is the most common misconception Westerners have about Islam?
They consider the Islamic law to be inhumane, violating human rights, demeaning women, legitimizing murders. These misimpressions must be rectified. But, at the same time, we have to acknowledge that these misconceptions also exist among Muslims. Some really believe that women must be oppressed or they can wage war any time on anybody or reestablish caliphate. Through social media and teaching at the foreign university, I try to correct the misconceptions on both sides.
What are the challenges?
It's certainly not easy. I received a lot of protests and they mostly come from Muslims. Meanwhile, Westerners are actually more receptive to my explanations. Their responses are more open because I explain to them with logics, rationales and solid arguments. On the other hand, in the Muslim circle, no matter how well I give solid arguments with truck loads of references from the classic book, the books of interpretation and fiqh, it's extremely difficult because people are motivated by hate and political views.
You are actively giving sermons via social media. How have the Internet and social media impacted the relation between religious leaders and the faithful?
People used to have a one-way learning, be it in majelis taklim (an informal religious education institution), pesantren (Islamic boarding school) or madrasa (Islamic school). Now, those living in the US, India, Tanah Abang (in Central Jakarta) or even Japan can directly ask ulamas via social media and there we can see the differences in communication and preaching styles of different ulamas. In the past, if someone asks ulama about something, and the latter would explain referring to, for instance, mazhab (sect) Syafi'i and it's done. But not now, even when I show the screenshot of the yellow book (the traditional Islamic text book used in Indonesia), the interpretation and fiqh books, they still reject and argue. So, ulamas who want to have presence on social media must prepare themselves to be bullied and asked all sorts of questions.
---
NADIRSYAH HOSEN
• Place and date of birth: Jakarta, December 8, 1973 • Education: Bachelor of Religious Studies, Syarif Hidayatullah State Islamic University, Jakarta; Diploma in Islamic Studies and Master of Arts with Honors, University of New England, Australia; Master of Laws, Charles Darwin University, Australia; PhD in Law, University of Wollongong, Australia; PhD in Islamic Law, National University of Singapore • Career: Postdoctoral Fellow, University of Queensland, Australia (2005-2007); Associate Professor, University of Wollongong, Australia (2007-2015); Senior Lecturer, Monash University, Australia (since 2015) • Organization: Rais Syuriah (Chair of Consultative Board), Special Branch of Nahdlatul Ulama for Australia and New Zealand (since 2005)
---
Besides social media and face-to-face interactions, what other platforms do you use to preach?
For the last three years, I've been giving on-air tausiah (religious counsels) five minutes before Jakarta fast-breaking time, on Brava Radio in Jakarta. The Wisdom of Ramadhan program is streamed live so it can be tuned in from any country. I also give tausiah on NU's TV9 every Sunday evening.
Do you still give religious education in Australia?
We have monthly khataman (cover to cover recitation of Qur'an) sessions in Melbourne and other cities. We recite together and I give lessons on interpretation. We move from one house to another but nowadays we do it online given the crowd ban.
You also frequently campaign for pluralism, peaceful Islam and to fight the radical ideas including the idea of caliphate. What is the condition of Muslims back home?
The caliphate idea is quite unsettling. This is the consequence of letting the Hizbut Tahrir group loose in the past allowing their ideology to seep in everywhere including school text books. This is dangerous because it can destroy everything that the nation's founding leaders struggled for. We don't want to see Indonesia being ravaged like some countries in the Middle East which have been reduced to ruins by prolonged conflicts brought on by political problems. We've established the state ideology via Pancasila and the 1945 Constitution. We can discuss the issues of people's welfare, inequality, economic independence, education, health. But we should not fiddle with the state's fundamentals anymore.
How do you see the Indonesian government's efforts to curb the spread of radical ideologies?
I don't see the seriousness of the government. It's as if they have run out of options in facing radical groups, with no clue as to how they can make use of those who have long been fighting these groups. They think radicalism is just a political problem that can be tackled through a political approach. But I see it as an ideology battle and a threat to the nation's viability. I jointly published a book titled Islam Yes, Khalifah No! in two volumes. There was no support whatsoever from the government through, for example, bulk purchase and distribution to mosques, schools and madrasas. I struggle alone amid the condemnations from left and right including death threats. I have to be escorted by Banser (NU youth wing) when I'm back home.
How about the role of NU in fighting it?
The majority Muslims must be made to understand that this is not just the problem of NU to battle radical or fundamentalist groups. This is the entire nation's problem. NU needs the public support. If the majority Muslims embrace radical and conservative religious ideologies, that will change the face of Indonesia. In that case, entrepreneurs, professionals and middle-class citizens who have kept silent all this time will be the ones to feel the bitter fallout. NU already has thousands of pesantrens and millions of pesantren students. So, for instance, if NU keeps quiet and the students and Banser stand aside in the fight against radical groups, NU still has nothing to lose.