Pursuing Normality before the Peak
The government plans to ease social restrictions. But some regional heads tightened their population movements instead.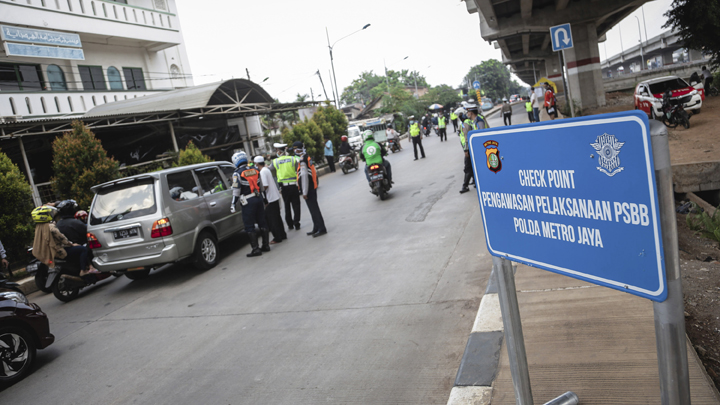 PUTU Dian Pratiwi struggled to find a way back to her home in Denpasar's Monang Maning area, Bali, Friday, May 15. The financial consulting firm employee had just met a client in Kerobokan, Badung Regency. Trying to avoid checking at 11 points, Putu Dian looked for back roads. "On social media, many people do the same," she said when contacted by Tempo.
That day, access in and out of Denpasar was monitored tightly as restrictions on community activities began. Opting out from applying a large-scale social restrictions (PSBB), the Denpasar City Government issued Mayor's Regulation No. 32/2020 on restricting community activities in villages and customary villages to accelerate the mitigation of Covid-19. Those who want to go in and out of Denpasar must show a certificate of employment. The city also held random rapid tests at a number of places.
While Bali enforced restrictions on activities, the central government at the end of April began planning to ease the PSBB. On April 27, the National Covid-19 Task Force Chairman Doni Monardo estimated that starting in July, the people could live their lives normally again. The estimate is based on the slowing increase of new infections. Coordinating Minister for Politics, Law and Security Mahfud Md. at the time said that the government also plans to reopen business centers.
On May 7, President Joko Widodo also asked the public to start "making peace" with Covid-19 until an effective vaccine is found. Jokowi's wish is supported by entrepreneurs. Hariyadi Sukamdani, chairman of the Indonesian Employers' Association, said that a 'new normal' must be adopted by the public before a vaccine is discovered. He said that social restrictions are burdening employers as there is no income. As a result, the economy will continue to deteriorate. "Start (the restrictions ease) with the lowest-risk groups," Hariyadi said.
In a closed cabinet meeting held on May 12, President Jokowi said that of the four provinces and 72 regencies/cities that implemented the PSBB, some had succeeded in reducing the number of new cases. However, there are areas where cases have actually increased. "Easing the PSBB must be done carefully and not in a hurry."
W251bGwsIjIwMjEtMDMtMDEgMTA6NDI6MzgiXQ
The President also instructed Doni Monardo to simulate a relaxation of social restrictions. According to Doni, there are four stages he is preparing: carrying out preconditions in the form of policy dissemination, determining when the easing begins, selecting priority sectors to be relaxed, and ensuring smooth coordination between the central and regional governments.
According to Doni, relaxations could be applied to those aged 45 years and under. He referred to the task force's data which shows that 45 percent of Covid-19 deaths happened to those aged 60 years and over. Meanwhile, the 46-59 years group accounted for 40 percent. "And those who died at the age between 46 and 59 were those who had comorbidities," Doni said.
The plan to ease social restrictions is opposed by many health experts. University of Indonesia's Faculty of Public Health's epidemiologist, Pandu Riono, said that researches conducted by him and his team showed that it is too early to ease social restrictions. Epidemiologically, Indonesia is still a red zone, because the death rate is always increasing and the new cases rate is still volatile. He also reminded that the government has not conducted enough tests. "The tests are too few," he said.
Based on the human movement data taken from Google and Facebook, the level of public compliance to stay at home during the Ramadan fasting month actually decreases. Pandu fears that an increase in community activities outside their homes will raise the number of positive cases. A team from University of Indonesia's Faculty of Public Health concluded that social restrictions must be continued, more tests must be conducted, and the number health facilities increased.
---
Indonesia has not reached the peak of coronavirus pandemic yet. "In Indonesia, the number of recorded confirmed cases is less than the reality."
— Zubairi Djoerban
Chairman of the Covid-19 task force for the Indonesian Medical Association
---

Zubairi Djoerban, Chairman of the Covid-19 task force for the Indonesian Medical Association (IDI), said a number of countries have gradually eased lockdowns. However, he said, one of the conditions that must be met for a lockdown lift is the steady decline in positive numbers, as what happened in Singapore and South Korea. Meanwhile, Indonesia has not reached the peak of coronavirus pandemic yet. "In Indonesia, the number of recorded confirmed cases is less than the reality," said Zubairi.
Panji Fortuna Hadisoemarto, a senior researcher at Padjadjaran University's Center for Sustainable Development Goals Study in Bandung, West Java, is concerned that the Indonesian health system will be overwhelmed if social restrictions are relaxed. He said that those who are of productive age are actually at risk to becoming carriers of the virus. If they are allowed to return to work, they could transmit the disease to others.
The idea of easing social restrictions was rejected by a number of provinces. Jakarta Governor Anies Rasyid Baswedan on May 14 actually issued a regulation prohibiting residents outside Jakarta and surrounding areas from entering the capital city. Those who want to cross the Jakarta border must bring a permit issued by the Jakarta government. "Without a letter, you will be asked to return," Anies said on May 15.
At the end of April, Anies also issued a regulation mandating everyone who goes out to wear masks and prohibiting gatherings of more than five people. Those who violate the rule would be fined up to Rp250,000. Jakarta has implemented the PSBB since 10 April.
Meanwhile, West Java Governor Ridwan Kamil is worried about the number of travelers who have arrived in his province. Ridwan, also known as Emil, said that 360,000 people have mudik or returned to hometowns, with 200,000 of them taking the trip before the government imposed the mudik ban. Emil said that random checks revealed that three percent of overseas travelers tested positive for Covid-19. While the rate of infection in travelers from Jakarta is one percent.
However, Emil plans to re-evaluate the implementation of the PSBB. He will categorize villages in West Java into five groups based on status: green is the safest and black is the most dangerous. According to Emil, people in areas categorized at level two—color-coded as blue—would be allowed to conduct some activity with regards to health protocols. Overall, Emil said that West Java is still a red zone, as the second worst hit province in the country.
WAYAN AGUS PURNOMO, HUSSEIN ABRI, EGI ADYATAMA (JAKARTA) AHMAD FIKRI (BANDUNG),
MADE ARGAWA (DENPASAR)