Rotten Business Dealings
Police are investigating suspected corruption involving the sale of imported beef by Perusahaan Perdagangan Indonesia. A high-ranking intelligence official lobbied on behalf of a business owner in this scandal.
Edition : Tuesday, June 2, 2020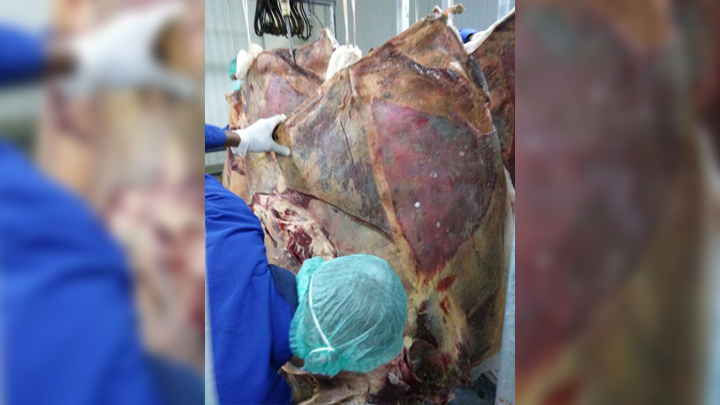 FOR the past seven months, Agus Andiyani has made numerous trips to the Unit III office of the 5th Sub-directorate for Corruption at the Jakarta Police Department's Special Crimes Directorate. That chief executive officer (CEO) of Perusahaan Perdagangan Indonesia (PPI) from July 2016 to April 2020 is a witness in suspected corruption involving the sale of fresh beef carcasses imported from Australia.
Speaking to investigators, he talked about this case of the trade of fresh beef from Australia between PPI and its business partner, a company with the initials ANSM, which transpired from October 2016 to early 2017. PPI purchased imported carcasses for Rp68,000 per kilogram from Australia. "I have explained everything to the investigators," said Agus, on Thursday, May 28.
Instead of making a profit, his company sold the beef below their purchase price. This government-owned company sold those carcasses for Rp40,000 per kilogram. The total transaction was worth Rp33 billion. However, to date, ANSM has not fully paid for this transaction. The police suspect the state has suffered losses as a result of the deal.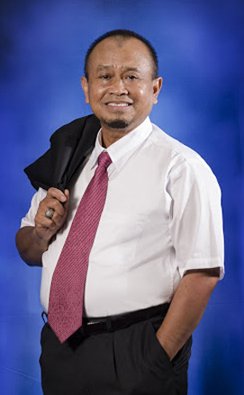 Agus Andiyani. PPI Doc.
Dozens of other witnesses have been questioned in this case. After collecting their testimony, investigators issued criminal investigation order No. Sprin.Sidik/1212/IV/RES.3.3/2020/Ditreskrimsus on April 14. Investigators have named PPI's commercial director, whose initials is TAS, and a managerial staff member wwith initials TF, as suspects.
EJJB, CEO of ANSM, has also been named a suspect. Agus has not been charged. Senior Comsr. Yusri Yunus, chief of the public relations division at the Jakarta Police Department, does not know investigators' reasons for doing so. "I'm still looking for information. They have just gotten a new director, so I do not yet know the details of this case," said Yusri.
***
IT is suspected that corruption in the business dealings at Perusahaan Perdagangan Indonesia has started from the beginning. Suspected improprieties occurred in the process of filing for an import quota and during the importing process for steer carcasses. In June 2016, Tempo wrote that PPI stood to receive a 'bonanza' because the government suddenly granted them an import quota for 29,500 tons of beef that year.
At that time, the public was getting ready for the Idul Fitri end-of-fasting month holiday, and beef prices had doubled up. Meanwhile, national beef stocks were getting low. The trade ministry decided to increase the import quota as one way to bring down the market price.
The agriculture ministry refused to issue an import recommendation for PPI because that company did not have a veterinary control number certificate, which is the main condition for an importer to be registered in the agriculture ministry's importation system. This policy resulted in PPI's previous import share of 10,000 tons going to the government logistics company, Bulog.
It is suspected that the agriculture ministry changed its stance on account of lobbying done by a high-ranking intelligence official. It was said that this person invited some officials of the agriculture ministry to their office in South Jakarta in May 2016, three weeks before PPI received a letter of recommendation to import 29,500 tons of beef.
In the report made by Tempo at that time, a high-ranking official from an intelligence agency was said to have asked the agriculture ministry to issue an importation license because PPI was going to receive an injection of Rp800 billion of capital from Ficorp. This company is owned by Indra Hasan, a businessman known to have a cow ranch network in Australia. Indra was going to use PPI's 'flag' to import meat.
Later on, Ficorp was mentioned in an audit report of the Supreme Audit Agency (BPK). The 7th Main Auditing Team for State Finance audited the revenue management, cost controls, investment activity, and fixed asset management of PPI for 2015 and 2016. "We completed that report in 2017," said BPK member Achsanul Qosasi, on May 28.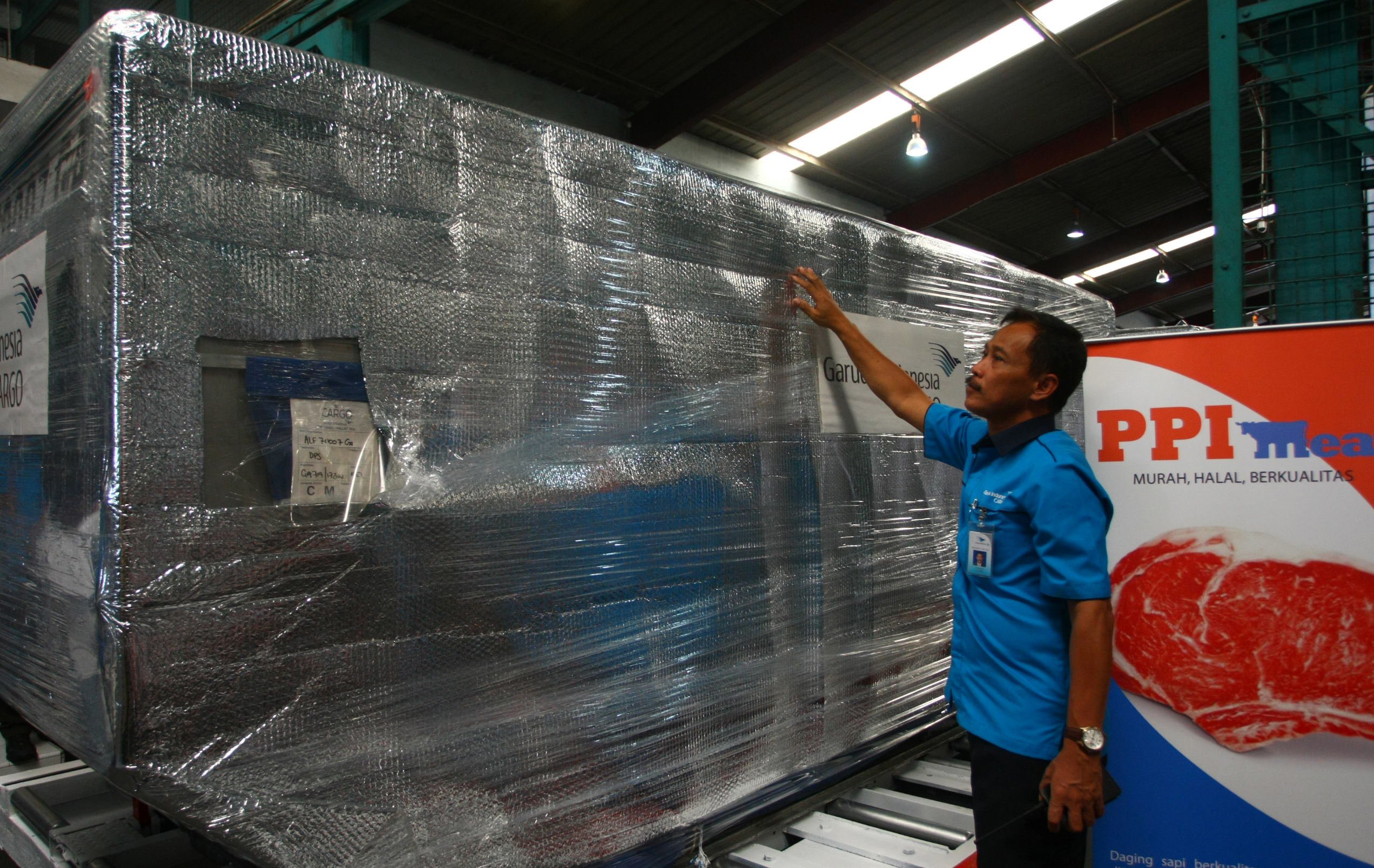 A cargo officer examining the cointainer carrying imported beef from Australia brought in by Perusahaan Perdagangan Indonesia, at Soekarno-Hatta Airport, Tangerang, Banten, June 2016. ANTARA/Muhammad Iqbal
Auditors found some discrepancies in the execution of that importing activity. PPI had entered into cooperation for the importation of 29,500 tons of beef with Ficorp through an agreement signed on June 10, 2016. PPI's board of directors is suspected of directly appointed Ficorp. "Whereas PPI has an import license. They should be doing this directly without Ficorp as an intermediary," said Achsanul.
That BPK report also mentioned the then CEO of PPI, Dayu Padmara Rengganis, reasoned that Ficorp was chosen as a supplier as this company has experience in importing beef and has ranches in Australia. "However, PPI CEO was unable to produce supporting documents in that regard," read the BPK's audit report.
As of May 30, Dayu had still not responded to telephone calls and WhatsApp messages by Tempo regarding this meat importation cooperation. He also did not reply to an interview request letter sent to his WhatsApp number on May 28.
The BPK audit findings mentioned that the cooperation contract between PPI and Ficorp was for seven months. However, the limit on the beef importation quota given by the trade ministry only lasted until December 31, 2016. In all, in addition to being considered unusual, the contract extended beyond the time limit given for the import quota. That contract also does not stipulate any price agreements between PPI and Ficorp.
The BPK also found that PPI did not conduct a feasibility study and acted unprofessionally in its dealings with Ficorp. The BPK holds that the company which imported beef from Australia should have at least asked the agriculture ministry for a recommendation. Ficorp is not listed as a supplier on the agriculture ministry's list of importers.
On top of that, as an import license holder, PPI did not order meat directly from the producer. This is one reason why PPI has had to deal with investigators from the Jakarta Police Department. As they were already bound by a contract, PPI ordered 1,000 tons of fresh beef worth Rp68.2 billion through Ficorp, out of the total meat contract for 29,500 tons.
Based on this order, Ficorp issued an invoice on June 13, 2016. PPI paid it via transfer to Bank Mandiri on June 14, 2016. However, PPI had not yet received the shipment of meat. "The payment made for the cooperation to supply meat which was made before the meat was received had the potential to bring losses to PPI," the BPK document said.
Ficorp sent fresh carcasses in stages by airplane starting on June 17, 2016. Based on the invoice obtained by Tempo, Ficorp supplied meat from a carcass processing company from Queensland, Australia. That company also issued the invoice which was billed to PPI. The existence of these two invoices became a part of the police's investigation.
The shipments did not go smoothly. As of the end of July 2017, PPI had received 17 shipments amounting to 249 tons and worth Rp16.9 billion. The other 751 tons had not yet been shipped at that point. Later, PPI postponed its request for fresh carcasses from Ficorp, citing they wanted to evaluate project execution.
An employee of PPI who is familiar with this meat importation process said that the imports were stopped because there was a problem with selling those carcasses. PPI was cooperating with a cooperative to sell the meat.
This cooperative had sold some of the meat from PPI during the early part of the project. They were only able to sell Rp2.5 billion worth of carcasses. The proceeds from these sales were not deposited with PPI, and their cooperation fell apart.
PPI met with the cooperative and invited other vendors to discuss meat prices. They met at Indra Hasan's residence in Jati Cempaka, Bekasi, West Java.
Nothing came out of this meeting. They did not agree on the price for fresh carcasses. The vendors were reluctant to purchase the meat from PPI because they considered it was to be too expensive. An employee at PPI familiar with the process said that Indra Hasan was behind the cooperation and those vendors.
PPI offered a base price of Rp68,000 per kilogram for the meat. However, other beef importing companies were offering a price of Rp40,000 per kilogram. When sales stopped, the unsold fresh beef piled up in a warehouse in Muara Baru, North Jakarta. Unlike frozen meat, the carcasses refrigerated at 0-5 degrees Celsius can only remain fresh for seven days. Hundreds of tons of PPI's meat slowly became moldy and rotten.
The PPI employee said that the company is confused because no one was buying the meat. They would suffer major losses if all of the meat gone spoiled and could not be sold. At that time, all of the marketing staff and company directors were mobilized to look for replacement business partners to sell the meat.
PPI replaced its company directors in July 2016. Leadership of the company, which had previously been held by Dayu Padmara Rengganis, shifted to Agus Andiyani. According to the PPI employee, Agus then introduced PPI's meat team to two business owners. "We then sought a way so that the meat could be sold. Most of it was already became moldy and rotten. We were able to save the rest which was still good," that employee said.
One of those two business owners backed out because the PPI's price of Rp68,000 per kilogram was deemed to be too high. A business owner with initials EJJB through ANSM finally agreed to buy PPI's beef according to the offered price.
At first, EJJB had turned down that offer. Despite purchasing the meat at Rp68,000 per kilogram, PPI is suspected of selling them for Rp40,000 per kilogram. However, ANSM still paid the offered price.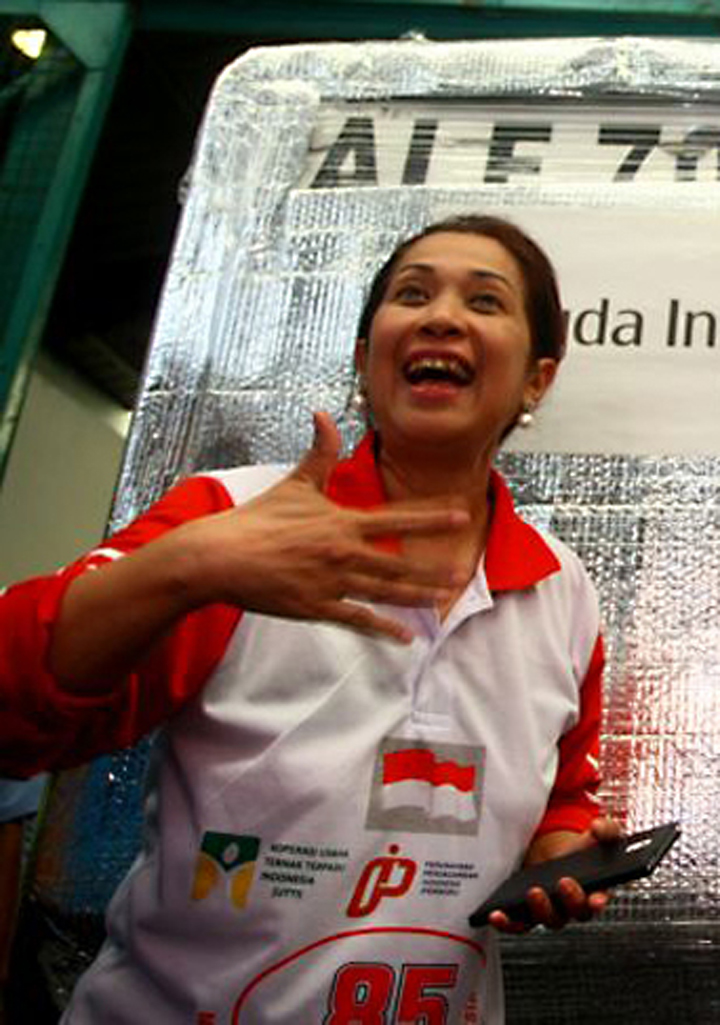 Dayu Padmara Rengganis. ANTARA/Muhammad Iqbal
Agus Andiyani is accused of offering some other projects at PPI to EJJB to cover the losses from the price difference. He has denied this accusation. "I came in late and don't know about the import process," said Agus.
Apparently PPI did not learn its lesson from this bad deal. They again asked Ficorp to send fresh carcasses on November 7, 2016. Ficorp brought in 114 tons of meat from Sydney and Perth worth Rp7.8 billion.
As of December 2016, Ficorp has supplied just 669.08 tons of meat to PPI. The outstanding amount of meat which has not been sent carries a potential loss of 300.9 tons worth Rp20.5 billion.
Achsanul Qosasi said that his team has repeatedly invited Indra Hasan to the BPK for a clarification. "He is not cooperative. He has never come," said Achsanul.
He has asked an audit team to visit Indra Hasan's residence in Bekasi. "His house is locked and empty," he said.
Whereas, according to Achsanul, if Indra responded to the BPK's invitation, he would have a chance to explain his version of the story. In the conclusion of that audit, the BPK asked Ficorp to return the outstanding amount of their financial obligation which they did not carry out.
However, Ficorp has not yet made any response. "Even though the team has reported this matter to the law enforcement authorities, only the sale has been investigated," said Achsanul.
Tempo went to Indra's residence on the afternoon of Thursday, May 28. His approximately 1,000 square-meter two-story house in Jati Cempaka, Bekasi, looked deserted. Calling from outside the fence, no one appeared from inside.
The two-meter high grey fence was locked. To the left of the house is a meter-wide street which heads to a mosque. Three people could be seen inside tidying up.
"Pak Haji is inside (the house), but if there is a message you can give it through me," said Sidik, who said he is a caretaker of the mosque. As of Saturday, May 30, Indra Hasan had not responded to the interview request.
LINDA TRIANITA, RIKY FERDIANTO
W251bGwsIjIwMjEtMDYtMjUgMDc6MTE6NDUiXQ