Isolation
Life consists of various kinds of solitude. Every one of us sometimes has (or would like to have, or on the contrary is afraid of having) isolation.
Edition : Tuesday, June 2, 2020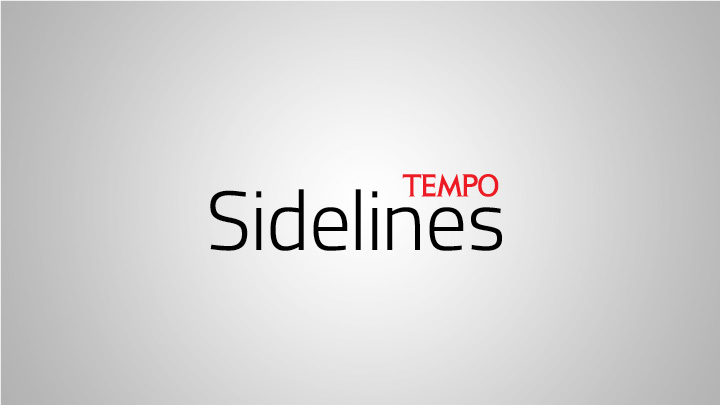 IN legends and in history, there are stories of people who isolate themselves in total solitude to obtain within them something more valuable than they already have. The Serat Wedatama, for instance, tells of Panembahan Senapati in the 17th century "lelana lalading sepi/Ngingsep sepuhing supana': "wandering in the quiet/ absorbing the ancient ways." Or Airlangga from the kingdom of Kediri in the 12th century who abdicated and went into seclusion in the forest until his death. His isolation was a kind of purification from the filth that sticks to power.
Religions glorify such chosen solitude—and we are led to believe there is a connection between solitude and purity. Religions are built with icons of meditation: the Hira Caves before Muhammad became Prophet; the desert where Jesus went to fast and reject the worldly kingdom; the Bodhi tree in Bihar, where Siddharta Gautama meditated after leaving his life as a prince.
In busy modern times, Thomas Merton, a Trappist monk, poet, mystic and philosopher, seems to have rediscovered the life of meditation as something at once distant and close to ones surroundings. In his A Year with Thomas Merton: Daily Meditations from His Journals, he writes, "solitude is not merely a negative relationship. True solitude is a participation in the solitariness of God Who is in all things."
It is common knowledge that Trappist monks live their entire lives in almost total silence. They only use words when necessary, in the breaks between the long hours of prayer and the long hours of work in the fields, and in Merton's case, when he was writing. A diary entry for January 4, 1950 expresses his joy: "Now I know I am coming to the day in which I will be able to live without words."
W251bGwsIjIwMjEtMDYtMjUgMDY6NTY6MTciXQ
Thomas Merton was not abdicating language; he had written around 50 books. But to him, language possessed a "no-man's land" which truly connected his self with others.
Reading his entry for January 18, we can imagine him outside the monastery at the edge of the woods hearing the ringing bells, and sensing silence and solitude as being "alone by being part of the universe—fitting in completely to an environment of woods and silence and peace. Everything you do becomes a unity and a prayer. My silence is part of the whole world's silence and builds the temple of God without the noise of hammers."
It is evident from these notes that Thomas Merton's meditation was not isolation. Precisely the opposite. "Solitude and silence teach me to love my brothers for what they are, not for what they say," he wrote. Merton's isolation is not Chairil Anwar's: "Ini sepi terus ada. Menanti." Aloneness goes on and on. Waiting.
Maybe this is what differentiates physical distance and social distance: when our bodies are thousands of kilometers distant, intimacy is not impossible; and the contrary is also true; physical closeness does not bring people together. Thus there are some who view isolation—especially in times of contagion—as just a means of self-protection, or if not, as a way to see oneself as better than others who generally cannot stand it.
I am reminded of Henry David Thoreau. On July 4, 1845, as a young 28-year-old writer, he started living in a small wooden cabin he built himself in the woods near Walden Pond, close to Concord, Massachusetts on the east coast of America. Thoreau, who never married, lived alone in the cabin for two years. He published his notes about that life of seclusion as a book that became famous in American literature, Walden, or Life in the Woods—half memoir and half a record of his reflections on mankind and nature.
According to novelist and critic John Updike, the book is "such a totem of the back-to-nature that is risks being as revered and unread as the Bible."
One cannot deny that the writer of Walden was painstakingly observant in recording every natural movement in the solitude. But when I read it (after hearing it so highly praised), I found there isolation without compromise. It turns physical distance into social distance as well. "To be in company, even with the best, is soon wearisome and dissipating. I love to be alone. I never found the companion that was so companionable as solitude." Thoreau finds man "commonly too cheap." "The value of a man," he writes, "is not in his skin, that we should touch him."
The book rejects the reality that people are skin, blood and nerves. Bodies in short, and not just souls; passions, not just thoughts.
This is why mankind builds civilization with carnivals, communal worship and watching ball games, dancing the noisy and crowded cak, swinging together as we dance to dangdut music, or creating flash-mobs at street corners dancing to Shostakovich's Waltz No. 2
But what can one do? These days I am worried: that living with Covid-19 we will lose togetherness and fun.
Goenawan Mohamad