Rosan Perkasa Roeslani, Chairman, Indonesian Chamber of Commerce and Industry: There Is No Good Option
The Indonesian Chamber of Commerce and Industry (Kadin) is pushing the government to implement the 'new normal' sooner and ease the restrictions so as to bring the economy back to life.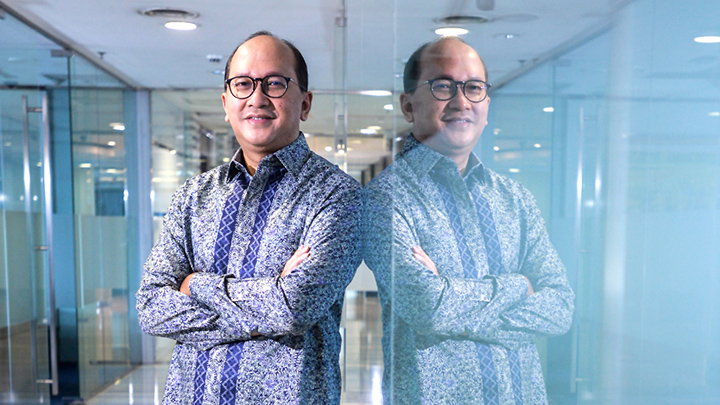 KADIN'S Chairman Rosan Perkasa Roeslani said that the Covid-19 pandemic that had paralyzed public activities had battered countless businesses. "The government said the entrepreneurs could take care of themselves. Well, it can't be like that," Rosan argued during the special interview with Tempo at his South Jakarta office on Thursday, May 28.
Rosan, 51, routinely peruses information from 200 associations affiliated with Kadin. From them, he learned, for instance, that the total number of workers who had either been placed on unpaid leave or dismissed from their jobs had reached 6 million—4 million more than the government's version. He fears that many businesses will go belly up if large-scale social restrictions (PSBB) measures remain in effect until July.
So, Rosan has presented the ministers and President Joko Widodo his projection of the economic condition and informed them of the industry's need for stimulus aid as well. "Health is important, but businesses also need exit strategy," he pointed out. The businessman who last year was appointed to head the omnibus law task force explained to Tempo's Mahardika Hadi, Raymundus Rikang, Vindry Florentin, Andi Ibnu, dan Yohanes Paskalis Pae Dale about various matters, from the private sector's readiness to face the new normal to the controversial Job Creation Bill.
How prepared is the industry to implement the new normal?
Entrepreneur and industry associations declare their readiness for the new normal and we must adapt to it very quickly. Activities cannot keep on being disrupted. There has to be a starting point where we can reopen gradually with the strict Covid protocol while doing weekly or biweekly evaluation of the process. So, once we are open, it will not be for a permanent basis. Every sector—be it labor-intensive or micro, small and medium (MSMEs)—will each have a different protocol. They need clear guidelines from the government because all we know about the new normal is using masks, sanitizers and physical distancing.
What are the impacts of the new normal protocols on the industry?
For sure, there will be added costs. For instance, in factories, under the Covid protocol, a room which used to have the capacity for 100 workers will now accommodate maximum 60. And everyone is to be provided with masks, sanitizers, and then there will be shifts. There will be a protocol and references if an employee gets Covid. One major corporation has actually booked an entire hotel already in case its employees get infected. Another has divided its office into three with different seats for different people during shifts. They are very concerned as if someone gets sick, an entire operation will be forced to a total halt.
How did the discussions go among entrepreneur associations?
The retail sector, for example, is the most enthusiastic about reopening businesses soon. So far, only 3-5 percent are open for pharmaceutical business and wholesalers. They have prepared themselves and are waiting for the government's decision. The bottom line is that when we reopen the economy, we still must prioritize the health protocols.
How severe is the crisis faced by the industry due to the Covid-19 pandemic?
I speak from the number of people who have been ordered to stay at home or dismissed. The labor minister said two million people had been either put on unpaid leave or dismissed (PHK). But our data say that the number has already exceeded six million. Among them are 1.4 million from Organda (transportation organization) and 2.1 million from the textile industry. The ratio is 90 percent unpaid leave and 10 percent PHK. The point is PHK involves severance pays which business owners cannot afford. Reportedly 1,700 hotels across 31 provinces—mostly in West Java—have been shut down.
How about other sectors?
The footwear industry has around 500 people. Abujapi (the Indonesian security industry association) which usually provides security services saw 40 percent of its 2 million members hit by the pandemic. Gaikindo (automotive manufacturers association) also feels the crunch. Their initial production target of 1.1 million units had to be revised to 500,000, and again to 400,000. It will be great if they can sell them. The same goes for the airlines. Their capacity in the new normal is predicted to be just 45 percent because of flight bans as well as inflight health protocols. As a result, the ticket prices skyrocket and that will affect the tourism sector. The pharmaceutical sector which we think is still ok has in fact ordered 200,000 employees to stay at home.
Why is the pharmacy industry feeling the heat amid the high demand for drugs?
First, the prices of raw materials have increased 300-400 percent because of panic buying. Our industry still relies on overseas suppliers. Second, the US dollar exchange rate went up. Third, the BPJS still has not paid Rp6 trillion in debt (to pharmacy companies). But at the same time, they cannot increase selling prices either. There are rules.
Why is there a big difference between the association's data on the affected employees and that of the labor ministry's?
I get my numbers from the associations. There are 200 associations under Kadin. I get feedback and update from them every two or three days.
What sort of feeback do the associations give?
They haven't felt the benefit of the government's stimulus program. The fiscal stimulus regulated in the Government Regulation in lieu of the law No. 1/2020 is largely for MSMEs and SOEs (state-owned enterprises). To be frank, when they saw the figures, they immediately contacted me. We contribute 87 percent of the GDP (gross domestic product). There shouldn't be any discrimination in the bailout assistance. Covid doesn't discriminate, does it? Are big companies being spared by Covid?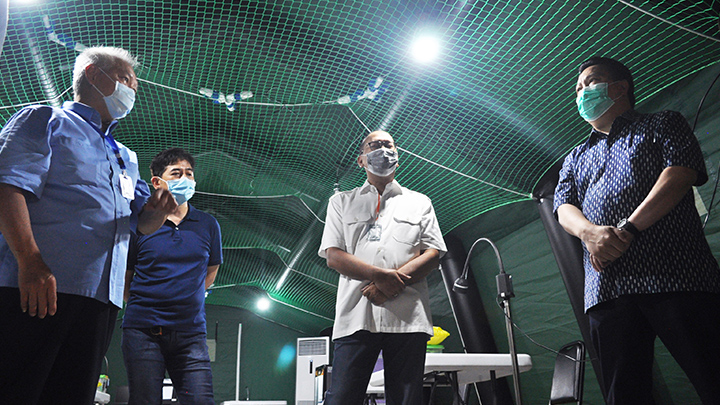 Rosan Roeslani (second from right) inspecting the facility of the temporary hospital to conduct Covid-19 rapid tests, in Ancol, Jakarta, last April./ANTARA/HO/Artha Graha doc./pras
Why should large corporations receive stimulus payment?
MSMEs are part of large manufacturers' value chain. It's true that the MSME sector absorbs the largest workforce, that is 115 million people or 96 percent of our total workforce. They should be rescued but it will not be optimal if they cannot sell their goods to large companies. The government said entrepreneurs could take care of themselves. Well, it can't be like that. Our tax contributions are also huge. The rescue package should be more comprehensive.
To what extent has the MSME sector been affected?
MSMEs led economic recovery efforts in the 1998 economic crisis. But this time they've taken a huge blow. They need liquidity to start new businesses again. Liquidity has to come from banks as 80 percent of the financial sector is dominated by the banking sector. In the meantime, to provide liquidity, banks need credit risks. Therefore, the banking sector also needs to be supported. If it is affected, public confidence will diminish and bank runs occur and then they will collapse. We will eventually find oursleves in another crisis.
Did you convey this to the government?
Through the fasting month of Ramadan, I discussed quite routinely with the government, the House of Representatives (DPR) and the presidential advisory council. One presentation took at least two hours.
What did you discuss?
Mostly about the economic situation and Kadin's ideas for solution. We presented everything because we are the one that first suggested to the government that the stimulus should be 10 percent of the GDP. We also sent an official letter to the government asking why the stimulus package should be worth Rp1,600 trillion, what the phases are or how it will be disbursed. I wrote in early April to the president and all the related ministers.
What did you tell them in the letter?
We met with President in March. Then I followed up with the letter. We viewed then that the outbreak would have huge impact on the economy, but a stimulus program would buffer the impact. We informed them that the economic growth in the first quarter was only 3 percent. That time the government still maintained its projection of 4.5-4.7 percent. Then the Central Statistics Agency said it was 2.97 percent. We know that China is our largest trade partner. As soon as they locked down, the (global) economy faced downturn. Sooner or later, we will also feel the pinch. We calculated accordingly and got 3 percent. Some sides viewed that we were overly panicked but we prepared for the worst.
Since when Kadin discussed the new normal preparations with the government?
Since May. We tried to simulate an exit strategy. It's not that we don't think about health. Yes, we do, but the economy must go on. We also think about investment in the future. The massive stimulus package will increase our resilience in moving forward.
How long will the industry survive if social restrictions remain in place?
If we speak from the aspect of cash flow, liquidity, it will already be extremely difficult in June-July. We will be in dire straits in August-September if the PSBB continue until the end of July. We are worried that the industry will slide from temporary into permanent impairment.
To what extent can the new normal prevent that situation?
If the new normal is initiated, some of those on unpaid leave can return to work in phases. Perhaps 25 percent in the first phase. Assuming that the new normal is in force now, 1 million out of six millions can already start working for three months. Our target is for 50-60 percent of them to be able to go back to work.
Doesn't reopening economic activities before the outbreak could be contained increase the chances of the spread of infections?
Health is certainly very important, however, we businesses must also have an exit strategy. We must already have it this June. We know that there are no vaccines yet in the near future. So, there is no really good option. We are sitting on the horns of a dilemma. We can't just say 'shut down the economy and get healthy first'. That's what I meant when I said 'hungry men can turn into angry men'. When the economy stalls, people go hungry and we will be in trouble.
Many regions still have high Covid-19 incidence rates. How will the new normal be implemented in these regions?
Perhaps we don't open all the industries at once. We need to slowly open several vital industries, at least the labor-intensive ones, in phases. Then we will gradually open the regions in the green category so that economic activities can resume in these regions.
The government has been criticized for the health data that do not reflect the real conditions. What is your opinion?
We really scrutinize this matter. I still remember that from the beginning we proposed the PCR (polymerase chain reaction) test, not the rapid test, to the government. Then there is the lack of involvement from private hospitals and labs. We also said we must be prepared for the second wave of the outbreak. This possibility must be calculated in health fund.
Do you think our lab testing capacity is already ideal?
Not yet. Tests should be much swifter. We are lagging behind because we wasted more or less two and a half months. Our current testing capacity is perhaps only 800 per one million people. Malaysia has 12,000 per one million and Singapore 35,000. We need to step on the gas so we know where our invisible enemy is.
•••
The DPR decided to continue the deliberation of the controversial Omnibus Bill on job creation. What is your view?
We hope that after involving all stakeholders including our labor union friends, a consensus is reached to endorse the bill. As it is called Job Creation Bill, it is aimed at creating jobs. The law will only have impact in the years to come as after it is passed, there need to be government and ministerial regulations which are about 43 in total. Afterwards, there shouldn't be any more questions as to why (foreign) investments go to Vietnam, Thailand or Malaysia.
Does the discussion for all the clusters need to continue?
Currently 10 clusters are in the process except the labor related cluster which perhaps will be discussed last after dialogs with the labor unions.
The deliberation came under fire as it is taking place at the height of the pandemic. Why couldn't it be postponed?
If we wait until Covid is over assuming that there are vaccines, then there is no certainty (when Covid will end). Meanwhile, we all know that the US, European countries and Japan will be pulling their factories out of China en mass for relocation. Japan has already announced its plan to offer 2 trillion Yen in incentives to Japanese firms to move their production from China. Around 1,000 US companies are also leaving. We see that the tension between the US and China will escalate and drag on for long. Chinese companies will no longer be allowed to be listed at the US stock exchanges. Imagine that. We are already anticipating (the impact).
Is it realistic to expect influx of foreign investments to Indonesia at the peak of the pandemic?
Without the public statements from other countries including the US, Europe and Japan about their decisions to leave China, it will probably be difficult. But there will be massive relocations and this is our opportunity. They will be relocating to ASEAN countries and then to India and Bangladesh.
The Job Creation Bill has been lambasted for being too pro-investor. What is Kadin's response?
The most highlighted part of the bill is labor next to ease of licensing. Maybe because the most vocal of the critics have been our labor union friends so it's as if there are different interests: the Omnibus Law for the labor unions and the industry, although in my opinion there are not.
Are the labor unions' concern well-founded?
I routinely speak with them. Andi Gani, Said Iqbal, Bu Elly (Rosita Silaban). They are our friends. We were still chatting with them just ahead of the fasting month. For sure, there are differences, but we're already on the same page for some points.
Like what?
They were angry because they thought that the maternity leave was omitted from the Omnibus Law although it wasn't. Things like that. The topics that we are still working on to find a common ground are severance and separation pays, outsourcing and minimum wage. But compared to almost all the countries, our severance pay is one of the highest in the world.
---
ROSAN PERKASA ROESLANI
Place and date of birth: Jakarta, December 31, 1968 Education: Bachelor in Business Administration, Oklahoma State University, United States (1993); Master of Business Administration, European University of Antwerp, Belgium (1996) Career: Founder, Recapital Advisors, Commissioner, Kemang Jaya Raya (Since 2003), Commissioner, Mitra Global Telekomunikasi (since 2004), Commissioner, Lativi Mediakarya (since 2008), Commissioner, Saratoga Investama Sedaya (2004-2013), CEO, Berau Coal (2010-2013), Commissioner, Visi Media Asia (since 2011) Organization: Caretaker, Indonesian Young Entrepreneurs' Association (2005-2008), Advisor, Indonesian Mining Association (since 2012), Deputy Chairman, Banking and Finance Division, Kadin (2010-2015), Chairman, Kadin (since 2015) Award: Leader Achieves in Development Award (2000)
---
Is the complex licensing procedure the biggest hurdle hampering investment?
Yes, and it creates a high cost economy. The processes are made convoluted and pardon me for saying this but we are often asked to 'negotiate' with policy-makers. That's corruption. Most investments go to the regions. For example, Jakarta applies five requirements for a certain process. They will multiply to 25 in the regions.
How will the Omnibus Law fix this problem?
Many things can be fine-tuned via the Omnibus Law, in terms of productivity, competitiveness, policy harmonization between the central government and the regions, severance pay to standardization which has always been a problem for investors. All the regions will use the same NSPK (norms, standards, procedures and criteria). Actually, more towards simplifying licensing to give certainty. Now everything depends on local officials.
How did the regional heads respond to the changes in the Omnibus Law?
The regional governments are taking issue with them. Many regional heads wrote to me in protest. They argue that every region is different and so on and that not everything can be standardized.
W251bGwsIjIwMjEtMDItMjcgMTM6Mjg6NTciXQ