The Digital Lure at Shopping Centers
Several shopping centers are ready to operate in the so-called 'new normal' era. Some retailers switched to online platforms, while others are preparing digital strategies.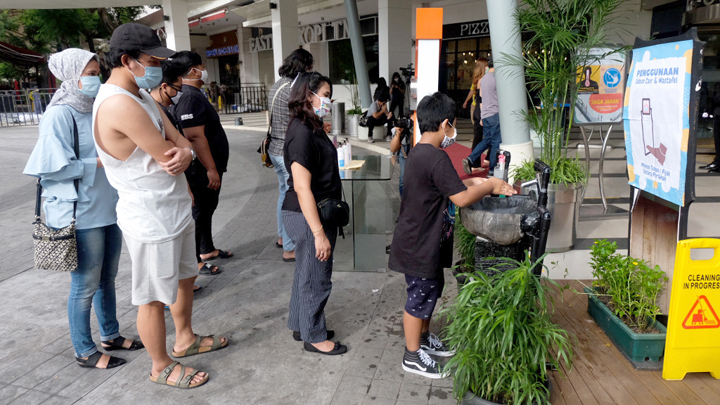 HANDAKA Santosa has grown busier since the government began discussing the reopening of shopping centers over the past week. Prompted by talks of the new normal, the director of Mitra Adiperkasa—a lifestyle retailer—busied himself until late at night on Tuesday, May 26. The mall, run by Handaka, has been out of operation for three months due to the Covid-19 pandemic.
"Now I work from home and at the office," said Handaka, also the chief executive officer (CEO) of Sogo Indonesia—a Japanese giant retailer—on May 26. He explained that there are tasks that force him to come to office. "Today, meetings from the morning, calling this (staff) and that (staff)," said the Galeries Lafayette and Kinokuniya Bookstore CEO.
Handaka has indeed preoccupied himself after President Joko Widodo visited the Summarecon Mall in Bekasi, West Java, on May 26. The visit seemed to signal the reopening of shopping centers. Jokowi inspected the mall's preparedness to apply health protocols in the new normal. "I came to ensure the implementation of preparedness (protocols) toward a new normal," Jokowi told journalists.
The government indeed has an interest in injecting life into the economy, which has taken a downturn during the pandemic. Ailing businesses have caused unemployment rates to rise drastically. Indonesian Shopping Center Association (APPBI) Chairman, Stefanus Ridwan, said the closing down of shopping centers across Indonesia in the past two months has resulted in around Rp9.8 trillion in losses.
A total of four provinces and 25 regencies/cities will be included in the first wave of the new normal phase, including West Sumatra, Jakarta, West Java, and Gorontalo. In all of these provinces and regencies/cities, the government will relax the large-scale social restrictions (PSBB) as long as the virus's basic reproduction number (R0) in these regions can consistently stay under 1 over a certain period of time. To ensure that new normal protocols are obeyed, President Jokowi has asked the Indonesian Military (TNI) and National Police (Polri) to keep watch in crowded areas.
New normal protocols at shopping centers will refer to Health Ministry circular No. HK/02/01/Menkes/335/2020. The circular, which was issued on May 20, regulates Covid-19 transmission prevention in places where services and trade businesses are conducted. Among the protocols recommended in the circular are restrictions in the number of visitors at shopping centers in order to prevent crowds.
Businesses have eagerly welcome this initiative. "Everyone is preparing," said Handaka, chairman of the Indonesian Shopping Centers Tenants Association (Hippindo) advisory council. According to Handaka, some equipment meant to prevent Covid-19 transmission, which has already been installed, is now being repaired, with more to be added. Hippindo has also drafted detailed safety protocols, referring to the government circular.
The Indonesian Retailers Association (Aprindo) is also formulating a set of protocols and drafting a road map for the new normal while waiting for the malls to truly reopen. Aprindo has asked its members to implement the road map.
"There are several stages on our road map, from training and ensuring discipline among employees in line with the new protocols, to making sure that the tools and infrastructure are ready," said Aprindo Chairman, Roy Nicholas Mandey.
Roy explained that retailers are required to ensure that all of their outlets, shelves, bags and shopping carts, as well as air fresheners are always clean. "(They) must routinely be sprayed with disinfectant to ensure that all equipment and infrastructure are always hygienic," said Roy, concurrently director of public affairs and government relations for Multipolar—owner the Matahari Department Store and Hypermart. Aprindo also asks its members to train security teams to disperse crowds, should they gather in some areas.
But preparing to enter the new normal will not be enough. The Covid-19 pandemic has transformed shopping patterns. The shift was already felt during this year's Ramadan fasting month and the Idul Fitri end-of-fasting-month celebration. In the days nearing Idul Fitri, usually the peak of shopping, sales were still now. Aprindo records that consumers' shopping basket sizes instead grew smaller.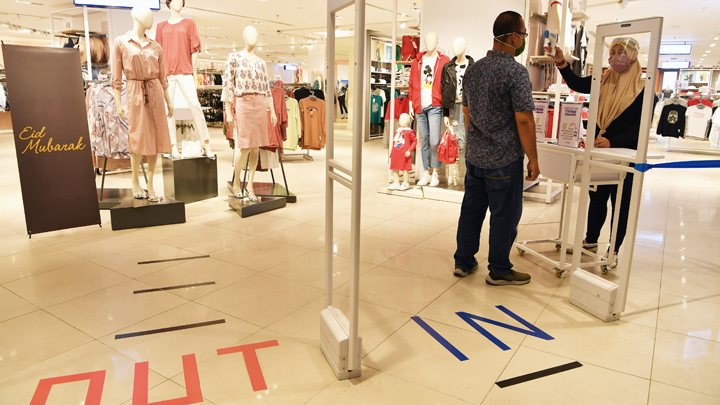 Body temperature check at a clothes store in Tunjungan Plaza shopping mall, Surabaya, East Java, May 29./ ANTARA/Zabur Karuru
According to the data from previous years, visitors would spend Rp250,000-500,000 at each visit to the supermarket. Hypermart consumers even spend up to Rp1 million at each visit. This year, the basket size of visitors is at 30-40 percent, meaning, consumers have been shopping for basic needs, such as rice, sugar, cooking oil, garlic and eggs.
Impulse buying has also drastically plummeted. Usually, impulse buying makes up 40 percent of total transactions under normal conditions. "For example, when entering a store there is a buy-1-get-1 promo or a 70-80-percent discount, causing consumers to make changes to their shopping plans," said Roy. "These days, consumers are only buying basic needs, they pay and go home."
This is why Aprindo has revised the growth target for this sector in the pandemic year to 3-3.5 percent. The projection is a far cry from 2019's realization of 8-percent growth. And even then, the meager number can only be achieved if the government relaxes social restrictions. If the new normal is implemented in the second semester of this year, there is a chance that the 3-3.5-percent growth can be achieved. Aprindo's projection is, in fact, more optimistic compared to the finance ministry's outlook, which predicts a growth of only 2-2.5 percent in the consumption sector this year, or half the 5.1-percent figure of last year.
In the future, in order to adapt to the new normal, retailers can no longer rely on old business methods. Roy recommends that businesses learn digitalization strategies, so that their businesses can go in the direction of future modern retail. For example, he said, successful retailers are those who can study consumer behavior from the time a consumer enters a store until a transaction is performed. The types of goods and areas in the store that are preferred must be read using technology and followed up by increasing the supply of goods and improving comfort and cleanliness. "In essence, we have to switch to the digitalization of stores—not moving from offline to online."
Another major retailer, Transmart, has a different strategy. The modern retailer, prior known as Carrefour, has already launched a new product: Transmart Home Dailivery. Trans Retail Indonesia Vice President of Corporate Communications, Satria Hamid, says the program has been enthusiastically welcome by the public. "Since introduced on April 4 until May, demand has risen by 10 percent," he said without giving up the number of consumers.
Satria added that Transmart will develop this service during the new normal era, with more variety added to its sold items, which will not only cover staples but also household items, including electronics. Even so, conventional store services will still be available to fulfill the needs of certain consumer segments. "Some consumers still visit stores. There is a different kind of satisfaction," he said.
As of May 29, there was not yet an official decision as to when shopping centers will reopen. On May 28, Trade Minister Agus Suparmanto led a meeting to draft the standard operating procedure (SOP) for reopening malls in the new normal era. The result of the meeting, said Trade Ministry Domestic Trade Director-General, Suhanto, will be detailed in a circular to be issued by his ministry.
Suhanto stressed that issuing permits for reopening malls will lie in the hands of regional governments, based on the judgment and recommendations of the Covid-19 task force. "So the decisions will not come from the trade ministry," he said.
Jakarta Governor Anies Baswedan stressed that he has not yet allowed shopping centers to reopen on June 5. "So if some are saying that malls will reopen on the 5th, it's (just their) imagination. There is not yet a regulation to end the PSBB," said Anies in an official statement on May 26.
Although it is not yet certain that malls will reopen, protests have poured in. Indonesian Consumers Foundation (YLKI) Chairman, Tulus Abadi, strongly rejects the plan to reopen malls as long as data regarding the transmission of the coronavirus is not yet clear. "Malls can be reopened if the Covid-19 transmission curve has flattened," he said.
RETNO SULISTYOWATI, EKO WAHYUDI, CAESAR AKBAR