Shielded Gaze upon Teachers
Schools will reopened under a mixed learning system. There are fears of new clusters of Covid-19 outbreaks.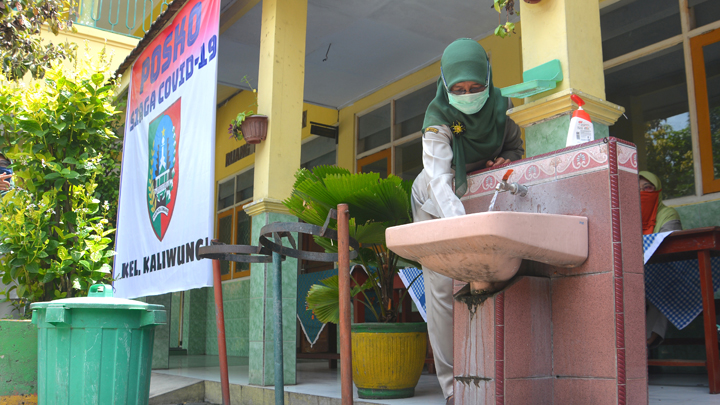 THE week before end-of-fasting-month celebration Idul Fitri, Aceng Solihin installed 20 hand-washing stations in the grounds of Aliyah Islamic State School IV (MAN) Jakarta. Aceng, the headmaster, said this was done in preparation for when school activities resume on June 5.
Aceng issued a circular to parents, announcing that the remote learning system ends on June 4. "In accordance with the end of the large-scale social restrictions (PSBB) in Jakarta," Aceng said on May 28. The headmaster said that his school will extend the learning-from-home system if Jakarta Governor Anies Baswedan also decides to extend the PSBB period in the Capital.
Anies extended the PSBB three times, the third phase is from May 22 to June 4. The government plans to reopen schools in the third phase of the 'new normal' period, which is in mid-June. Schools will not be reopened fully yet, and asked to run on shifts—with students taking turns to learn in classrooms.
To prevent the transmission of the coronavirus, MAN IV prepared a number of rules. Students and teachers are required to wear facemasks and have their body temperature taken before entering the school. Aceng is still mulling to implementing restrictions in areas where students gather, such as the cafeteria. He might decide not to open the school canteen, or have it operating with some restrictions.
According to Aceng, the school is also reviewing two options for the learning system. The first option is to run the school normally, with about 30 students attending one classroom at a time—giving space between desks. The second option is to implement a mixed system of learning from home and at school. "School hours would be reduced by half," he said. At MAN IV, the normal school hours is between 6:30am and 4pm.
The new normal protocols for schools are also being prepared at Canisius College High School, Jakarta. Headmaster Eduard Calistus Ratu Dopo said the school had prepared four disinfectant booths and 50 areas for hand sanitizing. Students and members of faculty are also required to wear face masks and face shields.
Kanisius will likely use a combination of learning from home and at school. Each of the school's 24 classroom will only be attended by 10 students, and the rest will learn from home. The school hours would also be cut short by three hours until 12pm only.
However, Eduard said it is possible to extend the remote-learning program until the end of the year, if the number of new Covid-19 cases in the capital city remain high. "School can no longer run normally now, and we don't want to experiment with human lives," he said. According to Eduard, Kanisius has also implemented psychological services for students who study from home.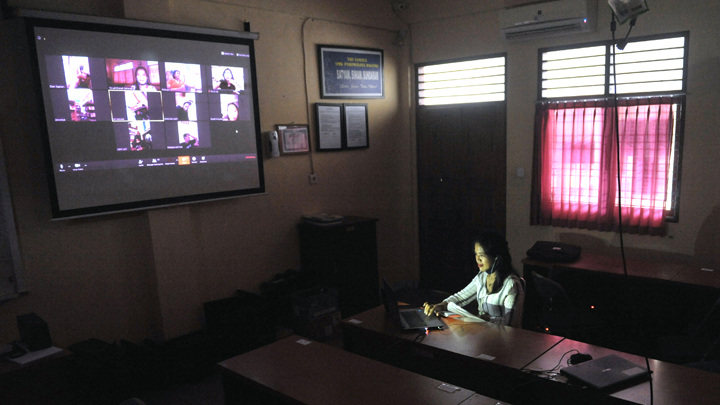 Teaching-learning process of a vocational high school in Badung, Bali, in April./ ANTARA/Fikri Yusuf
Not only schools, universities have also begun preparing for a new system of learning amid the corona pandemic. Al Azhar Indonesia University Rector, Asep Saefuddin, said his office has decided to open the campus for the new semester in September. Asep said that lectures and exams will be held under a mixed system—both in class and online. Thesis guidance will also be provided using this mixed system. Meanwhile, thesis defense will be conducted online "to avoid mass gatherings," he said.
Al Azhar University also implements health protocols, such as temperature checks, installing hand-washing stations, and requiring lecturers and students to bring a change of clothes. Upon arrival at the campus, lecturers must take a shower. According to Asep, this rule aims to prevent the transmission of the coronavirus, given that a number of lecturers are elderly people. Meanwhile, students are only asked to change clothes before attending lectures. "The coronavirus can stick everywhere," he said.
Paristiyanti Nurwardani, secretary of the higher education directorate-general at the education and culture ministry, said her agency has prepared three scenarios to restart school and university activities, all of which requiring approval from the health ministry and Covid-19 task force.
The first scenario is an optimistic one, which is resuming academic activities fully with the implementation of physical distancing. "Learning will be done both in campuses and remotely," she said. The second scenario is a moderate one. The education ministry will ask for academic activities to be held 40 percent on campus, 30 percent online, and 30 percent comprising of practices—also running with a mixed system. The last scenario is a pessimistic one, assuming the PSBB period lasts until October. If positive cases are still high, universities are instructed to apply remote learning methods until the end of 2020. With this bleak scenario, the education ministry will only reopen universities in January 2021.
In formulating new normal policies in schools and campuses, the education ministry coordinates with the Covid-19 task force and the health ministry in mid-May. Health Minister Terawan Agus Putranto said that different protocols were needed from primary school level to the higher education. "We need to lay out everything in details," he said.
Zubairi Djoerban, chairman of the Covid-19 task force for the Indonesian Doctors Association (IDI), asked the government not to rush in reopening schools and campuses. Zubairi argues that new norms for the education sector cannot be started together with the economic sector. Instead, it should be the last sector to reopen.
He said that children are less sensitive to cleanliness and tend to group with friends, and if the government restarts schools too early, schools could "potentially become a new cluster for Covid-19."
Aman Bhakti Pulungan, chairman of the Indonesian Pediatricians Association (IDAI), said the same. He believes that learning activities should be done remotely to avoid crowds, as children are vulnerable to coronavirus exposure. Moreover, there is a possibility that the pandemic will not be over by July.
As per May 18, the IDAI recorded that 548 children had tested positive for Covid-19. Fourteen of them died. There were also 3,324 children with a patient-under-surveillance status, of which 129 had died under the same status.
The new normal implementation plan is causing concern among parents. Santi—not her real name—a parent of a MAN IV Jakarta student, is worried that her child will be exposed to the virus if required to go to school. "There is no guarantee against an invisible enemy," she said.
Ayub Muslims, the father of two students at an Islamic high school in South Jakarta, shares the same concerns. "It's better if my children are homeschooled," he said.
HUSSEIN ABRI DONGORAN