Worship Without Touching
Some religious leaders are preparing worship protocol. The number of congregants will be limited.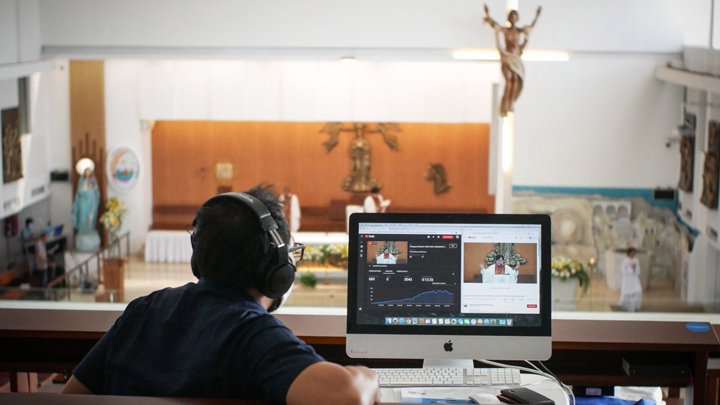 MARTHA Sediyono could not hold back her tears after following mass several times through television. Martha, 70, is pining for mass in church. "Although I prepare a special room for online services, it feels more solemn in church," Martha said to Tempo on May 28.
This resident of Pondok Gede, Bekasi, West Java, usually follows the 6am Sunday morning mass at the St Leo Agung Church some three kilometers from her house. However, since March 21, the Jakarta Archdiocese closed all churches and chapels in the capital city, Tangerang, and Bekasi to prevent coronavirus contamination. To soothe this absence, she follows online masses at least twice a day.
A yearning for worship is also felt by Caroline Sutono, 59, who used to attend mass daily at the St Yakobus Church in Kelapa Gading, North Jakarta. Every time she sees the empty pews on her television screen, she gets melancholic. Caroline as well as Martha want to receive host, a sacramental bread symbolizing the body of Jesus Christ. "I will go to church as soon as it opens," Caroline said.
Jakarta Archdiocese Secretary Father Vincentius Adi Prasojo said there is pressure from some Catholics to open churches. However, the Archdiocese chooses to wait until the government allows houses of worship to operate again. There are plans to reopen worship locations in the fourth phase of the so-called new normal period in the first week of July. "As soon as the government allows houses of worship to open, we will open all churches within the Jakarta Archdiocese," Adi said.
He further said that his institution's Covid-19 countermeasure team is preparing worship protocol in churches. The team, formed by Jakarta Archbishop Ignatius Suharyo Hardjoatmodjo on March 1, consists of members of clergy, worshippers, and doctors. The protocol is targeted to be ready in mid June at the latest, and will be simulated before being disseminated to all churches.
Adi assured that the congregation and all of those assisting in masses must wear masks until the end of the services. Worshippers will also be checked for temperature, and it is mandatory to use hand sanitizer prior to entering church. The number of congregants allowed in will also be limited as pews are organized so that people can sit far enough from one other. The Cathedral, for example, would most likely only accommodate half of its normal capacity of 900 people. If a church is already full, Adi continues, those who cannot enter will be asked to wait for the next mass. "This is part of the new-normal discipline," he said.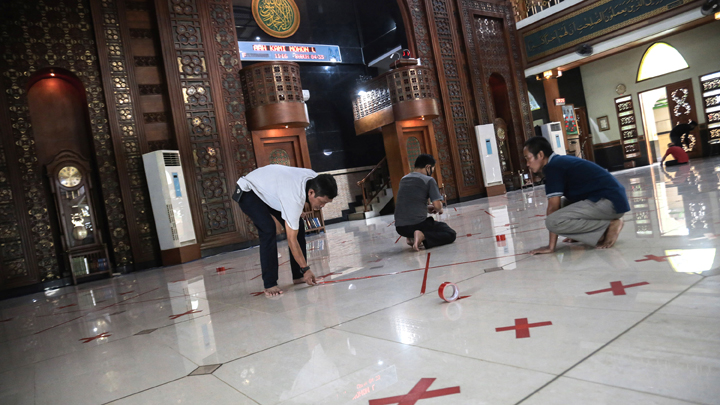 Placing the marks of the gap between worshippers for the implementation of the new normal at Al-Barkah Mosque, Bekasi, West Java./ TEMPO/M Taufan Rengganis
Dr. Angela N. Abidin, a member of the Jakarta Archdiocese Covid-19 mitigation team, said the health squad must note certain rituals which can potentially be conducive to virus contamination through saliva or physical contact. One of those activities is singing. "Singing spews out more droplets compared to talking," said Angela, a clinical microbiologist, on May 30. Thus, the team recommends limiting songs or the number of choir members during mass.
Angela further pointed to peace greetings, a part of mass where worshippers shake hands with one another. Instead of shaking hands, the congregation should do a namaste greeting by clasping their hands on their chests. Bags for money collection during mass will no longer be passed around during service, but will be put at a designated location where people can put money into it before or after mass. It would be even better, Angela added, if people would donate the money through electronic transfer.
New rules must also be set at the Istiqlal Mosque. Abu Hurairah Abdul Salam, the mosque's head protocol of public relations, assured that the number of worshippers allowed into the mosque complex will be limited to avoid crowds. This is particularly important as Istiqlal is not just a place of worship, but also a tourist and pilgrimage destination. "We will ask assistance from security guards to manage the flow of worshippers," Abdul Salam said on May 26.
He further said that mosque management will set up a new-normal protocol prior to Istiqlal's reopening. For example, visitors must use hand sanitizer prior to entering the mosque. Social distancing is mandatory for those who come for wudu (ablution) and praying. Mosque officials will also routinely spray disinfectants, particularly at locations frequently touched by visitors.
The Jakarta administration has started preparations to reopen houses of worship. On May 27, Hendra Hidayat, Jakarta's bureau head for mental and spiritual education, held an online meeting with a number of Jakarta's religious leaders. Ma'mun Al-Ayyubi, chairman of the Jakarta Mosques' Council, was present at the meeting and said that the leaders were asked about their preparedness to reopen places of worship once the large-scale social restrictions (PSBB) is relaxed.
Hendra confirmed that the meeting took place, saying it was the first step in preparations to open the doors for worship again. He admitted to asking religious leaders if these 'God's homes' were clean, safe, and comfortable prior to reopening. He also asked them to submit written guidelines to prevent Corona spread during worship. "All worshiping, and other religious activities must be in line with health protocol," he said.
Ma'mun Al-Ayyubi said that his institution is preparing a mosque worship protocol. Basically, mosque official must assure social distancing among the congregation during prayer. This includes Friday prayers, which is usually quite busy. In addition to wearing masks and using hand sanitizer, the Jakarta Mosque Council will urge worshippers to bring their own prayer material, such as mats and veils. Officials will be asked not to make these materials available in-house.
Ma'mun further said that it was not necessary to pray for a long time. The Council will appeal to preachers to shorten sermons, as well as the readings during prayer. The congregation will also be asked to go home immediately after the service. "There is no need to shake hands," he said.
Pointing out that the Council will abide with the government's decision, Ma'mun hopes that mosques in Jakarta will be allowed to open its doors again. In fact, the government plans to reopen shopping centers. "Mosques shouldn't be shut when malls are open. This will spark jealousy, or even social unrest," he said.
Meanwhile, Hendra Hidayat could not yet confirm when places of worship could reopen again. "This will be decided by the governor," he said. He assured that the Jakarta administration will not make hasty decisions. "We do not want houses of worship to become new clusters of coronavirus spread."
PRAMONO