The Unlucky 13th Hideout
Former Supreme Court secretary Nurhadi Abdurrachman, who had been a fugitive since last February, was finally tracked down through his wife. He moved around to 13 locations and is suspected of having been guarded by police personnel.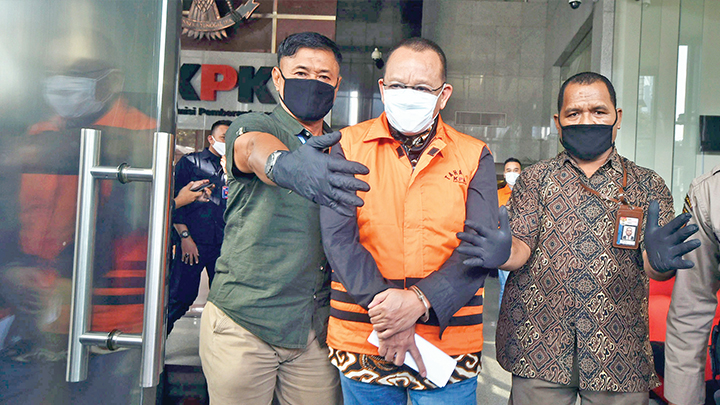 WHEN Corruption Eradication Commission (KPK) officers began to surround a two-story house at 9:30pm, on Monday, June 1, it was shrouded in darkness. No inside or outside house lights were on at this residence at Jalan Simprug Golf 17 No. 1, in Kebayoran Lama, South Jakarta. The nearly three-meter-high gate in the perimeter wall was topped with barbed wire and locked.
However, just inside the gate there was a cigarette which was still lit and a half-empty cup of coffee. The officers, who had arrived in four automobiles, also saw someone peek out of a dark second-floor window.
The KPK team led by investigator Novel Baswedan knocked on the gate. They yelled for anyone inside to exit the house and open the gate. "They kept knocking until midnight, but no one responded from inside," told Kusharwati, secretary of Neighborhood Association (RT) 04, Community Unit (RW) 08, Grogol Selatan, on June 5, about that incident which had taken place.
Kusharwati had gone to that house together with the heads of RT 04 and RW 08 when KPK officers began surrounding it. The KPK team had received information that two fugitives, former Supreme Court secretary Nurhadi Abdurrachman, and Rezky Herbiyono, his son-in-law, were hiding there.
As there was no reaction from anyone inside, the officers continued to wait out front, as there was no other way out. The sides and rear were closed off by the walls of the adjacent two-story houses. "The team in the field tried to be persuasive so that the suspects inside the house would turn themselves in," said KPK Deputy Chair Nurul Ghufron, on June 2.
W251bGwsIjIwMjEtMDItMjcgMTQ6MTI6MTciXQ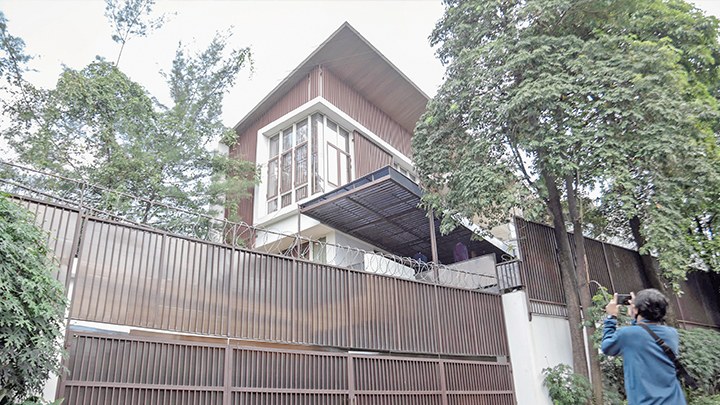 Nurhadi Abdurrachman's last hideout in Jalan Simprug Golf 17, South Jakarta Selatan, June 2./TEMPO/M Taufan Rengganis
After midnight, the team decided to scale the gate. Witnessed by the local administrators, one investigator cut through the gate's padlock from inside. The gate was finally open. The team entered the yard. "The front door was not locked, but the door to the living room was locked," said Kusharwati.
The investigators turned on the lights. They opened the locked door to the living room and found Nurhadi in a room on the second floor. They found Rezky in another room.
According to Kusharwati, the KPK team also found Nurhadi's wife Tin Zuraida; his daughter who is Rezky's wife, Rizqi Aulia Rahmi; two grandchildren; and two maids. Investigators moved Nurhadi and Rezky to the guest room on the ground floor. "They questioned the two of them there until Tuesday morning," said Kusharwati.
Officers took Nurhadi, Rezky, and Tin Zuraida to KPK's Red and White Building after daybreak. Nurul Ghufron said that Tin was questioned as a witness. Previously, Tin had never answered a summons to be questioned as a witness in the case implicating her husband and son-in-law. "She repeatedly evaded the summonses of investigators," he said.
The KPK named Nurhadi and Rezky suspects for receiving bribes and gratuities from arranging of the outcome of a civil case of Multicon Indrajaya Terminal, which was up against Kawasan Berikat Nasional, on December 16, 2019. The two are also suspected of being involved in the bribery of a dispute over Multicon stock. There were bribes from other cases as well. The total amount comes to Rp46 billion. Multicon Chief Executive Officer (CEO) Hiendra Soenjoto is also named a suspect. He was still a fugitive as of June 5.
These three suspects used the services of lawyer Maqdir Ismail in pre-trial hearings regarding their having been named suspects by the KPK at the South Jakarta District Court at the end of last year. Maqdir said that he did not know and never communicated with the three of them while they were on the run. Now he has been appointed by Nurhadi and Rezky as their legal counsel. "However, we have still not been able to contact them," said Maqdir on June 6.
It is believed that more charges will be filed against Nurhadi and Rezky. In addition to the matter of bribes and gratuities, the KPK is targeting Nurhadi and Rezky with possible money laundering offenses (TPPU). Criminal investigators detected transactions to divert the proceeds from corruption into various assets. "We are currently developing the TPPU," said KPK Chairman Firli Bahuri on June 4.
•••
THE questioning of Tin Zuraida as a witness also has to do with her role in aiding her husband. According to one law enforcement official who knows about the Nurhadi case, Tin is suspected of taking part in concealing assets which came from her husband's bribes and gratuities. It is said that she involved some relatives to disguise those asset diverting transactions.
That former expert staff member for political and legal affairs of the administrative and bureaucratic reform minister is also suspected of aiding and abetting the flight of Nurhadi and Rezky Herbiyono. The three of them often changed their place of residence while on the run, such as when they stayed at the house at Jalan Simprug Golf 17, which was their 13th hideout place.
It was through Tin that KPK officers were finally able to arrest Nurhadi. They used a manual tracking method because Tin and her family never communicated by cellular phone while on the run. The KPK directly monitored Tin's movement in the field, who led them to the others.
For the past month, the monitoring focused on one person: Kardi bin Watar, 56. Tin Zuraida, 57, occasionally met with Kardi at some hotels in Jakarta.
Boyamin Saiman, coordinator for the Indonesian Anti-Corruption Society, claimed that he received similar information. "There was also a hotel around Senayan and an apartment in the area of Simprug, South Jakarta," he said. Boyamin offered an iPhone 11 as a reward for anyone who knew of Nurhadi's whereabouts while he was still on the run, since last February. Someone who wished to remain anonymous, said Boyamin, won that reward.
The last hotel Kardi and Tin met was a villa which had a garage entrance that was directly connected to the room. Guests at this hotel do not even need to deal with hotel staff in person, as there is a swiveling cabinet in the wall. Guests and hotel staff can use this cabinet to deal with one another anonymously, such as when paying and picking up food.
In addition to receiving information about Nurhadi's hideout location, Boyamin Saiman received a mailed package last April containing documents about the marriage of Tin and Kardi. It contained records of the unregistered marriage of Kardi and Tin on November 19, 2001. The two married at the Darul Husaini Islamic Boarding School in Tangerang, Banten, with a dowry of a set of items used for performing prayers.
There was also the marriage certificates of Tin and Kardi from religious affairs office in Bekasi, West Java, dated January 20, 2004. Those certificates note Kardi and Tin having never been previously married.
Sofyan Rosada, caretaker of the Darul Sulthon Al Husaini Islamic Boarding School, verified that the unregistered marriage of Kardi and Tin had taken place. Before it changed its name to Darul Sulthon Al Husaini, in 2001 the school still went by the name Darul Husaini. According to Sofyan, the marriage was witnessed by two colleagues of the bride and groom, Abdul Rasyid and Karnadi.
Sofyan was willing to act as Tin's legal guardian as she claimed to be a widow, which differs from her status on her certificate of marriage to Kardi. He did not know the status of Tin and Nurhadi's marriage at that time. "If she had been previously married, I would never have acted as her guardian for marriage," said Sofyan, on June 5.
Kardi and Tin met when they both worked at the Supreme Court. At the same time, Nurhadi was also working at the Supreme Court. "There is an employee at the Supreme Court named Kardi, but that person does not have a last name of Bin Watar," said Abdullah, chief of Supreme Court's legal affairs and public relations bureau, when asked for confirmation about Kardi's employment status.
Maqdir Ismail, a lawyer for Nurhadi's family, denied the news that Tin has married Kardi. "She was still bound in a marriage with Nurhadi," he said. Maqdir also said that Tin was never involved in money laundering or concealing Nurhadi's assets. Tin's assets, said Maqdir, came from the family business. One of them was a swallow nest business. "That has been their capital since the 1980s," said Maqdir.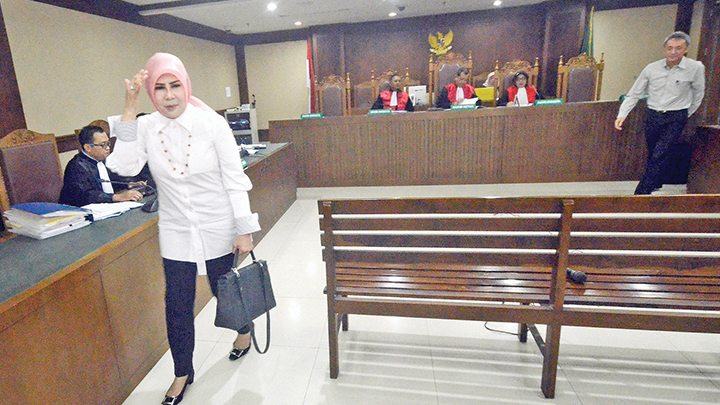 Nurhadi Abdurrachman's wife, Tin Zuraida, after giving her testimony as a witness for Eddy Sindoro (right), a Lippo Group official, at the Jakarta Corruption Court, January 2019./TEMPO/Imam Sukamto
A law enforcement official said that Tin Zuraida met with Kardi on Monday, June 1 at one location. Then the two of them went to a hotel in one car. This pattern, said this law enforcement official, occurred nearly every week. On that day the KPK team in the field spotted the two of them at a hotel in South Jakarta.
The KPK team followed the car they got into in as they left the hotel on the afternoon. They did not immediately head for Jalan Simprug Golf 17. The vehicle drove around some streets in Jakarta before finally heading to the hideout of Nurhadi and Tin. The two always took a different route to and from the hotel.
This time their method failed. Officers followed Tin to the front of the house at Jalan Simprug Golf 17 Number 1. Security officers guard that elite housing complex around the clock. Other than residents, no one can freely enter the area. "They rented a house and began living there a little bit before the start of the fasting month," said Kusharwati, Secretary of RT 04.
The KPK team was convinced that Nurhadi was inside the house. They continued to watch it. Officers grew suspicious when a car with dark tinted windows stopped in front of the house. They thought that Nurhadi's 'people' were attempting a getaway for those inside the house. However, this car soon left.
A number of personnel from the team went to the KPK building. They retrieved a search warrant from the Board of Supervisors. At the same time, KPK Deputy Chairman Nawawi Pomolango personally monitored the operation to arrest Nurhadi. "I wanted to make sure the activity was conducted safely," he said on June 4.
•••
SINCE being named a fugitive last February, Nurhadi Abdurrachman has lived by moving around with his family. Since that time, the KPK has sent teams to look for him at houses suspected of being his hideouts.
In addition to Nurhadi's three private residences at Jalan Hang Lekir V and Patal Senayan, South Jakarta, and a villa in Megamendung of Bogor, West Java, officers looked for him at the homes of three of his relatives in East Java. However, no trace of Nurhadi or his family were ever found there.
Haris Azhar, a lawyer from the Lokataru law firm, received information that Nurhadi and his family had stayed at a high-security apartment building in the Sudirman Central Business District in South Jakarta. From there, according to Haris, Nurhadi moved from house to house around Jakarta. "He stayed at houses in his network while on the run," said Haris.
Haris is the lawyer for a whistleblower in Nurhadi's corruption case. He said that the whistleblower was well-acquainted with Nurhadi's behavior and habits. Haris said that Nurhadi had bodyguards while he was in hiding. "There were escorts and maximum security when he moved from one location to another," said Haris.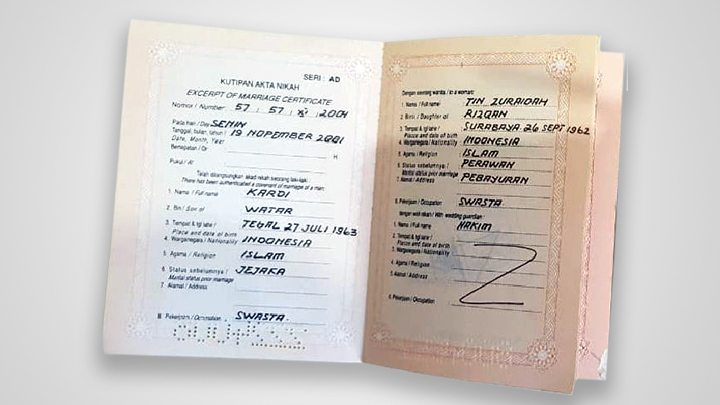 Tin Zuraida and Kardi bin Watar's marriage document./Special Photo
At the KPK building, the hunt for Nurhadi was kept secret. In addition to the team, only KPK Deputy Chairman Nawawi Pomolango knew about the operation. Three days before the arrest, Nawawi called in investigators Novel Baswedan and Rizka Anungnata. He asked those two to round up Nurhadi and the other fugitives. "I didn't expect the investigators could catch them that quickly," said Nawawi.
The factor of Nurhadi's 'people' was considered during their operation. When he was Supreme Court secretary, Nurhadi was guarded by four police mobile brigade personnel. When a corruption case suspected of involving Nurhadi surfaced in 2016, investigators summoned those four mobile brigade personnel because it was suspected that they knew about Nurhadi's crimes.
Later, according to one law enforcement official, two mobile brigade personnel have been suspected of protecting Nurhadi and his family while they were on the run. This security was purportedly done on the order of a two-star police general.
Police Insp. Gen. Raden Prabowo Argo Yuwono, chief of the National Police's public relations division, denied any police generals ordered security measures for Nurhadi while he was on the run. He also denied the news that Nurhadi obtained any protection from mobile brigade personnel. Argo claimed that the National Police actually assisted the KPK in finding Nurhadi's hideout. "We shared information with one another," he said.
On the night of Monday, June 1, KPK officers finally entered the home at Jalan Simprug Golf 17. They were prepared if they happened to run into Nurhadi's bodyguards. However, a locked gate was the only thing standing in their way.
MUSTAFA SILALAHI, LINDA TRIANITA,
RIKY FERDIANTO, ANDITA RAHMA