Muhammad Syarifuddin, Chief Justice, Supreme Court: Judges Face Temptations Everyday
JUST like government institutions' heads in other countries, Supreme Court's Chief Justice Muhammad Syarifuddin does not know what it is like to work from home even as the Covid-19 pandemic rages on. He still goes to work and has familiarized himself with video conferencing from a designated cubicle at the corner of his office.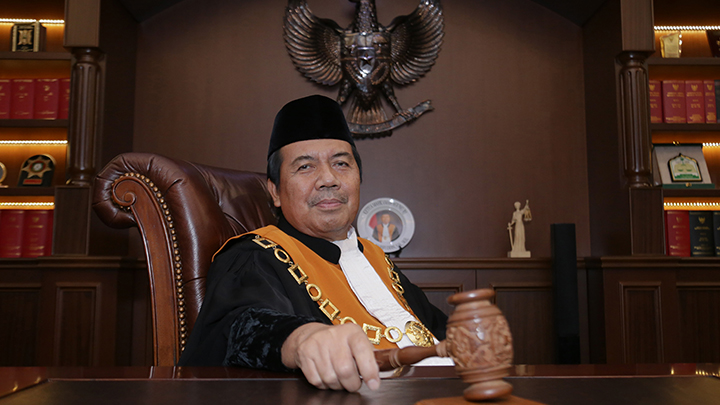 TROUGH the monitor, he discusses with fellow justices as well as all the first-level and court of appeals judges around the country. "I didn't even glance at video conferencing before but now I'm doing it almost every day," Syarifuddin, 65, said during the special interview with Tempo on May 15.
In his first speech to the judges and the public broadcast via Supreme Court's YouTube channel two days ago, Syarifuddin stressed the importance of oversight in maintaining integrity and professionalism of the judges as well as court officials and urged them not to be allergic to supervision.
Syarifuddin sat down with Tempo's Mahardika Satria Hadi and Linda Trianita in his office. In the almost two-hour long interview, which was interspersed with bursts of laughter, Muhammad Hatta Ali's successor talked about his work program and his efforts to keep a tight rein on unscrupulous judges.
How do you maintain and improve judges' integrity?
I rely on supervision. I was the chief of supervision division and then the chairman of supervision chamber of the Supreme Court. We used to have a team of 13—now perhaps expanded to 20—senior judge supervisors. We also have financial and staffing auditors. Every Monday we dispatch our oversight team to the regions. We brief them and familiarize them with complaints (from the regions) before they depart.
Does the team's work always arise from complaints?
We follow up on writing complaints which come directly from the complainants or via the mass media. The team is highly mobile. Sometimes even before they arrive back in Jakarta after completing an assignment in a certain region, another assignment is already waiting. Sometimes we send the assignment letters by email. Sometimes we meet them at the airport. Metaphorically speaking, they basically switch 'dirty suitcases' with the 'clean suitcases' at the airport.
What does the team do in the regions?
Once they are in the field, they have to refrain from burdening the subject of inspection. If necessary, no one should know because the judge under investigation sometimes is handling an ongoing case. Therefore, we are very discreet. The first person we examine is the complainant, either at the court or anywhere else.
From your experience, what are most cases like?
They are diverse. There are 10 provisions in our code of ethics. One of them forbids us to meet parties embroiled in litigation. But we must also be careful because not all such meetings need to be criminalized.
Why?
What if, for example, meetings are accidental or by chance. Usually someone would report, 'Sir, A has reportedly met with that party at this place.' So, there would be spies. We can't always blame the judge in question. What can we say, if the judge indeed doesn't know that (the person he met) is a party in the lawsuit he is handling? Judges don't always remember parties of a given case. There are usually many people during court sessions. We sometimes don't recognize everyone present in a court session.
What constitutes violation then?
If, for instance, he or she knowingly meets the party in the case and then denies knowing that. If he or she has met three times, for example, then how come he doesn't know? And the reports are quite detailed so we know. According to our SOP (standard operating procedure), if a party in a lawsuit wants to ask the judge something, let's say the court schedule, he must not go and see the judge unaccompanied. He must be escorted by his side or our security guard. So, the judge knows this A is in the case. And don't open the door if A comes to your house, (chuckles)...
How about more severe violations?
Indeed, there are judges who promise or receive (something to and from given parties).
Under tight supervision, how difficult is it to seal off loopholes for rogue judges?
Judges are only human. Although we guide them, teach them for a certain period of time and they truly understand the code of ethics, they will still have weaknesses like all humans do. Sometimes, people would say, 'Oh I'm totally against corruption. I won't take bribes.' That's because he has never been tempted. Judges are stalked daily by people who try to meet them because no party in a case wants to lose or be punished. Everybody wants to win and walk free. Looking from our experience, they would resort to all kinds of ways to approach judges, perhaps through friends, supervisors, family members. In essence, judges face temptations everyday.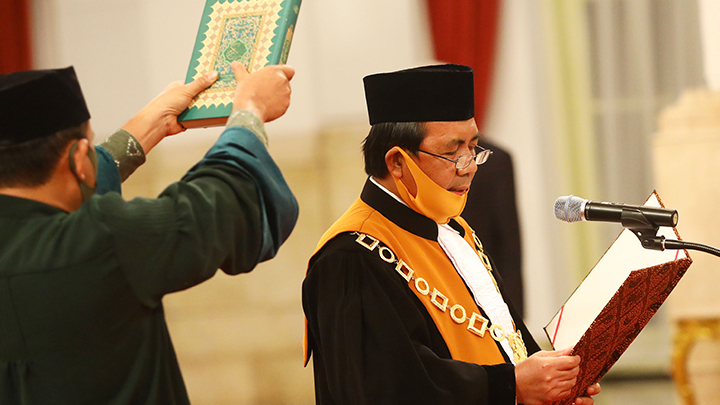 Muhammad Syarifuddin at his oath-taking ceremony as Supreme Court Chief Justice, at the State Palace, Jakarta, last April./Teribunnews/Irwan Rismawan
Is supervision capable of preventing that situation?
Some give into temptations when their faith is weak. They would at least back out of their plan (to take bribe) if they know they are being watched, even more so when we impose disciplinary sanctions.
What is the heaviest sanction?
Termination. Sanctions are announced on our website every three months, so everyone can see them. It's just that we only mention the initials, not full names. Nor we mention the full names of the courts.
Why aren't the identities openly published for deterrent effects?
It is the judge who are guilty. If their identities are exposed, their children, spouses and so on will also be punsihed with humiliation. If we reveal the courts, everyone working there will be also affected although the perpetrator is only one.
You warned that those who cannot be mentored will be destroyed. Are you angered by the actions of errant judges?
I was warning them. I mean they will be dismissed, not literally destroyed, (laughs)...It's just our jargon. It's best to dismiss them if their violations cannot be tolerated. That's better than let them ruin others and our image. But it is the honorary panel of judges which has the authority to dismiss judges.
Please tell us about your experience in oversight?
Perhaps you still remember when we worked undercover (in 2017). Pak Artidjo (Alkostar, former chief justice) disguised himself as a cleric and went to the South Jakarta District Court. I went to the South Jakarta Religious Court. Pak Hatta Ali (the supreme court's chief justice at the time) to the West Jakarta Religious Court. I wore a leather jacket, a wig and glasses. Nobody recognized me, (chuckles)...
What were you working on that time?
We pretended to file cases to find out the quality of the services, whether there were deviations from the SOPs. I went in to all the departments (in the court). Only before going home, I called the chief judge of the court.
What other monitoring methods do you use?
We created mystery shoppers recruited from our staff and friends from outside. Like the Corruption Eradication Commission (KPK), you see. We also collaborated with the KPK. Our mystery shoppers wore recording devices in the hat, pen, or shirt button.
How do you ascertain that the oversight team members do not collude with the judges under their watch?
Our members are mixed. They come from military, administrative, religious and general courts. So, it's kind of difficult if one of them wants to fool around. We should not send members who are only from general courts to monitor an errant judge who is also of a general court. Besides, the supervision division also conducts performance and integrity audits. We also have our own code of ethics.
The Judicial Commission has recommended sanctions for 130 judges who were found to have violated the code of ethics and the guidelines on judges' etiquette throughout 2019. Why didn't the supreme court follow up on these recommendations?
It's like playing the broken record, (chuckles)...We had prepared four joint regulations between the Supreme Court and the Judicial Commission that time which stipulate that the Judicial Commission has the oversight authority over judges' violation of code of ethics. Outside the code of ethics, the Supreme Court has the authority because it has the highest oversight authority over technical aspects of the court. That time, let's say, there was an indication of bribes behind a 'not guilty' verdict. The verdict itself is a technical matter. Nobody can investigate a judge who rules a case because that is his authority. Letting an innocent individual walk is the right thing to do, right? Likewise, punishing a guilty individual. So, both verdicts are correct as long as they are reached based on the evidence. If the Judicial Commission believes that there are non-technical aspects in the technical matter that need to be examined, it should request the Supreme Court to do a joint examination.
Is it true that the Supreme Court only followed up 10 sanctions only?
More. We followed up on all the violations in relation to the code of ethics. We even increased some of the sanctions, but if the problem is about technical aspects, well we cannot process it.
The Supreme Court is often criticized for giving light sentences to corruptors. What is your defense?
Case by case, yes. We have petty corruption cases involving Rp10 or even 5 million. Some involved larger sums and some perpetrators returned the money while some did not. There were no light sentences for major cases. We are at present compiling special sentencing guidelines for the articles 2 and 3 of the Corruption Law. We hope to issue the Supreme Court regulations soon.
What has been improved via the guidelines?
We don't mean to restrict judges' independence and freedom with these guidelines as we cannot do that. However, they contain parameters. We've established a set of criteria, for example, let's say the bribe money is worth Rp25 billion and above, what to do if the perpetrator has returned five billion, or if he doesn't return any cent at all, or whether the corruption causes public losses or not. These are the criteria and there will be a range of penalties for different violations.
How is the compilation process going?
Beforehand, we were assisted by a nongovernmental organization CEGAH. They have done research in several countries including the United States to see how their sentencing guidelines work and we combined (their findings). We will work together with the KPK and the Attorney General's Office in implementing them. We hope the implementation will be synchronous (among the institutions) and will offer guidance to judges in sentencing.
Didn't the Supreme Court have similar guidelines before?
The Supreme Court once had them, but because they were too rigid, they became too restrictive for judges. Judges felt they had no more independence, so the guidelines were abandoned eventually. Therefore, we are now preparing them in such a way that they don't rob judges of their independence.
At the height of the pandemic, the Supreme Court has asked the Judicial Commission to screen prospective justice candidates. What is the rationale?
We only have 47 justices now. We asked the Judicial Commission for additional 16. According to the law, we must have at least 60 (judges), but this requirement has never been met throughout the history. We asked eight ad hoc judges and justices each. But the Judicial Commission faces difficulties because of Covid-19. They cannot directly check the candidates. We hope they can do it at the soonest.
How will the inadequate number of justices affect Supreme Court's performance?
This judge is almost dead, working almost 24 hours a day, without sleeping or eating, (chuckles)...It's really tough. Although our offices are adjacent, we justices never meet one another until we have court sessions. At the office, we read case files every day and if we don't finish, we take them home and bring them back again the next day.
How many case files do you read in a day?
It depends on cases. I cannot complete a thick corruption case file in a day, let alone review it. What creates so many appeal cases is the minimum legislation limiting them. If feasible, we want amendments in the laws to limit cassation cases. Not all the cases should be allowed to come to this level. I want minor cases be done with at the first level and, if necessary, at the appellate level.
What is the solution?
According to the Article 45A of the Supreme Court Law, cases facing one year's sentence can go to cassation. We proposed in the past to increase the sentence to, for instance, four years. So, minor cases would be completed at the lower (court) level. That would help us a lot. We've raised the value of the damages sought in simple lawsuits to Rp500 million from Rp200 million with the aim to reduce cases coming to the Supreme Court.
---
MUHAMMAD SYARIFUDDIN
• Place and date of birth: Baturaja, South Sumatra, October 17, 1954 • Education: Bachelor of Law, Indonesian Islamic University, Yogyakarta (1980), Master of Law, Djuanda University, Bogor (2006), PhD in Law, Parahyangan Catholic University, Bandung (2009) • Career: Judge, Kutacane District Court, Aceh (1984-1991); Judge, Lubuk Linggau District Court, South Sumatra (1991-1995); Judge, South Jakarta District Court (2003); Chairman, Bandung State Court (2006-2011); Senior Judge, Palembang High Court (2011); Head, Supervision Division, Supreme Court (2011-2013); Justice (since 2013); Chairman, Supervision Chamber, Supreme Court (2015-2016); Deputy Chairman, Judicial Division, Supreme Court (2016-2020); Chief Justice, Supreme Court (2020-2025) 
---
You were criticized for reducing prison sentences of several graft convicts at the review level. Why weren't they increased instead?
That's based on our sense of justice after studying the cases and the reviews of the court decisions. It's the sense of justice we got after the reviews. We believed we made fair decisions. It doesn't mean we grant all case review petitions. But indeed, sometimes these review applicants just got lucky because the Supreme Court is not allowed to increase the penalties at a review level unlike cassation where we can impose heavier sentences. Well, so, people apply for a case review hoping to get their sentences reduced. Even if their appeals are rejected, their sentences will still be the same.
What enables a convict's sentence to get reduced at the review level?
It's easy to find rationales at the review level. First there's novum (new evidence), it is impossible without evidence. Second, a contradiction between (similar) decisions which is hard to find. Third, a mistake on the judge's part which is easiest to catch. Most case reviews go through the third.
You came out top in the Supreme Court chief justice election although you were the underdog. How did it go?
I'm just thankful. I'm no better than my colleagues particularly when compared to my great predecessors. Pak Hatta, Pak Bagir Manan, Pak Harifin Tumpa, I'm nothing compared to them. But I'm sure if we are united with one determination and do what we set out to do, we will be better.
How close are you to Hatta Ali?
Wow, since I first became judge, (chuckles)...Pak Hatta was posted in Aceh and so was I. We've been posted in the same places from the beginning. There's a lot of achievements and improvements under his leadership. I was the implementer, the engine (laughs)...I implemented, E-litigation, for example. That's why I only want to continue his work with a few modifications here and there.
W251bGwsIjIwMjEtMDItMjcgMTM6MzI6NTQiXQ