Death in the Kawende Mountains
Three Poso residents died at the hands of a Tinombala security task force. Most likely a case of mistaken identity.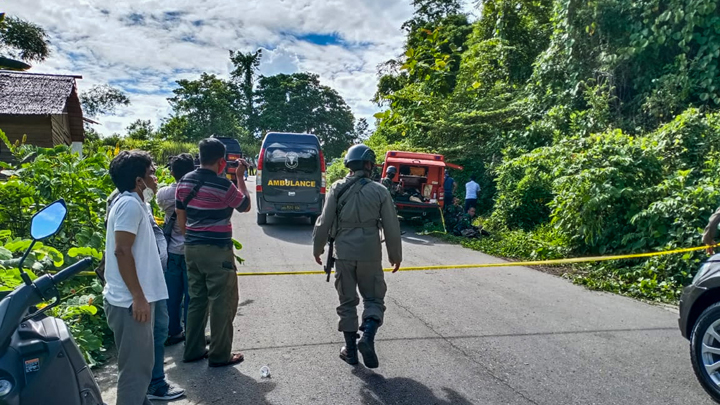 A VOIDING an afternoon rainfall, Fardil took shelter at a shack on his plantation by the Kawende Mountain range at Kilometer 9, Poso Pesisir Utara subdistrict in Central Sulawesi's Poso Regency. It was Tuesday, June 2. Together with his brother, Syarifuddin, and three friends—Anhar, Agus and Muhajir—he had just harvested cocoa and coffee. Agus also brought along his son Firman, 17.
Bang! Bang! Bang! Bang! Bang!
A barrage of gunfire suddenly pounded the shack. Those inside ran outside, shouting: "Farmer, farmer! Resident, resident!" said Fardil, 30, quoting their shouts to Tempo on Friday, June 5. He jumped and hid behind a stack of wood. He shuddered as he saw the ground sprayed with bullets. Fardil also saw Anhar and Muhajir race away from the hut.
Some two meters away from him, Firman, who is mentally challenged, suddenly stood up. Along with the sound of gunfire, Firman fell to the ground, soaked in blood. A bullet penetrated through his left jaw, leaving a hole the size of a toe. However, Fardil did not dare to approach him. He no longer remembers how long they were under fire, and only recalls that he tried to press himself as close to the ground as possible.
The Kawende mountains is part of the Tinombala task force's operation area. The task force (Satgas Tinombala), a combination of police and the military, is going after the East Indonesia Mujahidin group, headed by Ali Kalora. On April 19, a farmer was kidnapped and later found dead not far from where Fardil was taken under fire. Until June 5, it was not known who kidnapped the farmer.
W251bGwsIjIwMjEtMDMtMDEgMTA6NTM6MTIiXQ
As soon as the shootings stopped, Fardil again shouted that they were farmers. No answer. Feeling secure, he approached Firman. Firman's father, Agus, also appeared and immediately carried his son away from the hut, disappearing among the trees. Meanwhile, Fardil saw Syarifuddin, his brother, on the ground: a bullet had pierced the lower side of his neck and penetrated all the way to the back. Like Firman, Syarifuddin was dead.
Then, police donning bulletproof vests approached him. Pointing their rifles to him, they ordered Fardil to lie face down on the ground. He said the police shouted at him, asking where his friends were, and demanded that he called Anhar and Muhajir, who managed to get away.
Fardil had been indignant for being shot at even though they had already shouted that they were farmers. A policeman, Fardil said, claimed that he did not hear the shouts. The policeman further said that they had also fired warning shots. "None of us heard the warnings," Fardil said.
As it got dark, Anhar and Muhajir returned to the shack. Fardil asked the police to take his brother's corpse back to the village. However, the police refused and detained them. Fardil then insisted that his brother must be buried in their hometown of Maros, South Sulawesi. Finally, the police relented and let them go.
Fardil then informed family and friends about the incident. Muhammad Yusuf, a local parliamentarian for the Poso Regency, heard the news and waited at the last road point where vehicles could pass before entering the Kawende mountains. Yusuf then saw Fardil appear with his brother's corpse. "The corpse was on a motorbike," said Yusuf, a politician from the Justice and Prosperity Party (PKS).
***
SYARIFUDDIN and Firman are the second and third victims of Satgas Tinombala. On April 9, Tambarana village resident Qidam Alfarizki Mofance, 20, was also killed by officer's bullets. National Human Rights Commission (Komnas HAM) representative in Central Sulawesi, Dedi Askari, has been scrutinizing this case and said that Qidam died in Tobe village, also in Poso Pesisir Utara.
Dedi said that Qidam, who assisted his grandfather in harvesting patchouli, had fled his home due to a row with his grandmother, who did not want him to go out of the house during the Coronavirus pandemic. Qidam, Dedi continued, had stopped by at a house in Tobe village to ask for a drink. A resident then informed the police about the presence of a stranger in that village.
Not long after that, two Satgas Tinombala teams came and surrounded the house. Qidam ran to the back of the house. "Surrounding residents heard a series of shots," Dedi said. He further said that he found traces of dragged feet at the back of that home. In addition to a bullet that tore through from the left to the right side of Qidam's neck, Dedi also found that the victim's body had traces of punches, and a long cut on his thigh. His legs and neck were broken.
Qidam's family lawyer, Andi Akbar from the Muslim's Defendant Team of Central Sulawesi, rejected assumptions that Qidam was member of a radical group in Poso. "There are ethical violation and criminal acts which caused Qidam's death," Andi said. Komnas HAM member Amiruddin said his institution wrote a letter to the Central Sulawesi Police and Insp. Gen. Martinus Hokum, chief of police anti-terror Special Detachment (Densus) 88, asking for a transparent investigation of the case. "We don't want a repeat of the Siyono case," Amiruddin said.
He was referring to Siyono, who was arrested by Densus 88 at his home in Cawas subdistrict, Klaten, Central Java, on April 8, 2016. He subsequently died. General Badrodin Haiti, Indonesia's police chief at that time, said Siyono died in a scuffle with Densus personnel. However, an autopsy carried out by Komnas HAM, the Indonesian Forensic Doctors' Association, and the Muhammadiyah Central Committee pointed out that Siyono died because his chest bone was broken, and there were no signs of resistance.
Police Public Relations Chief Insp. Gen. Argo Yuwono said his institution will look further into this allegation of mistaken identity in Poso. "National Police Headquarters' profession and security division, and the Central Sulawesi police department are investigating this case," Argo said.
Trisno Raharjo, chair of Muhammadiyah's legal and human rights council, said that violence in handling suspected terrorists has occurred repeatedly, with no clear solution. He gave the example of Muhammad Jefri, 31, of Mekarjati village, Indramayu, West Java, who was picked up by Densus 88 on February 7, 2018. Two days later, Jefri was in the mortuary of the Police hospital in Kramat Jati. "No autopsy was performed, and not a single piece of documentation was given to the family," Trisno said.
Muhammadiyah Central Executive Chair Busyro Muqoddas proposed to improve the handling of terrorism in Indonesia. He suggested that the president forms an independent team to evaluate counter terrorism performance. "There must be transparency and accountability," Busyro said.
WAYAN AGUS PURNOMO