Cito and Commission Fees
Hospitals and clinics are scheming in order to obtain large BPJS claims in treating their patients and distributing drugs. The state loses Rp10 trillion annually.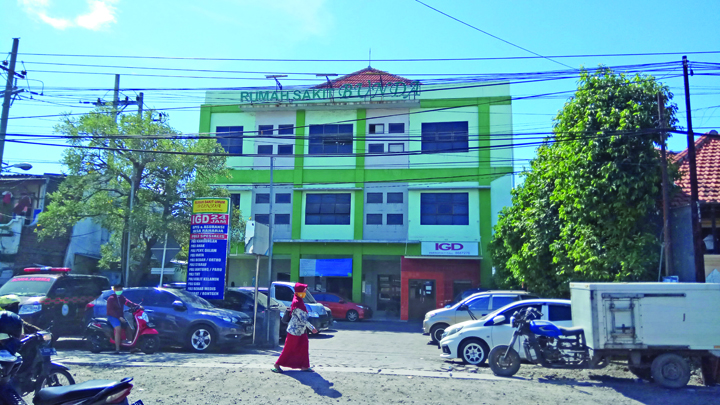 A PINK receipt, dated May 14, 2017, explains how the Bunda General Hospital in Sidoarjo, East Java, received its Health Care and Social Security Agency (BPJS) referral patient. The hospital in Jalan Kundi Wadungasri apparently gives clinics a commission of Rp70,000 per patient referred to their hospital.
The clinic on the receipt is the Pratama Surya Giri Jaya Clinic in Jalan Raya Wadungasri. Although the patient's membership class and illness are not mentioned, the practice of giving commission to clinics so that hospitals can receive BPJS patients is not an accepted practice. "The BPJS incurs two losses," said Timboel Siregar, coordinator of BPJS Watch—a non-governmental organization (NGO) that monitors BPJS's health services—in May.
The first loss, says Timboel, is that the BPJS still pays higher capitation funds to pay claims to clinics, while patients are being treated by hospitals. As a result, there is a second loss: having to pay claims for unnecessary treatments because a patient's illness could have been handled at a clinic or a public health center (puskesmas).
The practice of transferring patients from clinics to hospitals, which results in unnecessary costs, was reflected in the Supreme Audit Agency's (BPK) 2017-2018 findings. The BPK found unnecessary BPJS payments to hospitals amounting to Rp671 billion and Rp364.9 billion from capitation funds in the amount of Rp12 trillion and Rp13.2 trillion. The value of claims comes from payments for 144 types of illnesses that should have been able to be managed at health clinics, which fall under the category of first-level medical facilities.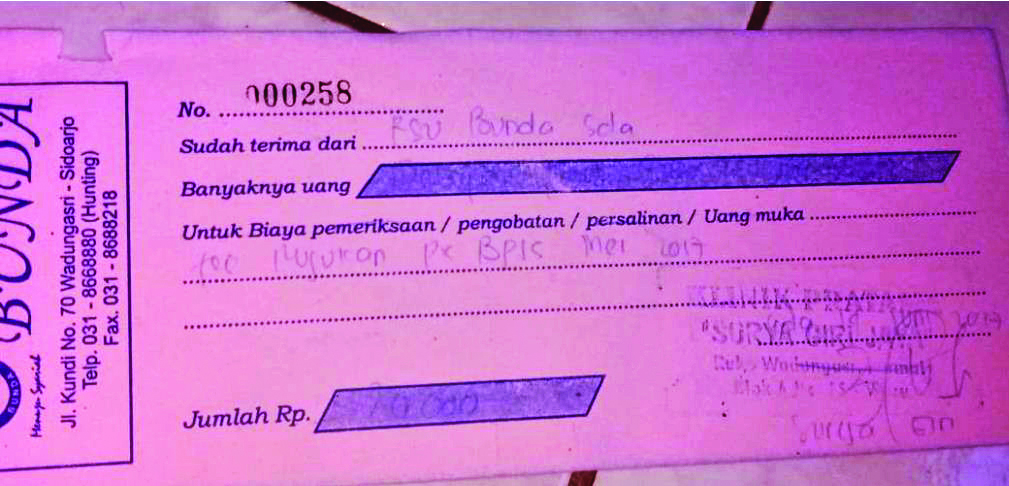 The receipt of the referral fee for Surya Giri Jaya Clinic. TEMPO/Nur Hadi
Director of the Bunda General Hospital in Sidoaryo, Aditya Aridita, seemed surprised when he was shown the receipt for Pratama Surya Giri Jaya Clinic. "This is an old document," he said. "Where did you get this from?" Aditya admits to a misunderstanding by the hospital management when they first joined the BPJS program in 2016. After the hospital was reprimanded by the Sidoarjo Health BPJS office at the end of 2017, the management stopped the practice of giving commission to clinics.
The problem is, until May this year, the commission practice still occurred. Tina, an employee at a clinic in east Surabaya, claims she still receives fees from Bunda General Hospital for patient transfers.Meanwhile, supervisor for the Pratama Surya Giri Jaya Clinic, Danik Ika, denies that her clinic receives commission for referrals to hospitals, particularly Bunda General Hospital. She appeared shocked when shown the receipt. "For my private practice at home, indeed [I] receive 5 percent, but no such thing at the clinic," she said.
At least 30 clinics and public health enters receive fees for referring their patients to the Bunda General Hospital. Based on testimonies from clinic staff and receipts, clinics that refer patients to the hospital are spread across cities from Sidoarjo to Surabaya. The commission per patient varies from clinic to clinic.
The Sehati Clinic in Waru, Sidoarjo, for example, only received Rp50,000 for a patient referred on April 13, 2017. The clinic's management refused to answer Tempo's question when we visited them in May. Sehati Clinic's employees refused to connect us to the clinic's supervisor and did not respond to questions regarding commission fees given by Bunda General Hospital.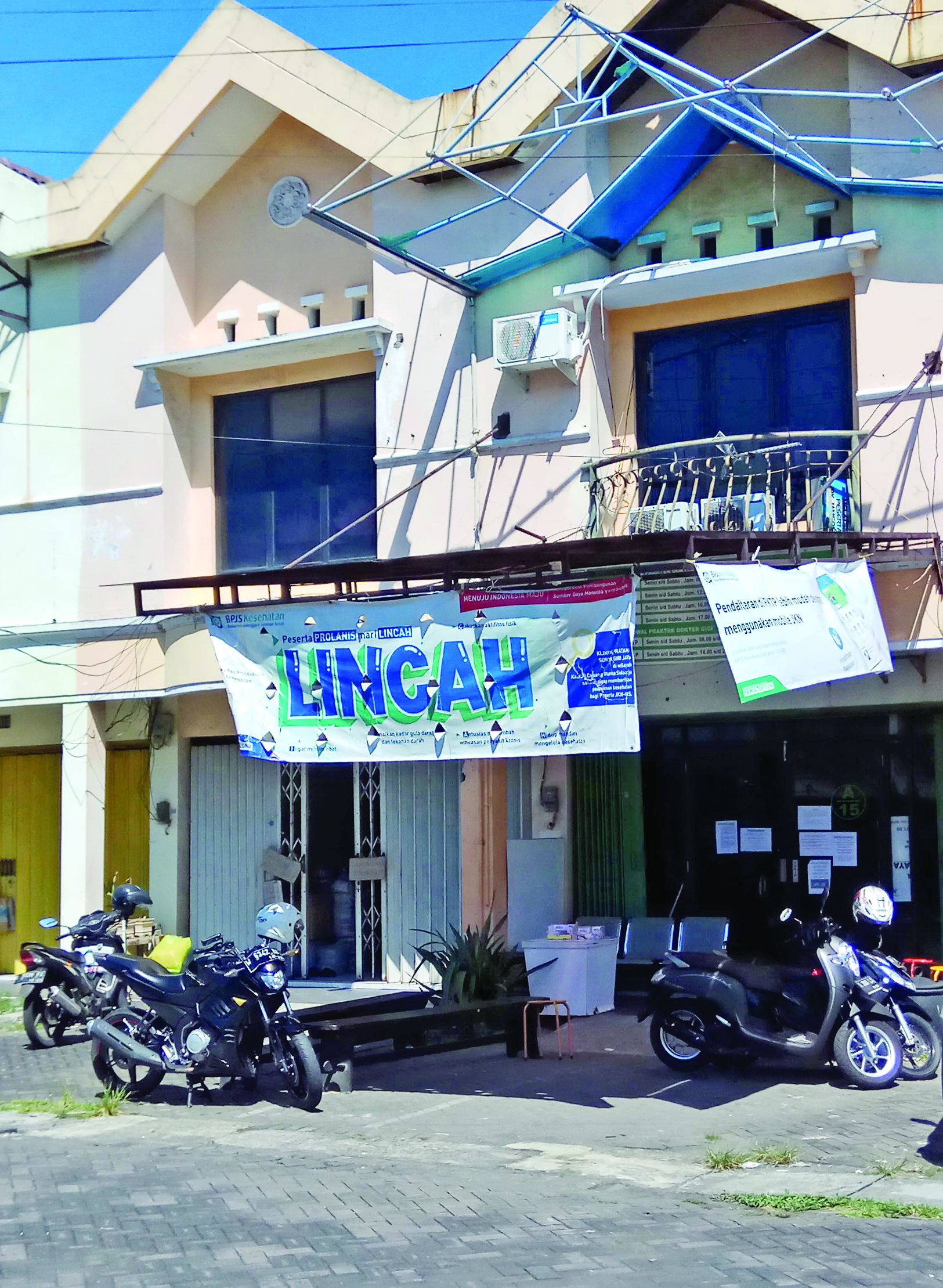 Surya Giri Jaya Clinic at the Wadung Asri Permai Blok A, Waru, Sidoarjo, June 3. TEMPO/Nur Hadi
To encourage clinics to continue referring patients, Bunda General Hospital's management created a kind of competition, with the clinic referring most patients winning Rp1-3 million. The marketing program in June-September 2017 was approved by the management in a meeting on May 30, 2017. The purpose, as shown in the meeting minutes, was to increase the number of referral patients as well as revenue.
The program was divided into two segments: the BPJS as well as general referrals. For BPJS referrals, the clinic entitled to the prize was a clinic which was able to contribute a minimum of Rp70 million in revenue from the value of BPJS claims from referral patients. Meanwhile, for the general category, the clinic that managed to refer patients for the promotional Rp6.5 million caesarian section package would win. "The program was stopped after the reprimand from the BPJS," said Aditya.
Besides being discovered to have been giving referral fees to boost earnings from the BPJS, Bunda General Hospital was found to have manipulated diagnoses. One doctor at the hospital says he once checked his diagnostics notes on a patient against the fee claimed by the hospital for the BPJS. "The diagnosis and receipt were different," said the doctor.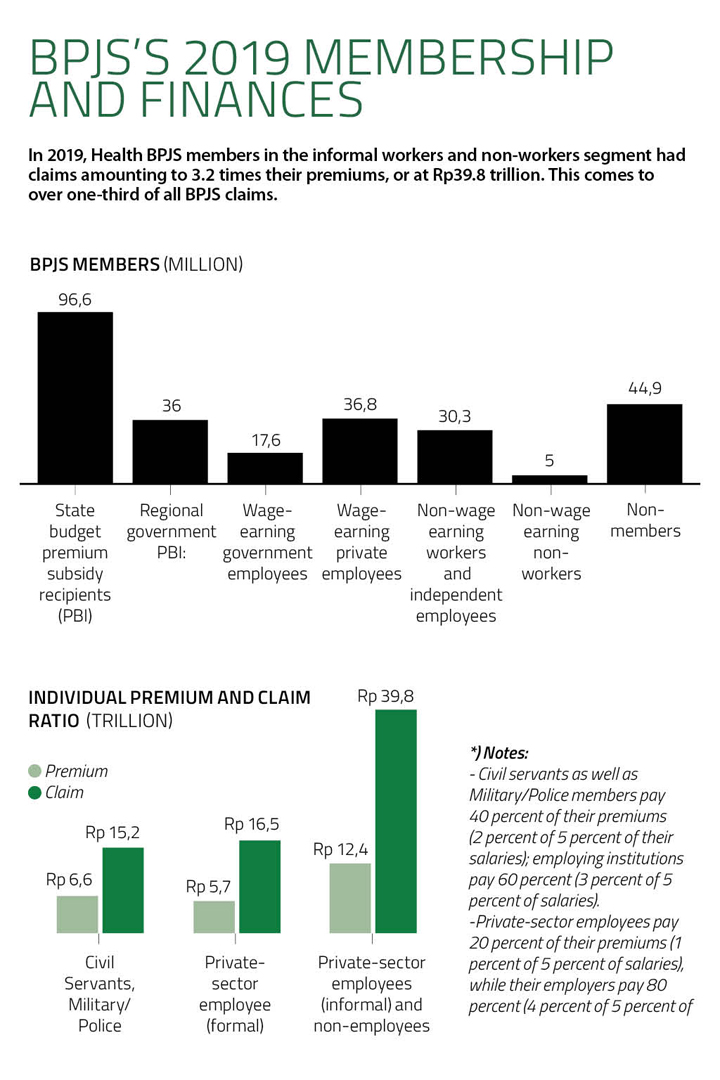 According to a former Bunda employee aware of the practice, diagnoses that are often revised are under pediatrics, neurology, and internal disease. These three divisions are not yet covered by the national guidelines for medical services (PNPK), which serve as a reference for all types of illnesses covered by thr BPJS. For example, said the employee, a lump can be claimed as a tumor for the sake of a larger claim.
According to Aditya, such practices are no longer being done at his hospital after the hospital management's meeting with the Sidoarjo Health BPJS, where the hospital signed an agreement to stop the referral fee program. "I forget when exactly because it has been a while, but we have cleansed ourselves from such practices," he said.
Claims for unnecessary treatments to marked up ward classes have not only been discovered by the Supreme Audit Agency (BPK). The Corruption Eradication Commission (KPK) has also learned about these practices, which are causing inefficiencies in BPJS's funds. In its March 30 recommendation to President Joko Widodo, the KPK listed six clusters where BPJS's funds have been leaking. The KPK made its recommendation as an alternative, so that the government would have no need to raise premiums to cover the deficit.
According to KPK's calculations, payment of claims for unnecessary treatments makes up 5-10 percent of the total claim of Rp100 trillion last year. Meanwhile, payment of claims for incorrect ward classes to hospitals reaches Rp6 trillion annually—over one third of BPJS's deficit last year.
Health BPJS Chief Executive Officer (CEO) Fachmi Idris says referral fees given by Bunda General Hospital to improve the hospital's revenue from BPJS claims are not fraud, although the practice does violate the medical code of ethics. "But this doesn't mean that it's allowed. We will investigate," he said. However, according to BPJS's Regulation No. 7/2016 concerning system for fraud prevention Article 5 point 3-C says that receiving commission for referring patient to a higher health facility is an act of cheating.
Other types of maneuvering by hospitals to receive larger BPJS claims have also occurred in Medan, North Sumatra. BPJS patients often cannot obtain drugs because hospital pharmacies have no supply. Usman and his wife, for example. Usman, who is 75 years old, suffers from prostatis, while his wife suffers from mental illness.
Every time he goes to fetch their drugs, Usman only receives a slip from the Dr. Pirngadi Regional General Hospital's pharmacy. He and his wife must endure their pain because the medicine they need is unavailable. As an unemployed person who relies on renting two rooms to university students as a source of income, Usman cannot afford to buy drugs without the BPJS. "One tablet is Rp30,000, my wife's medicine is Rp150,000 for one tablet," he said. Not all pharmacies have his wife's medicine, which means that he has to add Rp80,000 for rickshaw rides from home to the pharmacy and back.
In June 2018-February 2019, SAHDaR, an advocacy NGO based in Medan, found 100 patients in the North Sumatra capital who shared Usman's fate. Based on SAHDaR's investigation along with the Indonesia Corruption Watch, it was discovered that the drugs were not in supply because hospital staff were scheming to gain profit from drug distributors.
They would use an RKO (drug demand plan) with the code "cito" or "urgent." The cito code is usually used during an emergency, meaning the hospital needs drugs once the supply is out. In fact, to prevent scarcity, the RKO of each hospital is always 5 percent higher than the previous year. With a cito RKO, a hospital can order drugs from any distributor at any price.
Medan's Dr Pirngadi Regional Hospital Spokesperson, Edison Perangin-angin, in his office, June 2. TEMPO/Nur Hadi
According to Rudy Chairuriza Tanjung, a former drug distributor in Medan, the cito code is often abused by hospitals to reap profit. Because they are free to choose their distributors, they will find distributors that give the greatest discounts and commissions. Based on his experience, commission from a drug distributor is 30-40 percent of the order value.
SAHDaR coordinator Ibrahim says the abuse of the cito code causes drug scarcity and the BPJS to lose money because in the reported use of drugs, hospitals would report that they have distributed their drugs to patients in a timely manner, so that the BPJS would still pay claims.
The proof is in the drug slip that Usman and his wife received. Edison Prangin-angin, Dr. Pirngadi General Hospital spokesperson, denies that the hospital is not providing drugs for its BPJS patients. When Usman's drug slip was shown to him, Edison said the piece of paper meant that, "As soon as we receive the drug, we would immediately give it to the patient," he said. Fact is, Usman once did not get his medicine for one month.
The Medan Health BPJS office already has suspicions of the scheming behind the drug scarcity. But instead of using the term "fraud," the agency chooses to use the softer "dispute." For hospitals suspected of performing so-called dispute, the BPJS would withhold payment for drug claims. As a result, the distribution of drugs is disrupted because these hospital would then fail to pay their drug bills to distributors, citing withheld payment of claims as the reason.
Last year, the BPJS owed Rp14 billion to the Haji Adam Malik Central General Hospital in Medan. But according to the hospital's spokesperson, Rosario Dorothy Simanjuntak, dispute is a normal occurrence when it comes to hospital bills. "(It's just) administrative issues," she said.
Dispute and cito have been investigated by the North Sumatra Prosecutor General's office. Investigators found that at least 40 hospitals are not playing by the book when it comes to the supply of drugs. The prosecutor's office also suspects that drug distributors are paying commission fees to hospital managements. "We support law enforcement," said Medan Health BPJS Chief, Sari Quratul Ainy.