There Is Fraud, But Less Than One Percent
Chief Executive Officer of Health Care and Social Security Agency, Fachmi Idris: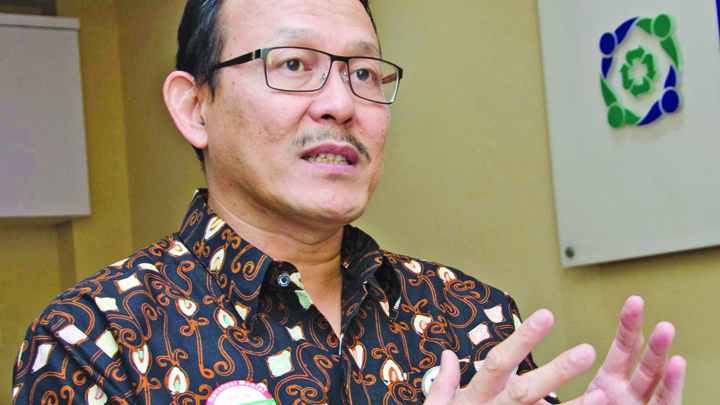 A MID a pandemic that has put the economic gears into a halt as a result of restricted social interactions to contain transmission, the government raised the premiums for Health Care and Social Security Agency (BPJS Kesehatan) insurance program. Starting July, the premiums for class I, class II and class III participants will be raised by almost 100 percent. Health BPJS Chief Executive Officer Fachmi Idris said the tariff hike is aimed at patching up the agency's deficit, which reached Rp15.5 trillion last year.
According to Fachmi, the premium increase is the way to save the budge for health services. Therefore, although the Constitutional Court canceled the policy in April—and asked the government to solve all budget misappropriation first—the premium rates are still going to be raised. "Despite zero frauds, met collectability, efficient management, the BPJS still suffers a deficit, Fachmi told Tempo in a teleconference interview, Friday, May 29.
Why raise tariffs amid a pandemic?
Presidential Regulation No. 64/2020 has articles that accommodate this situation. There are relaxations. If you have 24 months of unpaid premiums, you are allowed to pay for just six months.
Didn't the BPJS deficit happen because of misappropriation?
After seeing the audit result from the 2018 Development Finance Comptroller (BPKP), which involved 2,000 auditors, it was found that the deficit was caused by lack of premium payments. From the start, we did not use actuarial calculations—as is should in a social insurance system. That is why, even though there was zero fraud and participants' collectability was met, and despite no inefficiencies, the BPJS still suffers deficits. Ideally, class I premiums is Rp275,000 per person, class III is Rp100,000. (The current premium for class I is Rp81,000, class II Rp51,000, and class III is Rp25,000).
We discovered that hospitals gave fees to clinics for referring patients, so that the BPJS has to pay double the amount…
We will re-check that as this problem lies in the claims collection system. We developed an online referral system to prevent this. The verification is upfront, and after the file are in there is another verification (process). By system, you can no longer refer patients to a certain hospital. And if that happens, that is not a legal affair but an ethics one. In terms of medical disciplinary, this this can be reported. (BPJS Regulation No. 7/2016 concerning system for fraud prevention, Article 5 point 3-C states that receiving commission for referring patient to a higher health facility is an act of cheating.)
There are also hospitals that change doctors' diagnoses to get bigger claims.
Our system would notice that. For example, a typhoid diagnosis coupled with blood disorders. This will be read by the BPJS system, whether that make sense or logical. We have four layers of checks so that things like this do not happen. But we will note down this information.
Does that not count as a misappropriation that causes financial losses to the BPJS?
I want to ensure that services run properly and correctly. There are no fictitious bills or mark-ups. Although its is possible that because of ignorance hospitals can send bills for something that should not be charged to theBPJS. If the bill is fictitious, then it's a crime.
This means that if the frauds are handled there would be no need for a premium hike, wouldn't it?
The audit by the BPKP found frauds, but the amount is less than one percent, only 0.18 percent or Rp160 billion. We glad that our hospitals are not that bad, even though we shall not tolerate fraud. But zero fraud is impossible. The United Kingdom with 20 years of experience still suffered 3-4 percent of fraud.
We also found that there are hospitals that changed (participants') status to a higher class, that makes the BJPS paid more…
This is beyond BPJS's power as the authority lies in the hands of regional governments. For example, a C standard hospital raising its claim to B, so it got a bigger claim, around Rp819 billion. We negotiate with the local government to have the excess money returned. The Corruption Eradication Commission has great concerns about this, including about frauds. We keep communicating with them to prevent the problem from escalating.
Also about capital funds increase. And the third is the problem with non-formal and non-employee participants, which we are in charge with. The collectability level during when the BPKP stepped down was 60 percent. To raise it, we need law enforcement, linked to public service system, such as extending the validity of drivers' licenses or car registrations. Like in Korea. They can even take a look at participants' bank accounts, so that when they don't pay the premiums, they are debited automatically. We don't want to go there yet.
Do the local governments deliberately raise the hospital class?
I cannot say whether it is deliberate or not. One thing for sure is that there is a difference in standards on how we look at it. This difference we leave it for the auditors to decide.
There is also problems regarding data, especially on the less fortunate group. There is a mess.
We are fixing that together with the social ministry. The BPJS has five groups of participants. There are the subsidized groups of 96.5 million people, then those who receive regional health insurance subsidy as many as 36.1 million people, and 130 million people whose premiums are paid by the government such as the poor group, state employees, soldiers, and police officers.
Then there are informal workers and non-employees, which are divided into three groups, totaling 35 million people. In class III there are 21 million participants, who are actually categorized as poor people, but are not registered in the poor category. There are also those who are not poor, but included in the poor group. About half of them, around 10 million participants, don't pay their premiums regularly. These classes are optional, if you cannot afford first class premiums, you can downgrade it.
There are also plenty of abuse in terms of treating patients. For example, normal labor changed into caesarean or a level one cataract is given maximum surgery.
Actually, in the national guidelines for medical services (PNPK) things like this are clear. Two years ago we issued a regulation on how to treat cataracts, which one can undergo surgery and which one should not. But we were given a lawsuit because that was the health ministry's authority. Also, in treating diseases there should be no statuses. In cataracts, for example, doctors would operate everything.
Why did the health ministry not issue its own PNPK?
Perhaps it is not easy because of the long process. Professional organizations propose to the ministry, then they hold a discussion. In addition, there are layers within layers and overlaps in the (medical) profession. For example back pain, we have overlaps between a neurosurgeons, orthopedics, and neurologists.
The BPJS did not ask for one?
We sent letters repeatedly.
If the BPSJ has a sophisticated system, why are there still cheating practices?
In 2019 we saved more than Rp10 trillion of state money. Because of the upfront verification system, and the rechecking for the documents that passed. The verification is digital, it uses algorithm. Our anti-fraud policy is clear and we have internal supervisors. If anyone in the branch office cheats, we won't hesitate to fire them. Therefore, what was found by the BPKP and the KPK is part of our reports.
But because there are still frauds, the system is wrong?
I did not conclude it that way. Our participants' data are linked to the population and civil registration offices. Our payment system is very sophisticated, however, there is no perfect system in the world. Systems are related to regulations. They require a long process in terms of numerous aspects. It is impossible for the BPJS to do an excellent job if not supported by the ecosystem. We don't want fraud, but the service system doesn't use the PNPK.