Continuous Repression in Papua
SOME human rights defender organizations denounced the indictment filed by the public prosecutor against seven residents of Papua.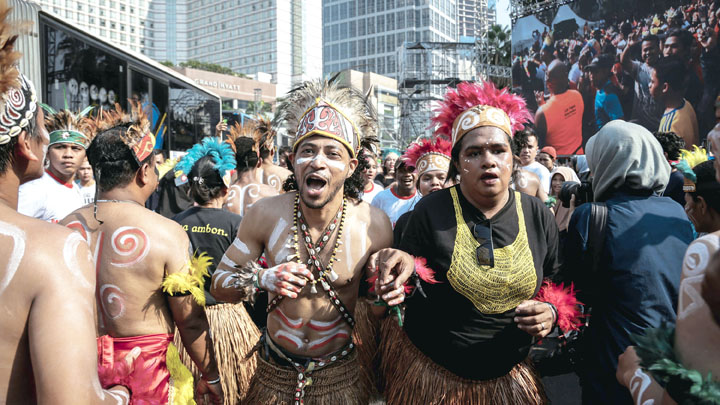 Usman Hamid, Executive Director of Amnesty International Indonesia, considers the indictment to be a form of criminalization of the civil and political rights of citizens. "They only voiced their political opinions in a peaceful manner," he said on Tuesday, June 9.
In hearings at the Balikpapan District Court in East Kalimantan, in early June, seven young men from Papua face five to 17 years imprisonment. The prosecutor accused them of treason when protesting in August last year. The protest in question was a reaction to racist acts against university students from Papua in Surabaya, East Java.
Those charged include: vice chairman of the Legislative Body of the United Liberation Movement for West Papua, Buchtar Tabuni, for whom 17 years imprisonment is being sought; general chairman of the West Papua National Committee, Agus Kossay (15 years); and chairman of the Student Executive Body at Cenderawasih University in Papua, Ferry Kombo (10 years). Based on the records of Amnesty International Indonesia, there are 44 people in detention who have been accused of treason in protests which ended peacefully.
Beka Ulung Hapsara, a member of the National Commission on Human Rights, considers that those charges show that the state is not serious about dealing with matters related to the racialism, discrimination, and intimidation often faced by Papuans. Gustaf Kawer, a lawyer for human rights cases in Papua, considers the trial of those seven defendants has numerous discrepancies. "There are many things about this legal process which are unusual," he said.
Hari Setiyono, chief of the Legal Information Center at the Attorney General's Office, denied the accusation of criminalization of those seven young Papuan men. According to him, the prosecutors have sufficient evidence to charge them with treason. "There are norms and regulations which were violated. This trial is purely a criminal law matter," he said.
W251bGwsIjIwMjEtMDMtMDEgMTE6NDk6MDYiXQ
Intimidations Tactics
THE trial of seven young men from Papua sparked discussion forums in several cities. However, some of these discussions were followed by intimidations towards activists.
1. The Papua University Students Alliance
The alliance held a discussion about Papua last May. The discussion moderator and three speakers were threatened tens of times over the phone by an unidentified caller, forcing them to log off from the virtual discussion.
2. The Indonesian People's Front for West Papua
Similar intimidation occurred during a discussion being held via the Zoom application, as was being held by the Indonesian People's Front for West Papua. The threats were experienced by one of the speakers, Mikael Kudiyai.
3. Amnesty International
In June 4, three speakers in a virtual discussion about the latest report from Amnesty International for the United Nations, titled Civil and Political Rights' Violations in Papua and West Papua received a phone call from a foreign phone number.
4. Lampung University Students
Two students from Lampung University were intimidated after holding a discussion about racial discrimination against Papua on Thursday, June 11. In addition to being threatened, their WhatsApp numbers and online ride sharing application accounts were hacked.
SOURCES: AMNESTY INTERNATIONAL INDONESIA,
TEMPO.CO
---
Novel's Attackers charged with one year in prison
IN the case of Rahmat Kadir Mahulette and Ronny Bugis, who have been charged with attacking Corruption Eradication Commission (KPK) investigator Novel Baswedan, the prosecutors are seeking a sentence of one year in prison. Fedrik Adhar, the public prosecutor for the Attorney General's Office, said that there is evidence that Rahmat and Kadir doused Novel with acid on April 11, 2017. "The two of them jointly committed a criminal assault which resulted in serious injuries," said Fedrik at the North Jakarta District Court on Thursday, June 11. However, the prosecutor said that there is no proof that the two planned the attack.
Novel Baswedan, whose eyes were damaged from that acid attack, said that he is disappointed with the indictment filed against the attackers. He considers the prosecution's indictment show the level of damage to the legal system in Indonesia. "How can the public obtain justice?" he said.