Reopening at Abah 's Behest
Plans to reopen schools and pesantren garnered criticism. Accuracy of zoning databases is shrouded in doubt.
DIRECTOR of the Bahrul Ulum Pesantren (Islamic Boarding School), in Tambakberas, Jombang, East Java, Muhammad Hasib Wahab, vented his grievances when given a chance to speak during an online meeting on Monday, June 8. Gus Hasib—as he is usually called—voiced his opinion that the government has given scant attention to pesantrens during the coronavirus pandemic. He noted that assistance to pesantrens impacted by the Coronavirus Disease 2019, or Covid-19, never came through. "When in fact, the pesantrens have a big role," said Hasib when contacted by Tempo, on June 17.
The meeting was attended by the Coordinating Minister for Human Development and Culture Muhadjir Effendy, and several pesantren representatives from all over Indonesia. Also present were representatives of the office of the vice president; ad interim Director-General for Islamic Education at the Religious Affairs Ministry, Kamaruddin Amin; and Chair of the Nahdlatul Ulama Rabithah Ma'ahid al-Islamiyah Central Board, Kiai Abdul Ghaffar Rozin. The meeting which commenced for two hours until the midday prayertime aimed to field inputs concerning reopening of pesantrens to continue the school year.
Application of the large-scale social restriction (PSBB) in many places had caused schools and pesantrens to close down. At the end of March, the Tambakberas Pesantren had sent home some 11,000 students, or santri. According to Hasib Wahab, closing down the pesantren made a big dent, especially regarding income and economic activity, on the surrounding community. In the meeting with officials, Hasib asked the government to allow pesantrens to reopen immediately. "Parents of the students also wish to see the pesantren reopened," claimed Hasib.
The request goes against the official stance of the Covid-19 Mitigation Acceleration Task Force. On Sunday, May 31, in an online discussion with editors-in-chief of the media, Task Force Chief Doni Monardo said that education would be the last sector to restart operations, to contain further contagion of the virus. "It's not possible to reopen pesantrens this year, as per our discussion with the coordinating minister for human development and culture," he said. Head of the Task Force's expert team, Wiku Bakti Bawono Adisasmito, said activities in pesantren have high potential for new outbreak clusters which would increase cases of positive contagion.
In East Java, for example, a new outbreak cluster was discovered originating from the Al-Fatah Pesantren in Temboro, Magetan. Scores of students were found corona reactive in April. The numbers increased in tandem with rapid tests done on students who had been sent home. The Temboro cluster was only revealed after a Malaysian authority announced that 43 students from their country studying at the pesantren tested positive.
W251bGwsIjIwMjEtMDMtMDEgMTE6NTg6NDYiXQ
The government finally issued a Joint Decision Letter (SKB) signed by four ministers released on June 15, regarding guidelines for face-to-face teaching during the pandemic. The four institutions, the education and culture ministry, health ministry, religious affairs ministry and home affairs ministry, declared that class learning activities would only be allowed for schools located in green zones while still complying to strict protocol. Minister of Education and Culture Nadiem Makarim said only six percent of schools are located in green zones. The rest were in red, orange and yellow zones.
If the community were to adhere to this ruling, all teaching activities in dangerous zones would not be reopened just yet. But a number of pesantren directors are urging for school to be reopened despite being in red zones with high risk of contagion. Covid-19 task force data on June 10 showed Tambakberas Pesantren in Jombang to be in a red zone.
***
LOBBYING for pesantren reopening has been going on for some time now. Chair of the Rabithah Ma'ahid al-Islamiyah Central Board—which handles development of pesantren and religious education within the Islamic organization Nahdlatul Ulama—Abdul Ghaffar Rozin, claimed to have been in communication with staff close to Vice President Ma'ruf Amin since May. Rozin conveyed the aspirations of several pesantren management for the boarding schools to be reopened soonest.
Vice-Presidential spokesperson, Masduki Baidlowi, verified having communicated with several management boards of Islamic school. The request has also been heard by Abah—how Vice President Ma'ruf Amin is called. Three days after the online meeting with the human development and culture coordinating minister, Ma'ruf stated pesantren may now be reopened. And not only in the green zones, but also those in orange and red zones.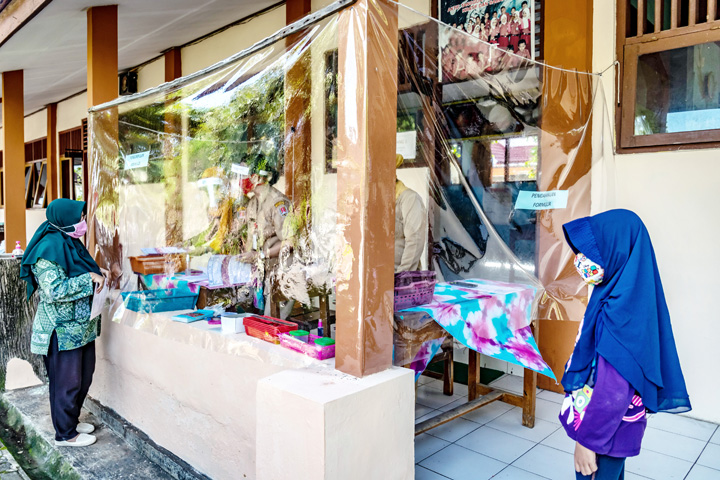 New student admission registration at Karangayu State Primary School, Semarang, Central Java, June 15. ANTARA/Aji Styawan
But said Mar'uf, pesantrens in red zones may only reopen based on recommendations from the central and regional government's Covid 19 task force. "Red and orange zones may open pesantrens as long as they obtain recommendation from the task force. This is to say there is some flexibility, to be understood by the management of pesantrens," said Ma'ruf in a coordinating meeting conducted by the Commission for Child Protection on June 11.
Masduki Baidlowi said pesantren may reopen because they are assessed as being more secure compared to ordinary schools. He said, potential for contagon is higher in ordinary day schools because of the mobility of the students going back and forth daily. "Pesantrens are safer, so long as the santri entering can be assured of being corona-free," said Masduki.
Regulation to reopen Islamic schools has been handed over to the religious affairs ministry and does not comply to the four-ministerial SKB. On June18, the religious affairs ministry issued a guideline for teaching in pesantren and religious institutions. In the guideline there were no restrictions based on zoning, as appeared in the four-ministerial SKB. The guidelines only govern procedures for pesantren and boarding schools to begin operation once more.
Religious Affairs Minister Fachrul Razi said boarding schools need to establish a Covid-19 mitigation task force and have in place facilities complying to health protocols. The health ministry also made it imperative that schools are guaranteed corona-free, with evidence of a letter from the Covid-19 task force from the central or regional administration. The final requirement is that all students and teachers be corona free, proven by a letter of declaring their health status.
The government also disbursed monetary assistance to pesantrens, totaling Rp2.3 trillion. Ad interim Director-General for Islamic Education at the Religious Ministry, Kamaruddin Amin, said the fund aimed to help ease the burden of pesantren providing edcuation during the pandemic.
***
THE Covid-19 task force has divided regions into zones based on risk levels, to prepare for reopening of public activity in various sectors. The zones are red, orange, yellow and green, red being the highest risk with green being the safest. Zoning is based on data of numbers of corona positive patients and spread potential in a given area.
Determining zoning has not gone smoothly. Several entities such as the National Development Planning Agency (Bappenas), the health ministry, and local governments all have their own data on the reproduction and rate of virus contagion. Masduki Baidlowi said his office is using data from the health ministry. "Because it is the most valid data," he said.
"Red and orange zones may open pesantrens as long as they obtain recommendation from the task force. This is to say there is some flexibility, to be understood by the management of pesantrens."
— Ma'ruf Amin, Thursday, June 11.
Zoning by the Covid-19 task force is looked on with suspicion by regional administrations. Mayor of Semarang Hendrar Prihadi, whose region was declared a red zone, said the increase of corona positive people in his area was simply because they had stepped up rapid testing. He asked that central government determine a standard for corona handling, including a testing methodology. He is very certain many regions would turn out to be red zones once testing was carried out on a massive scale.
Laporcovid19.org, the digital platform for Covid-19 reporting and information, also assessed the government as being obscure in how it determined green zones. Iqbal Elyazar, an epidemiologist and the digital platform collaborator, said the government should not only look at positive cases. It is highly possible, he said, numbers of cases look insignificant because there has been no sufficient testing. "It could be that green zones are in fact also high risk," he said.
Said Iqbal, data of people under observation and patients under surveillance should be included when determining a green zone. Otherwise, the green category would be misleading, because it gives off an impression of being totally corona-free. "And that is dangerous. As if that particular area carries no risk," he said.
Government Covid-19 spokesperson, Achmad Yurianto, said zone determination was not only based on reports released daily, but on 15 indicators, comprising of 11 epidemiological indicators, two public health surveillance indicators, and two public service ones. "Zoning determination is based on careful study," said Yuri.
DEVY ERNIS, RAYMUNDUS RIKANG, AHMAD FIKRI (BANDUNG), KUKUH S. WIBOWO (SURABAYA), JAMAL A. NASHR (SEMARANG), SETRI YASRA