Bosowa-Kalla's Last chance
Bosowa Corporation is attempting to maintain control over Bank Bukopin, which is one step away from being handed over to Kookmin Bank. Due to Bank Bukopin's worsening liquidity, it has become increasingly urgent to inject more capital into the bank. Bukopin's chronic illness came to the surface due to loan issues with companies affiliated with the Kalla group and Bosowa.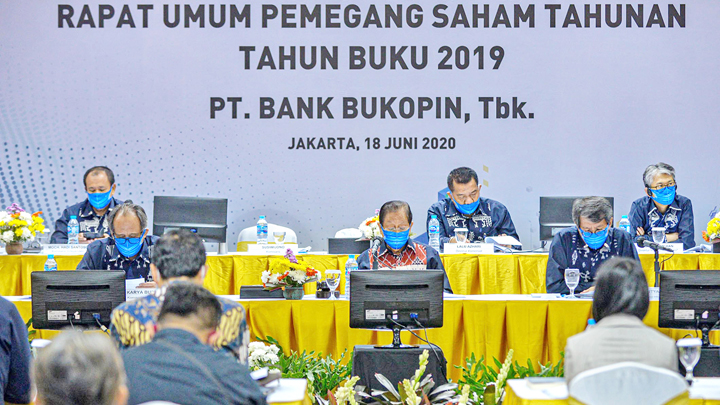 THE plan by South Korea's largest finance group, Kookmin Bank, to acquire Bank Bukopin was the main topic discussed in the working meeting between House of Representatives' (DPR) Finance and Banking Commission and the Financial Services Authority (OJK). The closed meeting, which was held without prior planning, on Wednesday, June 17, saw a flood of questions regarding OJK's decision to make Kookmin the majority shareholder of Bukopin, which has so far been run by Bosowa Corporindo, a business group owned by Muhammad Aksa Mahmud, the brother-in-law of former vice president Jusuf Kalla.
Kamrussamad was among those who criticized the plan. The Gerindra Party politician feels that the OJK did not have the country's interest in mind when it made the decision to hand over the former cooperative bank to foreign hands. "Will Kookmin side with small-medium enterprises?" said Kamrussamad, repeating his statement during the meeting when we contacted him on June 19.
He confirmed his close relationship with Aksa Mahmud's eldest son, Erwin Aksa, who is Bosowa's president commissioner. They were both businessmen joined under the Indonesian Young Entrepreneurs Association (HIPMI). But Kamrussamad denies that the criticism he expressed during the closed meeting on June 17 was in defense of Bosowa's interests. "We ask for state-owned banks, such as BRI, to be prioritized for Bukopin's ownership, so that Bukopin can still be a national asset," he said. "This is a financial system. No use defending individuals."
Conversely, Indonesian Democratic Party of Struggle (PDI-P) politician Andreas Eddy Susetyo, supports OJK's decision. According to him, rescuing a dying bank such as Bukopin, which has been short in capital for years and experiencing major withdrawals rush in the past few months, only needs to follow the mechanism for financial system crisis prevention and mitigation prepared by the Financial System Stability Committee (KSSK).
Andreas also repeatedly warns that state-owned banks should not be burdened with the task to bail out banks in trouble. "The burden of maintaining financial system stability is KSSK's authority," he said in the same meeting. In the end, the closed meeting heard all interests. Essentially, troubled banks will be handled professionally while still safeguarding the stability of the country's financial system and prioritizing national interest.
In the past two weeks, doubt has emerged as to whether Kookmin would be made Bukopin's new majority shareholder. During this uncertainty, there was also rumor that a state bank would be given the order to rescue Bukopin. A video that turned viral in early June, of a bank customer who failed to withdraw funds, added to the clamor.
Clarity only emerged on June 11, when the OJK announced that Kookmin, a 21.99-percent shareholder, was prepared to become the bank's majority shareholder by taking over at least 51 percent of Bukopin's shares. But problems again appeared that same weekend. On Sunday night, June 14, OJK's confidential letter, dated June 10, was circulated. The letter said Kookmin had failed to meet the deadline for depositing funds into Bukopin's escrow account.
When Tempo met him at Menara Karya, South Jakarta, Erwin Aksa repeatedly broached the topic of OJK's difference in attitude only one day apart. "These OJK letters contradict each other. So are OJK's letters legal products?" said Erwin on June 18.
In a press conference, OJK Deputy Commissioner of Public Relations and Logistics, Anto Prabowo, stressed that the June 10 letter was not only directed to Kookmin, but also to other shareholders, to urge them to fulfill their commitment to meet Bukopin's liquidity and financing needs. If not, a shareholder would not be able to prevent new investors from improving the corporation. "In regard to the aforementioned letter, Kookmin Bank swiftly responded and deposited a capital of US$200 million," said Anto. "The OJK supports Kookmin as an investor that will become Bukopin's majority shareholder."
•••
AS of the morning of Thursday, June 11, Bosowa was still hoping it would receive help from the government to rescue Bukopin. This way, the liquidity issue would have been managed without diluting Bosowa.
Bosowa also had a list of other reasons why the government's assistance would have been important. Besides still owning some shares, the government keeps the funds of several governmental institutions, such as the State Assets Management Agency and the Endowment Fund for Education. According to Erwin Aksa, government funds kept at the bank reach Rp15 trillion.
Signs that the government would offer help grew stronger when Bukopin's management announced a partnership with Bank Negara Indonesia (BNI) in the form of treasury management technical guidance on June 7. Four days later, it was OJK's turn to ask Bank Rakyat Indonesia (BRI)—which holds the largest amount of government assets—to offer technical assistance to Bukopin. In its letter to BRI, the OJK said technical assistance was meant to address liquidity and operational issues. "Hopefully, with BRI's involvement, the market can be put to ease," said Erwin Aksa.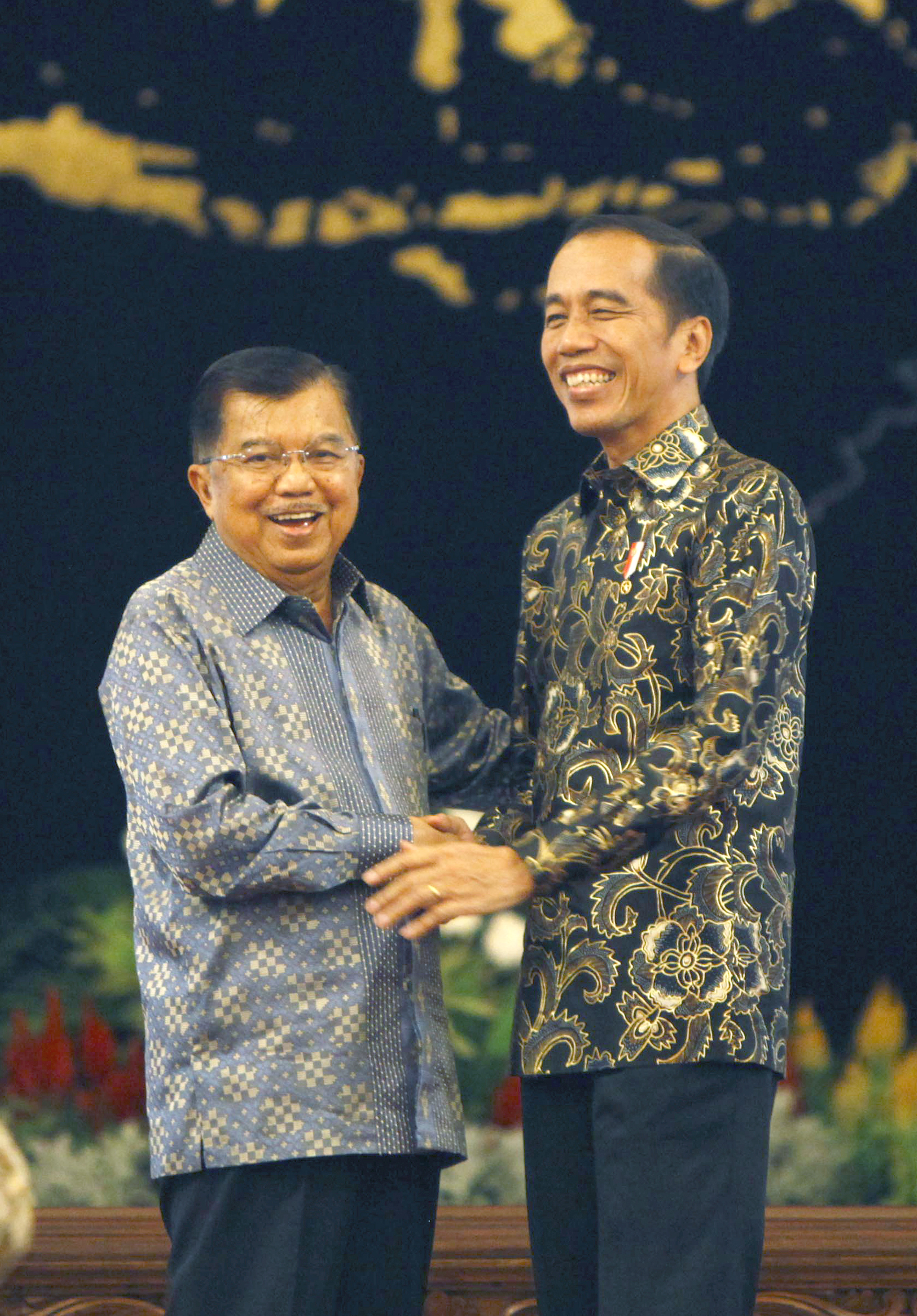 President Joko Widodo (right) and former vice president Jusuf Kalla at the farewell ceremony with the 2014-2019 Working Cabinet at the State Palace, Jakarta, October 2019./TEMPO/Subekti
When met separately, two Tempo sources who have a close relationship with Aksa Mahmud's family, say the Bosowa group indeed thought that the request made to BRI to provide technical assistance to Bukopin was an indication that their lobbying had yielded results. According to these sources, Jusuf Kalla had already stepped in by asking for the government's assistance. The request was communicated directly when he met with President Joko Widodo on June 3.
On that Wednesday, Kalla indeed visited the State Palace in his capacity as the chairperson of the Indonesian Red Cross (PMI) to discuss Covid-19 mitigation efforts. But during the meeting, said the two sources, Kalla spoke to Jokowi about the government rescuing Bukopin.
Kalla, said one of the two sources, merely started the communication. After that, it was Erwin's younger brother, Bosowa Corporindo Chief Executive Officer (CEO) Sadikin Aksa, who made the next move. "Sadikin already said that there would be no issue of Bosowa being diluted by Himbara (Association of State-Owned Banks)," he said. Meanwhile, the relegation of technical assistance from BNI to BRI, he continued, was caused by BNI President Commissioner Agus Martowardjojo's refusal.
Kalla's spokesperson, Hussain Abdullah, has not yet responded to Tempo's request for clarification since he was contacted on June 19. Meanwhile, Erwin denies that his uncle's visit on June 3 was meant to discuss Bukopin's bailout. "Pak JK—short for Jusuf Kalla—went in his capacity as PMI chairman. Pak JK has no business with Bukopin," said Erwin, who also denied the news that his brother was lobbying the government. "We have never begged."
But letter number SKL-119/SKL/CSA-BC/VI/2020, dated June 9, indicates that Bosowa has indeed asked for government assistance. The letter from Bosowa's management to the finance minister, which was forwarded to the OJK, state-owned enterprises (SOEs) minister, and Bukopin's board of commissioners, is summarized in the chronology of Bukopin's problems according to Bosowa, given by Erwin to Tempo.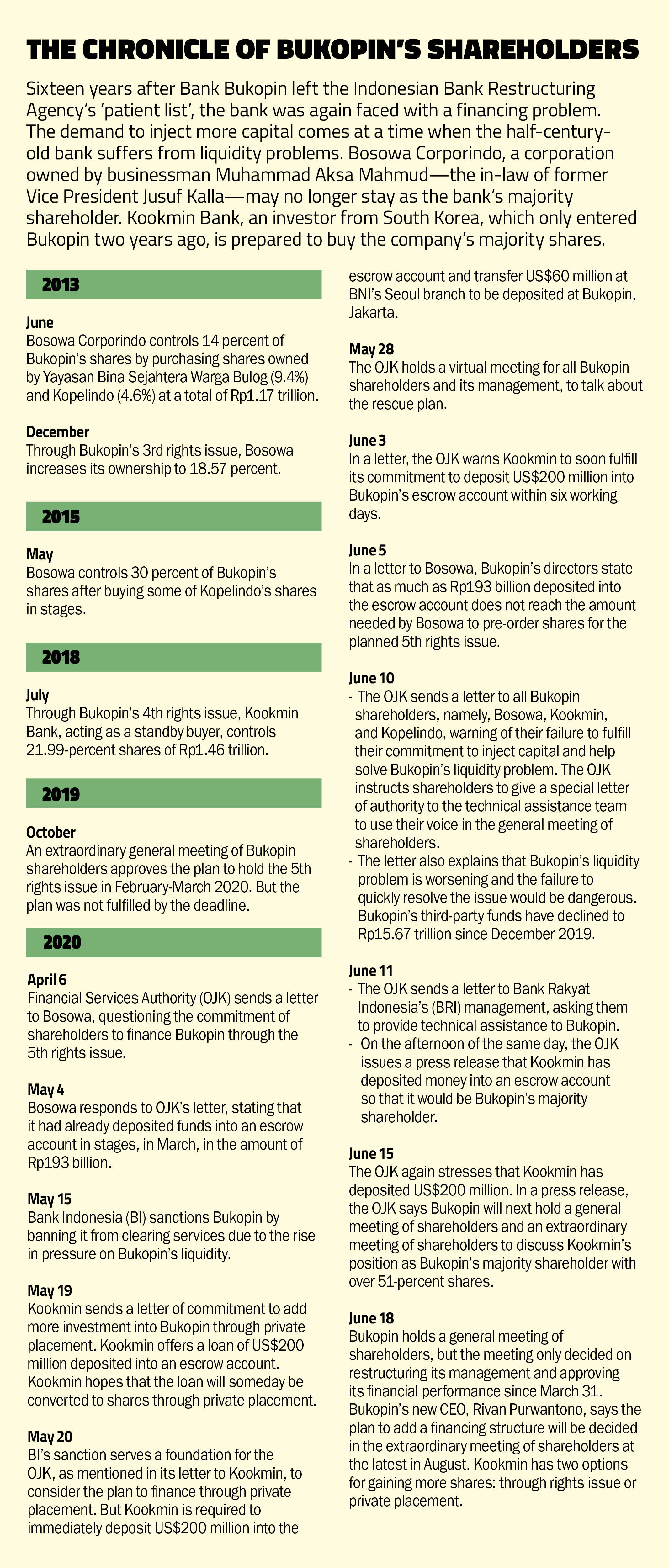 Essentially, the letter indicated Bosowa's pessimism that Kookmin would be able to help solve Bukopin's liquidity issues. They asked for the government to help Bukopin, which was having issues with large cash withdrawals by its customers.
Since they were contacted on June 19, Finance Minister Sri Mulyani and SOEs Minister Erick Thohir have not yet responded to our request for clarification regarding Bosowa's bailout request. But two finance ministry officials ensure that Sri Mulyani never prepared the option to bail out Bukopin using state funds.
As KSSK coordinator, said these officials, Sri encouraged KSSK members, including the OJK, to work according to their functions to resolve the Bukopin problem. "The finance ministry is only following developments in the SOEs ministry's attitudes in regard to corporations," they said.
Agus Martowardjojo confirmed information that the board of commissioners had asked for clarity regarding the news that BNI would become a buyer on standby in the Bukopin's rights issue plan. "We were simply clarifying media news," he said when contacted on June 19.
But the former Bank Indonesia governor and finance minister ensures that there has not yet been a forum among BNI directors-commissioners to discuss Bukopin's acquisition agreement. As far as Agus is aware, BNI will only provide a liquidity loan under a commercial model.
•••
BUKOPIN'S worsening financial state forced the OJK to urge shareholders to immediately give their commitment to deposit capital through the 5th rights issue. The plan to issue new shares, to first be offered to old shareholders, was put on delay since the plan was announced in an extraordinary general meeting of shareholders in October 2019.
Additional capital is needed because Kookmin's entrance through the 4th rights issue in July 2018, by injecting capital of Rp1.46 trillion, or equal to 21.9 percent shares, could not resolve Bukopin's chronic illness. Recently, Bukopin's liquidity became even more worrying. The OJK, in its letter to shareholders, mentioned that customer withdrawals throughout this year had reached Rp15.67 trillion as of June.
Customers' trust declined further in early 2020. Just when the Covid-19 pandemic hit, the Supreme Audit Agency (BPK) released an audit report on the supervision of public banks by the OJK in 2017-2019. The audit, which was completed at the end of 2019, recorded OJK's poor supervision of Bukopin's issues.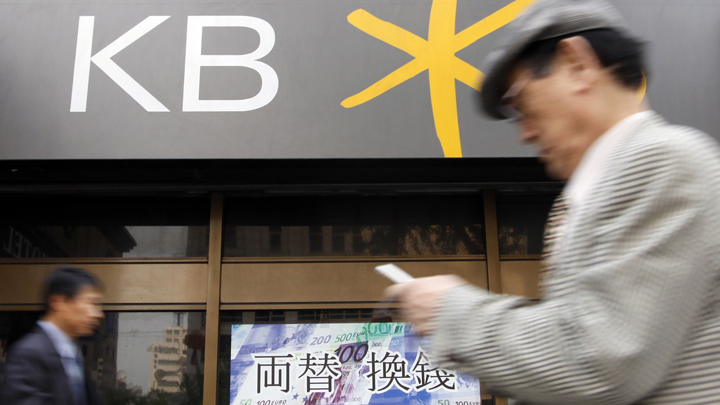 A Kookmin Bank branch office in Seoul, South Korea./ REUTERS/Lee Jae-Won
Bukopin's chronic issues, among others, have to do with Amanah Finance's bad debt per December 2017. The BPK referred to the sharia financing company as PT AF, using its initials. Amanah Finance is part of the Kalla Group, which is affiliated to Bosowa. In 2016, Amanah stopped operating and has since only attempted to collect from its customers, causing its financial performance to decline.
As of October 2018, Amanah Finance's debt at Bukopin was in the amount of Rp1.171 trillion. But according to a report by Bukopin's management, Amanah's payments were going smoothly. The loan's status was later revised concurrently with a revision of Bukopin's 2015-2017 financial report. The revision was also triggered by discovered markups in credit card earnings.
Not many are aware that the revised financial report also changed Amanah Finance's debt from a smooth to uncertain status. Because of these two issues, Bukopin has became a bank under intensive supervision since May 28, 2018.
The findings became the topic of complaint among capital market players who had been observing for a long time that BBKP's (Bukopin's ticker symbol) loans were held back by the Bosowa and Kalla groups. As of late December 2019, loans channeled by Bukopin to shareholding parties, including Bosowa and Kalla groups, reached Rp433 billion, with the largest portion of loan given to Haka Sarana Investama (Kalla Group) at Rp149.5 billion, followed by Bosowa Berlian Motor at Rp32 billion.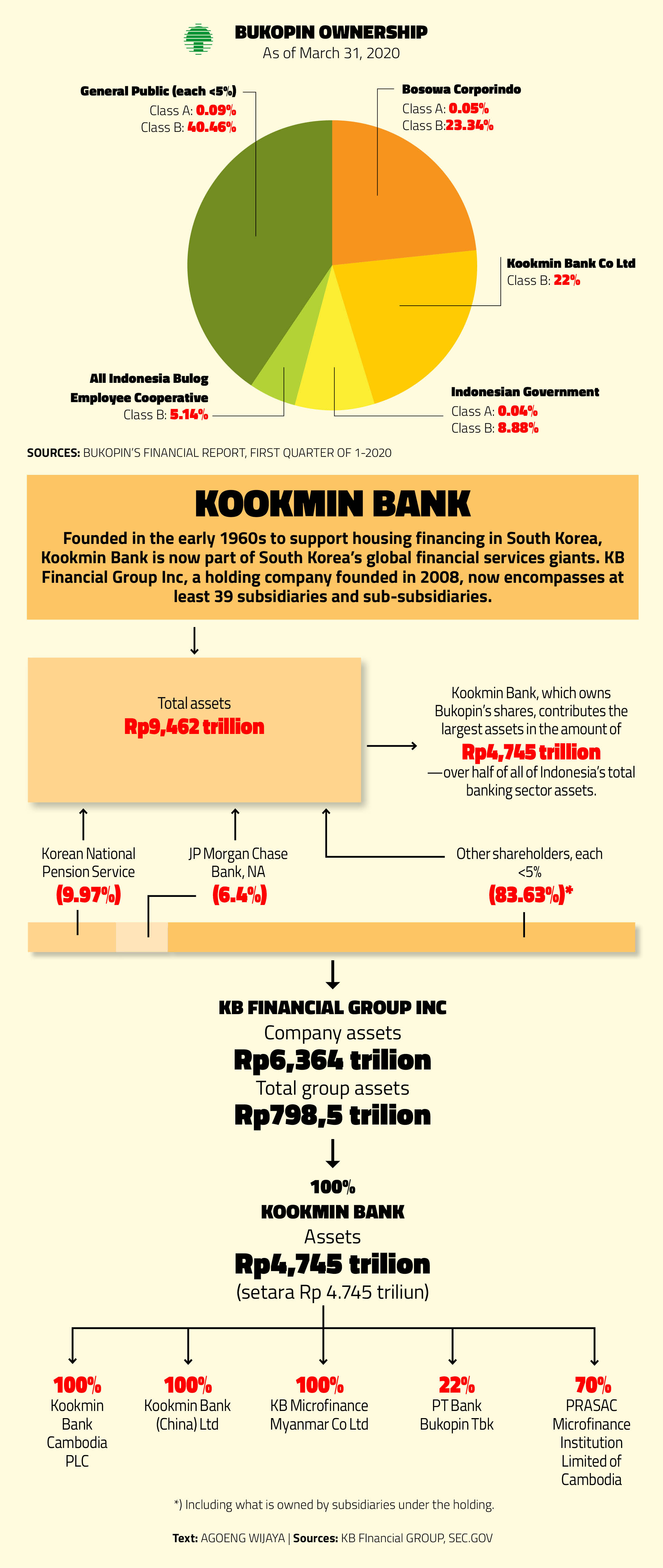 Erwin Aksa stresses that the loans given by Bukopin to Bosowa-Kalla were commercial and did not surpass the maximum limit of loans given to related parties. "No Bukopin shareholders are stealing like (in the case of Bank) Century," he said.
Subhan Aksa, Erwin's younger brother and Bukopin commissioner, stresses that Amanah's payments started going smoothly after a restructuring around one and a half years ago. "The payment is Rp11-12 billion per month. Most of it is interest," he said on June 18. But, according to the OJK, in the agency's note on BPK's audit, when the intensive monitoring status was extended for one year on May 28, 2019, Bukopin could not clarify how Amanah Finance's debt would be resolved.
•••
WHEN the OJK approved Kookmin's entrance into Bukopin in 2018, the South Korean bank promised that they would take over Bosowa's majority share. But the process has been delayed because an agreement could not be reached regarding the price of new shares to be issued in the limited 5th rights issue.
BPK's finding, still under the same audit report, was that the OJK had given three warnings to Bukopin's management between November 5 and December 20, 2019. According to the last warning, Bukopin would be given a sanction if it does not submit more capital, in line with OJK's regulation on public bank monitoring.
As of May 4, Bosowa had only submitted Rp193 billion to show its commitment to add more capital in the 5th rights issue. Meanwhile, Kookmin had not submitted its commitment fee. Before the funds were collected to follow up on the 5th rights issue, the coronavirus pandemic and bank run had already altered Bukopin's needs.
Virtual meetings were held between the OJK and the shareholders. The discussions were recorded in a number of OJK's confidential letters in the past month.
On May 13, for example, Kookmin promised a commitment to add significant capital. The promise to place US$200 million—or Rp2.8 trillion—in an escrow account was again relayed six days later. But the commitment came under a new model, namely financing not through rights issue, but through private placement for the plan to control majority shares of at least 51 percent.
The commitment to place capital was later fulfilled by Kookmin on June 11. In a letter to the OJK, Kookmin informed the approval of the bank's top management to inject US$200 million in capital into Bukopin. Kookmin meant for the money, which would let them own 67-percent shares—depending on Bukopin share's valuation—to be submitted one day later.
It was based on this most recent commitment that the OJK finally decided that Kookmin would be able to finance Bukopin. On June 16, two days before Bukopin's annual shareholders meeting, OJK Banking Supervisory Division Chief, Heru Kristayana, issued a letter withdrawing its instruction to Kookmin, dated June 10.
When he was contacted on June 16, Heru was reluctant to explain Kookmin's entrance into Bukopin. But OJK Deputy Commissioner of Public Relations and Logistics, Anto Prabowo, stressed that the OJK would be considering potential investors based on their capability, competence and ability. "The hope is that (investors) will be able to make Bukopin, the banking sector and the economy more stable and see growth," he said on June 18.
Rivan Achmad Purwantono, Bukopin's CEO, who was only appointed in a general meeting of shareholders on June 18, says financing must be decided in an extraordinary general meeting of shareholders, which is predicted to be held only in August. Throughout next week, he says, the management will be preparing the meeting's agenda while studying the best financing scheme. "Kookmin Bank says it will take over all rights, even over 51 percent," he said.
KHAIRUL ANAM, AISHA SHAIDRA