Bukopin's Predicament
Bukopin's liquidity shortage accompanies the commotion around the plan to inject the bank with more capital. The financial system's stability may be under threat.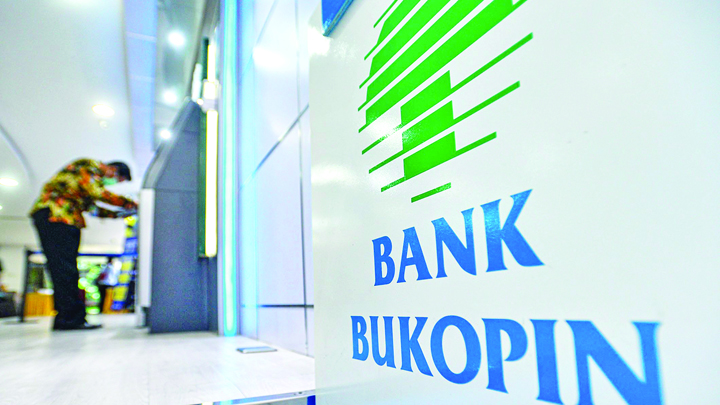 HELIODORUS, 56 years old, and his wife were forced to return home empty-handed. On Friday, June 19, the couple, who own a construction supplies store, went to a Bank Bukopin branch in Kelapa Gading, North Jakarta, hoping to return with Rp70 million. One of the store's suppliers had just transferred the money to the couple's account.
But Heliodorus's hope to withdraw the money fell flat. Bukopin could not tend to withdrawals that day. The teller's excuse, that transfers between accounts would take days, confused the couple. "The excuse was that there was a very long queue for transactions," Heliodorus told Tempo on June 19.
What made them even more restless was that the bank's employee said there was a possibility that they would not be able to withdraw 100 percent of the money. The policy, Heliodorus said, quoting the teller, was not applied uniformly at all Bukopin branches. Some branch offices limited withdrawals to a maximum of Rp5 million per day, while others were able to dispend Rp25 million.
The couple planned to return to the bank early this week, carrying the same hope: to withdraw all of the money. "There are people who have to be paid," Heliodorus said.
In Sidoarjo, Central Java, a Bukopin customer who wishes to remain anonymous experienced the same issue. The 31-year-old man went to a local bank office to withdraw his deposit of tens of billions of rupiah on June 8. But the bank could not give the money.
The man then contacted Bukopin's central office to complain. There he received information that for the meantime each customer can only withdraw a maximum of Rp50 million per day. "Meaning, it would take more than one year to get all of my money," he said on June 17.
He said later on the bank promised to give him all of his money at the latest on Monday, June 22, or this weekend. "I consider it their goodwill although, in fact, I have the right to receive my money in full."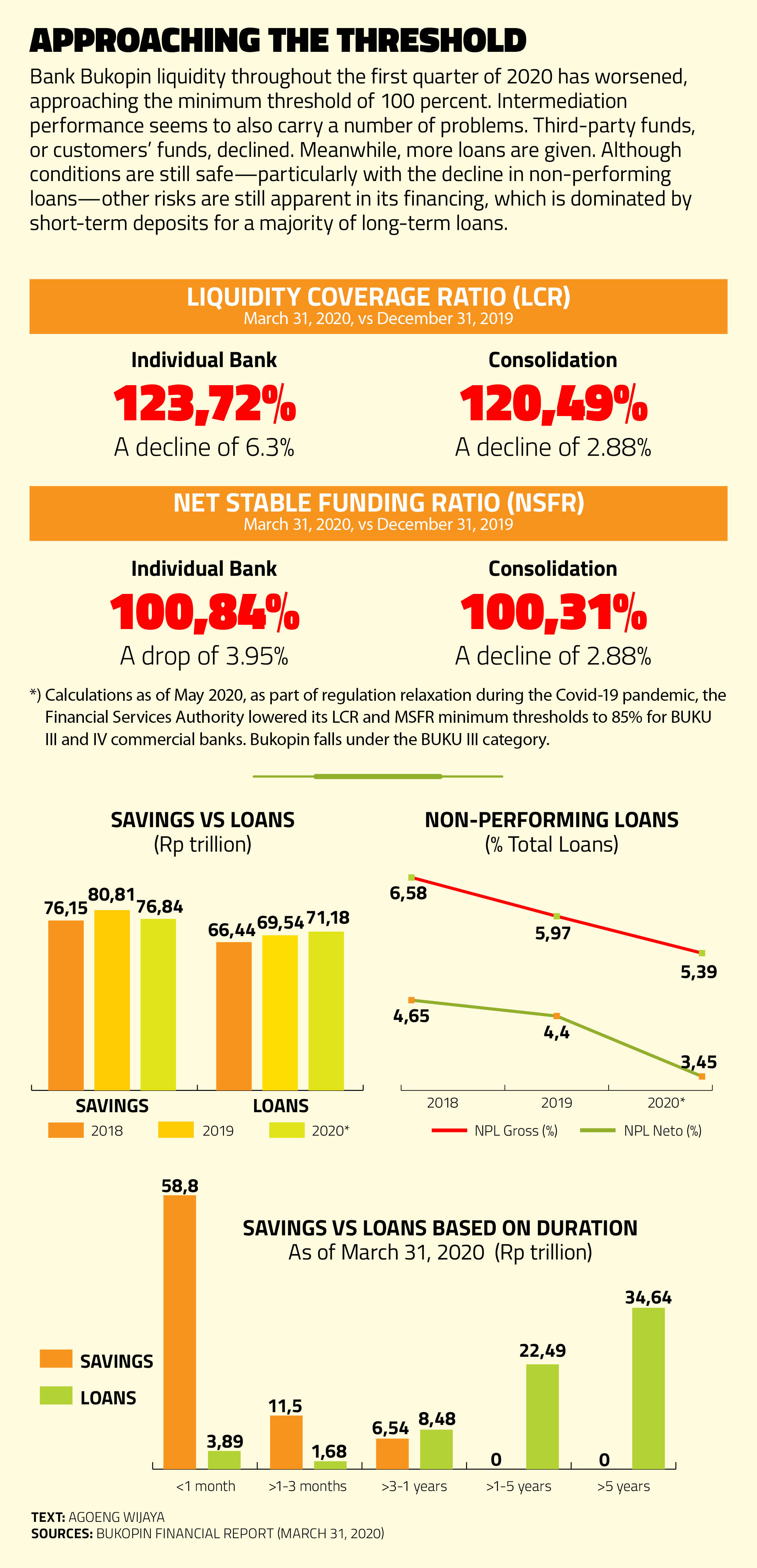 News that Bukopin was low in funds came into circulation in early June, when a video of a customer who had trouble withdrawing funds at a Bukopin branch office turned viral on social media. Almost at the same time, a photo circulated, containing an announcement that beginning June 2 customers wishing to withdraw funds above Rp10 million must confirm two days ahead of time.
Bank Bukopin Corporate Secretary, Meliawati, in her letter to the Indonesian Stock Exchange (BEI), denies that the company had such a policy as seen on social media. As published on BEI's website on June 8, Bukopin explained that, "Every announcement by the company is already made on the company's website," as part of the bank's effort to have information transparency. According to the same page, Meliawati said Bukopin was in the process of adding more capital through a 5th rights issue using a registration document that is now still in the final stage of evaluation by the Financial Services Authority (OJK).
The plan to add capital is now a hot topic due to the plan by Kookmin Bank—a 22-percent shareholder of Bukopin—to increase its shares to 51 percent. Should the plan be realized, the position of Bosowa Corporindo, which has had majority ownership of Bukopin at 23.39 percent shares for the last six years, would be replaced.
But during the uncertainty surrounding the capital injection scheme to be chosen, Bukopin's poor liquidity has instead become more apparent. A number of letters between the OJK and Bukopin's shareholders record this fact.
In a letter dated May 20 to Kookmin Bank, for example, the OJK said BBKP's (Bukopin's ticker symbol) finances were under serious pressures. Bukopin, according to the letter signed by OJK Banking Supervisory Division Chief, Heru Kristiyana, had also been sanctioned by Bank Indonesia on May 15 and banned from clearing services.
In a letter dated June 10, the OJK told Bukopin's shareholders that the company's liquidity was worsening. Third-party funds had declined to Rp15.67 trillion since December 2019. "If the liquidity problem is not immediately resolved, the financial system's stability would be in danger."
Massive withdrawals by customers are also troubling Erwin Aksa, Bosowa Corporindo's president commissioner. As a shareholder, he claims that he is attempting to convince some of his business partners—who are Bukopin's customers—not to leave. At the same time, he is inviting his other partners to put in money. "Some are joining, but it doesn't equal the funds leaving," Erwin told Tempo on June 18.
According to Erwin, Bukopin's management has also taken various steps to improve the bank's liquidity, including by letting go of blue chip assets with grade A quality. "Released, sold, pawned. All is normal, nothing extraordinary, just business-to-business," he said.
Erwin believes that Covid-19 has impacted all banks and not only Bukopin. Rush withdrawals by Bukopin's customers may be dangerous. "Who can withstand a rush for two-three months? Even BCA (Bank Central Asia), would it stay alive during such a rush? They would also falter," he said. "Bank is a business of trust, after all."
Bukopin's worsening liquidity was, in fact, also recorded in the company's financial report of the first quarter of 2020, which was released at the end of April. During the first three months of this year, Bukopin's third-party funds were eroded in the amount of Rp4 trillion. Two banking indicators, namely, liquidity coverage ratio (LCR) and net stable funding ratio (NSFR), plummeted to approach the minimum threshold of 100 percent.
The LCR describes a bank's capability for liquidity in the short term. Meanwhile, the NSFR describes long-term liquidity by calculating the risk of declining assets. Later on, as part of the stimulus for mitigating Covid-19 impacts, the OJK lowered the LCR and NSFR thresholds to 85 percent for BUKU III and IV commercial banks. Bukopin falls under the BUKU III category, which includes banks with a core capital of Rp5-30 trillion.
Bank Indonesia Communications Executive Director, Onny Widjanarko, was not able to comment on the information that Bukopin was banned from clearing on May 15. "Let me check and re-check," said Onny on June 20.
OJK Deputy Commissioner of Public Relations and Logistics, Anto Prabowo, was also reluctant to respond to questions about OJK's various letters to Bukopin. "That's the domain of the OJK and the bank," he said on June 20.
Anto warns that banks are currently very vulnerable. When a video of Bukopin's customer having trouble withdrawing money became widely circulated, people panicked.
According to him, what is important is that the new management, elected in the annual general shareholders meeting on June 18, will work hard with the support in capital and by investors. "(If) the liquidity is maintained, then their obligations can be paid smoothly," he said. "Operations are still with Bukopin. We're still monitoring."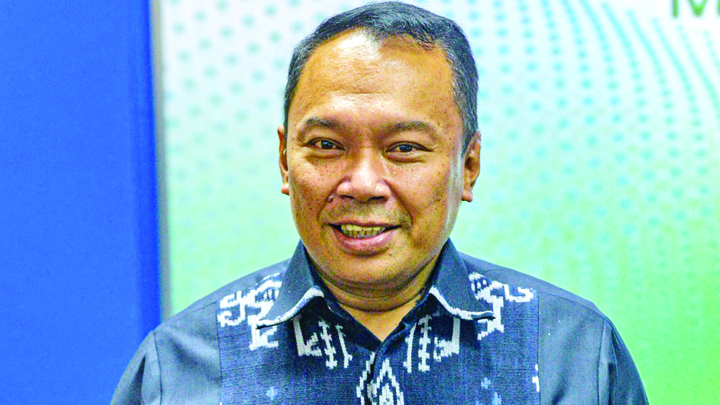 Bank Bukopin CEO, Rivan Achmad Purwantono./ Tempo/Tony Hartawan
The shareholders' meeting appointed Rivan Achmad Purwantono as Bukopin's new chief executive officer (CEO). When we met him after the meeting, the 54-year-old man was not yet willing to talk about strategies for facing Bukopin's problems. Rivan only recently returned to Bukopin after he left his last position as commercial director on May 8. In the past month, he was Kereta Api Indonesia's finance director.
Rivan hopes that customers will no longer be worried about Bukopin's liquidity and solvency. "Performance is starting to improve, negative reports are starting to decline," said Rivan, who claims to be part of the mediation team with the Association of State-Owned Banks before he was appointed to lead Bukopin.
He stresses that Kookmin Bank's commitment to inject US$200 million—or Rp2.8 trillion—is proof that Bukopin no longer has capital issues. "If Kookmin joins, (there's) no capital issue. Plus, Bukopin's CAR (capital adequacy ratio) at the time is almost 13 percent, or 12.6 percent to be precise," he said.
Nevertheless, a capital injection from the South Korean finance giant is only estimated to happen in August.
AISHA SHAIDRA, AGOENG WIJAYA