Not Ready for Risk-Taking
The government will soon determine participating banks for channeling funds to support banking liquidity. But the plan may be an ineffective and ineffecient way to restore the economy.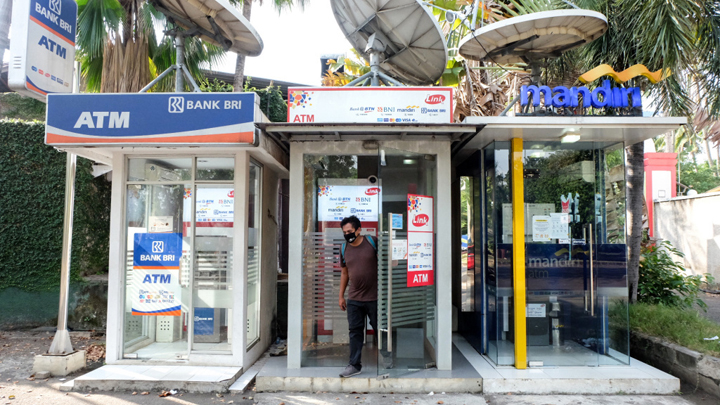 THE technical regulation for channeling government funds into the banking sector is already two weeks old, but as of Friday, June 19, not one bank has been appointed to manage the funds allocated from the 2020 state budget. "Still in the process," Andin Hadiyanto told Tempo on June 19.
As Finance Ministry's Director-General of Treasury, Andin is the finance minister's representative as state treasurer, who has the authority to implement the program for placing government funds in the banking sector. This new scheme is meant to support the liquidity of banks that are restructuring loans and/or giving away more loans for businesses, particularly to micro, small and medium enterprises impacted by the Covid-19 pandemic.
The program is based on the Finance Minister Regulation No. 64/PMK.05/2020, issued on June 5, regarding the placement of funds in participating banks for national economy recovery. In a nutshell, the government will deposit funds of Rp87.59 in total in a number of participating banks. The participating banks then will lend the funds to implementing banks in order to prevent their liquidity from tumbling down as they are forced to restructure credits during the time of Covid-19 pandemic. Because of their position as a bridge between government assistance and banks with liquidity issues, these participating banks are often referred to as 'anchor' banks.
Andin explained that participating banks are determined based on information from the Financial Services Authority (OJK). Besides having to have good performance, anchor banks must be a legal Indonesian entity, must operate in Indonesia, and the majority of their shares must be controlled by Indonesians. They must also be on the list of 15 banks with the largest assets in the country.
So far, of these 15 banks, only five are owned by the government or private Indonesian entities. Four of these are state-owned, namely, Bank Rakyat Indonesia (BRI), Bank Mandiri, Bank Negara Indonesia (BNI), and Bank Tabungan Negara (BTN). Meanwhile, Bank Central Asia is run by the Hartono family, owner of the Djarum Group.
(L-R) OJK Board of Commissioners Chairman Wimboh Santoso, Finance Minister Sri Mulyani Indrawati, Bank Indonesia Governor Perry Warjiyo, and Deposit Insurance Corporation Board of Commissioners Chairman Halim Alamsyah at the finance ministry, Jakarta, January 2019./ TEMPO/Tony Hartawan
A number of requirements must also be met by implementing banks. They must obviously be doing well. But to receive the funds from anchor banks, implementing banks must have already performed loan restructuring or expanded their business loans. Those with government securities (SBN) or other types of securities at over 6 percent of total third-party assets are not entitled to this facility.
Finance Minister Regulation No. 64/2020 also regulates the mechanism that requires implementing banks to submit a proposal to a participating bank, which describes the restructuring already performed, liquidity conditions, funds needed, loan period, as well as interest. The funds must eventually be returned by an implementing bank to the participating bank with interest. Likewise, anchor banks must return the government funds plus interest in at the latest six months, with an option to extend.
BCA's management says the bank has been invited by the OJK to discuss the participating bank model some time ago. But according to BCA Executive Vice President Secretariat and Corporate Communication, Hera F. Haryn, as of today the government has not issued a letter appointing BCA as an anchor bank. "As part of the financial system, we will support the government's efforts in the program to restore the country's economy," she said.
Bank Mandiri has also stated its readiness. But, like BCA, Mandiri must remain patient as a participating bank must first be appointed by the finance ministry, before the management is given an offer. "There is no mechanism to propose (to become an anchor bank)," said Bank Mandiri Director of Risk Management and Compliance, Ahmad Siddik Badruddin.
He ensures that his company already implements a comprehensive strategy to manage liquidity optimally. "At this moment, our bank's liquidity is very good, no issue whatsoever."
•••
THE coronavirus pandemic nearly paralyzed the economy, with various business sectors taking a hit since the government implemented the large-scale social restrictions. Micro, small and medium enterprises (MSMEs) are among those most impacted. The government, Bank Indonesia, OJK, and the Deposit Insurance Corporation (LPS) agreed to issue a number of policies to prevent the economy from tumbling further down.
These policies include relaxation for restructuring loans and adding more business capitals. According to OJK's notes, as of May 26, banks had restructured MSME loans at a value of Rp250.6 trillion. This figure is slighty below the restructuring value for non-MSMEs, which reaches Rp266.6 trillion. Meanwhile, financing entities are restructuring their loans in the amount of Rp80.5 trillion.
The amount of loan or financing restructured poses another risk for banks, which is the tightening of liquidity. This is an area that the government wishes to support through its placement of funds.
LPS Coard of Commissioners Chairman, Halim Alamsyah, says non-performing loans is one of the three major risks faced by banks during the Covid-19 pandemic. The two others are market risk and liquidity risk. "This forces banks to prepare a reserve, which on the one hand will burden their balance as it would lower profitability and disrupt loans," said Halim.
As of April, banks' capital adequacy ratio (CAR) was at 22.1 percent, which was lower than at the start of the year of 22.8 percent. Even so, Halim ensures that the condition of the banking sector as a whole is still good, as demonstrated by various financial indicators. "So, if we're asked if there are banks that have failed as of today, we stress that there haven't been any (failed bank)," he said.
But the funds allocation proposed by the government is seen as carrying high risk for participating banks. Institute for Development of Economics and Finance (Indef) Senior Economist, Aviliani, says the government, which allocates funds through the state budget, would not be at risk at all. The reason being, as soon as a participating bank fails to pay, the LPS will be the one to bear the burden.
Meanwhile, participating banks must also have a business-to-business partnership with implementing banks. They must also return the government funds even though the implementing banks fail to pay. This high risk can potentially cause anchor banks to have preferences regarding which banks they wish to assist. "The problem is, they will choose because they know the risks. It may end up being the case that some banks will not get the liquidity (assistance)," said Aviliani.
Aviliani also believes that the anchor bank scheme is too strict. Although the scheme is important for mitigating risk, she is concerned that the distribution of funds all the way to implementing banks—which indeed are in need of funds—will take time.
Indef Executive Director Tauhid Ahmad cautions that there are three things that are crucial for preventing issues in the future. First, transparency and accountability must be upheld in the anchor bank scheme to prevent moral hazard. Secondly, an independent team is needed to supervise the program's implementation. "This is an ad hoc program, the mandate is wide, the funds managed is large. The government and the OJK are already busy with their routine jobs," he said.
Lastly, said Tauhid, there is the consequence of higher cost because anchor banks need margin. Conditions would be different if the distribution is performed directly by the government. Even so, he believes that a business-to-business scheme would allow the program to be managed more carefully.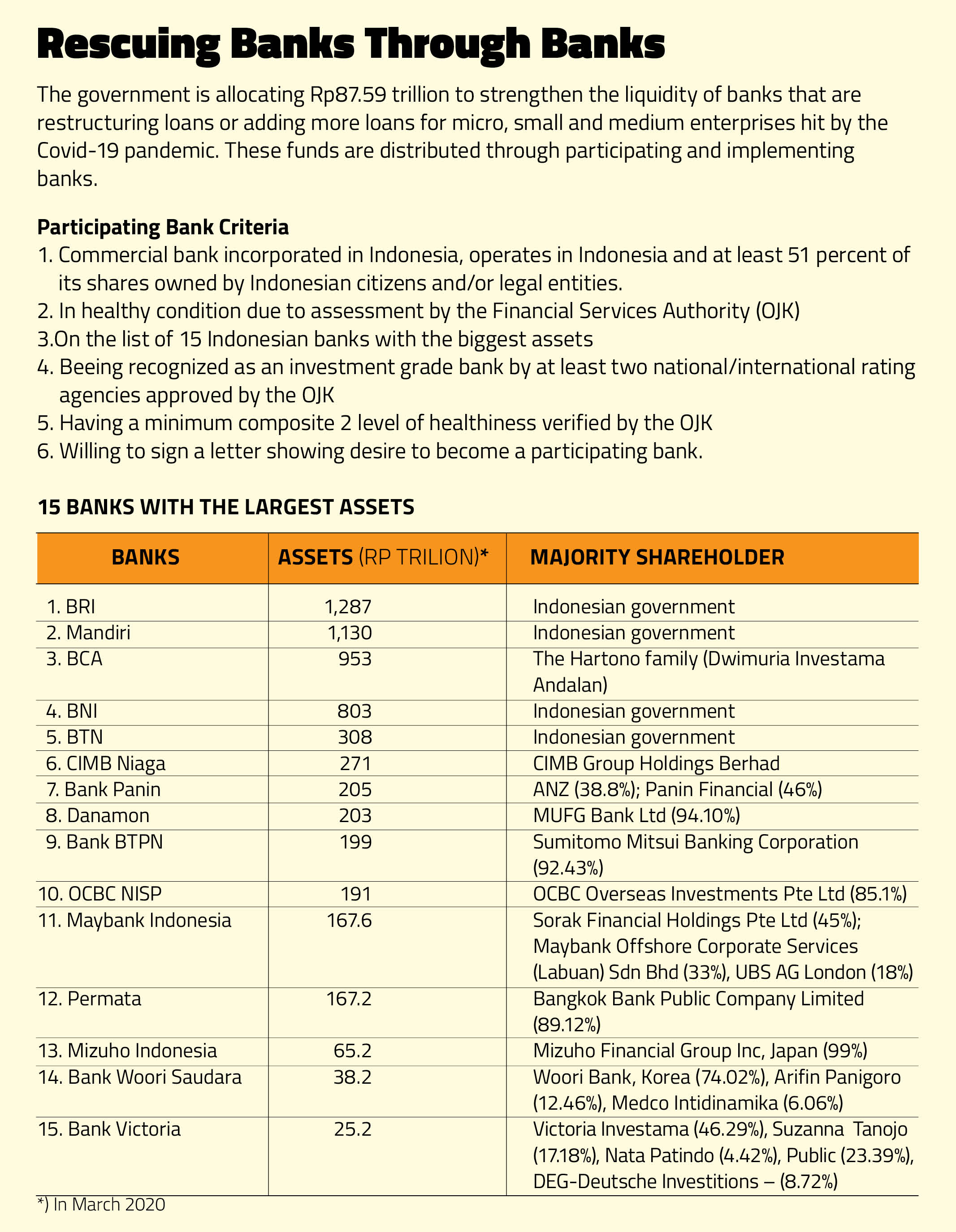 OJK Deputy Commissioner of Public Relations and Logistics, Anto Prabowo, believes that the funds placement program is more needed by microcredit banks (BPR) and financing entities, because neither is required to own government securities like commercial banks. The commercial banks can use securities in their possesion for getting cash through central bank repos in oder to support their lack of liquidity.
Anto explained that at first there was an idea to place government funds using a channeling scheme, or direct distribution through BPR and financing entities which cater to MSMEs. But during discussions, the OJK said this system's weakness is that the risk would be born by the one giving loans, i.e. the government. "This is more burdensome. The government was unwilling."
He added that the government had asked if the OJK would be able to help verify debtors. According to Anto, this would be difficult because, in line with regulations, the OJK does not audit debtors. "As a regulator, the OJK evaluates the quality of banks."
This is why the funds placement method was chosen. According to this concept, the risk would be born by participating banks, not the one that owns the funds. Meaning, participating banks must seriously analyze candidate implementing banks or BPR and financing entities that request funds.
OJK Board of Commissioners Chairman, Wimboh Santoso, hopes that no banks will need liquidity support funds. Nevertheless, he admits that during the coronavirus pandemic there is potential for debtors to default on payment and liquidity risks. "Hopefully no bank will need the funds," said Wimboh on June 13.
RETNO SULISTYOWATI, GHOIDA RAHMAH, AISHA SHAIDRA