Relying on the Stock Exchange
The reorganization of Pertamina is being accompanied by a plan to make IPOs. There are other intentions at play aside from the transparency and accountability of state-owned companies.
Edition : Monday, June 29, 2020
A black banner hangs on a wall of the housing complex of Pertamina's Refinery Unit IV in Lomanis, Cilacap, Central Java. It bears a message from the Patra Wijaya Kusuma Pertamina Labor Union (SPPPWK): "This refinery is 100 percent owned by the people of Indonesia. It is not for sale!!!" Inside, on Friday, June 19, hundreds of workers sat in rows in front of the Patra Graha Building, protesting the reorganization of the company, which they consider to be nothing more than the privatization of Pertamina. "The planned privatization of subholding companies through initial public offerings (IPOs) will endanger national energy sovereignty," said SPPPWK Secretary-General Dwi Jatmoko.
A similar wave of protest has been voiced by 18 labor unions in other business units which belong to the United Federation of Pertamina Labor Unions. A day before the workers in Cilacap demonstrated, the Putri Tujuh Oil Refinery Labor Union (SPKMPT) at Pertamina Refinery Unit II in Dumai, Riau, held a press conference to respond the plan on IPOs for Pertamina subholding companies. "We strongly reject efforts to privatize subholding companies through IPOs," said SPKMPT Chairman Riduan on June 18.
The criticisms are the same. The of state-owned enterprises (SOEs) ministry is being hasty in dismantling the business structure of Pertamina, a company which is having problems. The company is indeed under pressure. The drop in the world price of crude oil and the decrease in the rupiah's exchange rate has reduced production and sales are lethargic. The Covid-19 pandemic has exacerbated the situation. Pertamina management, in a presentation made in April, estimated the worst scenario would be company profits falling 51 percent short of the target of US$2.2 billion established in the 2020 Company Work Plan and Budget.
The plant to put Pertamina subholding companies on the stock exchange was conveyed by SOEs Minister Erick Thohir after a Pertamina general shareholders meeting (RUPS) was held at the office of the SOEs ministry on June 12. At that meeting, the government streamlined Pertamina, which would act as a holding company and oversee five subholding companies and one shipping company.
Erick set a target for Pertamina Chief Executive Officer (CEO) Nicke Widyawati to bring one or two subholding companies to the stock market through IPOs in the coming year or two. "So that there is transparency and accountability," said Erick.
W251bGwsIjIwMjEtMDQtMjEgMTQ6NDc6NTUiXQ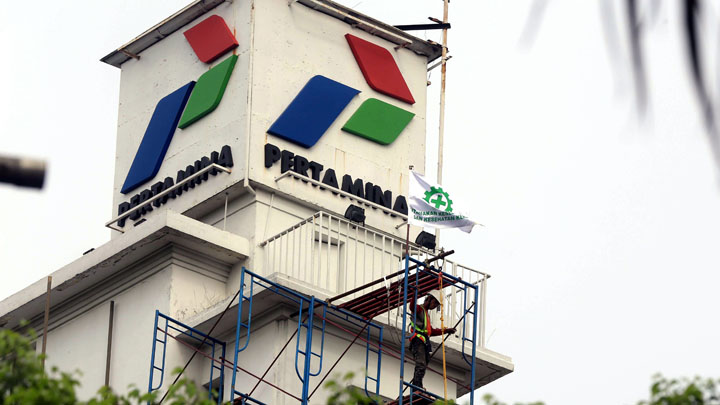 A worker at Pertamina's central office, Jakarta, March 2017./ TEMPO/Amston Probel
This idea was also questioned by Commission VI of the House of Representatives (DPR) in a meeting with Pertamina directors on June 22. The meeting that afternoon was an open one, following a close session in the morning between Commission VI, which is in charge of SOEs and other matters, with Minister Erick. "Do you agree with this privatization?" asked Mufti Anam, a member of Commission VI from the Indonesian Democratic Party of Struggle (PDI-P) Faction, to Nicke Widyawati.
Nicke replied that the target of Minister Erick to go public in the next two years is not privatization of Pertamina. "It is only IPOs from Pertamina subsidiaries," she said.
The subsidiaries she was referring to were five subholding companies and one shipping company which are now the extensions of Pertamina's core business operations. Of those five subholding companies, only one is registered on the Indonesian Stock Exchange, namely Perusahaan Gas Negara (PGN). PGAS—PGN's IDX code—which became a subholding company after the government diverted state stock to Pertamina in early 2018. Since the end of that year, PGN has controlled the gas subholding business after acquiring Pertamina Gas, another Pertamina subsidiary in the same sector.
There are four other subholding companies which are still private companies, namely Pertamina Hulu Energi, Kilang Pertamina Internasional, Pertamina Patra Niaga, and Pertamina Power Indonesia. This is also the case for Pertamina International Shipping, which runs a shipping company.
Those five companies used to be subsidiaries which also had many second and third-tier Pertamina subsidiaries under them. Even so, to date they have been running their business activities under the control of Pertamina directors at the head office. With this new nomenclature, these subsidiaries have been 'promoted' to subholding companies which are led by a CEO who can directly control the core business in their respective sectors, without being controlled by the directors of Pertamina as the holding company.
When announcing these changes, Erick said that this was not purely a policy which came from the stockholders. This policy has gone through deliberations with the boards of commissioners and directors. "In fact, we hired an independent team to look into how to make this a significant change," he said.
A high-ranking Pertamina official explained that this independent team Minister Erick referred to was the global consulting firm PricewaterhouseCoopers. The reorganization plan had been worked on for a long time, starting back during the term of SOEs minister Rini Soemarno. "This idea is from the Minister," said the official. The intent, the official added, is to reduce the potential for financial malfeasance within SOEs.
Seen from another angle, there is another need which is no less important in pushing subholding companies onto the stock market: ease in raising funds and accessing investment cooperation. The megaproject to expand four existing refineries and build two new ones, which will require an estimated investment of Rp910 trillion, is a perfect example of this.
Shortly before Pertamina's general shareholders meeting, some bad news came up. Saudi Aramco, a prospective investor which has long been touted to work on developing the refinery in Cilacap, West Java, said that it was withdrawing from planned cooperation worth US$5.8 billion or about Rp81 trillion. In a virtual press conference on June 12, Minister Erick said that if they cannot find a new partner, Pertamina can build a refinery on their own. "We don't want to have this cooperation go on for years but not make any progress. We don't want this to become a lost opportunity, while the supply chain is very important," he said.
That Pertamina official said that an IPO can become a solution for prospective investors to make their money back faster. Without an IPO strategy, they said, it is estimated that it will take more than 10 years of operation for an investment in a new refinery to reach the break-even point. "When we invited investors and they invest a large amount, if they are not given an exit strategy, how could they possibly be interested?" said that official. "It won't be interesting for investors."
According to that official, there is no need to worry that an IPO will reduce Pertamina ownership in subsidiaries. "In any case, later there can be a rights issue if Pertamina wants to do a buyback," they said.
Fajar Harry Sampurno, a former deputy for mining business, strategic industries, and media at the SOEs ministry, verified the news that IPOs were not yet on the agenda when the ministry first came up with the plan for holding and subholding companies at Pertamina during the term of minister Rini Soemarno. "In principle, the holding company cannot be offered to the public. Subsidiary companies can," said Fajar, who is currently CEO of Barata Indonesia.
Kurtubi, a politician from the National Democrat (NasDem) Party who previously worked a long time at Pertamina, considers that the core business of this oil company should not be controlled by subholding companies. "And if the direction they are going in is privatization, then it is wrong," he said.
He hopes that the government will look into the management practices at Petronas, Malaysian oil and gas company. To date, Petronas has released some subholding companies to the Malaysian stock exchange, such as KLCC Property Holdings Berhad for property business, Petronas Dagangan Berhad for marketing, and Petronas Chemicals Group Berhad in the petrochemical industry. However, Petronas kept the bosses of those subholding companies in the position of core operational director, with the status of an executive vice president or chief executive at the holding company.
KHAIRUL ANAM, RETNO SULISTYOWATI, CAESAR AKBAR