Rappler CEO Maria Ressa: Journalists Can't Work, If They Are Afraid
Since Philippine President Rodrigo Roa Duterte came to power four years ago, Maria Ressa's life has never been the same. Harassment and persecution—from cyber attacks to arrest warrants—keep coming in turn.
Edition : Monday, June 29, 2020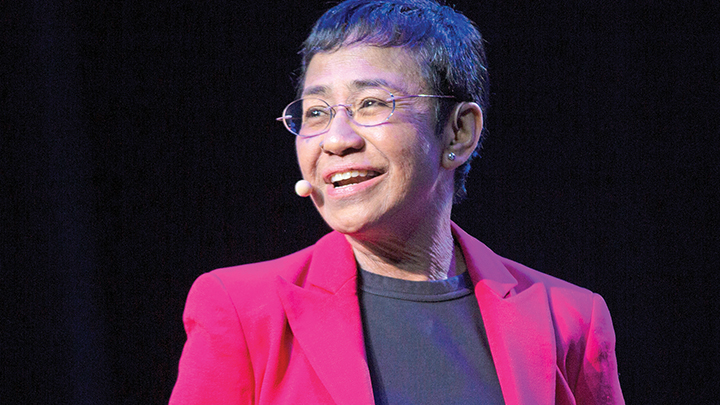 ON Monday, June 15, the Manila state court found Ressa, and Raynaldo Santos Jr., former Rappler writer, guilty in a libel suit filed by businessman Wildfredo Keng. Judge Rainelda Estacio-Montesa sentenced both to maximum six years behind bars. The panel of judges even charged Ressa and Santos with violation of the cyber law that was enacted fourmonths after the report was published. "This case is just one of eight lawsuits I'm facing," Ressa, 56, said in the special interview with Tempo via a video call last Monday, June 22.
International journalist organizations see the case which stemmed from Santos' report in Rappler in May 2012 as politically motivated. They also view the guilty verdict against Ressa as an attempt to muffle the critical voice of the press-particularly Ressa and her news website which have been highly critical of Duterte's 'war on drugs' and subsequent 'extrajudicial killings' that left tens of thousands of people dead.
Ressa first experienced intimidation in 2016 via online attacks which became increasingly aggressive after Rappler published an article about how Duterte's supporters manipulated Facebook to garner support and crushed their opponents. Threats became more virulent when the government tried to revoke Rappler's license in 2018 and criminalized Ressa. "Last year, I was arrested twice within five weeks," she said.
From her office in Manila, Ressa, who was posted in Jakarta for a decade, spoke to Tempo reporters Wahyu Dhyatmika, Mahardika Satria Hadi and Abdul Manan about her case, the Duterte government's attempt to silence its critics and the threats faced by journalists in the Southeast Asian region.
Can you tell us about the case that you're facing now?
The story in question was published in 2012, months before the law we supposedly violated was enacted. They used legal acrobatics to take the case to court. To be able to convict me, they did two things. First, Judge Rainelda Estacio-Montesa agreed to extend the statute of limitations period for libel from one year to 12 years. This is going to affect every Filipino. Second, in 2014 someone at Rappler fixed a typo error of the word 'evasion' that was misspelled to 'evation'. Just one letter in one word. But because of that my former colleague, Ray, and I now can go to jail for up to six years.
How is all this affecting your routines?
This case is one of eight criminal charges I'm facing. There are eight arrest warrants issued by the Philippines government for me and last year I was arrested twice in a period of five weeks. I was detained overnight and prevented from posting a bail. My rights are being violated, the law is being weaponized. This is the abuse of power.
Why are you implicated in so many cases?
In January 2018, the government actually tried to shut us down by revoking our license to operate. That was the beginning. So, in about 14 months, they filed 11 cases and investigations against us. I spent a lot of 2018 going in and out of investigations. Then in 2019, they issued arrest warrants and brought the cases to court. There were weeks where I would go to four different courts in one week. I spent 90 percent of my time in courts.
What is the difference between this case and other cases?
There are three buckets. The first bucket is cyber libel. This is the first case and also the one that got me arrested. The second is tax evasion. Six months after the government gave us an award for being a top corporate taxpayer, they say we evaded taxes. One of the charges said that we evaded taxes because we are a securities firm. We're obviously not a stockbroker. I call the third bucket the mother case because that's what pushed the government to attempt to revoke our license. They said that Rappler was a foreign-owned firm and committed a securities fraud. They accused us of violating the anti-dummy law (the law relating to securities fraud), and they issued warrants of arrest against my entire board in 2018.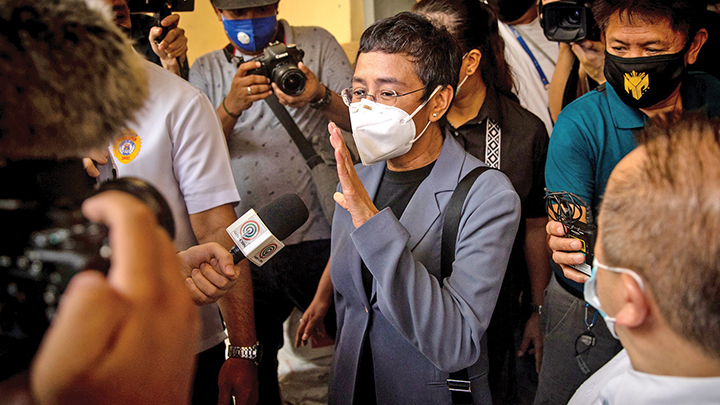 Maria Ressa in Manila, Phillipines, June 15./REUTERS/Eloisa Lopez
What are the implications from the court's verdicts?
The government has now labeled me a criminal. Next year will be my 35th year as a journalist. I was very privileged to see Indonesia's move to democracy ending nearly 32 years of the Suharto regime. How interesting to have been part of so much that happened in Indonesia. But now, what does it mean? I'm facing up to six years in prison.
What sort of legal options will you take?
We are going to file appeals. I feel like this isn't a just decision. The government, and Judge Montesa really targeted me in particular. If you read the verdict, it is a very contemptuous language. It almost sounds like a verdict for a different case because the charge against us is only republication. Our defense will be about whether or not they could change the prescriptive period from one year to 12 years. To us, that is unconstitutional.
Will your case have wider implications on the Philippines as a nation?
Yes, absolutely. Look at this in the context of what happened in Philippines on May 5. The government shut down ABS-CBN, our largest broadcaster. The last time something like that happened was in 1972 when Ferdinand Marcos declared martial law. ABS-CBN was shut down for 14 years before it was able to reopen only to be shut again. The attacks against journalists have increased. I'm supposed to be a cautionary tale. The government wants us to be afraid and keep quiet. And that's part of the reason I continue to speak, because this will have repercussions for every Filipino. This has everything to do with our democracy, and the quality of our democracy.
Do you consider these cases against you as purely legal cases?
This is definitely harassment. These are attempts by my government to intimidate and harass me and Rappler, and also other journalists. Look at what happened to ABS-CBN. "You challenge us, you will get shut down."
Why does Duterte often criticize Inquirer?
Inquirer is the top newspaper. It once published a photo of a drug war victim—we call it 'Pietà'—of a woman cradling the body of a dead man. The image enraged the Filipinos. ABS-CBN is the top television station. And Rappler is the top online news website.
Since when have attacks against yourself and Rappler begun?
Attacks against Rappler have been going on for four years. They started as online attacks. One lie repeated a million times became a fact. That's what the government did. One lie that they spread in 2016 was that Maria Ressa was a criminal, not a journalist. Or journalists are equal to criminals. President Duterte said the same thing in 2017, so attacks come from the bottom up. These insidious attacks against us on social media were corroborated and now made into reality by the guilty verdict in the cyber libel case. So, I'm very angry and puzzled.
What caused the Duterte government to feel the need to silence the press?
I wonder if we're missing a big story? They want us to shut up so that we don't find what they're hiding. I respect the position of the president of my country and I will give the respect it deserves. But I think in the new era, the level of the government control over information is unprecedentedly huge that it is worse than martial law. I asked President Duterte, "Mr. Duterte, do you need fear and violence in order to lead?" He said yes, he uses them.
When did you ask him?
In the last interview in December, 2016. By that time, the drug war was already happening. And at that point, I only had one female reporter who went out at night and she was coming back every night with videos of at least eight victims whose bodies were dumped on the sidewalks. There was an average of 33 deaths every night during that period. So, I asked President Duterte about his leadership style. And he said the best way to lead is through online and verbal violence.
Are there other repressive policies?
Besides the drug war, the government red-tags anyone whoever they believe is connected to the communist party which is illegal here. Students, activists, journalists who protest against the government can be red-tagged. That means activist equals terrorist, you are familiar with that as well, right? Two weeks ago, our congress passed an anti-terror bill which is now pending Duterte's approval. The law allows cabinet secretary, a small group of them, to name anyone who criticizes government terrorist, arrest that person without a warrant, and can keep that person in jail for up to 24 days. This violates the constitution but it was still passed by our congress.
Will the Philippines's condition improve if Duterte is no longer in power?
The Philippines has always had weak institutions. Very much like Indonesia, we have endemic corruption, weak law and order. President Duterte has become the most powerful leader our nation has ever had. He took advantage of the weakness of state institutions. When I started as a reporter in 1986 in the Philippines, I saw the police was trying to recover from 21 years of Marcos' rule (Ferdinand Marcos, the tenth President of the Philippines from 1965 to 1986). It took a decade to bring back human rights values into the police force. Now will all that have happened, the killings in the drug war, the institutionalized abuse (of power), I think it will take a generation for us to rebuild.
You've become a symbol of journalists' fight against the repressive and authoritarian regime and for freedom of expression and press freedom. Does that put you at bigger risks?
First, I feel uncomfortable with this because I'm a journalist. It's hard when you are the one being attacked. Second, the global attention towards me shed light on what so many journalists are feeling, how dangerous it is to be a journalist today. Nowadays, social media makes journalists vulnerable to attacks in unprecedented ways. Add to this the great power of the state along with its exponential propaganda, we don't stand a chance.
There is a rising trend of persecution and criminalization of journalists in Southeast Asian countries. What do you think is happening in the region?
Certainly, press freedom in the Southeast Asia region is being rolled back. Look at Cambodia, Vietnam and all around us. I think social media plays a huge role. It has enabled authoritarian-style leaders to be elected. Persecution and criminalization are aimed at making journalists afraid. If we are afraid, maybe we won't do investigation.
You said Duterte was a dominant factor in what is happening to the press in the Philippines. How do you see the trend of persecution of journalists in Indonesia?
People who have power consolidate power. I think to manipulate people is in every dictator's playbook around the world. Before he ran for office, President Duterte told me on camera that he had killed people before. I didn't know what to say because I was shocked. But I don't think President Joko Widodo is that type. It's just a matter of reminding the people of Indonesia that it isn't normal and there should be checks and balances on power.
What should journalists, journalist associations and the civil society do to overcome that?
I think this is the time for us to collaborate. I look at how ICIJ (International Consortium of Investigative Journalists) and OCCRP (Organized Crime and Corruption Reporting Project) did cross-border investigations. We can't work alone. It's very dangerous for Indonesian reporters to be looking into corruption in Indonesia. Likewise, for Filipino reporters to investigate corruption clearly committed by businesses in collusion with the government. Maybe that's one way where we can help one another.
How about Covid-19? How is the pandemic affecting Rappler's work?
Lockdown means we cannot run the business like we used to do. There is less income from advertising. Social media has torn apart the advertising model. They take away most ads opportunities while allowing all the attacks against journalists flourish on their platforms.
How do you keep Rappler afloat?
Covid-19 is a special challenge for all news groups. How we should cover news during the lockdown or when the government is becoming more powerful, or how we keep our people safe. Rappler is 63 percent female and our median age is 23 years. So, I worry about our people safety. As regards as to how we survive as a business when advertising has dried up, there is a silver lining behind the government's attacks in the past four years. All the lawsuits filed by the government against us in 2018 scared away advertisers. So, by April 2018, we already lost 49 percent of our advertising revenues.
---
MARIA ANGELITA RESSA 
Place and date of birth:
» Manila, October 2, 1963
Education:
» Bachelors of Arts (English), Princeton University, New Jersey, US (1986)
» Master of Arts (Journalism), University of the Philippines Diliman
Career:
» Journalist (since 1986), Bureau Chief, CNN, Manila (1987-1995)
» Bureau Chief, CNN, Jakarta (1995-2005)
» Head of News, ABS-CBN, The Philippines (2005-2011)
W251bGwsIjIwMjEtMDQtMjEgMTQ6MjU6MDQiXQ
» Founder and CEO, Rappler (since January 2012)
Awards:
» Democracy Award (2017) 
» Gwen Ifill Press Freedom Award (2018) 
» Free Media Pioneer Award (2018)
» Knight International Journalism Award (2018)
» Golden Pen of Freedom Award (2018)
» Time's 'Person of the Year' (2018)
---
What was the solution?
We sat down for two weeks and tried to craft "what are we doing for ourselves that other companies are going to need?" And what we realized was, the weekly reports I get on how Rappler being attacked online are things other companies want. They don't know how to deal with social media and technology. We prototyped and gave it to our sales team. This business-to-business model has grown 12,000 percent since 2018 until now. We now have a stream of diversified revenues and we don't rely on advertising anymore. Last year, it contributed only 23 percent of our revenues. So, you see, what doesn't kill you makes you stronger (chuckles).
What were your hopes when you established Rappler in 2012?
We started with a Facebook page called MovePH. And then in January 2012, we began Rappler. Initially, the idea was to combine the investigative journalism with technology and community. We wanted to build communities of action and the food that they eat are our investigative journalism. We feed them the stories that will help them make better decisions to make the world better. We thought we would just experiment to see the impact of the technology for a year. But the result turned out amazing after a year. I started Rappler with 12 people (chuckles).
One of Rappler's investigations exposed well-organized armies of pro-Duterte trolls. How did you do it?
You have to go to the data. And the reason why I feel very confident when I called out the government on their manipulation of our people was because the data was here and we gave it to them. That is why I was relentlessly attacked on social media. So, you have to get the data first then you can map the networks of disinformation. I treated them like terrorist groups. We can map the entire information ecosystem in our country, and trace them because we're Facebook's fact-checking partner. It's like looking for bomb makers and their locations.
Did you ever imagine that Rappler would become Duterte's most critical media?
We didn't set out to be critical. We just did the stories. That's why I keep saying 'Hold the Line' because we didn't allow ourselves to be intimidated. We keep doing our stories and it became real. We became a critic of Duterte (laughs)...I have nothing personal against him, but I do think we should keep power in check.