Jiwasraya's Bad connection
Ties between players in a suspected corruption case at Jiwasraya are becoming clearer. The involvement of investment managers led investigators to the Financial Services Authority and the Indonesian Stock Exchange.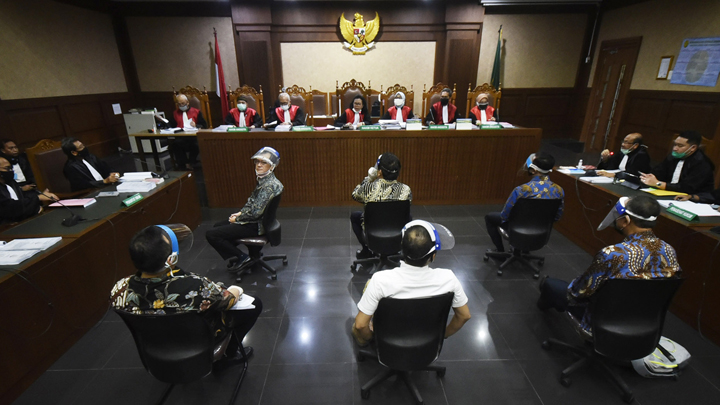 ONE by one, facts are being revealed in the case of suspected corruption at Asuransi Jiwasraya. The latest came from Hexana Tri Sasongko, Chief Executice Officer (CEO) of Jiwasraya, when testifying at the Jakarta Corruption Court on Wednesday, July 1. "According to the aspirations of the stockholders, Jiwasraya hired Kroll to carry out an analysis and investigation," Hexana said in a hearing presided over by Judge Rosmina.
Kroll Associates Inc. is a risk consultant and corporate investigation agency from the United States known for being good at tracking down insider trading. Jiwasraya hired this private business detective agency to investigate suspected embezzlement of company investment funds by the company's old management. Kroll's report supplements audits previously conducted by the Supreme Audit Agency (BPK) and the Finance and Development Supervisory Agency (BPKP) on Indonesia's oldest life insurance company.
Kroll's report found a common thread of conflict of interest running back to Harry Prasetyo, a former director of finance and investment at Jiwasraya who is currently a defendant in this case. Two cars listed in Harry's 2011 tax report become the smoking gun.
The first car was a Mercedes-Benz E-Class worth Rp950 million. He listed this 2009 car in his tax report under the name of Joko Hartono Tirto. Joko is the CEO of Maxima Integra Investama, a stock portfolio management firm where Heru Hidayat is a commissioner. Joko and Heru are both defendants in the case of suspected corruption at Jiwasraya.
The other vehicle, a 2009 Toyota Harrier worth Rp550 million claimed to be owned by Harry is actually in the name of Inti Agri Resources. That company with stock market code IIKP is owned by Maxima Agro Industri, a subsidiary of Maxima Integra, with 6.3 percent ownership. Other IIKP stockholders are Asabri with 11.58 percent, while 82.12 percent is publicly owned. Heru Hidayat is president commissioner of IIKP.
W251bGwsIjIwMjEtMDItMjcgMTM6NTM6MzkiXQ
Met during a break in the trial, neither Heru nor Joko would give a clear explanation, and tended to be evasive. However, Joko's lawyer, Soesilo Aribowo, said that the Mercedes-Benz E-Class in his client's name which was listed on Harry's tax report was the result of a sales transaction. "That was the result of an ordinary transaction. If it was illegal, why would it be included in the tax report," he said on July 3.
Public prosecutor Bima Suprayoga made sure that those two automobiles were confiscated, along with several other luxury cars. Two of those were a Toyota Alphard with license plate B-1018-DT registered in the name of Hendrisman Rahim and a Mercedes-Benz with plate number B-70-KRO in the name of Hanson International, a company owned by businessman Benny Tjokrosaputro. Hendrisman, a former CEO of Jiwasraya, is also a defendant in this case, along with Benny.
The prosecutors indict Heru Hidayat, Benny Tjokrosaputro, and Joko Hartono Tirto for making an agreement with Hendrisman Rahim, Harry Prasetyo, and Syahmirwan—former head of the finance and investment division at Jiwasraya—in the management of investments at Jiwasraya which were not transparent or accountable. It is suspected that funds being managed by the company, which were collected from customers, were placed in some stock portfolios and stock mutual funds without any objective or professional analysis.
They are suspected of controlling 13 investment managers by putting together a special mutual fund product for Jiwasraya. The underlying asset collateral for 21 mutual fund products managed by those investment managers were still affiliated with Heru Hidayat and Benny Tjokrosaputro. The prosecutor's office has named those 13 investment managers as corporate suspects in the case of alleged corruption estimated to have resulted in Rp16.8 trillion of state losses.
•••
THE issue with those 13 investment managers recently alerted investigators from the Attorney General's Office (AGO) to the suspected involvement of officials at the Financial Services Authority (OJK) and the Indonesian Stock Exchange. On June 25, the AGO named Fakhri Hilmi, OJK's capital market deputy commissioner II, a new suspect in the Jiwasraya mega-scandal. Since then, the name Erry Firmansyah, CEO of the Indonesian Stock Exchange from 2002-2009, has been mentioned at the office of the deputy attorney general for special crimes.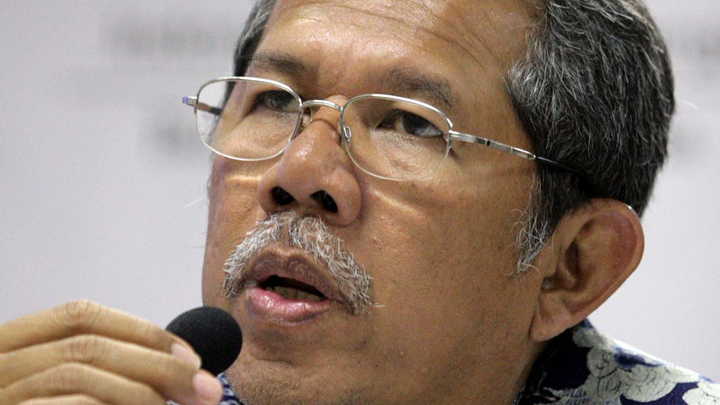 Erry Firmansyah/TEMPO doc./Arif Fadillah
AGO Director of Criminal Investigation Febrie Adriansyah said that Erry and Joko Hartono Tirto met several times with Fakhri Hilmi, who from 2014-2017 was still OJK's 2A capital market supervision department head. Their meetings happened after the finding of OJK's stock exchange transaction directorate and its investment management directorate regarding discrepancies in the stock transactions of Inti Agri Resources (IIKP).
The IIKP stock managed by 13 investment managers as a Jiwasraya portfolio were suspected being manipulated so that their value would rise significantly. In this way, Jiwasraya's investment performance would appear better than it actually was. The deterioration in the management of these investment funds could no longer be covered up after Jiwasraya became unstable, failing to pay trillions of rupiah on insurance policies which matured since the end of 2018.
Febrie indicated that the meetings between Erry, Joko, and Fakhri were aimed at preventing the imposition of penalties or even a business freeze by the OJK against the investment management companies. Erry, said Febrie, once sat as an independent commissioner at Pool Advista Indonesia in 2017. Until today, Evi Firmansyah, Erry's younger sister, is listed as CEO of the same company. POOL—the stock code for Pool Advista—is the parent company of Pool Advista Aset Manajemen, one of the 13 troubled investment managers.
Erry has also been connected to Pinnacle Persada Investama, another investment manager which has become a corporate suspect. The president commissioner at that company is Erry's younger brother, Rinaldi Firmansyah. His son, Indra Firmansyah, is the company's director and head of investment. There is also an alliance with Prima Cakrawala Abadi, a company whose stock is partially owned by defendant Heru Hidayat. Prima Cakrawala Abadi's 2017 annual report lists Rinaldi Firmansyah as president commissioner. This listed company which is in the crab processing business is one company whose stock was at one time purchased by Jiwasraya and Asabri.
During the early stage of the criminal investigation of Jiwasraya, CEO of Prima Cakrawala Abadi (PCAR) Raditya Wardhana said that transactions involving company stock on the capital market are outside of the management's control. He said that he does not know why Jiwasraya and Asabri took on large amounts of PCAR stock. "I do not understand why those two companies own our stock. It all happened on the market. We focus on managing operational matters," said Raditya to media at the Indonesian Stock Exchange Building on January 15.
All last week, Tempo attempted to request an explanation from Erry Firmansyah. However, as of Saturday, July 4, he had not responded to messages and phone calls from Tempo.
Heru Hidayat and Joko Hartono Tirto have left this matter to their lawyer, Soesilo Aribowo. According to Soesilo, Joko said that he did not meet with Fakhri Hilmi, but with another OJK official. "There was a problem with the market that needed consulting." Fakhri Hilmi told the media that he would be focusing on undergoing the process in this case. "God has a special purpose for me," he said succinctly.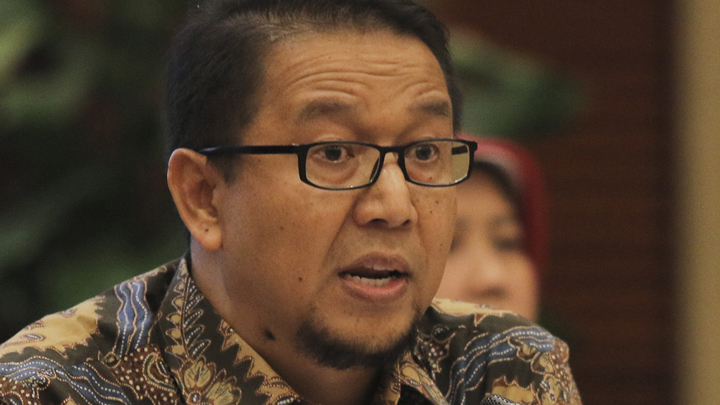 Fakhri Hilmi/TEMPO/Muhammad Hidayat
OJK Deputy Commissioner for Public Relations and Logistics Anto Prabowo confirmed that their institution supports the law enforcement efforts of the AGO while still upholding the basis of the presumption of innocence. "The OJK has and always will support them in the form of providing data, information and assistance required by the Attorney General's Office," he said.
RETNO SULISTYOWATI, AJI NUGROHO, ANDITA RAHMA, VINDRY FLORENTIN