the Cost of Patent Certificates
Employees of the intellectual property directorate-general are suspected of manipulating the outcome of cases. The director-general knows his subordinates take money from applicants.
Edition : Monday, July 6, 2020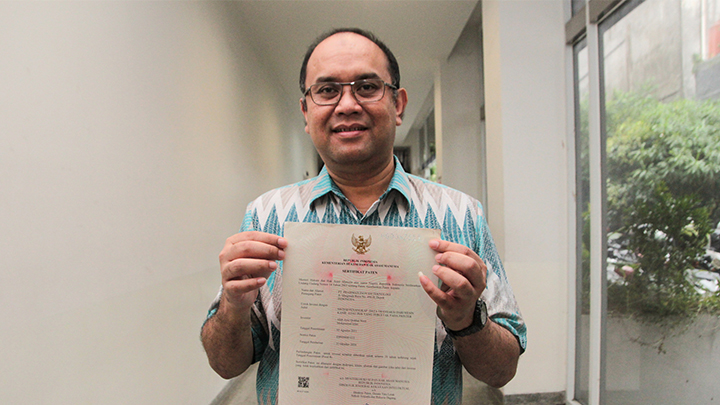 DIDI Setiadi's mobile phone was busy getting calls on Monday and Tuesday, June 29 and 30. The director of Prasimax Inovasi Teknologi ignored them. "I don't want to take his calls," said Didi while showing proof of the incoming calls to Tempo on July 2.
According to Didi, the caller was Ronald Lumbuun, an employee of the intellectual property directorate-general at the ministry of justice and human rights. He has known that man for a few months. Ronald, said Didi, offered to resolve a patent dispute between his company and LG, the technology giant from South Korea, through mediation. The fight over that patent is currently being tried in the Central Jakarta Commerce Court.
Didi had a bad experience with someone from the intellectual property directorate-general. He said that he was extorted by them two years ago. This happened when he was taking care of a paperwork for his third patent application in 2018. "Because I refused to give some money, the application was denied by the team of (patent) examiners," he said.
He submitted that application after his company discovered a technology that could connect a cash register with a printer via Bluetooth. While the application documentation was being checked, Didi was frequently in communication with a member of the patent examination staff named Fero Arnoldus.
Didi said, from July-September 2018 Fero asked him to meet to discuss the application outside of the directorate-general office. For this, Didi was asked to provide Rp1 million for transportation costs. "According to him, such rule is found in the finance minister regulation," he said. "However, from my search there was no need to pay for such a cost."
W251bGwsIjIwMjEtMDUtMTEgMTg6MjQ6NDIiXQ
Didi was also asked to provide a patent checking fee of Rp10 million right before the determination regarding his application was about to be made. However, he declined to do so after consulting with the Ombudsman of the Republic of Indonesia. The Ombudsman forbid him to give any money, as it would be encouraging the practice of unofficial fee collection.
After refusing to give any money, his application fell apart. He has kept his communication with Fero through WhatsApp as evidence. "If the (state civil) apparatus keeps behaving like this, when will this country be able to protect innovations created by its people?" he said.
Tempo sent a written interview request to Fero to ask him to confirm the story. An interview request was also sent to his WhatsApp number. There was no response. Efforts to meet him at the intellectual property directorate-general were also unsuccessful.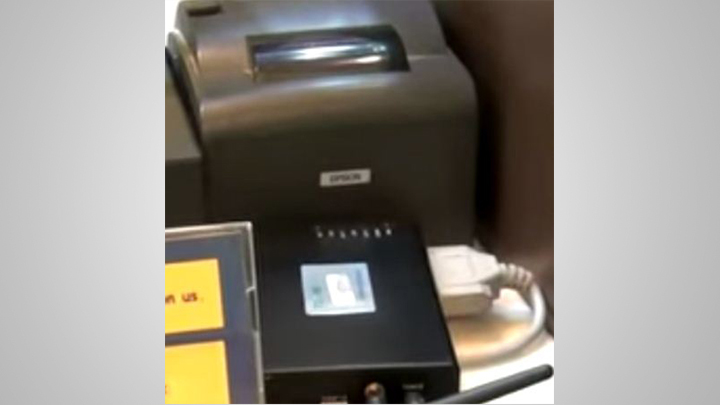 Prasimax Inovasi Teknolo­gi's device installed in a business district in Jakarta./special photo
Now, as Didi is facing LG in a legal battle, Ronald Lumbuun continues to contact him. He is concerned that any talks with Ronald will lead to requests for money.
Speaking to Tempo, Ronald admitted attempting to call Didi. He claimed he wanted to discuss options to resolve the matter through mediation. He declined to further explain his intent in calling Didi, saying that he is no longer assigned to the Jakarta office. "At this time I am in a new assignment at the South Sulawesi regional office of the justice and human rights ministry," he said.
In this dispute, Didi's company is questioning the patent for a financial transaction recording device issued to LG by the intellectual property directorate-general. Didi said that he had already created that device when the Jakarta government needed a way to monitor sales tax. He claimed to have registered the rights to that technology in 2011.
Five years later, Didi received a patent certificate from the directorate-general. He suspects plagiarism took place before that patent was issued. On a similar device ordered by Bank Rakyat Indonesia in 2013 there was the LG Smart Port logo.
According to Didi's lawyer, Abdillah, the technology used in that device is identical to the one made by his client. The intellectual property directorate-general attempted to mediate this problem, but to no avail. LG decided to sue Didi and requested his patent be annulled through the Commerce Court.
Abdillah said that LG applied for a patent after receiving a written warning from his client. They filed for that patent in Korea in 2014, then also requested it in Indonesia. That patent certificate was recognized by the intellectual property directorate-general in 2019. "So our client already held that right because he had registered it first," said Abdillah.
A lawyer for LG, Gery, was reluctant to give an interview. "We cannot comment because we do not have the permission from our client," he said. Based on lawsuit with reference number 11574.5/JPK/AAJ/EIP/FBK/EPA/RIR/OBS, LG denied the claim that Didi was the creator of that device.
According to LG, there was no element of innovation in that technology from Prasimax. Patents for such a device had been obtained by four people in the United States from 2007-2011. This included a patent filed for by Jay Sarghami titled Collection of Receipt Data from Point of Sales Devices.
• • •
DIRECTOR-general of Intellectual Property Freddy Harris said that he understands the requests made by his subordinates in the rights application process, even though there is no legal basis for doing so. "That is a grey area," he said.
According to Freddy, the supporting paperwork was initially done by the applicants. In practice, many applicants have had difficulty doing this paperwork and asked the justice and human rights ministry employees of to help correct those documents and to word the substance of the creation being patented. "Because there is additional work, they can ask for an honorarium," he said.
There is no written regulation about the amounts of such honorariums. Usually, said Freddy, the involvement of a ministry employee depends on the level of difficulty and the expertise of the person in question. For a senior examiner, for instance, the current cost is about Rp10 million. "We are in the process of correcting this. My specialization is indeed in being a dishwasher," he said.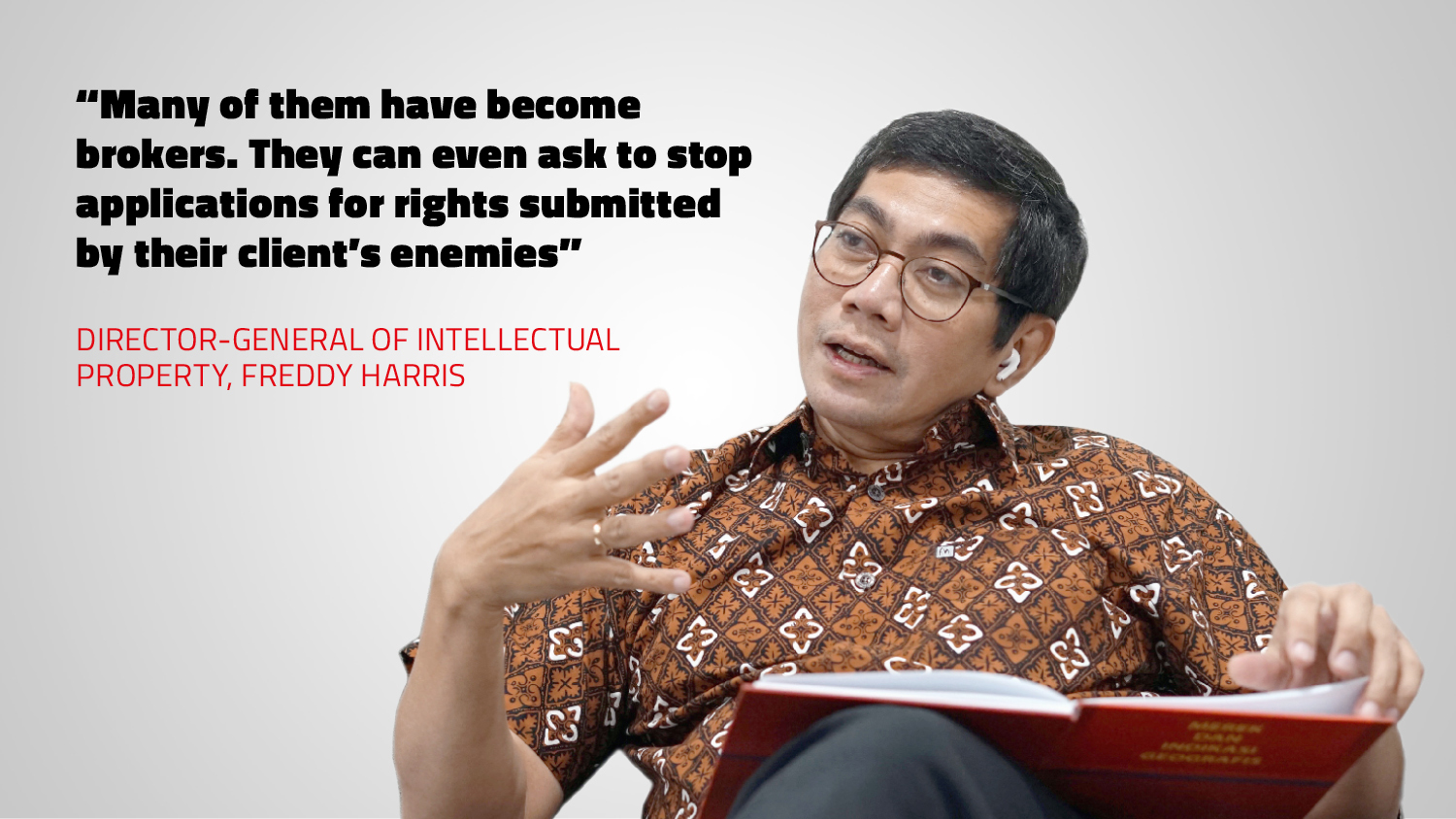 TEMPO/Muhammad Hidayat
To date, said Freddy, many applicants have asked for the help of consultants and academicians. Recently this practice has begun to be exploited. "Many of them have become brokers. They can even ask to stop applications for rights submitted by their client's enemies," he said.
Freddy believes that assistance from intellectual property directorate-general employees can expedite the application process. He promised to take action against his subordinates who manipulate the results of patent examinations. "I have been angry with them for the backlog of 95,000 trademark certificate applications. Those who don't have a commitment to the job should step aside," he said.
Alamsyah Saragih, a member of the Ombudsman's office, disagrees with Freddy. According to him, it is already the duty of the government apparatus to provide consultation services to patent applicants. Even if there is an obligation to pay for that, the amount should be officially regulated.
Alamsyah is concerned that if this model is allowed to continue it could have an impact on the quality of service. He said, based on Ombudsman's records the police and state civil apparatus are the two sectors which are most reported. "It has been like this since 2016," he said. "No serious efforts have been made to change it."
RIKY FERDIANTO, MUSTAFA SILALAHI