One Brand for Two
The intellectual property directorate-general issued trademark certificates to two disputing parties. They claimed it as compromise to resolve the problem.
Edition : Monday, July 6, 2020
THE I am Geprek Bensu franchise was in luck when the Supreme Court decided against the lawsuit of Onsu Pangan Perkasa, owned by businessman and celebrity Ruben Samuel Onsu. On May 20, the Supreme Court stated that the I am Geprek Bensu brand name was held by Ayam Geprek Benny Sujono, owned by entrepreneurs Yangcent and Stefani Livinus. "There is cooperation with new partners to open 50 franchise outlets," said Eddi Kusuma, a lawyer for Yangcent and Stefani, on Friday, July 3.
Eddi said that those new partners selling ayam geprek—crispy fried chicken, crushed and mixed with chili paste—are interested to cooperate with his clients who have the license of I am Geprek Bensu. For the past three years, Yangcent family and Ruben Onsu has fought for the brand of I am Geprek Bensu. "Those business owners want to ally with the right party," said Eddi.
The Yangcent family began an alliance with Ruben Onsu after the company was established in March 2017. A few months later, each side wanted to have the exclusive rights over the Bensu brand, as its products were becoming increasingly popular. At present, there are about 270 outlets operating in Indonesia and abroad. Out of those, 55 percent, said Eddi, have contracts with Ruben Onsu.
According to Minola Sebayang, Ruben's lawyer, his client claimed that brand name because he had bought the Bensu trademark certificate from a milk vendor in Bandung, West Java. The name Bensu, being an acronym made from the name Ruben Onsu, was also upheld through a court decision. "So ownership of the I am Geprek Bensu brand is the property of Ruben's primary culinary business, Onsu Pangan Perkasa," he said.
Minola also took care of the administrative work on applications for 35 other trademark certificates for Bensu, such as for Bubur Bensu (porridge) and Bakso Nugget Bensu (meatball nuggets). According to Minola, all of these applications have been recognized by the intellectual property directorate-general at the justice and human rights ministry through the issuing of certificates. The certificate for the I am Geprek Bensu brand was issued on April 30, 2018.
W251bGwsIjIwMjEtMDUtMTIgMTA6MDM6NDIiXQ
However, the application for a certificate submitted by Yangcent and Stefani for the same name was also granted by the intellectual property directorate-general. The certificate was issued on the same day. The certificate for Ayam Geprek Benny Sujono was given number IDM 00064531, while for Onsu Pangan Perkasa it was IDM 00064591. "For that reason, we submitted a claim to have that trademark canceled in August 2019," said Minola.
Eddi claims his client has the right to the I am Geprek Bensu brand because he applied for it earlier in May 2017. He said that Ruben's company did not submit their request until August that year. According to Eddi, these dates are important to recognize the right of priority for those who registered the brand earlier (first to file). "This basis is in effect everywhere," he said.
Director-General of Intellectual Property Freddy Harris regrets the legal measures being taken by both parties. According to him, the justice ministry has attempted to resolve this dispute through mediation. "The issuance of certificates to both of them was a means of resolution attempted by the government," he said.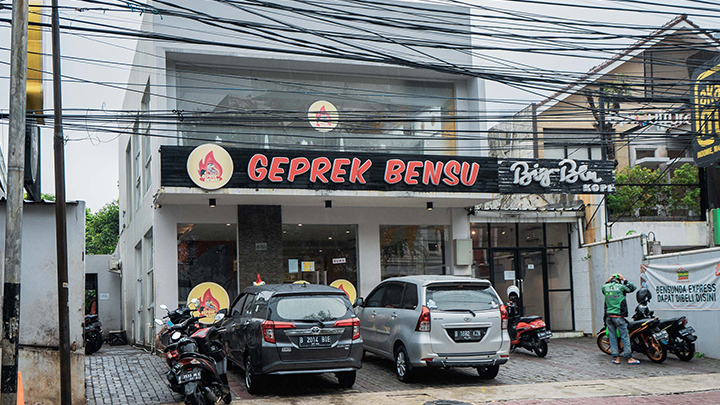 A Geprek Bensu outlet in Jalan Bendungan Hilir, Central Jakarta, July 2./TEMPO/M Taufan Rengganis
Freddy said that it was done this way because both parties have played a part in pioneering and growing the business. This method was also used when the Ayam Goreng Ny. Suharti (fried chicken) business had a falling out when the husband-and-wife owners divorced. The two now use the Ny. Suharti brand but with differing logos. "Their business is still running well. Just let the market be the judge," he said.
According to Freddy, the process for examining and granting trademark certificates is not as easy as it used to be. At present, there are at least a million trademarks registered at the justice ministry. In 2019, said Freddy, the ministry received 48 application to cancel trademarks held by some holders. There were five cases of patent violations being resolved.
• • •
WHILE Ayam Geprek Benny Sujono and Onsu Pangan Perkasa were fighting over their brand names, Utomodeck and Kepuh Arum Kencana were both claiming industrial design certificates. Utomodeck, a producer of galvanized steel in Surabaya, East Java, protested the issuance of a certificate by the intellectual property directorate-general to Kepuh Arum Kencana. "We are challenging the issuance of that certificate in court," said Utomodeck lawyer Phillip David.
The disputed product is a connecting roof ridge tile made from galvanized steel panels. Utomodeck markets that product under the name Nok Crimping. That patent and trademark certificate, said Phillip, were issued in 2012 or six years after they registered.
Utomodeck recently found a similar product on the market. They discovered that this product was made by Kepuh Arum Kencana. Utomodeck, according to Phillip, had asked Kepuh to stop producing the roofing product, but they refused. Kepuh claims that they have an industrial design certificate—which is different than a trademark certificate or patent—for that product in the name of Henry Setiawan, director of Kepuh.
Utomodeck Director Bambang Utomo considers that there is nothing new in the design of Kepuh's product. Moreover, said Bambang, in the certificate application, Kepuh refers to its product design as Nok Crimping. "Its shape is nearly identical to our patent, and the referencing of Nok Crimping refers to our trademark. So where is the novelty of it?" he asked.
Kepuh's lawyer, Uus Mulyaharja, denied that his client has violated property rights. In his opinion, the basis in the regulation to issue industrial design certificates is different from the provisions for patents and brand names. An industrial design certificate is issued based on the Industrial Design Law, while patents are issued based on the Patents Law and brand names are regulated by the Trademarks Law. "Recognition of a trademark does not automatically give protection of a shape," he said.
According to Uus, a trademark can be mentioned as long as it is only being used to provide an explanation. Visibly, he said, Kepuh's product has some differences. One of them is that the repeated indentations on the product are at 45 degree angles. Kepuh's products also have more indentations and do not have a drip edge. "Those features can be considered to be distinctive," he said.
Freddy Harris said that intellectual property disputes have taken place based on differences in regulations. According to him, the problem occurred because in the past the record-keeping on applications was done manually. The section which took care of the different types of intellectual property rights was not yet integrated. "For that reason, we are currently working on an integrated database," he said.
RIKY FERDIANTO