Stuck Between Four Giants' Loans
The OJK urges Mayapada to increase capital or reshuffle its controlling shareholders. There are suspicions that this was the impact of an alleged violation of prioritizing jumbo loans for owner's colleagues.
EVEN though he has been a member of the Presidential Advisory Council (Wantimpres) since December 2019, Dato Sri Tahir had only attended one meeting. That was the first meeting with President Joko Widodo. After that, the Mayapada business group owner never showed up.
He also did not join the virtual meeting that the Council held with Wimboh Santoso, the Financial Services Authority (OJK) chairman of the board of commissioners, on Wednesday, June 17. "I could not join (the meeting). I was taking care of Bank Mayapada, also handling Covid-19 relief efforts," Tahir said in his office at Mayapada Tower 1 in Jakarta, July 10. "The truth is, I'm not fit for being an official," he said.
Tahir's absence made other members of the Presidential Advisory Council were freely discussing about the latest situations of Bank Mayapada Internasional. The bank, which has a total asset of Rp89.2 trillion, is the heart and soul of Tahir's business. Tahir is Indonesia's seventh richest man according to Forbes magazine, which Tahir's holds the publication license for Indonesia.
Two people who knew the details of the meeting said that one of the members of Presidential Advisory Council, Sidarto Danusubroto, warned the OJK that the government or state-owned banks must not provide Mayapada with liquidity assistance. The meeting's real agenda was actually to discuss the micro, small and middle enterprises (MSME) sector and other businesses in the face of Covid-19. However, Wimboh opened the meeting with exposures on the handling of problematic banks.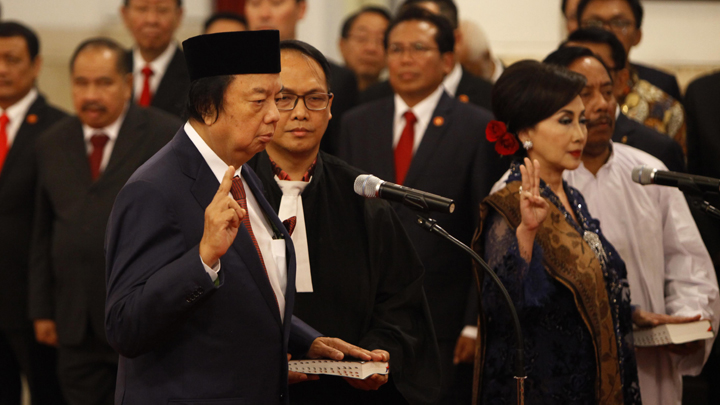 Dato Sri Tahir (left) sworn in as member of the 2019-2024 Presidential Advisory Council at the State Palace, Jakarta, December 2019. / TEMPO/Subekti
W251bGwsIjIwMjEtMDMtMDYgMTU6MjU6NTUiXQ
Mayapada is one of seven banks declared to have problems by the Supreme Audit Agency (BPK) when the state auditor released its 2019 Semester Audit Result Overview (IHPS) II in early May.
But unlike the problems faced by Bank Bukopin, which is among those seven banks listed by the BPK, the troubles in Mayapada did not trigger mass withdrawals by customers. Some did take their money, as recorded in Mayapada's unaudited financial exposure in its website. At the end of June, the bank's third-party funds (TPF) amounted to Rp62.3 trillion, down Rp10.9 trillion from March's position.
Tahir said that he was able to withhold the rush wave. "In the past two months I traveled across the country, convincing customers that there is nothing wrong with Mayapada," he said. In its recent information disclosure to the OJK and the Indonesia Stock Exchange (IDX) on July 3, Mayapada announced that Tahir, as the last controlling shareholder, has injected Rp1 trillion in cash to strengthen the bank's equity.
•••
NEWS of Mayapada's troubles started circulating among business actors when the banking industry was shaken by the reports in May that Bank Bukopin was limiting the amount of money that customers could withdraw. It was later found out that Bukopin's liquidity had dried out, whilst its rights offering plans never happened, and the bank is riddled with dramas between shareholders.
Then, Bukopin's troubles started to implicate Mayapada. It began when former vice president Jusuf Kalla wrote a letter to OJK's Board of Commissioners' Chairman Wimboh Santoso on May 29. Kalla complained to Wimboh for repeatedly mentioning him as the owner of Bukopin. Kalla also criticized the way OJK handled Bukopin, a bank owned by Aksa Mahmud, Kalla's brother-in-law.
Kalla said that it was not fair for the OJK to force Bukopin into changing ownership amids the company's diminishing liquidity. He said that the troubles at MYP—as Kalla referred to Mayapada—which the OJK declared to have been solved, are actually much worse. "It takes justice and fair treatment to maintain the balance of the national economy," Kalla said in the letter.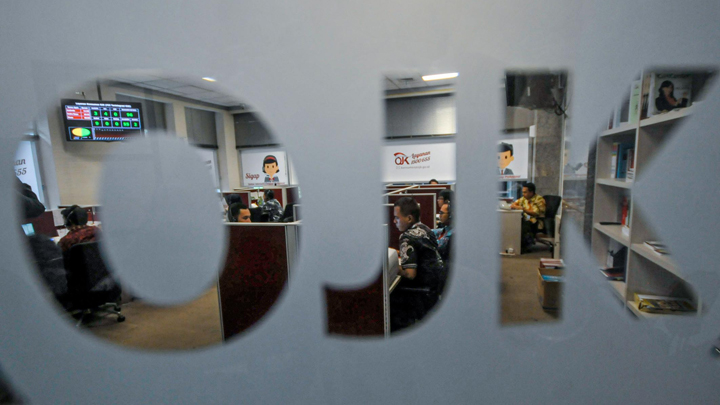 Officers answer to public complaints via telephone at the Financial Services Authority, Jakarta, July 2016./ TEMPO/Jati Mahatmaji
When Tempo visited him at home on June 25, Kalla confirmed that he wrote the letter to Wimboh. But he refused to elaborate on the content. "I only told him that I do not own Bukopin," he remarked.
At the same time, there were rumors that Mayapada was implicated in the distribution of jumbo loans to four major business groups. The BPK's 2019 IHPS II did not mention it in details. The details of this issue is available in the BPK's Audit Report on the Implementation of Banking Supervision by the OJK and Relevant Institutions for the period of 2017-2019, released on December 31, 2019. The audit report, registered as number 135/LHP/XV/12/2019, was completed again after the OJK gave its response on February 24.
The audit results recorded that Bank Mayapada concentrated its loan disbursement to four groups, totaling Rp23.56 trillion, which violated the rule on the maximum lending limit (BMPK). The biggest credit of Rp12.39 trillion was disbursed to companies affiliated with the Hanson International Group—owned by Benny Tjokrosaputro. There is also Rp4.74 trillion worth of loans disbursed to Intiland Group, owned by Hendro Gondokusumo; and Rp3.13 trillion for the Saligading Bersama group, owned by Musyanif. Meanwhile, the amount of credit disbursed to the Mayapada Group, which is owned by Tahir, was recorded at Rp3.3 trillion.
The three entrepreneurs who owned the group were recorded to have joined Tahir in a number of charity activities, including the bus donations for Jakarta in 2014. They also joined Tahir in other charity projects, such as The Indonesia Health Fund with Bill Gates during that same year.
Although it was revealed in the BPK audit results, the credit disbursement actually originated from OJK's findings. They are written in OJK's Official Note No.CD-54A /PB.331/2019 dated December 12, 2019, on the 2019 Special Audit Plan for Bank Mayapada Internasional. However, this special audit was still ongoing when the BPK ended their audit of the OJK in February this year.
Met in his office on July 10, Tahir denied suspicions that Bank Mayapada violated the BMPK. He said that the debt of the three business groups only amounted hundreds of billions of rupiah. "I would have brain damage if I gave trillions to just one group," he said.
On paper, the debts of the four business groups did not reach trillions. The financial statements of Intiland Development (DILD), for example, only recorded a short-term debt of Rp870.4 billion to Bank Mayapada. The financial statements of Marga Abhinaya Abadi (MABA)—owned by Saligading—as of December 2018 also recorded that the two subsidiaries only owed Rp285 billion. MABA itself has a syndicated debt to Mayapada and ICBC amounting to Rp570.3 billion. Meanwile, Hanson's unaudited financial report per September 2019 said the company's short-term loans to Mayapada were only Rp296 billion.
On the other hand, in its 2019 financial statements, Bank Mayapada recorded credit disbursement to related parties (Mayapada Group) of only Rp630 billion. "So don't say Rp12 trillion. Just giving Rp2-3 trillion credit to one group would mean I was out of my mind, "Tahir said.
A lead came from someone close to Benny Tjokrosaputro, founder and owner of Hanson, who is now a defendant in the corruption of investment funds of Asuransi Jiwasraya. According to this person, Benny admitted that he owed up to Rp8 trillion rupiah to Mayapada. But a Tempo source said that Benny has been establishing many companies on behalf of others to evade the maximum credit rule. The nominee companies then applied for loans from Mayapada.
The BPK report actually also recorded that the grouping is not only based on ownership, but also on the similarity of management, spatial relations, and specimens of shareholders' signatures in other bank accounts. The Rp12.39 trillion credit, suspected to be related to the Hanson group, came from 57 sampling debtors.
Suspicions of using nominee companies to obtain loans matched OJK's special audit, which was completed after the BPK audit period ended. An official who knew about the contents of the audit revealed that bank supervisors at the OJK found and proved that there was a practice of credit concentration to the four groups, after using the 'follow the money' method. "There are problems that can be likened to the BMPK," said the official.
When contacted again on July 11, Tahir still denied the existence of credit concentration to the four groups. It is possible, Tahir said, that Mayapada disbursed loans to the project owners and their subcontractors. "Perhaps that is what the OJK considered as a group," he said. "And there are no Benny nominee companies. That's just absurd."
Among bankers and capital market players, Tahir is known to be a close friend of Benny Tjokrosaputro. Their business relations are apparent in Hanson's financial statements. Mandiri Mega Jaya (MMJ), a subsidiary of Hanson, co-established Bintang Dwi Lestari (BDL) on October 8, 2014 with Mayapada Bangun Pratama (MBP).
The partnership was also recorded by Maha Properti Indonesia (MPRO), part of Mayapada, which oversees BDL. Throughout 2015-2016, BDL planned to acquire a land in Maja, Banten, covering 7.1 million square meters. In November 2019, MPRO confirmed that BDL had succeeded in purchasing 318 hectares of land in Maja for residential projects.
Tahir denied information that he has a business partnership with Benny. "I never joined. I just found out about Mega now," he said.
Mayapada also acted as lender and business partner to Intiland. Both firms co-developed the East Gate apartment complex in Surabaya, East Java. Again, Tahir denied ever collaborating with Hendro Gondokusumo, owner of Intiland, in the project. "East is a collateral for bad loans. I asked Hendro to manage it. I am not a property person," Tahir said. "I'm close to Hendro. He does property work. "
At the same site as East Gate stands Anugrah Berkah Mandiri (ABMA), a subsidiary of MABA—part of the Saligading group. The company is developing East CBD, a 30 hectare superblock. "Musyanif (Saligading) might be there, yes. But my business is with Hendro," Tahir said.
•••
UNLIKE the commotion that came with Bukopin's liquidity problems—triggered by leaked correspondence between the OJK and the banks' shareholders—the handling of Mayapada proceeds quietly. An official with knowledge of the process in details, said that the OJK directly went to Tahir, asking him to take accountability over the concentrated loans, since the beginning of 2020. A number of options were offered, from raising equities to adding new but old investors as to replace the controlling shareholders.
This is why, at the end of April, Bank Mayapada suddenly announced that it had bought three properties owned by Tahir. The properties are Menara Topas in Jalan M.H. Thamrin, Jakarta; Mayapada Complex office building in Surabaya; and Bali Plaza Building. The total purchase price was Rp3.5 trillion.
In a financial disclosure to the IDX, it was said that the purchase funds came from the bank's treasury, which then entered Tahir's pocket before being re-deposited by him—with "additional capital from Bank Mayapada shareholders" in the subject. According to Tahir, the transaction structure is inbreng, or in the form of assets instead of money. "I gave a building that Mayapada once used—not an empty land. The estimated value is Rp3.5 trillion," he said. Later, Tahir added more capital in stages, totaling Rp1 trillion. "This one is in cash."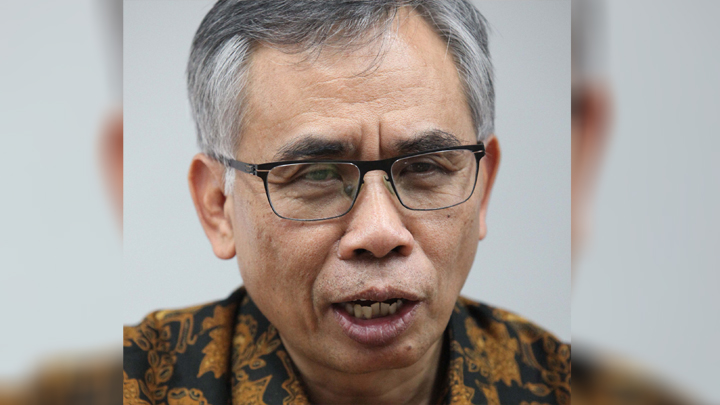 Wimboh Santoso/ TEMPO/Jati Mahatmaji
But that was not enough. With alleged violations of giving loans above the allowed limit to the four groups, according to the official, the OJK requested more commitment from Tahir. Then, Tahir deposited his personal assets worth Rp17.9 trillion to Bank Mayapada to be accounted for as capital.
But the deposit of assets also left a problem. Tahir admitted the Rp17.9-trillion worth of assets deposited to Bank Mayapada. But those, he said, were not his personal assets, but collateral taken over from the bad debtors. "I didn't have assets worth tens of trillion. Those are collateral take-over that has become Mayapada's property," he said.
Because the additional capital scheme is still not finalized, the OJK urged Mayapada to issue new shares to attract investors. That is why, on June 9, the bank announced a rights offering plan with pre-emptive rights to old shareholders. The company planned to issue 2.7 billion new B-series shares, equivalent to 25 percent its paid-up capital, priced at Rp100 per share. The bank planned to seek shareholders' approval for the rights offering plan during an extraordinary general meeting on July 16.
Cathay Life Insurance Co. Ltd, owner of 37.33 percent stake in Mayapada, is said to be taking over Tahir's role as controlling shareholder. The official said that KPMG audit service firm and Cathay were conducting a due diligence test.
Tahir claimed not to have talked to Cathay. But said he was open to the takeover. "If they want to take shares, they are surely mine, right? The rights offering is just a method of doing it," he said.
•••
AMIDST Mayapada's planned capital increase, Tahir apparently did not only going around convincing customers not to withdraw funds. There are rumors that he sought other funding opportunities to the government. For instance, he met with the State-Owned Enterprises Deputy Minister Kartika Wirjoatmodjo in mid-June. According to two sources, during the meeting Tahir asked for government assistance in the form of liquidity injection into Mayapada, particularly through state-owned banks. Another source, a former state official, said that Tahir also met with Coordinating Minister for the Economy Airlangga Hartarto.
Tempo tried reaching Kartika and Airlangga since Friday, July 10. There have been no replies. Tahir confirmed his meeting with Kartika, but denied asking the government for help. "I asked him about banking conditions, whether it was possible to collaborate with Bank Mandiri for disbursing MSME loans," he stated.
He also admitted meeting Airlangga several times. Again, he stressed that he did not ask for help. "I often meet him, but not for business," he said. "We have been friends for a long time, also with his father (Hartarto Sastrosoenarto)."
In fact, it was Tahir's lobbies to a number of ministries that made several of his colleagues in the Presidential Advisory Council reminded the OJK not to give Mayapada help during that a virtual meeting on June 17.
OJK Deputy Commissioner for Public Relations and Logistics, Anto Prabowo, neither denied nor confirmed about the planned entry of Cathay, an insurance company from Taiwan, as a prospective controlling shareholder for Mayapada. "If it is true that they want to invest, of course we will look into the regulations and requirements that must be met," he said on July 11.
Anto was also reluctant to elaborate on the virtual meeting between the Presidential Advisory Council and the OJK on June 17, and was tight lipped about Mayapada's problem. One thing that is clear, he said, is that the OJK discusses all measures with the Financial Stability System Committee. "All problems with financial service institutions are the responsibility of the owners," he said. Regarding Mayapada, Anto also said that the OJK, "carries out enforcement equally, without discrimination."
KHAIRUL ANAM, AISHA SHAIDRA