DPR Passes Treaty on Mutual Legal Assistance Draft Law
THE Treaty on Mutual Legal Assistance (MLA) signed between Indonesia and Switzerland received the approval from the House of Representatives (DPR) special committee on Thursday, July 2.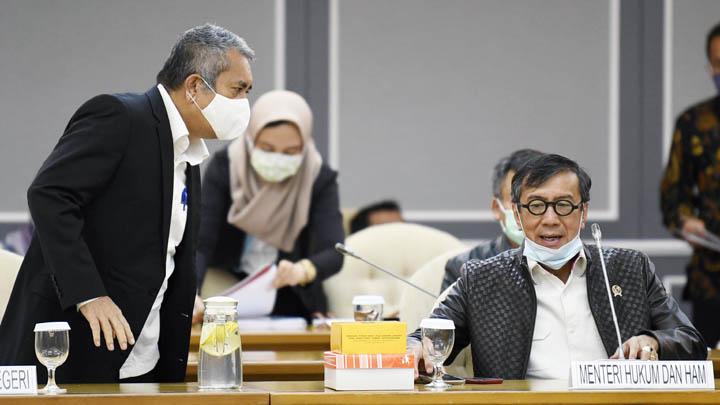 MLA Special Committee Chairperson Ahmad Sahroni claims the law enables investigation of tax and money laundering crimes. "All crimes, especially those related to banking, can be traced," he said in Jakarta on July 8.
Sahroni, a Nasional Democrat (NasDem) Party politician, further said that the cooperation with Switzerland will be beneficial to Indonesia. The country is the largest financial center in Europe. The DPR plans to officially legalize the Mutual Legal Assistance Draft Law on July 14.
Discussion of a mutual legal assistance between Indonesia and Switzerland began in President Susilo Bambang Yudhoyono's era. Negotiation continued during Joko Widodo's reign. The government, through Justice and Human Rights Minister Yasonna Laoly, twice discussed the treaty with the Switzerland government, in 2015 in Bali and in 2017 in Switzerland.
Yasonna said that the treaty concerns efforts to return assets obtained through criminal activities. The government would later be able to request documents, as well as investigation of the whereabouts of individuals and their assets, to the Switzerland government. "The MLA allows us to ask for assistance from the Switzerland government to trace down in the spoils of crime committed by Indonesians in that country," said the Indonesian Democratic Party of Struggle (PDI-P) politician.
---
W251bGwsIjIwMjEtMDItMjcgMTM6NTc6MjkiXQ
BNI Loan Fraud Fugitive Extradited
MARIA Pauline Lumowa, the fugitive in the Rp1.7 trillion Bank Negara Indonesia (BNI) loan fraud case, is extradited from Serbia. She had been on the run for 17 years. Justice and Human Rights Minister Yasonna Laoly said that efforts to bring back Maria was complicated by another country's attempt to prevent it. "She is a Dutch citizen, so there were lobbies," Yasonna said on Thursday, July 9.
Maria was arrested by the Interpol in Serbia on July 16 last year. The government, said Yasonna, will immediately investigate and freeze her assets.
Jakarta Dutch Embassy's Deputy Head of Political Affairs, Brechtje Klandermans, said that instead of legal aid, Maria will receive consular assistance. However, she did not comment on the alleged lobbying from Den Haag to prevent Maria's extradition.
---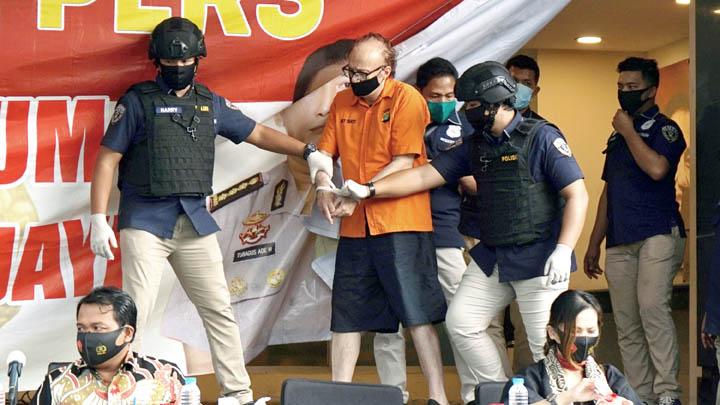 Suspect Francois Abello Camille at the press conference of his case at the Jakarta Police Headquarters, July 9. TEMPO/Muhammad Hidayat
Police Arrests French Paedophile
JAKARTA Metropolitan Police arrested 65-year-old Francois Abello Camille, a paedophile from France. Jakarta Police Chief Insp. Gen. Nana Sudjana said that Camille has committed sexual acts towards at least 305 children between December 2019 to June 2020.
Nana said that the criminal targeted street children. Victims were offered work as a photo shoot model in a hotel room, with Rp250,000 to 1 million in payment. "The victims had their nude pictures taken, and then were sexually violated," said Nana in Jakarta on Thursday, July 9.
Camille is indicted with multiple articles in the Child Protection Law, as well as the Electronic Information and Transaction Law. He faces the possible penalties of life imprisonment, death sentence, or castration.