Mr. Najib at the Joker's Office
Joko Tjandra's business is booming overseas. He enjoys close ties to Malaysia and Papua New Guinea's political elite.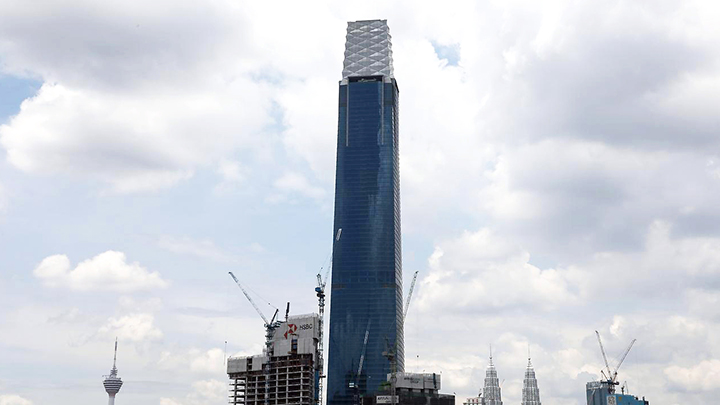 DURING her several trips to Kuala Lumpur, Malaysia, last year, Anita Kolopaking never missed a visit to The Exchange 106 building in the elite financial district, Tun Razak Exchange. The 445-meter-tall building is the third tallest building in Malaysia after the Petronas twin towers. Joko Soegiarto Tjandra, Anita's client and a wanted person in the Bank Bali graft case, has an office on the 106th floor of the building, at the height of 397 meters.
Anita, a 57-year-old lawyer, says she last went to The Exchange 106 in November 2019. According to her, the Tun Razak district is similar to the Sudirman business center in Jakarta, and The Exchange 106 stands out in the area, with its glass façade. The building's interior, including Joko's office, is dominated by marble and crystal chandeliers. "Like the Mulia Hotel in Senayan. Luxurious and exclusive," Anita said in Jakarta on Friday, July 10.
Joko does not merely go to work at The Exchange 106, he also controls the property through Mulia Group. At first, the skyscraper was initiated by 1Malaysia Development Berhad (1MDB), an investment company owned by the Malaysian government. On May 13, 2015, 1MDB Real Estate, Tun Razak Exchange's developer, sold The Exchange 106 project's site to the Mulia Group for 665 Malaysian ringgit—equivalent to Rp2.2 trillion in the current exchange rate.
The Tun Razak Exchange district megaproject was mentioned in a lawsuit filed by the Department of Justice at the California State Court. The 280-page document mentioned that the development funds for Tun Razak Exchange were taken from a 1MDB investment in the value of US$3 billion—around Rp43 trillion. There was suspicion that the money had been embezzled, and later on, former Malaysian prime minister Najib Razak was implicated in the major corruption scandal.
According to Anita, Joko spends most of his time in Kuala Lumpur. He told Anita that he felt at home there. During her visit to Malaysia, Anita invited Joko to a meal at the Pavilion Mall in Kuala Lumpur. Joko immediately said yes and went to the mall without any worry that he might be apprehended as a fugitive. "He is very appreciated there," said Anita.
It is believed that Joko's business portfolio in Malaysia does not only include The Exchange 106. Three lawyers whom Tempo interviewed on separate occasions say they met Joko at the Hong Leong Assurance (HLA) Tower in Kia Peng Street, Kuala Lumpur, in October 2019. They did not remember what floor Joko's office was on, although all three claimed his office was around the size of a futsal court.
Some property websites list HLA Tower as the address of Malaysia Mulia Group's headquarter. The company sits at 20th floor. One lawyer said that Joko invited them to the office to discuss the chance of filling a judicial review request against an earlier review filed by prosecutor in 2009.
After the meeting Joko accompanied them touring around Kuala Lumpur and made a short stopover at the Exchange 106. But they disperse earlier than expected after one of the lawyers seen the presence of Najib Razak there. The lawyers had an agreement between them to not meet any local politician during the visit.
Joko's business network also extends to Papua New Guinea. In 2009, the Joker—Joko's nickname—flew to Port Moresby, Papua New Guinea's capital city. He received Papua New Geuinean citizenship three years later, and his name was changed to Joe Chan.
Transparency International Papua New Guinea (TIPNG), an anti-corruption organization, considered that Joko's citizenship was odd. According to Papua New Guinea's constitution, naturalization can only be done after a foreigner has stayed in the country for at least eight years. Joko even had an Asia-Pacific Economic Cooperation travel card.
According to Transparency's document published in 2017, Joko had several investments during Peter O'Neill's tenure as prime minister. Transparency found that Joko's legal status in Indonesia did not stop the man from Sanggau, West Kalimantan, to receive a contract for renovating the central government office at the value of 145 million kina, or equivalent to Rp601 billion.
Joko also entered the agriculture business in Papua New Guinea. According to a Transparency paper, several senior ministers in O'Neill's cabinet were suspected of greasing the way for Joko's company, Naima Agro Industry Limited, to obtaining rice monopoly in the Central Province, on the southern coast. Based on the Attorney General's Office's (AGO) investigation in 2012, the value of Joko's investment in Naima reached US$2 billion.
In various interviews during his time as prime minister, O'Neill claimed his government never received a request from Jakarta regarding Joko's deportation. O'Neill also claimed that he had ordered several officials and the Ombudsman to investigate into how Joko was able to receive a Papua New Guinean passport.
Anita Kolopaking, confirms that her client has a horticulture business. According to Anita, Joko frequenty tells stories about the ins and outs of horticulture in Papua New Guinea. "Although it's not his field, Pak Joko truly understands and has command (over the field)," said Anita.
Indonesian Ambassador for Papua New Guinea, Andriana Supandy, says Joko's business network in Papua New Guinea still needs to be verified. It is believed that Joko rarely stayed there after his citizenship was questioned by Papua New Guinean authorities. "The Papua New Guinean government has not revoked the citizenship status of the person in question," said Andriana.
Joko's vast business scale is also apparent in the Panama Papers, financial documents leaked from the Mossack Fonseca law firm in Panama. Joko's name is recorded in 27 files, the oldest one dating back to 1986. That year, Joko and his brother formed C+P Holdings Limited. Joko controlled 14,000 shares at the value of US$1 per share. The company was established in the British Virgin Islands, a tax haven in the Caribbean Islands.
Joko was recorded to have requested Mossack Fonseca to establish a shell company under the name Shinc Holdings Limited in May 2001. According to Shinc Holdings' deed of establishment, the company's initial capital was US$50,000, with a price of US$1 per share. Joko used his home address in Simprug, South Jakarta, in the deed. Later on, the company's address was moved to the Omega Plaza in Mong Kok, Hong Kong.
In August 2012, or three years after Joko became a fugitive, an investment company requested a change in the composition of Shinc Holdings' share ownership to Mossack Fonseca. To fulfill the request, Mossack transferred ownership to Joko's children. When asked to confirm Joko's leaked portfolio in the Panama Papers, Anita Kolopaking claimed she was unaware. "He never told me," she said.
Coordinating Minister for Political, Legal and Security Affairs Mahfud Md. Ensures that the government will still hunt for Joko's other assets in order to restore state losses in the Bank Bali graft case, although the government has already seized Rp546 billion from Joko's Bank Permata account. "(It's) still not everything," said Mahfud.
RAYMUNDUS RIKANG, LINDA TRIANITA