From Barbies to Chess Pieces
Medina Warda Aulia spends more time in online chess trainings due to the Covid-19 pandemic. Medina, who is Indonesia's youngest Woman Grandmaster, has been playing chess since she was nine years old.
Edition : Tuesday, July 14, 2020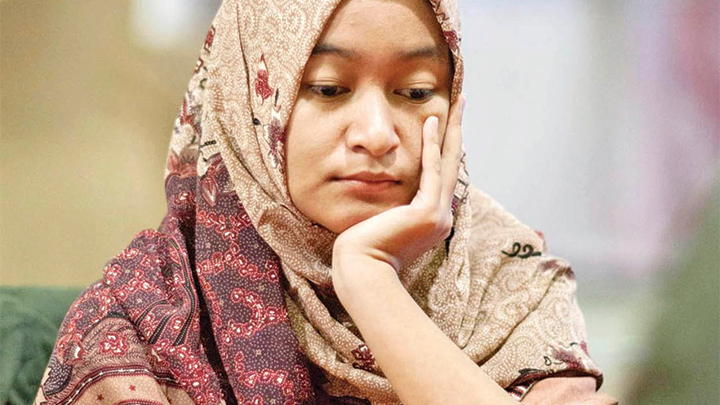 MEDINA Warda Aulia remains committed to her chess training amid the Covid-19 pandemic that has been sweeping across Indonesia since March. The 22-year-old chess player now spends more time devising chess strategies through computer at her house in Bekasi, West Java. She attends online practice matches because the government's social restrictions prevent her from directly seeing other chess players. "My coach from Russia cancelled his visit as well," said Medina on Thursday, June 25.
Despite only being able to play online, the Woman Grandmaster still prepares herself to participate in a number of tournaments next year. Medina, who is coached by Russian Grandmaster Ruslan Scherbakov, plans to take part in the Chess Olympics, the World Chess Championship, SEA Games, and the National Games. "Many tournaments have been cancelled, there will be more competitions next year," said the Philippines SEA Games gold medalist.
Medina had to let go of her plan of participating in the Chess Olympics and World Chess Championship. The International Chess Federation (FIDE) cancelled numerous tournaments this year in an effort to reduce the risk of Covid-19 transmission. FIDE changed some tournaments, such as the Nations Cup and Women's Rapid Chess Championship, into online competitions. The chess federation also plans to hold an online version of the Chess Olympics between July to August, in which participants from 150 nations are expected to compete.
Medina's training program had to be changed as well. When training directly with her coach, she could spend up to six hours to hone her skills from the opening of the game to crafting strategies to be used in the middle of the match. For the final stage, Medina used to study certain positions in the game and their solutions. "Online training is limited to just three hours per day," she said.
---
W251bGwsIjIwMjEtMDUtMTEgMTg6NDU6NDMiXQ
MEDINA WARDA AULIA
Date and place of birth: Jakarta, July 7, 1997
Coach: Ruslan Scherbakov (Russia)
First introduction to chess: 2006
FIDE titles: International Master, Woman Grandmaster
Rating:
- Standard Chess: 2360
- Rapid Chess 2344
- Blitz Chess 2199
MATCH RECORD
White Pieces
Wins: 162
Draws: 104
Losses: 74
Black Pieces
Wins: 137
Draws: 100
Losses: 114
---
In addition to taking lessons from coaches and books, chess players also use computer program to help analyze their strategy during training. The more sophisticated the computer, said Medina, the better it analyzes chess moves. Nevertheless, it is actual matches against other players that make up a chess player's real skills. "Tactics aside, a chess game is influenced by physical and mental fitness," said Medina, who once competed for eight hours during the Chess Olympics in Norway in 2014.
She also said that there are three stages in a game of chess. The first stage is like mathematics with numerous formulas and theories involved in the opening moves. The second stage is where players act like magicians as they employ strategies to deceive their opponent. In the final stage, they change their behavior again, this time mimicking that of an accountant who moves carefully and precisely. "One wrong step, and it is game over," she said. "This also applies in personal life."
Chess has very much become part of Medina's life. Her father, Nur Muchlisin, introduced Medina to the game when she was nine years old. In her eyes, chess is like a whole kingdom of Barbie dolls she used to play with. Seeing Medina's interest in chess, Nur enrolled her in the Utut Adianto Chess School in 2006. After three months of training, Medina took part in the Jakarta Regional Championship and scored a victory. She became Utut Adianto Chess School's star student, and her chess career skyrocketed.
Medina was awarded her Woman Grandmaster title after defeating Belarus chess player, Lanita Stetsko, during the Junior World Championship in Turkey in 2013. She is the second woman chess player from Indonesia to obtain the coveted title, after Irene Kharisma Sukandar. Medina also holds the record of the youngest Indonesian woman chess player to be named a Woman Grandmaster, at 16 years, 2 months, and 16 days old. Irene obtained the title at 16 years, 8 months, and 18 days old during the 2008 Chess Olympics in Germany.
For Medina, chess runs in the family. Her second sister, Virda Rizka Aulia, holds a National Master title. They frequently play chess together for training or just for fun. Medina's family often organizes small tournaments to encourage her youngest sibling, who just started playing chess. Having the Woman Grandmaster title makes her the one to beat. "My sister and father are always trying to defeat me," she said.
Grandmaster Susanto Megaranto said Medina excels at positional play. The 32-year-old chess player compares her calm playing style to that of Russian Grandmaster and former world champion Anatoly Karpov. Her play style, according to Susanto, is different from aggressive players such as Garry Kasparov. "She subdues her opponents slowly," said Susanto, who is Indonesia's youngest Grandmaster.
Susanto has known Medina since she was still learning to play chess at 10 years old. While Medina trained in Utut Adianto Chess School, Susanto had already earned his Grandmaster title and joined the rank of elite national chess players. Both have been playing for the national team since 2011. "I have also played against her in some tournaments," said Susanto.
---
- Satya Lancana Wira Karya Award (2008)
- World School Chess Championships winner in Singapore (2008) and Brazil (2014)
- FIDE Woman Master title (2009)
- National Student Championship winner (2010)
- Sea Games Indonesia Blitz Chess silver medalist (2011)
- Standard Chess, Rapid Chess, and Blitz Chess categories runner up in the Biel International Chess championship, Swiss (2013)
- Youngest Woman Grandmaster from Indonesia during the U-20 World Chess Championship in Turkey (2013)
- Myanmar SEA Games double bronze medalist for Rapid and Blitz Chess (2013)
- Women's category winner in the Czech Open tournament (2014)
- World record holder of largest simultaneous matches against 650 students (2015)
- West Java National Games double gold medalist (2016)
- Men's International Master in Japfa Master Tournament, Jakarta (2017)
- Biennial Intervarsity winner, Malaysia (201)
- Eastern Asia Chess Championship Winner, Mongolia (2019)
- SEA Games Philippines gold medalist (2019)
 

SOURCES: INTERVIEWS, INTERNATIONAL CHESS FEDERATION


---

Medina prefers to compete against men chess players. During the Japfa Grand Master-Woman Grand Master Chess Tournament in Yogyakarta, in June last year, she was the only woman chess player competing in the men's group. Aside from Susanto, Medina played against Grandmaster Dmitry Kokarev from Russia, Grandmaster Ivan Sokolov from the Netherlands, and Grandmaster Rustam Khusnutdinov from Kazakstan. Medina defeated Sokolov and ended her match with Susanto in a draw, but she lost from Kokarev and Khusnutdinov
For Medina, playing against men is more challenging and more dependent upon logic. She said she learned more from games against men chess players. To help Medina apply the lessons she learned from the chess school, Nur Muchlisin would often organize small tournaments. He gathered amateur players who like to play casually while hanging out. "They play with no theory, but playing with them made me more creative," said Medina, who likes rapid chess.
Medina often lost in matches against amateurs. But, instead of being deterred, her skill increased, thanks to the 'field practice'. Slowly, aided by knowledge from the chess school, she began to defeat her opponents, who later became reluctant to play against her again. However, when Medina was awarded her Woman Grandmaster title, they shared her happiness. "They said they took part in training me," said this third child of six children while laughing.
GABRIEL WAHYU TITIYOGA, IRSYAN HASYIM