Travel Permit from the police HQ
Interpol Indonesia provided red carpet treatment for Joko Soegiarto Tjandra allowing him to leave and enter Indonesia at will. Chief of the Police Criminal Unit is investigating alleged bribery of police officers involved in the case.
Edition : Monday, July 20, 2020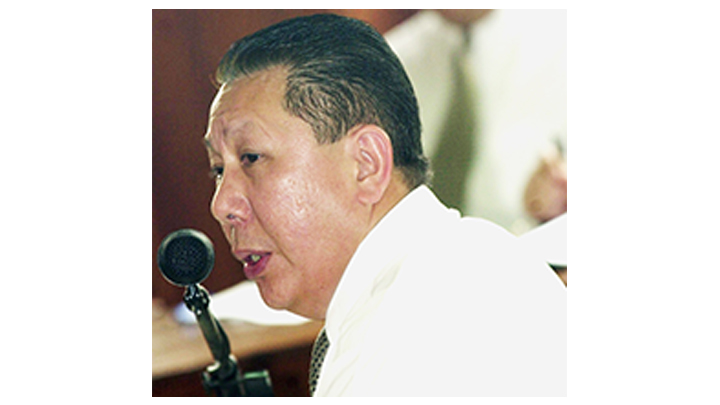 WITH no date, the letter of notice from the Secretary of the Indonesian National Central Bureau (NCB) Interpol, Brig. Gen. Nugroho S. Wibowo was addressed to Anna Boentaran and registered as May 2020. The letter declared that Anna's husband, Joko Soegiarto Tjandra, was no longer a "red notice subject" in the list at Interpol Headquarters (IPSG) in Lyon, France. The announcement was in response to a request to rescind Joko Tjandra's status as a fugitive accused of corruption of payment rights to Bank Bali, submitted by Anna on April 16, or 12 days after Nugroho took up position as Secretary of the NCB Interpol.
From there, several anomalies emerged. As if in prediction that Anna would be sending a letter requesting rescission on April 16, two days prior, Nugroho dispatched a letter to the Attorney General's Office (AGO). In the letter dated April 14, Nugroho conveyed that Interpol HQ in Lyon was readjusting its red notice list, which is the list of requests for chasing after fugitives, as recorded in their system. The red notice would automatically be deleted if there were no request for extension by the member country which submitted the name.
Nugroho asked for the AGO's confirmation, as executor of the Bank Bali payment rights court ruling, whether Joko's name still needed to be on the red notice list. A day before the deadline on April 22, the AGO replied saying Joko's name still needed to be on the list because they had never managed to nab the man who had been fugitive for the past 11 years.
Yet the letter was a mere formality. Disregarding the AGO's reply, Nugroho sent a letter to the immigration directorate-general at the justice and human rights ministry regarding abrogation of Joko's name from the red notice list on May 5. In the letter, he conveyed that Joko's red notice had been deleted from the Interpol's database in 2014 because there had been no request for extension from the AGO. Based on Nugroho's announcment, the immigration office immediately deleted Joko's name from the list of persons prohibited from leaving and entering Indonesia. "The NCB stated they would close it from the system," said Minister of Justice and Human Rights Yasonna Hamonangan Laoly.
After his name was no longer on the Interpol list of fugitives, Joko submitted a request for review of the Bank Bali payment rights case which implicated him. He personally came to the South Jakarta District Court on June 8 to register his case, after obtaining an identity card (KTP) from the South Grogol administrative village office in South Jakarta. He requested a review on the Supreme Court's verdict that sentenced him to two years in jail in 2009 and declared that his money in Bank Bali totaling Rp546.1 billion had been robbed by the state. Eleven years ago, Joko fled the country to foreign shores one day before the court sentence was read out.
W251bGwsIjIwMjEtMDUtMTEgMTg6MTI6MzEiXQ
The Supreme Court's decision for review as submitted by the AGO was not attached by Anna Boentaran when she sent a letter to the Interpol HQ in Lyon. The letter was sent by Anna before she dispatched a letter of request for expunction of Joko's name in the red notice to Interpol Indonesia, which was responded to by Nugroho. In her letter to the Interpol HQ, Anna only attached the South Jakarta District Court sentence and the Supreme Court's cassation of 2000 which exonerated Joko from the Bank Bali payment rights case. "The Interpol head office in Lyon confirmed Anna's letter of request with the NCB Indonesia," said a court official. Aside from the letter of request submitted by Anna, it was this confirmation from the Interpol head office that was used by Nugroho when dispatching his letter to the AGO.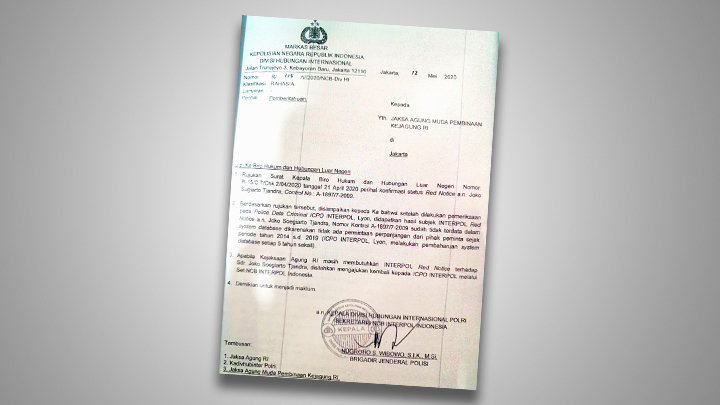 The letter from NCB Interpol Secretary Brig. Gen. Nugroho Wibowo to the Attorney General./Special Photos
Chief of Police Criminal Unit Comsr. Gen. Listyo Sigit Prabowo formed a team to investigate the removing of Joko's name from the Interpol fugitive list. "Regarding the whole series of events in this matter, we will take steps in criminal procedure," said Sigit on July 16. "From letter forgery, submission of letter, to abuse of authority."
The letter forgery is related to the role of Chief of the Civil Servant Investigation Oversight and Coordination Bureau (PPNS) at the Police Criminal Unit Brig. Gen. Prasetijo Utomo. On June 18, Prasetijo issued a travel permit for Joko to go from Jakarta to Pontianak, West Kalimantan, detailing date of departure as June 19 and date of return June 22. Joko was described as a "consultant for the PPNS Investigation Oversight Bureau" with address on Jalan Trunojoyo 3, South Jakarta, the address of the National Police Headquarters.
Not only did he issue Joko a travel warrant, he also supplied Joko with a letter declaring him free from Covid-19. Chief of the National Police Headquarters' Public Relations Division Insp. Gen. Raden Prabowo Argo Yuwono said Prasetijo summoned the police's physician named Hambektanuhita to his office. "There were two people in the room whom the doctor did not recognize, but on whom he did the (coronavirus) rapid test," he said.
When the results came out, Prasetijo and the two strangers asked for a letter stating that a certain Joko Soegiarto indeed was free of Covid-19. "The identities of the two persons are still being investigated," said Argo. Thus, equipped with the travel warrant and the letter declaring he was free of the Covid-19, Joko travelled from Jakarta to Malaysia via Pontianak.
Prasetijo is also suspected of actively being in communication with Joko's attorney, Anita Kolopaking. He sent the draft of the NCB Interpol letter requesting removal of a name from the red notice requested by Anna Boentaran to Anita. Prasetijo was well-versed in the ins and outs of the red notice list because he was previously chief of the NCB Interpol communication, radio and data bureau's international relations division in 2018.
For his actions, Prasetijo was removed from his position by Police Chief Gen. Idham Azis and was placed as a public service high rank officer to undergo investigation. Prasetijo was also detained for 14 days. Listyo Sigit led the dismissal ceremony of his colleague on Thusrday, July 16. Prasetijo himself was not present under the excuse he was ill.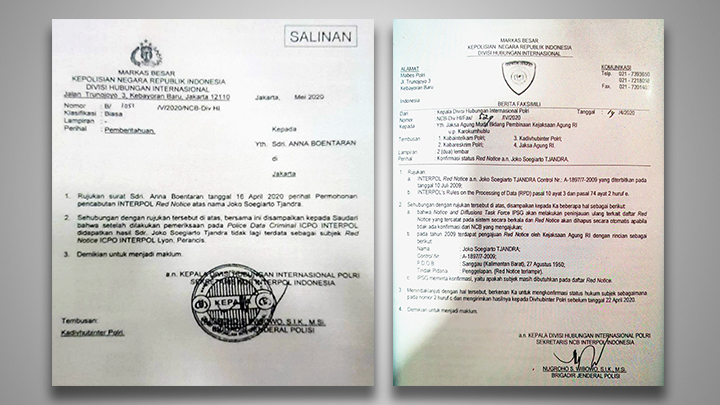 Copies of notification letters of Interpol red notice revocation on Joko Soegiarto Tjandra which was signed by Brig. Gen. Nugroho Wibowo to Anna Boentaran./Special Photos
The next day, Idham dismissed NCB Interpol Secretary Brig. Gen. Nugroho Wibowo and his superior, Chief of Police International Relations Insp. Gen. Napoleon Bonaparte. When asked for confirmation, Napoleon did not respond to phone calls and messages up to Saturday, July 18. Neither could Nugroho be met. On July 17, it was announced he was undergoing investigation.
Listyo Sigit said he would thoroughly look into all the actions of his men, "including the flow of cash both into the Police and to other places." "This is a warning to all members of the police. I am asking all those unable to comply to resign right now."
In an interview with Tempo on July 10, Joko Tjandra's attorney, Anita Kolopaking, admitted to knowing that her client's name was no longer on the red notice list from information from the police. "I checked with an acquaintance from the Police and for sure, Pak Joko was no longer being chased after," she said. When asked again for confirmation regarding her role in allowing Joko Tjandra to go in and out of Indonesia, Anita did not respond up until July 18. Neither did she reply to the question whether there were reimbursements to several police personnel for Joko's removal from the red notice list.
LINDA TRIANITA, ANDITA RAHMA