Troubles at Rokan
One year before Rokan Block's management is transferred from Chevron to Pertamina, problems remain unsolved. Numerous schemes are prepared to prevent further production declines.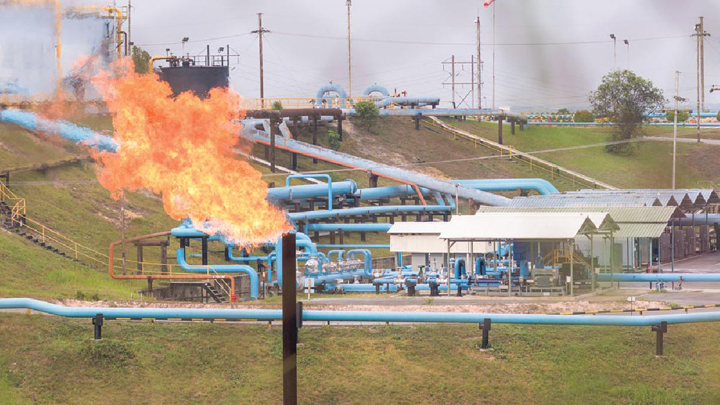 A new chapter in Rokan Block's management will begin soon. The government has appointed a US-based Green Corps as environmental auditor for the oil and gas field in Riau. The cooperation agreement was signed on July 12. "We had a kickoff meeting last Sunday," Dwi Soetjipto, chairman of the Upstream Oil and Gas Special Regulatory Task Force (SKK Migas), told Tempo on Thursday, July 16.
Dwi said that the audit will determine the location and estimate the volume of soil contaminated by oil. Next, the audit will calculate the amount of reserve funds for abandonment and site restoration that Chevron Pacific Indonesia (CPI) must provide. CPI is the block's work contract holder. That way, all decisions will be audited and finalized before CPI leaves Rokan next year.
Chevron's production sharing contract (PSC) in Rokan Block will end in August 2021. The company has been operator of the block for the past half century. In July 2018, the energy and mineral resources ministry rejected the company's proposal to extend its work contract. The government decides to hand over the management of the oil and gas work area, once the belle of nation's oil sources, to Pertamina for 20 years.
When announcing the management transfer two years ago, Deputy Energy Minister Arcandra Tahar said Pertamina offered a signature bonus and a definite work commitment with a total value of US$1.28 billion or around Rp18 trillion—much bigger than what Chevron had to offer. The energy ministry was confident to obtain a state revenue potential of up to US$57 billion (Rp825 trillion) until 2041 with Pertamina in charge.
But problems started appearing within the management transition. At the same time, the block's production continued to decline. The block's fields, which have been explored since the Dutch occupation era, are getting old. However, the depletion rate became faster since it was decided that Chevron would no longer operate Rokan.
Throughout last year, Chevron stopped drilling new wells—an activity needed to maintain production. Last year, Rokan managed an average output of 209,000 barrels per day (bpd). Now, the block only produces about 180,000 bpd, it even estimated to fall further to 160,000 bpd. Five years ago, the 6,264 square kilometer oil field was able to produce 279,000 bpd.
The government needs to maintain Rokan's production to secure state revenues, at least by slowing down the declining rate of lifting. The coordinating ministry for maritime affairs and investment intervened to take over the coordination discussions for Rokan's takeover during the transition period, as task previously handled by the energy ministry and SKK Migas.
Jodi Mahardi, spokesman of the coordinating ministry for maritime affairs, said the ministry is only tasked with facilitating and accelerating the takeover process, to maintain Rokan's production. That way, once Pertamina took over operations in August 2021, the block's baseline—the starting point of production—would not be too low. Otherwise, efforts to boost production would be a lot more difficult. "Right now the focus is to discuss agreements for CPI to invest during the transition period, as well as ensuring post-operation's environmental rehabilitation," Jodi said.
That is why additional audits are needed in several locations requested by the environment and forestry ministry. According to Jodi, CPI asked the government to provide a release of liability once the company fulfilled its post-operation obligations by providing sufficient resources. CPI needs it as a form of certainty.
Environmental rehabilitation is another problem during the transition period. Pertamina is worried that they might have to bear the costs once they officially become Rokan's operator. When added to past service liabilities, according to the Federation of Pertamina United Labor Unions (FSPPB), the cost could reach up to US$1.8 billion. "Much higher than the value of assets and production until 2021, which is estimated at only US$600 million," said FSPPB President Arie Gumilar in February.
The problem is, when signed in 1971, Chevron's production sharing contract in Rokan Block does not require the allocation of reserve funds for post-mining recovery efforts. The policy to restore post-mining areas only took effect after Indonesia ratified the international consensus and stipulated it in the energy minister's regulation in 1992. The provision was only applied to contracts signed after 1996.
SKK Migas Deputy Chief Fatar Yani said the government actually still requires all contractors to comply with the regulation. However, in reality it is not an easy matter, because environmental restoration work in Rokan covers a very large area—one of the largest in the world, 10 times the size of Jakarta. The operating area alone reaches 220 square kilometers, equivalent to the combines zises of ​​Central Jakarta and East Jakarta.
Fatar said CPI was willing to set aside a reserve fund. The calculation will be adjusted to the profit sharing scheme for each work area. Rokan has several working areas, with a revenue sharing scheme of 90 percent for the government and 10 percent for contractors.
Specifically for advanced work areas that use enhanced oil recovery (EOR) technology, such as the Duri Field, the scheme used is 88 percent for the state and 12 percent of contractors. This means that Chevron would provide 10-12 percent of the reserve funds, and the rest comes from the government.
According to Fatar, the audit team went into the field last weekend, targeting to come up with results at the end of July for a discussion in August. If all goes well, the SKK Migas hopes CPI can resume well drilling in November.
•••
THE Mahakam Block in East Kalimantan stands as an important lesson for the government. Decided in 2015, the management transfer of the giant gas field in the Mahakam River Delta has been limping. Since Pertamina took over management from Total E&P Indonesie in early 2018, Mahakam's production continues to decline. According to the SKK Migas, Mahakam's gas production, once reaching 1,711 million cubic feet per day (mmscfd) under Total, slumped to just 660 mmscfd by mid-2019.
Numerous solutions are now being prepared to prevent Rokan from experiencing the same fate as Mahakam. At least four options are being discussed—including having Chevron conduct drilling using their own funds, or funded by Pertamina, or having Pertamina drill it and pay for it. Another scheme, which is the most extreme, is for CPI to hand over Rokan to Pertamina. According to Jodi Mahardi, the bottom line is that the government wants drilling to continues at the end of Chevron's contract period in Rokan.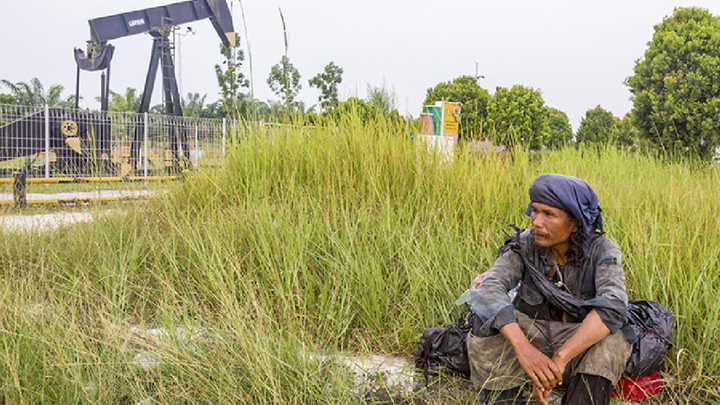 Monument of the oldest oil drill in Minas, August 2018./ANTARA/FB Anggoro
Since the government decided not to renew the contract, Chevron said it has no plans to drill as it is no longer profitable. In a hearing with the House of Representatives' (DPR) Energy Commission on January 20, CPI Chief Executive Officer (CEO) Albert Simanjuntak said his company last drilled 89 wells in 2018.
According to Albert, the company is currently optimizing workover and well services using digital technology. Various technologies that have long been applied at Rokan, such as the steam injection technique (steamflood) at the Duri Field and the waterflood at the Minas Field, also continued to be used to decelerate production decline.
Like Jodi, Dwi Soetjipto hopes that Chevron would resume investments even though they only have 13 months left in the contract. Dwi said a number schemes are prepared so that CPI can obtain returns for its investments in the transition period. One way is by shortening the depreciation period. In the concept of cost recovery, investment returns are usually done in stages for five years after oil is produced.
The discussion of the scheme involved the Attorney General's Office (AGO), to obtain input from the legal aspects. The SKK Migas needs it not only for the purpose of accelerating investment, but also a way out for CPI in terms of environmental aspects. For example, in the case if local residents protest about contaminated land after the audit is completed and Chevron has allocated certain reserve funds. "We want guidance from the AGO," he said.
Once the environmental affairs are completed, Fatar Yani said, CPI will begin drilling the development well in stages. There are a total of 114 new wells, including re-entry wells. The target is to have two rigs drill 14 wells this year. The rest will be done next year, with help from three additional rigs. "This is extraordinary. CPI itself might not fully enjoy the results from the wells, but Pertamina will enjoy a lot later in the production phase," said Fatar.
To Fatar, this scheme is a win-win solution. The government will seek to give CPI faster return on investment. Additionally, environmental problems in the Rokan Block are solved and the potential for production is not lost. In the future, Pertamina will continue production activities when the transfer of management starts. SKK Migas aims for Pertamina to increase drilling, bringing the number up to 200 wells by 2021.
Pertamina is committed to drill 44 new wells in 2021, carried out by Pertamina Hulu Rokan, the subsidiary of Pertamina Hulu Energi. Preparations have started, including procurement of logistics, rigs, and crew. The company targets oil production to reach 200,000 bpd under its management. "We have to continue drilling wells on the first day," Pertamina Hulu Energi CEO Budiman Parhusip said in a virtual discussion on July 15. "From 175,000-180,000 bpd, we will increase it to 190,000-200,000 bpd."
To achieve the ambition, Pertamina would have to apply various technologies that have been applied at Rokan, including the chemical enhanced oil recovery method with surfactant injection, which has been used since 2013. But this is where another problem lies. The technology uses chemicals developed specifically by Chevron without using cost recovery funds.
Pertamina CEO Nicke Widyawati had expressed concerns over one component in the EOR formula. Chevron will not give it for free to Pertamina. Without this formula, Pertamina would need four years to implement the EOR, as new studies would be necessary. "EORs are specific, unique, and different for each location," Nicke said in a meeting with the DPR's Energy Commission on January 29.
In a similar meeting a week earlier, Albert Simanjuntak also said that the chemical component in the EOR formula would be a business matter between Chevron and Pertamina. "There is a formula, including how to implement it, the technical SOP (standard operating procedure)," Albert said. "The chemical is produced by Chevron, of course the factory is owned by Chevron. Later, we will have a B2B (business-to-business) discussion."
With the chemical patent issue remaining unsolved, Pertamina is also dealing with problems at the steam generating facility in the Duri Field, Bengkalis Regency—also built by Chevron. The infrastructure was built in the 1980s, the same time steamflood technology was applied for Duri.
Dwi Soetjipto said the SKK Migas had compiled a list of assets that must be submitted by Rokan Block operator to the government. The return of these capital goods, procured using state funds under a cost recovery scheme, must be completed before CPI leaves. The power plants used to supply electricity to Duri working area are not included in it. "They are owned by third parties," Dwi said.
Along with the discussion of the transition period, Pertamina said it is also discussing various new business matters in Rokan. Pertamina's Spokesman Fajriyah Usman said that Pertamina Power Indonesia—a subsidiary engaged in electricity generator—is negotiating with Chevron to ensure Rokan continues to get ample power supply. "If we agree, in the future Pertamina Power will be the electricity and steam supplier to Pertamina Hulu Rokan," he said.
As for the matter of chemicals used for the EOR technology, Fajriyah ensured Pertamina would respect the intellectual property rights owned by Chevron. "We continue to discuss this with Chevron while looking for other EOR chemical formulas that are more cost-effective to increase Rokan production," he said.
RETNO SULISTYOWATI