A New Light for a Boarding School Community
Najmatul Millah and her husband built an Islamic boarding school in Jember, East Java, which features a more formal curriculum. She spreads the word about fulfilling women's rights.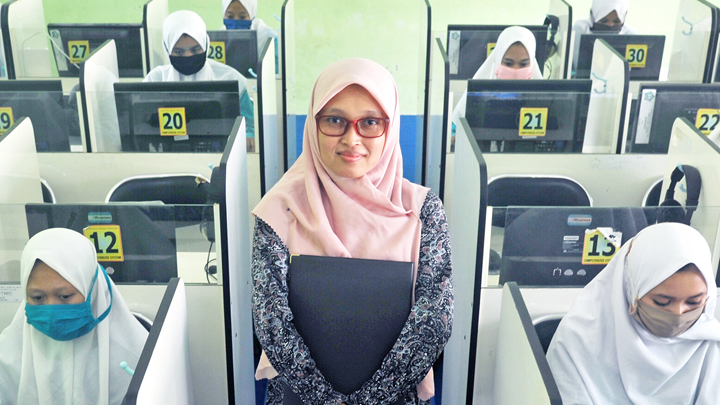 THE call to prayer seemingly operated as a school bell on the grounds of the Nurul Jadid Al-Islami pesantren (Islamic boarding school) in Sumberwringin village, Jember, East Java. That day, Wednesday, July 15, just as the azan (call to prayer) had completed, dozens of female students dressed in green uniforms spilled out of the classrooms. They quickly prepared what they needed to pray the early afternoon prayer in congregation. "Mbak, use your facemask!" Najmatul Millah said to one student.
Najmatul is the top figure at the foundation which oversees the Nurul Jadid Al-Islami school. Most of the approximately 200 students who live there, almost all of them female, call her Nyai. Like at other Islamic boarding schools in Java, the respect the students have for the school's leader is tangible. That day, each student bowed their head as they met Najma—which is Najmatul's nickname—on a walkway at the school.
Located on a 7,500-square-meter of land in a northern corner of Sumberwringin, Nurul Jadid Al-Islami is not like most salafiyya (a branch within Sunni Islam which follows the ideas an practices of Al-Salah Al-Salih) boarding schools which primarily teach traditional religious studies. This school founded by Najma and her husband, Abdul Muhaimin, in 2008, pioneered the opening of a middle and high school in this village located about 20 kilometers north of Jember.
It all began in 2005, when Najma went with Muhaimin to live at the Bustanul Ulum Islamic Boarding School in Sumberwringin—about 300 meters west from the site of the Nurul Jadid Al-Islami. Muhaimin is the son of Kiai (cleric) Fauzi, a second generation of the founder of the Bustanul Ulum. His grandfather, Kiai Ali Wafi, was the son of Kiai Ahmad Syukri, founder of Raudlatul Ulum, a boarding school which was established in that village over a century ago.
At that time, a young Najma, who had recently graduated from the Malang State Islamic College, was surprised by the number of children dropping out in the village. Sumberwringin, with some Islamic boarding schools in it—all of them under the care of her husband's relatives—were much different from her home village, Wonorejo, in Lumajang, East Java, which also had a large population of Islamic boarding school students.
Many residents in Sumberwringin sent their children to the Islamic boarding school, but not to study at the formal school. In Wonorejo, students studied and graduated from the higher levels of education.
Najma is no stranger to Islamic boarding schools. The 37-year-old woman is also the child of a kiai. Her father, Kiai Abdul Ghoni Halim, founded the Nurut Tauhid Islamic Boarding School in Lumajang. People living around the school appreciate the importance of formal education.
As she saw it, the girls in Sumberwringin faced the worst situation. Many of them did not continue their studies, and were often forced to marry at an early age. "At that time, young girls at this school often attended the weddings of their friends who had just graduated primary school," Najma recalled.
After living in Sumberwringin for a year, Najma was able to determine why this was happening. One factor was that no formal education beyond primary school was available there. After mulling it over, she and her husband resolved to build a school, utilizing unused space at the Bustanul Ulum. While the Nurul Jadid Al-Islami school offers formal education, it used to be known as the Bustanul Ulum Islamic Middle School. When they started, the school only had nine students, none of them from Sumberwringin.
Over time, the initially apathetic residents slowly began to support this new school. More students began to attend. After three years that first class of nine students graduated. The need to start a higher school came. Thanks to a land endowment from her in-laws, Najma and Muhaimin established their own boarding school, known as the Nurul Jadid Al-Islami. Najma presides over the foundation which oversees the school. Muhaimin is the headmaster for formal education at the middle school and vocational high school.
For Ulfatul Hasanah, this newest boarding school in Sumberwringin truly reflects its name: a new light of Islam. The Nurul Jadid Al-Islami graduate truly remembers how Najma was always encouraging her. "Nyai always said that female students must be able to attain higher levels of education. It should not stop at primary school, let alone because of being forced to get married," said Ulfatul.
This advice is what led Ulfatul to dare to turn down several attempts to have her marry at an early age. The 24-year-old woman started her family after graduating from the Jember State Islamic Institute.
It was not easy for Najmatul to begin down this path. With over a century of tradition of a salafiyya boarding school, the people of Sumberwringin were initially resistant to a school led by a woman.
The existence of formal conventional schooling there was also challenged by the local populace, including by her husband's extended family, who were concerned that this could harm their traditions. "They said in the afterlife you won't be asked about mathematics, and that English is religiously unlawful because it is the language of non-Muslims," said Najma.
The community also did not agree with Najma's deep concern regarding the matter of early marriage. Many parents protested—in person at the school or by letters—because they considered that Najma was influencing their children to be against young marriage.
She did not falter despite the wave of criticism. "I felt that this was not right, that it was against the right to seek knowledge," said the mother of three who is presently eight months pregnant.
So she expanded the scope of her teaching. When not tutoring students at the school, she began appearing at religious study sessions for women in her village. She also gives religious talks at the schools and at mosques around the village once every two weeks—but was recently suspended due to the pandemic.
At these religious study gatherings she brings up various women's issues, ranging from the importance of education to reproductive health and the threat of human trafficking. These three topics resonated with women living in villages, especially in Jember.
Early marriage, for instance, has the potential to trigger problems with reproductive health, thereby endangering the safety of women. These two things often lead to sexual violence in the household.
This is why Najma continued to challenge the community's general belief that no matter how highly educated a woman becomes, she will likely end up working in the kitchen. For Najma, education should reduce the risks for women falling victim to traps disguised as job offers. Similar material is discussed with the students at her school.
Twelve years after its establishment, hundreds have graduated from Nurul Jadid Al-Islami. While old problems have not yet been completely solved, new challenges have begun to arise. The middle school graduates, according to Najma, tend to be interested in immediately finding work in order to make money. "I want them to be more patient to study further, to rise above the level of unskilled manual labor," she said.