Preacher of Human Rights
Marzuki Wahid loudly voices his support for gender equality and equity. He co-founded an Islamic education institution focused on gender and human rights studies.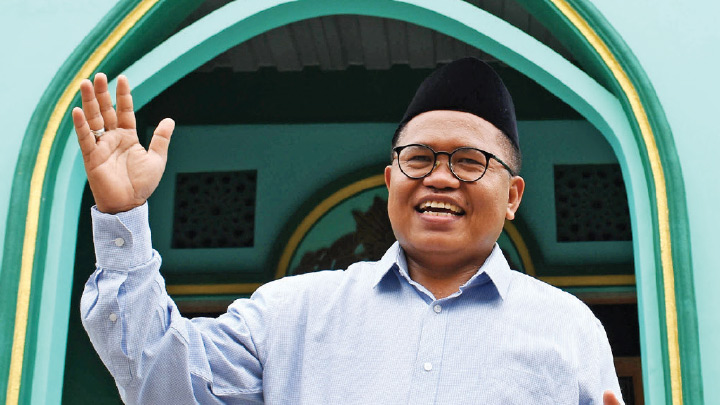 AT first, Marzuki Wahid would always feel conflicted when listening to talks or discussions about gender equality. Marzuki, who was born and grew up in a pesantren (Islamic boarding school) environment in Cirebon, West Java, was trapped in the social construct that placing men at a higher status than women. When he was young, Marzuki even believed that only men should be a leader.
He says he once firmly rejected discussions on gender equality, because he felt that such discussions were meant to disrupt Islamic teachings about men-women relations. "I said, this is the West wanting to destroy Islamic teachings," he told Tempo on Thursday, July 16.
Marzuki's view on gender issues drastically changed after he participated in a training program organized by the Indonesian Islamic Students Movement (PMII) during his time as a student at the Sunan Kalijaga State Islamic University, Yogyakarta, in mid 1990s. One of the speakers was a representative from the Women and Children Development Research Center.
The program encouraged Marzuki to study literature on gender equality and equity, including from Islamic sources. He found that, in fact, Islam also teaches gender equality. "Even the Prophet Muhammad was a true feminist," he said.
Marzuki's diligence in studying gender issues has made him an expert on fiqh (Islamic jurisprudence), with a feminist perspective. He is often branded as an agitator of Islamic teachings. As a post-graduate student at the Syarif Hidayatulah State Islamic University in Jakarta in 1996-1998, his paper analyzing the positions of men and women in the Qur'an angered his professor of Qur'an interpretation. "He said in Arabic, trembling, 'Do you want to change the Qur'an?'" said Marzuki.
He then explained that his writing referenced the arguments of various experts of interpretation, and he convinced his professor that he remained faithful to Islamic values. His professor's anger subsided. "I was worried that I would have to repeat the course, but in the end I got an A," he said, laughing.
Years later, Marzuki has stayed true to his view on gender equality, which he spreads through writing and teaching. But his journey in spreading these ideas has not always been smooth. Marzuki's way of spreading rational and contextual Islamic teachings is often mocked, especially because he is firmly against polygamy. "I'm frequently attacked on social media, but I haven't been responding to the attacks lately."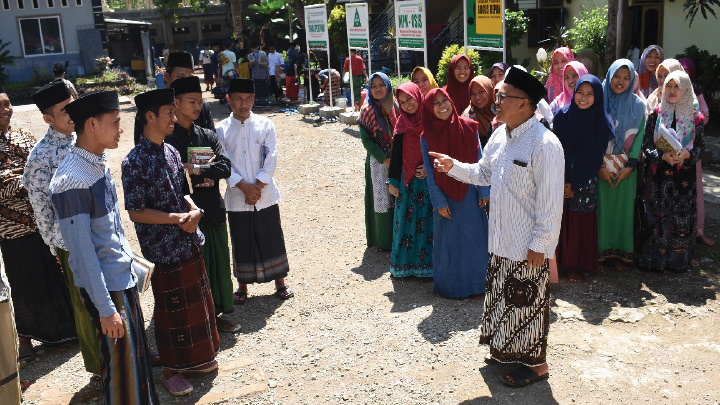 Marzuki Wahid with his final year students at the Kebon Jambu Islamic Boarding School in Cirebon, West Java, July 17. TEMPO/Prima mulia
His support for gender equality and human rights has made him a kyai (Islamic cleric) with a progressive view on men-women relations through the lens of Islam.
It was this humanitarian perspective that Marzuki upheld when he founded the Fahmina Foundation along with Husein Muhammad, Affandi Mochtar, and Faqihuddin Abdul Kohir in November 2000. Seven years later, the Fahmina Islamic Research Institute was created from the foundation.
Marzuki also helped build Ma'had Aly Kebon Jambu along with Husein Muhammad, owner and leader of the Kebon Jambu Masriyah Amva pesantren. The university, whose campus is merged with the Kebon Jambu pesantren, was created on the recommendation of the first Indonesian Women Ulema Congress (KUPI) held on April 25-27, 2017. In its recommendation, the KUPI called Ma'had Aly a place to nurture women ulema. Marzuki, who was involved in the congress, helped design Ma'had Aly's curriculum.
Ma'had Aly's curriculum is focused on the study of fiqh al-ahwal asy-syakhshiyyah, or Islamic family law, with gender and human right studies as its primary subjects. "Because this is perspective-based material, the students must already have a clear view on these issues from the start," said Marzuki, now secretary of Nahdlatul Ulama Central Board human resources development and research institution.
Dudang Gojali, dean of economics and business at the Sunan Gunung Djati State Islamic University in Bandung, says Marzuki is an academician who pioneered the inclusion of gender studies in pesantren curriculum. "What Marzuki did was a breakthrough. Even in universities it's not yet common, let alone in pesantren," said Dudang, who was Marzuki's colleague in the PMII.
Marzuki is also vocal when it comes to gender equality and equity in marriage and marital relations. This is an important issue considering the great number of cases of husbands forcing their wives to have sexual intercourse when the woman is feeling unwell or not in the mood. According to Marzuki, this can be categorized as rape.
Women ulema view adultery and rape as two different crimes, in terms of definition, sanctions as well as evidence. Rape is more serious than adultery because it is forced. In the case of rape, the person who has sinned and must be punished is the perpetrator. Meanwhile, the victim must be protected. According to Marzuki, this is a recent development. Before, many fiqh saw rape and adultery as equal transgressions.
Because of his activism in gender equality, Marzuki was trusted to draft various academic articles, among others, the 2004 religious court bill on marriage. He also drafted the National Action Plan for Women's Constitutional Rights in 2009 along with the National Commission on Violence Against Women (Komnas Perempuan).
He and various civil society groups continue to urge the government to more seriously deliberate on the bill on sexual violence. The bill's deliberation process ceased after the House of Representatives took the bill out of the 2020 National Legislation Program. Marzuki and 125 others, including musicians, journalists, and writers, signed an open letter to President Joko Widodo on July 22, demanding the immediate legislation of the bill.
Despite being active in da'wah (preaching) forums and academic circles, Marzuki has not been tempted to enter politics. According to chairman of Jaringan Kerja Antarumat Bergama (interreligious network group), Wawan Gunawan, many political parties have tried to recruit Marzuki, but he always refuses. He feels freer as an academician. "The political temptations are there, but he doesn't want to (join them), he says so that he can be accepted in different circles," said Wawan.