Keeping the Fire of Tolerance
Six Islamic teachers fight to nurture tolerance and equality. They preach from village to village, guiding their communities. They have been rejected and threatened, some have even been driven away, their schools attacked. But they refuse to give up and have consistently promoting interfaith harmony and equity. illustration: tempo/kendra paramita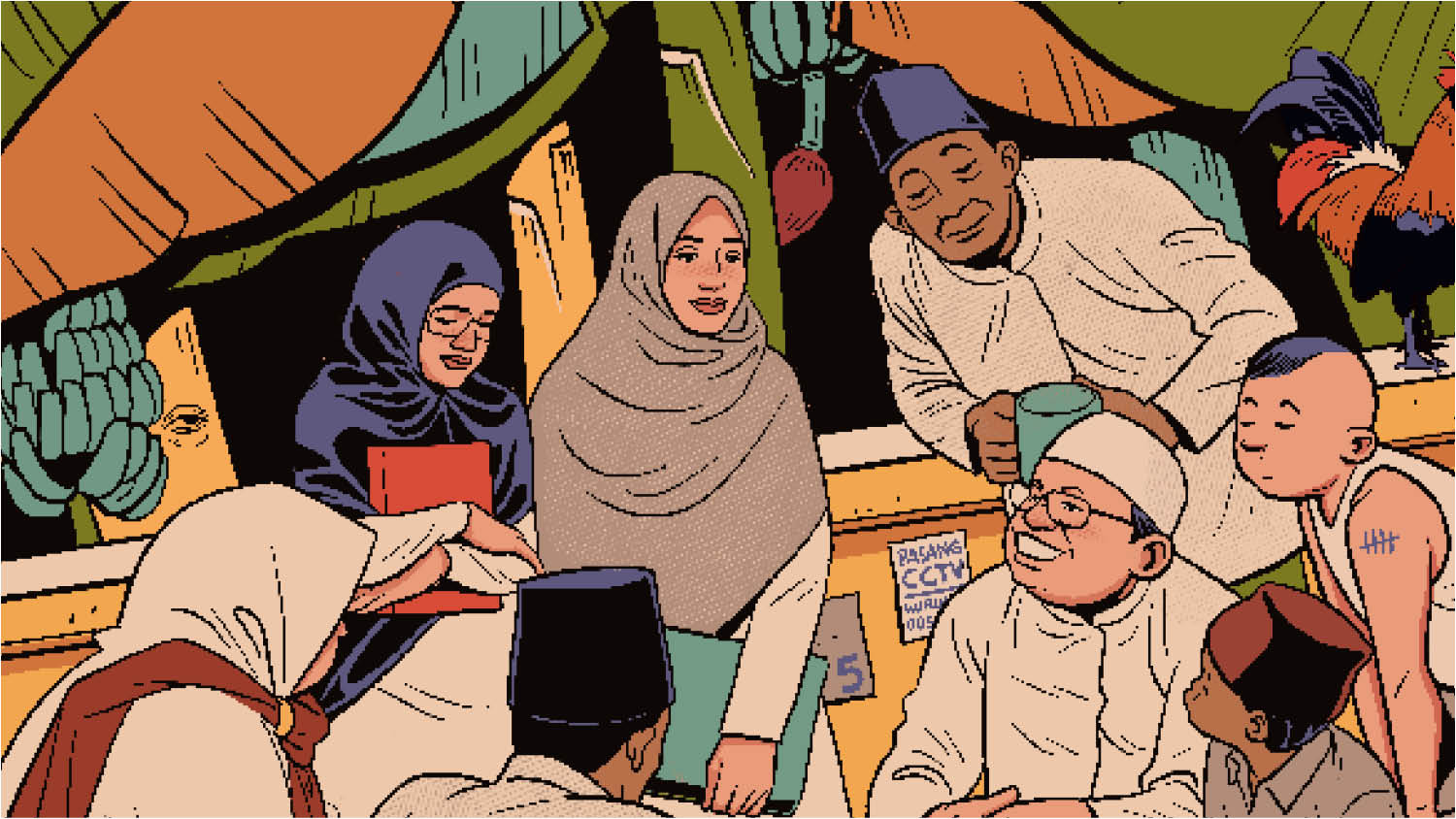 ON the second day of Idul Adha (Day of Sacrifice) in 2012, students at the Assalafiyah Mlangi pesantren (Islamic boarding school) in Sleman, Yogyakarta, transformed their appearance. Some appeared as ulema, while others dressed as a Christian priests and a Jewish rabbi. On the yard of the Patok Negoro Mlangi Mosque, students under the guidance of Irwan Masduqi participated in a theater competition organized by the area's youth group.
As proof of their seriousness in acting, students who played Christian priests brought a wooden cross that they crafted themselves. "We want to perform the history of kurban (sacrifice), which is also part of religions other than Islam," said Irwan as he reminisced on the event on Wednesday, July 15. Members of the jury, who came from the Nahdlatul Ulama (NU—the biggest Islamic organization in Indonesia) student association and Fatayat NU (women's group in NU), voted for the play presented by Assalafiyah's students.
But that night, a photo of them carrying a cross circulated on social media, causing the pesantren to be attacked by a number of people. Irwan calmly explained the message of peace contained in the student play.
Despite criticism coming from all directions, Irwan has never stopped promoting tolerance. The graduate of Al-Azhar University, Cairo, Egypt, enlisted young people and figures of other religions to fight intolerance. He believes that intolerance cannot be eliminated only by himself, but by involving others, including those from different faiths.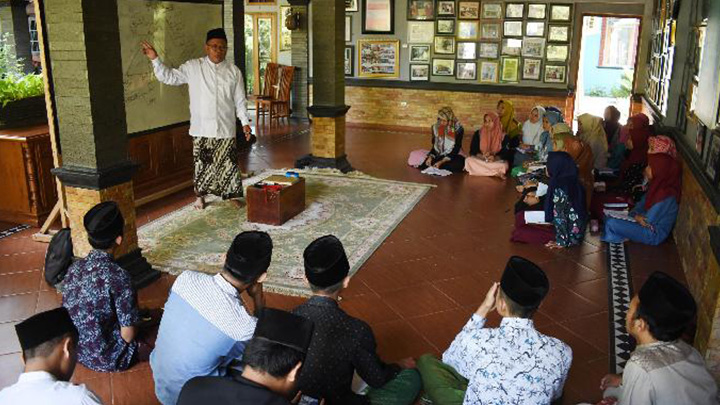 Ma'had Aly Kebon Jambu Director, Marzuki Wahid, teaching his final-year students in Cirebon, West Java, July 17./TEMPO/Prima mulia
Readers, as we approach Idul Adha 2020, Tempo has prepared a special report on various ustaz and ustazah (respectively male and female Islamic teachers) like Irwan Masduqi. Their presence has become vital in a time when intolerance and discrimination prospers in the country. Often, intolerance is even triggered by religious figures, who negatively label other individuals or faith groups. While the relationship between adherents of different religions is disturbed, some of them have chosen to remain quiet. In the end, the silence has helped propagate intolerance and discrimination.
The roles of ustaz and ustazah in spreading a peaceful and loving Islam have become increasingly important because some people, who should be playing a role in forming character, have the tendency to show intolerance. The Syarif Hidayatullah State Islamic University's Islam and Community Research Center survey in 2018 showed that 56.9 percent of 2,237 Muslim teachers in kindergarten to high school fell under the category of intolerant. Over half refused having non-Muslims establish religious schools.
In mid-April, the magazine's team of editors began discussions on how to promote the stories of Islamic teachers who have been promoting tolerance and equality. We are certain that there are many teachers and preachers in the country, who have been consistently teaching the idea of Islam rahmatan lil-alamin (inclusive Islam). It is very likely that they are moving quietly in various corners of the country, far away from media reporting.
Our special report team held discussions with various researchers from different institutions, such as NU, Muhammadiyah, Gusdurian Network, Maarif Institute, the Islamic Education and Information Center, Al-Quran Study Center, as well as the Jakarta State Islamic University Institution Research Center (LPPM). They gave us information on the efforts of preachers in the regions who have been promoting tolerance.
Jakarta State Islamic University LPPM researcher, Dadi Darmadi, says moderate preachers in the region often come face to face with intolerant and radical movements that have spread to various corners. Similar to Dedi, Maarif Institute researcher, Deni Murdiani, says local ustaz and ustazah have tremendous impact on their communities and environments. "Their roles are crucial when many preachers are promoting intolerance," said Deni.
We also discussed with Pera Sopiriyanti, director of Rahima, an organization focused on education and Islam for gender equality and equity. According to Pera, many ustazah who are fighting for women's rights are often underestimated when it comes to religious affairs. "Female ulema can provide the understanding that Islam, in fact, places women as humans with value and dignity that are equal to men, and are equal in God's eyes," said Pera.
Our team obtained over 100 names from these institutions and our independent searching. We attempted to track their online footprints. We also listened to their sermons on local and social medias. Lastly, we sent correspondents in the regions to look into their work.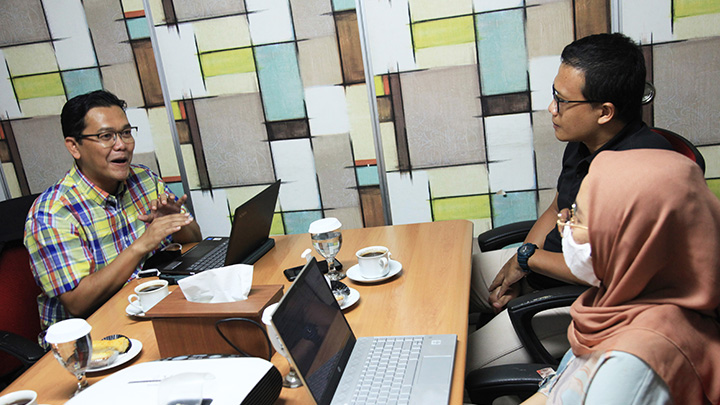 A discussion between Tempo editors and Dadi Darmadi, Jakarta State Islamic University LPPM researcher, in Palmerah, Jakarta, June 18./TEMPO/Gunawan Wicaksono
We discussed the results of our investigation before verifying with their communities and neighborhoods. Amid the coronavirus pandemic, the verification process posed its own challenges. Tempo journalist Karana Wijaya had to pass through a red zone in order to reach East Kotawaringin in Central Kalimantan. And his travel had to be delayed due to closed access.
With that process, the team pocketed six teachers who are consistent in promoting tolerance and equality. From the northern tip of Sumatra, Umi Hanisah is the first woman who founded and lead a pesantren. She accepted children who are victims of sexual and domestic violences. For that reason, Hanisah was expelled from the school she has built.
Other ustazah is Najmatul Millah, who leads a foundation that oversees the Nurul Jadid Al-Islami pesantren in Sukowono, Jember Regency, East Java. She strives to prevent her students from marrying in early age, for that she is often scolded by parents who believe that she is influencing their children to refuse marriage. In Banyuurip, Purworejo, Central Java, Ratna Ulfatul Fuadiyah empowers the community she built through an initiative she calls 'productive charity'. Her home was visited by loan sharks who could no longer make profit from locals.
In Ciwaringin, Cirebon, West Java, Marzuki Wahid vocally promotes gender equality, drawing criticism when he spoke against marital rape. Meanwhile, in East Kotawaringin, a professor at the Muhammadiyah Education College (STKIP Muhammadiyah), Alivermana Wiguna, eradicated radical movement at his university. Like Irwan Masduqi, caretaker of Assalafiyah Mlangi, Alivermana teaches his students to respect religious and ethnic diversity.
Readers, we do not deny the possibility that these six individuals have their own flaws. We are also aware that there are plenty of other Islamic teachers out there, who are promoting tolerance while escaping our radar. But these six men and women can serve as examples of how Islam can become a gift, not only for Muslims, but also for other religious groups.
---
Tolerant Teachers Special Report Team
Team Leader: Stefanus Pramono Project Head: Devy Ernis
Writers: Aisha Shaidra, Devy Ernis, Dini Pramita, Hussein Abri Dongoran, Gabriel Wahyu Titiyoga, Moyang Kasih Dewimerdeka Editors: Agoeng Wijaya, Anton Septian, Bagja Hidayat, Dody Hidayat, Nurdin Kalim, Stefanus Pramono Contributors: David Priya Sidharta (Jember), Iil Askar Mondza (Meulaboh), Iqbal T. Lazuardi (Cirebon), Karana Wijaya (East Kotawaringin), Pito Agustin Rudiana (Purworejo), Shinta Maharani (Yogyakarta) Photo Research: Gunawan Wicaksono, Jati Mahatmaji, Ratih Purnama Ningsih English Editor: Luke Edward Designers: Ahmad Fatoni, Aji Yuliarto, Eko Punto Pambudi, Gatot Pandego