The Sabu Voyage in Sumatra
Taiwanese drug smuggler networks supply nartoctics to Indonesia using fishing boats with falsified documents. Operating as far as Australia's western coast, they make use of undetected small piers and uninhabited islets near the Riau Islands. This investigation report is the collaborative work of Tempo magazine, Taiwan media The Reporter, Tempo Institute and Free Press Unlimited.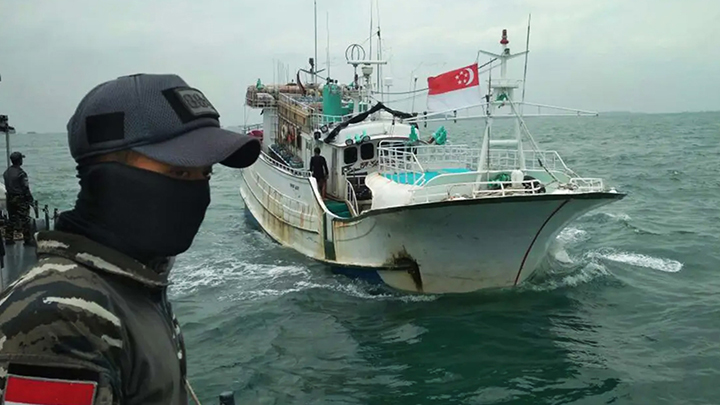 AT the end of 2017, Huang Ching An received an offer to become an engineer on a cargo ship from his old friend, Ceng Ching Tun, at a karaoke shop in Ping Tong, Taiwan. Someone claiming to be a ship owner then called and offered to pay him NT$80,000 or around Rp39 million for one trip. "It did not seem suspicious, so I said yes," Ching An, 50, told Tempo on the phone, June 23.
Ching An's career as a seaman stopped two years ago when the Indonesian Military (TNI) Navy's patrol boat, KRI Sigurot 864, captured the MV Sunrise Glory vessel on February 7, 2018. In addition to Huang Ching An and Ceng Ching Tun, the trawler had two other crew members, Ceng Cung Nan and Hsieh Lai Fu. They were arrested on the Phillips Channel bordering the Riau Islands. The ship carried 41 sacks containing 1.03 tons of crystal methamphetamine, known locally as sabu, hidden in the boat's hold.
Following an investigation by the National Narcotics Agency (BNN), Ching An et al were taken to the Batam District Court as defendants. The judges gave Ching An a life sentence on November 29, 2018, while the other three crew members were sentenced to death. Later, the Pekanbaru High Court gave Ching An the death sentence. The four Taiwanese are now detained at the Barelang Prison in Batam, Riau Islands.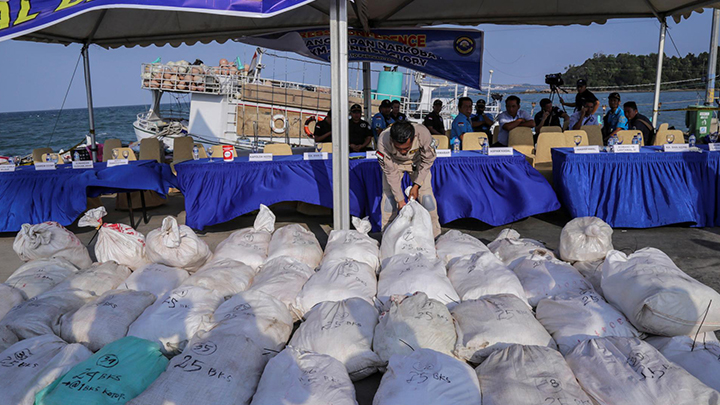 Seized sacks of crystal meth at a port in Batam, Riau Islands, February 2018./Antara/M N Kanwa
Ching An said he only realized that he was not to work a cargo ship before sailing off from a port in Singapore. He also claimed that he did not know the boat owner and the two other crew brought by Ching Tun. A man named A Ho, he said, had a job preparing the MV Sunrise Glory fishing boat. A Ho is still at large.
W251bGwsIjIwMjEtMDItMjcgMTM6MjE6NTQiXQ
As it turned out, Sunrise Glory has many names. The white vessel was previously named MV Shun De Man 66, Shun De Ching 12, and Shun De Ching 14. Ching An had refused working on board the ship for lack of official documents. But A Ho convinced them that Ching Tun, the boat's captain, will take care of all documents.
Ching An eventually gave in to A Ho's persuasion, and they sailed off in November 2017. For nearly two weeks in the middle of the sea, Ching An often heard his best friend, Ching Tun, on the phone with someone. "But I did not know what they were talking about," he said.
It is suspected that Sunrise Glory had smuggled sabu twice. Prior to its first voyage, four crew members flew from Taiwan to Singapore on November 25, 2017, and arrived to find Sunrise Glory was ready to set sail from a port.
In court, Ching An said the ship sailed towards the Indian Ocean for three or four days. They met a yacht there and 40 sacks were transferred from Sunrise Glory to it. After completing the first assignment, Sunrise Glory sailed again for two weeks. At one location, they met with another ship and passed over dozens of sacks. Ching An said that he did not to know the sacks contained crystal meth.
The BNN suspects that sabu in Sunrise Glory came from Myanmar. In the article The hunt for Asia's El Chapo, Reuters wrote that Sunrise Glory's movements were tracked down by Taiwanese law enforcement after the arrest of Cai Jeng Ze on November 15, 2016 at Yangon International Airport, Myanmar. Jeng Ze is a drug kingpin from Taiwan suspected of having a sabu factory in Myanmar. The police found that Jeng Ze communicated by phone with several people in Myanmar. He is suspected of being in charge with organizing fishing boats to transport the drugs. One of the voyages' coordinates are estimated to point to the Andaman Sea, which borders Aceh.
Sunrise Glory also interacted with Australian flagged fishing charter boat, MV Valkoista, which was purchased by Australian citizen Joshua Joseph Smith in early July 2017. The Australian police were suspicious of this purchase, because Smith did not have a seaman's license. Australian police predicted that the Valkoista will meet Shun De Man 66, a.k.a. Sunrise Glory, in Western Australian waters. The trial documents stated that the Australian Federal Police (AFP) informed the planned transaction to the BNN.
Since then, the BNN tracked down Sunrise Glory, a.k.a. Shun De Man 66. On December 10, 2017, Shun De Man 66 was detected in the waters of the Andaman Strait, sailing towards the west coast of Sumatra. They were sailing outside Indonesia's Exclusive Economic Zone, heading towards the Indian Ocean and continued into Australian waters.
Nearly two weeks later, the AFP and the West Australian Joint Organized Crime Task Force captured the Valkoista in the Port of Geraldton, about 400 kilometers north of Perth. The ship was found carrying 1.2 tons of methamphetamine in 59 sacks. Australian police suspected that the drugs came from Shun De Man 66. Huang Ching An and his colleagues escaped the bust.
A week after the Australian bust, the BNN found out that Shun De Man 66 had anchored down at Singapore's Jurong Port. On December 29, 2017, the ship sailed towards the Andaman Sea and Indian Ocean. Ching An said that after sailing for days in the middle of the sea, they returned to Singapore. On January 8, 2018, the first voyage was completed and they returned to Taiwan.
After three weeks' rest, on January 27, 2018 the four crew members flew to Penang, Malaysia to carry out the second mission. Two days later, they sailed on Shun De Man 66, which had been renamed MV Sunrise Glory. On February 7, 2018, the TNI Navy patrol boat, KRI Sigurot 864, approached Sunrise Glory in the Phillips Channel.
---
The transaction volume reached 522.1 tons with a sales value of US$16.5 billion, roughly Rp241 trillion in today's rate.
---
Using a long range acoustic device, the warship—commanded by Maj. Arizona Bintara, asked Sunrise Glory to stop. But the ship sped off. "We made radio contact but there was no answer," Arizona said as stated in the trial document. The KRI Sigurot 864 managed to catch up with Sunrise Glory and boarded the ship.
During the bust, Ching An and his crew were unable to show original documents of the ship. All documents were only copies and presumable fake. None of the crew members spoke English. The patrol officers' suspicion increases as they found many countries' flags on board. Moreover, the fishing boat only has four crew members. A fishing boat of the same type as Sunrise Glory should have at least 15 crew to operate fishing nets. During the search, officers found 1.03 tons of crystal meth.
BNN Chief Heru Winarko said that one of Sunrise Glory's modus operandi was to 'disappear' by turning off the automatic identification system (AIS). The AIS is a very high frequency radio transmission system that sends data and receives information automatically to other ships. Indonesia had only recently mandated the activation of AIS, on February 20, 2019. Sunrise Glory also did not have vessel monitoring systems (VMS).
Taiwanese maritime affairs ministry had fined MV Shun De Man a.k.a. Sunrise Glory five times. The total was US$4,714 million as per August 2017. In April 2018, the ministry fined the ship owner US$1,714 million and revoked the boat's fishing permit because the owner did not report its information system equipment. Former Taiwan Police Secretary in Indonesia, Li Jianzhi, said the ship with many names often sailed out of its specified route. "They also often change their routes," Li Jianzhi told The Reporter.
• • •
THE capture of Sunrise Glory illustrates the rampant drug smuggling in Riau Islands waters. BNN Chief Comsr. Gen. Heru Winarko suspected that Sunrise Glory was carrying sabu from Myanmar. One of the regions in that country that produces methamphetamine is the Shan State. There, drug cartels have their own factories and armed forces. Shan State's crystal meth circulates in Australia, East Asia, the United States, and Indonesia. "They distribute it using Taiwanese fishermen," Heru said.
The use of fishermen as drug couriers is in line with a research by Dyhia Belhabib et al, titled Narco-Fish: Global fisheries and drug trafficking published by Ecotrust Canada on May 12. The study showed that narcotics trade using fishing boats increased dramatically in 2010-2017. Belhabib traced 292 cases related to drug smuggling via fishing vessels in various countries.
The study also found that the global volume of drug transactions worldwide have tripled over the past eight years. The transaction volume reached 522.1 tons with a sales value of US$16.5 billion, roughly Rp241 trillion in today's rate. Despite the increased volume, Belhabib found that drug packaging—including those smuggled on board trawlers—have reduced in size. They suspect that this was to reduce chances of getting arrested.
Throughout 2020, Indonesian security forces have unveiled three drug smuggling operations using the services of fishermen. Their activities did not stop despite Covid-19. The biggest arrests of crystal meth smugglers took place on June 21. The customs task force captured the KM Taupin Jaya ship carrying 119 kilograms of sabu. The drugs were brought from Malaysia through the waters around the Riau Islands. This ship was captured in the waters of Krueng Peureulak, East Aceh.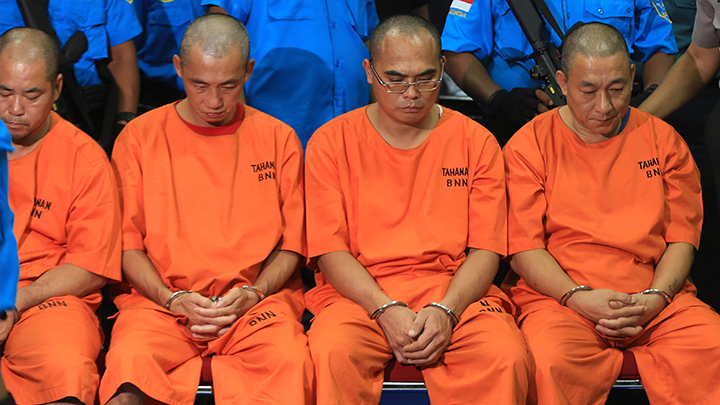 Suspected drug smugglers from MV Sunrise Glory, at the BNN office, Jakarta, February 2018 (below)./TEMPO/Amston Probel
Chief of Riau Islands BNN, Brig. Gen. Richard M. Nainggolan, said drug syndicates employ poor fishermen as couriers, using a broken cell system. It means that, "The fishermen do not know who the senders and receivers of the narcotics are," said Richard.
Riau Islands Police's Chief of Narcotics Division, Sr. Comsr. Mudji Supriadi, said that fishermen use international waters as the locations of transaction. "They transfer the good there," Mudji said on June 9. Another factor that often makes it difficult to capture drug smugglers is the large number of small, unknown voyage routes in the islands. In fact, Mudji said, there are several tourist beaches often used by narcotics smuggling syndicates.
Another modus operandi is using speed boats with greater engine capacity than those of patrol ships. According to Mudji, they also often trade in the middle of the night, turning off the boat's lights, and navigating the sea with help from local fishermen, locally known as tekong. A tekong generally receives Rp10 million to Rp15 million per transaction. "They act as guides, navigating the sea by looking at the stars when the ship's lights are out," Mudji said.
But the MV Sunrise Glory trawler relied more on technology to transact. The syndicate boss provided Ching Tun, the ship's captain, with a satellite telephone. They received orders to sail towards the coordinates sent by telephone. "We did not recognize the voice on the telephone," said Cung Nan, the crew in charge of operating the satellite telephone, when testifying at the Batam District Court.
YOGI EKA SAHPUTRA (BATAM), WAYAN AGUS PURNOMO (JAKARTA)