Teungku Meulaboh's Safe House
Umi Hanisah is the first woman in Aceh to found and lead an Islamic boarding school. At her school, children victims of sexual and domestic violence as well as armed conflict find refuge.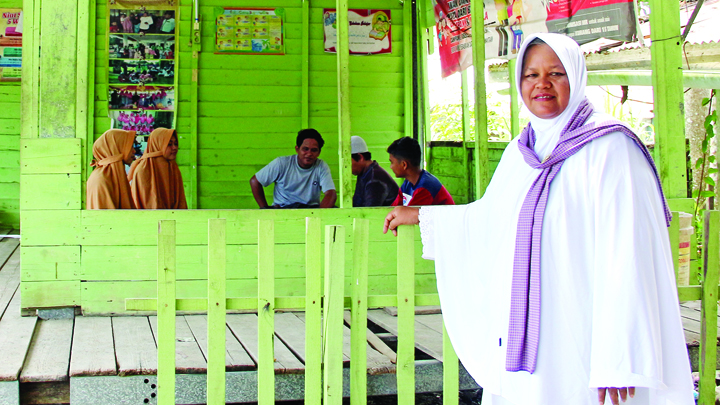 ONE decade later, Hanisah can still repeat the heated shouts. One night in 2010, several residents of Meunasah Mancang village, West Aceh Regency, Aceh, forced Hanisah to leave the dayah (Islamic boarding school) that she built on October 10, 2000. "Umi, come down now, come down! The kid, too. She's carrying a bastard child!" the villagers snarled at her.
At the time, Hanisah was sheltering a 13-year-old pregnant girl at Dayah Diniyah Darussalam. Some villagers felt she violated a taboo, although the girl had been raped by her own father.
To avoid causing a bigger commotion, Hanisah relented. She immediately left the pesantren (Islamic boarding school), which she had built from scratch. As many as 35 students followed her, crying. Among her students were victims of domestic and sexual violence, survivors of the conflict between Free Aceh Movement (GAM) soldiers and the Indonesian Military (TNI), as well as survivors of the great tsunami 2004. "We will go wherever Umi (mother) goes," said Muali, a student who witnessed the incident and is still learning under Hanisah until today, whom Tempo met in mid-July.
In the village next to where the old school was located, a former GAM member who once studied at Dayah Diniyah offered to accommodate Hanisah, her teaching staff and the students. They all stayed at the Aceh Party branch office in the Meunasah Buloh village in Meulaboh. The 45-square-meter building had walls made of wood and thatched roof. "In those days, my heart was crushed. But I couldn't appear sad in front of the children," said Hanisah.
The building was finally endowed to Hanisah. There, she and her students slowly built a new dayah. The new school, also named Dayah Diniyah Darussalah, remains to this very day in Meunasah Buloh.
The incident in 2010 was not the first time Hanisah took in sexual violence victim as a student. She has been working with the Kelompok Kerja Sosial Perkotaan (KKSP) Foundation since 2005, turning her school into a safe house for children who had experienced domestic and sexual violence. The dayah also became a home for orphans and neglected children. Besides teaching religion, the school offers a program to heal survivors' trauma.
Hanisah teaching Qur'an at Dayah Diniyah Darussalam in Meulaboh, West Aceh, Aceh, July 15./ TEMPO/IIL ASKAR MONDZA
After the trauma healing program was in place, Hanisah—who is often called Teungku (a title for religious figure in Aceh) by her students—began introducing various life skills to her students, such as making Acehnese batik, horticulture, and cattle farming. The farm land is around one kilometer away from the new school. Students can take the remaining produce from the almost two-hectare land, after it is used for day-to-day needs at the school.
Banda Aceh Women Development Center Director, Suraiya Kamaruzzaman, says Hanisah is the first pesantren leader among Aceh's thousands of Islamic boarding schools to be willing to provide protection for women and children victims of sexual and domestic violence. "Umi's idea to turn a dayah into a new safe place for women and children victims of violence—especially post-conflict and tsunami victims—was a daring breakthrough," Suraiya wrote in a report on Umi Hanisah, compiled by the Rahima Islamic and Women's Rights Education and Information Center. Both Suraiya and Hanisa are alumni of Rahima's education program for women ulema.
When the Aceh conflict saw its peak in 2003, students learning at the dayah became more diverse. GAM members and the children of TNI members studied together under Hanisah, who treated her students from various backgrounds equally. To avoid conflict, she forbade them from divulging their political identities. When teaching students from GAM and TNI backgrounds, she particularly emphasized a peaceful Islam. "Without understanding conflict resolution theories or a wider concept of diversity, Umi was able to develop the process using basics from Islamic teachings," said Suraiya.
Hanisah's resoluteness was already nurtured since she was young. Hanisah, who was born in Gampong Peunia, Meulaboh, on July 3, 1968, no longer stayed at her parents' house when she reached 8 years old, choosing instead to stay with her religious teacher to study religion.
In middle school, Hanisah fell in love with teaching. As it turned out, many of her classmates could not yet read the Qur'an, or had even mastered the basics of worship, such as ablutions and prayer. Every recess, at 10am, her friends would gather and ask Hanisah to teach them, because she was the only student who already mastered the book of Masailal Muhtadin since primary school.
Hanisah studied at the Ar-Rainry State Islamic Religious Institution in Banda Aceh. After graduating, she went on a study tour, traveling through Sumatra, Java, and Bali. During her travels, Hanisah visited Diniyyah Puteri Padang Panjang in West Sumatra. It was this visit that solidified her intention to establish a pesantren in her own village. When her dream came true, Hanisah became the first woman ulema to found and lead a pesantren in the whole of Aceh.
But her position came with certain challenges. As a woman leading a pesantren, Hanisah felt that she was often obstructed by others. "Once, a village committee member prevented students from registering here. They were directed to another pesantren," said Hanisah.
Later on, Hanisah's tireless fight received significant recognition. The West Aceh government made her an icon of women and children's protection. In 2010, she was given the Acehnese Woman Award by Balai Syura Ureung Inong Aceh, or the Aceh Women's Movement. Three years later, the international organization Ashoka gave her an award for her dedication and hard work in building awareness of equal rights for women in Aceh. Umi Hanisah's profile is included in Ashoka's booklet titled A Special Power for Gender Equity, along with other women activists from the United States, India, Chile, and Italy. But Hanisah seems most proud when talking about her students: "Some have opened their own pesantren, one went to Tunisia to study. Thank God."