Lobbying in the Balkan Skies
The suspected swindler of BNI Bank's Rp1.2 trillion, who has been on the run for the past 17 years, was arrested by Serbian police as she had been put on red notice. Her lawyer tried to bribe Serb officials for up to €500,000.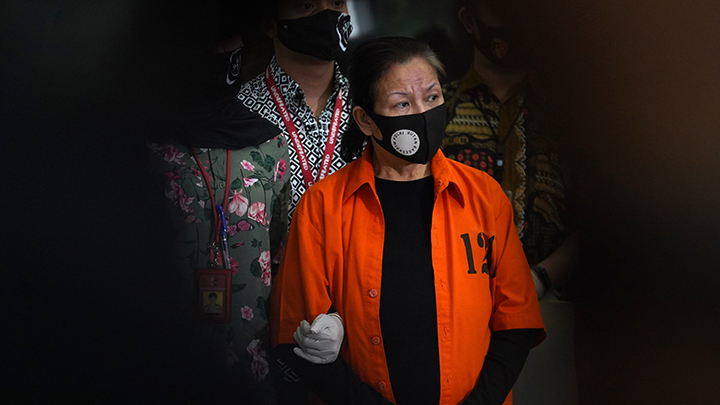 FOR three straight days, Maria Pauline Lumowa was questioned at the National Police's special detective unit for financial and special crime division since Tuesday, July 21. Investigators fired dozens of questions to the woman suspected of embezzling Rp1.2 trillion of Bank BNI's money.
Investigators shoved a pile of copies showing Maria's loan letters to Bank BNI dated August 26, 2003. They also confirmed another stack of copies containing loan guarantees from Maria to BNI dated August 26, 2003. Entering the third day, interrogators were forced to halt their investigation even though many questions were still left unanswered. "The questioning was suspended as the suspect has a headache," said Brig. Gen. Awi Setiyono, chief of the police's public information division, on July 23.
The case started 17 years ago, when Maria requested a letter of credit (LC) to BNI's Kebayoran Baru branch in Jakarta to export quartz sand and oil residues under the Gramarindo Group flag to Africa and the Middle East. Although the four banks providing Maria's LC were not corresponding banks of BNI, the BNI branch proceeded to give her the credit. However, the promised export never took place and the loan defaulted.
There are 16 suspects in total in the case, including Maria as the main culprit. Aside from Maria, 62, the other 15 people involved in the case include BNI insiders or Maria's business partners, have been tried and convicted on an array of sentences. Meanwhile, Maria had fled to Singapore a month before a list of suspects was released.
After being a fugitive for 17 years, Maria was finally extradited to Indonesia on July 8. It took a long time before this woman—born in Sulawesi and a Dutch national since 1979—was finally brought back to her native country.
W251bGwsIjIwMjEtMDItMjcgMTM6NDg6MjMiXQ
Justice and Human Rights Minister Yasonna Hamonangan Laoly, along with a number of police and criminal detectives, flew to Nikola Tesla International Airport in Belgrade, Serbia, on a Garuda Indonesia charter flight on Saturday, July 4, to pick her up. The flight was financed by BNI Bank. "The President ordered to pick her up because legal lobbying was needed," Yasonna said.
The minister's journey to Serbia was not a smooth one. While the plane was still in the air, he received news from the Indonesian embassy in Belgrade that Serbia was closing off its borders due to a jump in Covid-19 cases. However, thanks to lobbying and assistance in health equipment prepared in Jakarta, Yasonna's team was able to land at Nikola Tesla Airport.
Maria was arrested by Serbian police at the airport when she attempted to enter that country on July 16, 2019. She had been on red notice status. The Central Interpol office in Lyon, France, had entered Maria on the fugitives' list with the code A1361/12-23, at the request of the Indonesian police on December 22, 2003.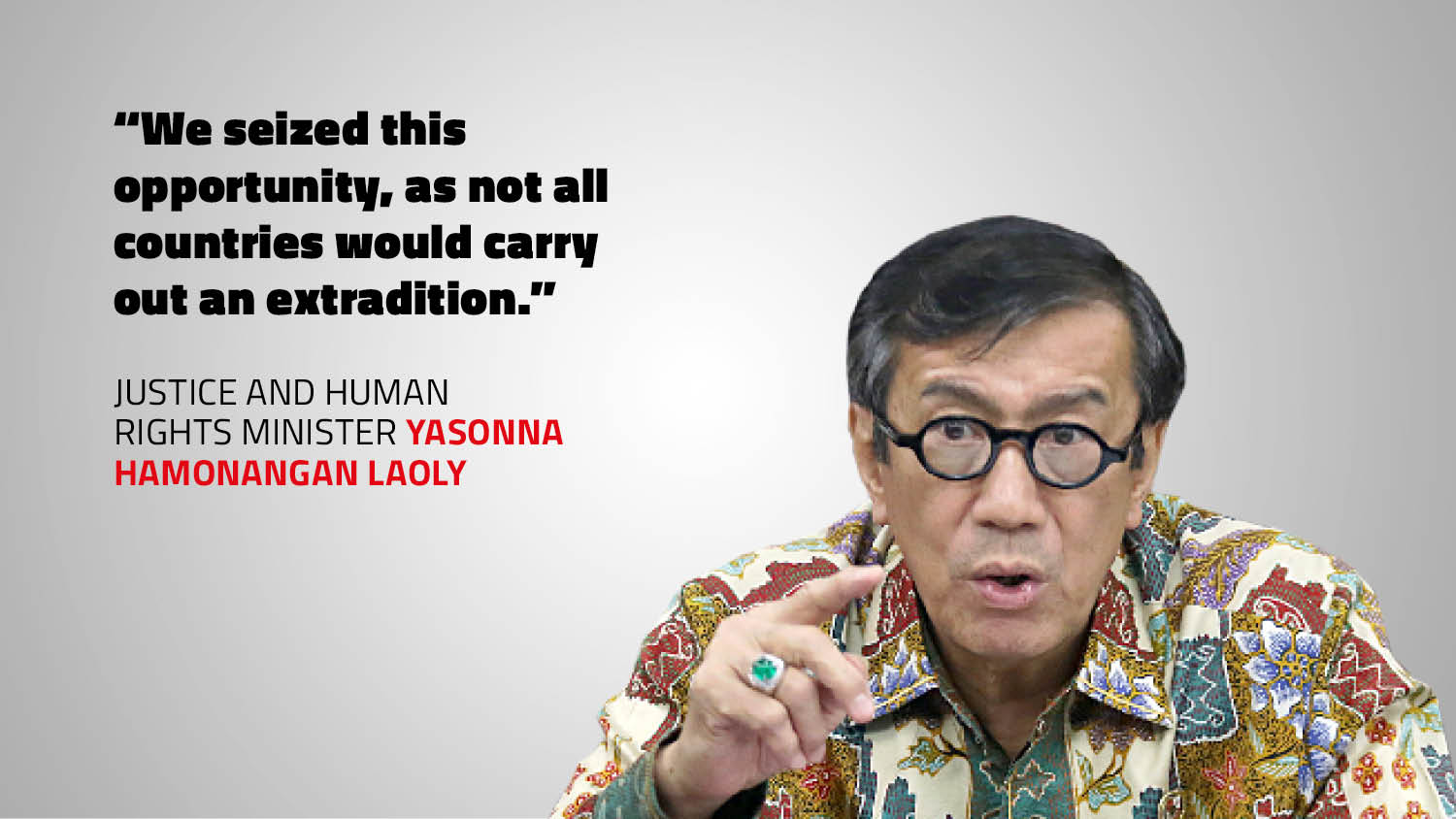 Yasonna Hamonangan Laoly/TEMPO/M Taufan Rengganis
Serbia then informed the Indonesian police. Responding to that information, Indonesia filed a temporary arrest request and extradition on July 31, 2019. However, Maria put on a fight. The woman with the nickname Erry went to Serbian court several times.
On September 3 last year, Indonesia filed a request for an accelerated extradition as Maria's case would be pass its statute of limitation in 2021. Yasonna then sent the director-general for administrative law to discuss the accelerated extradition process with Serbia's deputy justice minister.
Yasonna said that interference came from the Dutch government, which was lobbying Serbia to release its citizen. Maria's lawyer also made multiple efforts to influence the Serb authorities. Yasonna, who received information from Serbia's deputy justice minister, said that Maria's attorney tried repeatedly to bribe Serb officials. At least on three occasions, the lawyer offered bribes of €100,000, €300,000 and €500,000. "After the third attempt, the lawyer was arrested by Serb authorities," said Yasonna, a politician from the ruling Indonesian Democratic Party of Struggle (PDI-P).
Despite intense lobbying from various sides, the Serbian government sided with Indonesia. Based on its good bilateral relationship with Indonesia, the Balkan nation dismissed the Netherlands' request. Moreover, Indonesia had assisted Serbia in extraditing a Serb national involved in credit card information and cash withdrawal embezzlements.
Some four months after the meeting between the two countries officials in the fall of last year, a Serbian court approved Maria's extradition on April 6. However, Indonesia's borders at that time were closed due to the Covid-19 lockdown. Serbia gave an extension until July 16 to pick Maria up, as they could only detain her for a year. "We seized this opportunity, as not all countries would carry out an extradition," Yasonna said.
Serbian President Aleksandar Vučić said he considers Indonesia as an important partner, and a friendly nation since the Non-Aligned Movement era when Serbia was still part of Yugoslavia. "Serbia supports Indonesia in safeguarding its regional integrity and sovereignty," Aleksandar Vučić said on an official government website. Ivica Dacic, Serbia's deputy prime minister and minister of foreign affairs, thanked Indonesia for the medical equipment in combatting the Covid-19 pandemic, which Yasonna's team had brought over. "This reciprocal solidarity is an important prerequisite, and necessary to overcome this global health pandemic," Ivica Dacic said.
Alexander Weenas, the lawyer recommended to Maria by the Dutch state, said his client has been cooperating throughout the investigation. "Everything went smoothly, and in good cooperation," he said through Vionna, one of his assistants. Asked about Maria's various schemes in Serbia to elude the law and her bribery efforts, Alexander declined to comment. "That is out of context," he said.
Meanwhile, the Dutch embassy in Indonesia did not comment on Yasonna's statement about Dutch efforts to lobby Serbia not to extradite Maria to Indonesia. Brechtje Klandermans, the Dutch embassy spokesperson, only said that Maria Lumowa's extradition process is a bilateral concern between Serbia and Indonesia. As a Dutch citizen, Maria will receive full consular assistance from the embassy, but no legal support. "In line with our regulations, the embassy will not give legal support," Brechtje said.
After Maria's extradition was completed, Yasonna handed over the next process to the police, who will do the investigation. The minister said that a team from his ministry will now focus on tracing Maria's assets. "We will look into possessions. We will freeze them, and seize them," he said. Commissioner Gen. Listyo Sigit Prabowo, chief of National Police's crime detective division, said his institution has seized some Rp132 billion of Maria's assets while she was a fugitive. Those include "movable and immovable assets, and cash."
LINDA TRIANITA, ANDITA RAHMA,
BUDIARTI UTAMI PUTRI